Participate in the Floor Decor Design Center Referral Reward Program
Receive a Reward for Referring New Customers
At Floor Decor Design Center, just as we appreciate repeat business, we also appreciate word-of-mouth endorsements. That's how we built this business.
The Referral Rewards Program consists of the following:
Refer a friend, and you'll receive a $50 gift card.
Once you've referred five customers, you'll be eligible for a $250 gift card.

Please note that the Referral is for first-time customers only.
To participate, complete the form with details on your referral.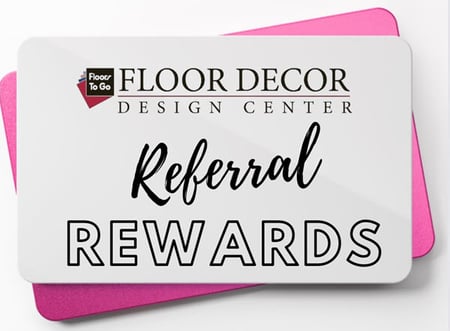 Referral Reward Program Overview:
Here's an overview of the Floor Decor Design Center Referral Rewards Program.
Any Qualified Referral made by a Floor Decor Design Center customer will result in a $50 gift card

.

Upon the 5th Qualified Referral, the referring Floor Decor Design Center customer will receive a $250 gift card

.



Promotion Rules and Details:
These are the rules and details associated with this program. Please read through this information so you can check off the box in the referral form above.
You MUST be a Floor Decor Design Center customer (i.e., you have previously purchased from us) to be eligible for this promotion.





A referred person can't be considered as a Qualified Referral until he/she has purchased and paid in full for a Floor Decor Design Center installed job – with a minimum $1,500 purchase price.





One customer may only be referred by one person. Therefore, if a customer has already been

referred, they may not be referred again. Additionally, if we already have the person's name and address in our system, we can't consider them as a referral.




A notification of referral must be given to a Floor Decor Design Center representative before their first appointment and it must be clear that the customer has not been acquired from a different source (

i.e.,

internet, social media,

etc

). All referrals made through the internet must be made on the Referral Reward web page.



If two or more people refer the same new customer to us at the same time, the one who is entered into our system first will be eligible for the referral. We can only accept one referral per address. Also, if we believe that the referrals you send us are not being submitted to us in good faith, we do reserve the right to disqualify the referrals. Previous orders are excluded.





The referral must set and have an appointment with Floor Decor Design Center within 30 days of the referral to qualify.





Floor Decor Design Center has the right to verify and disclose referral/referee information.



"This is the 2nd time I've used Floor Decor and couldn't be happier.

Mike and Janine are a pleasure to work with and are very knowledgeable.

The 2 men that installed my LVT were professional, clean, timely, and their work is impeccable. I also had them replace a hardwood floor in the past that also came out beautiful.

I would recommend them for any flooring job."
Milford, CT - 3/25/2023