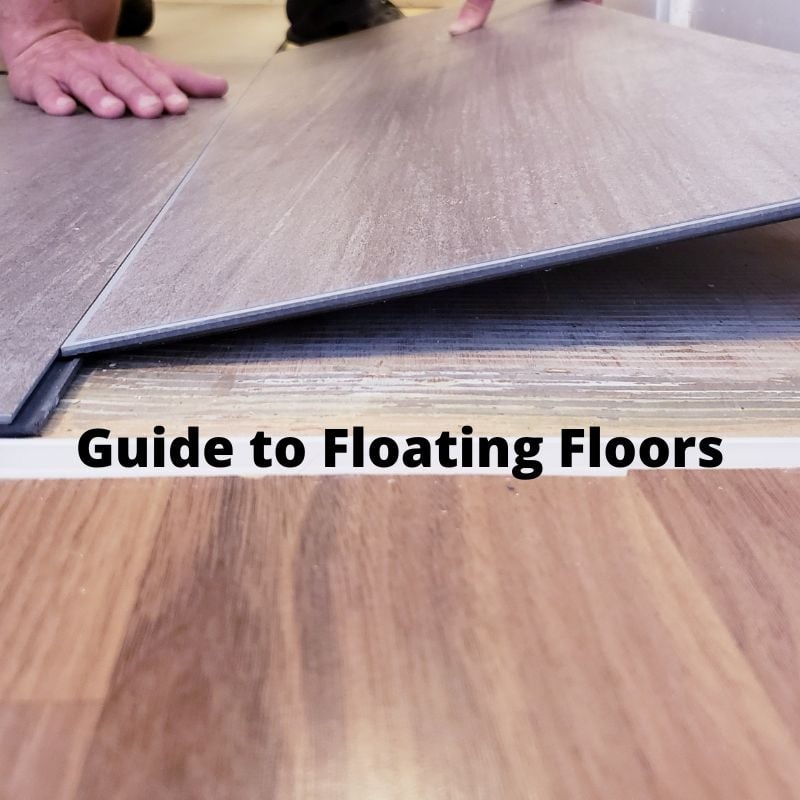 In this Guide to Floating Floors, we've gathered the information you need to decide whether a floating floor is right for your flooring project.
Floor Decor's Guide to Floating Floors
These are the questions you'll find answers to in this guide:
What is a floating floor?
How do floating floors work?
How do floating floors save you time and money?
What's important to a successful floating floor installation?
Why aren't floating floors always the best choice?
What is a Floating Floor?
A floating floor is a floor that does not need to be nailed or glued to the subfloor.
The term "floating floor" refers to the installation method. Floating floors are not one specific type of material, rather the term simply describes the way that a flooring material sits on top of the subfloor. A floating floor means the product "floats" on top of the subfloor and is not attached or adhered to it in any way.
The most popular flooring materials commonly associated with this installation method are:
However, today many materials other flooring types such as hardwood, cork, porcelain tile, linoleum, and bamboo floors can be installed as a floating floor.
>> Be sure to read WHAT IS A FLOATING FLOOR?
How Do Floating Floors Work?
A floating floor usually is a click-together flooring. Also known as click-lock or snap-together flooring, these flooring planks have an intricate tongue-and-groove system that allows them to seamlessly snap into place.
They're simply locked together end-over-end and are laid over the subfloor. And they don't need to be glued or nailed down because the strength and pressure of their connection keep them in place.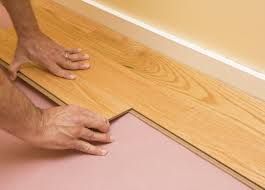 How Can Floating Floors Save You Time & Money on Floor Prep?
Floating floors can save both time and money when it comes to floor prep. How?
In many cases, you can install your new floating floor over your existing floor without the need to remove it. This saves on removal costs.
First, though, you'll want to be sure there won't be any height issues such as a refrigerator not being able to fit back under the cabinet or going from one room to another and the casing creating a tripping hazard.
Unlike nail-down or glued-down installations, a floating floor can be installed over particle board or even ceramic tile. Floating floors can be installed over concrete, hardwood, plywood, glued-down vinyl, and painted floors.
You cannot install over carpet or another floating floor.
What's Important to a Successful Floating Floor Installation?
For a successful installation, you'll need to follow these five floating floor requirements:
1. Subfloor Flatness
The subfloor flatness requirements for a floating floor are the same as for a glue-down floor.
For the flooring industry, that is ¼ inch in 10 feet or ⅛ inch in 6 feet. If the subfloor has peaks and valleys in it, you will need to sand high spots and/or fill low spots.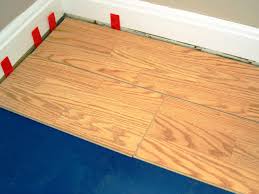 2. Expansion Gaps
Expansion gaps are critical and floating floors require them.
This expansion gap is not just at the outer walls, it is around any vertical object. This includes cabinets, walls, and pipes.
This expansion zone is to accommodate the subfloor moving as it goes through seasonal changes. Yes, concrete and wood subfloors will move as we go through seasonal changes.
3. Permanent Fixtures Such as Cabinets
Most building contractors want the flooring installed first so they can install the cabinets and islands on top of the flooring. This cannot happen with a floating floor.
Permanent fixtures such as cabinets can pin the floating floor down, creating a massive pinch point which eventually will cause the floor to buckle.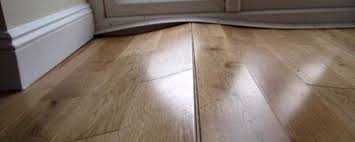 4. Moldings and Transition Pieces
Moldings and transition pieces must be nailed or fastened into the wall or substrate, not into the flooring. Nailing or fastening through the floating floor creates a pinch point and will cause a buckling failure.
Moldings should have a 1/16" expansion space from the floor to avoid pinching the floor which will also cause buckling.
5. Undercut Door Casings
Door casings should be undercut for a cleaner finished look and to avoid a gap between the floor and door casement.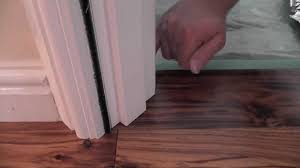 Why Aren't Floating Floors Always the Best Choice?
Floating floors can solve a host of issues, like not having to remove asbestos flooring or being able to install over existing flooring that is in good condition. If you have a concrete subfloor and want hardwood floors without the expense of adhesive, floating the hardwood can be a good option.
However, there are some scenarios where a floating floor is not the best option.
Do You Have Heavy Rolling Loads?
An area that will be subject to heavy rolling loads is probably not the best option for a floating floor.
In most commercial applications with heavy traffic, a glue-down installation would be a more preferred installation method.
Do You Need to Bolt Pews Down?
Locations such as churches in which the pews must be bolted into the floor are not candidates for floating floors.
Ready to Consider Floating Floors for Your Home?
If you're considering floating floors, we invite you to visit one of our two showroom locations in Middletown or Orange to learn more or give us a call today to find out what varieties are available.
We'll help you find the best flooring option to meet your needs.
We look forward to helping you.
Thanks for reading.
Janine & Michael
Note: We originally published this article on 12/23/2020, and have updated it.