The Floor Decor Custom Area Rug Guide
Custom area rugs are an ideal solution for your home. Not only can they express your sense of style, but they can add an element of safety for specific areas such as stairways, protect your floors from heavy foot traffic, provide directional queues in hallways, and create conversational spaces in dining rooms or living areas. You can even opt for wall-to-wall carpet in one area, and coordinating custom rugs in other areas.
Today, most runners and area rugs come in updated styles in addition to traditional oriental patterns. They can easily be custom fit to your dimensions and to accommodate areas such as turns on stairs and landings.
>> See LOOKING FOR THE PERFECT SIZED CUSTOM RUG FOR YOUR HOME? WE HAVE IT!
>> See WHAT IS THE BEST CARPET FOR STAIRS?
If you have questions specific to pricing, we invite you to check out the Pricing Guide section on Carpet.
This custom area rug guide outlines options and possibilities. Below, you'll find sections organized according to area rug brands, categories, visualizers available, and testimonials from customers like you who chose custom area rugs for their homes.
If you are looking for pre-sized area rug options, we invite you to explore the Paradiso Area Rug Collection catalog.
---
Custom Area Rug Guide Table of Contents

Area Rug & Carpet Brands
Indoor/Outdoor
Stairs and Stair Runners
Expressive Designs
Milliken
Stanton
Tuftex
Floor Decor Design Center
---
Custom Area Rug Carpet Brands
In this section, we detail the seven major custom area rug brands available at Floor Decor Design Center.

Couristan Rugs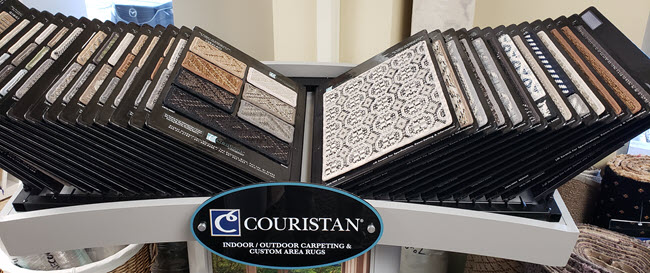 When you next visit Floor Decor Design Center in Orange, Connecticut, you'll have the opportunity to experience firsthand the beautiful selection of 28 luxuriously stylish Couristan products available in wool and wool blends. Every single style can be made into a custom area rug.

>> See TRY COURISTAN RUGS AND CARPETS FOR THE ULTIMATE IN STYLE AND LUXURY

You can also find rugs for indoor/outdoor use from Couristan in a wealth of designs from classic to traditional, casual and contemporary and in an array of rug sizes, including round ones..

>> See YOU WILL LOVE THESE COURISTAN INDOOR/OUTDOOR RUGS!
---
Expressive Designs Rugs from DreamWeaver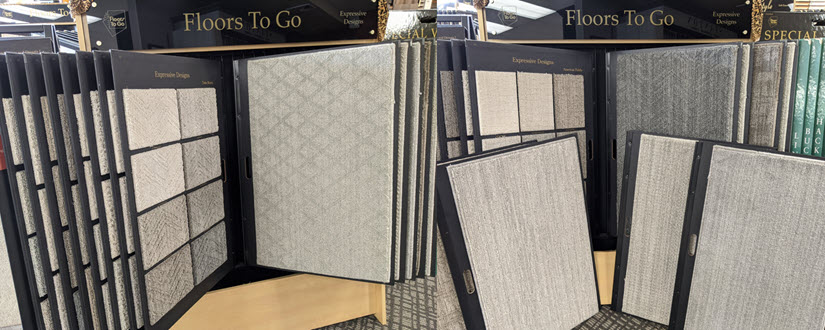 The Expressive Designs collection from Engineered Floors includes 13 styles:
American Fiddle

Amrita Island

Anchor Loop

Cheshire Falls

Everwood

Imperial Shores

Misty Morning

Royal Court

Turnbridge

Turnbury Park

Turtle Bay Cove

Tuscan Sky

Twin Rivers
You can install these patterns and styles as wall-to-wall carpets, or select any in a standard rug size or customize it to fit perfectly wherever it needs to go.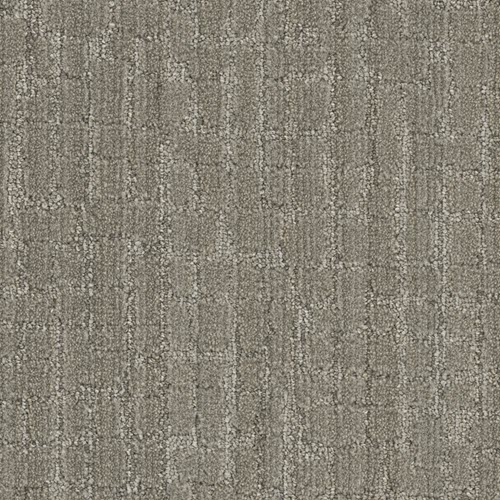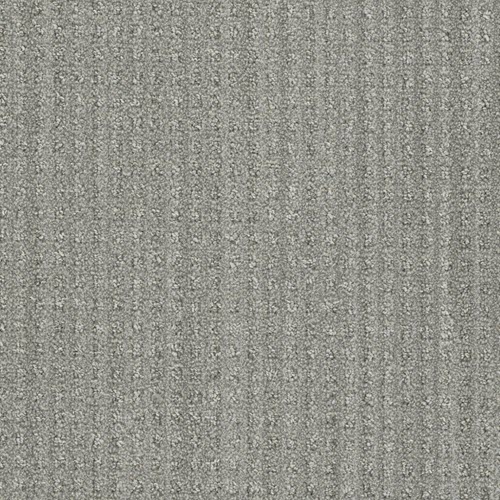 ---
Milliken Area Rugs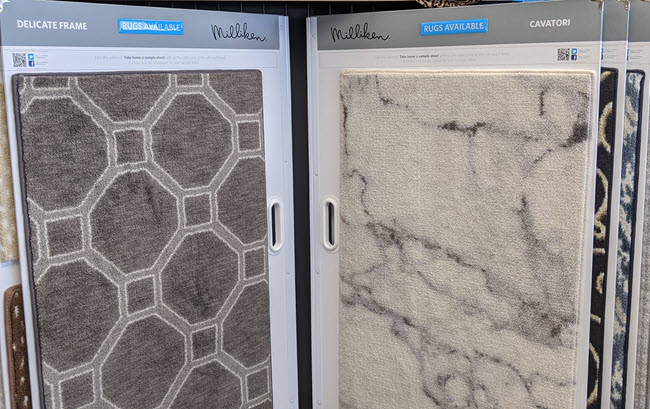 The Imagine carpet collection by Milliken truly takes residential patterned carpet to the next level, layering pattern, and color to create a collection of flooring that works in any decor. The collection includes 31 styles that range from classic to contemporary with bold florals and geometrics, stripes, tonal textures, animal prints, and more, in a rich range of colors.
You can easily create area rugs and runners to match your wall-to-wall carpet. Choose from five rug sizes:
7'8" x 10'9"
5'4" x 7'8"
3'10" x 5'4"
2'8" x 3'10"
2'1" x 7'8"
>> See TRY MILLIKEN CARPET FOR YOUR RUGS AND RUNNERS
The examples below give you a feel for the range of Milliken carpet and rug patterns and styles.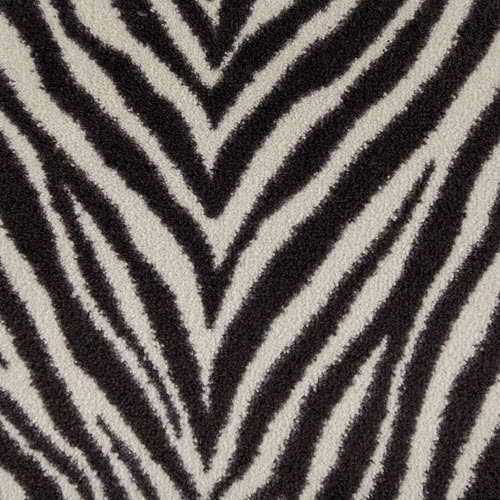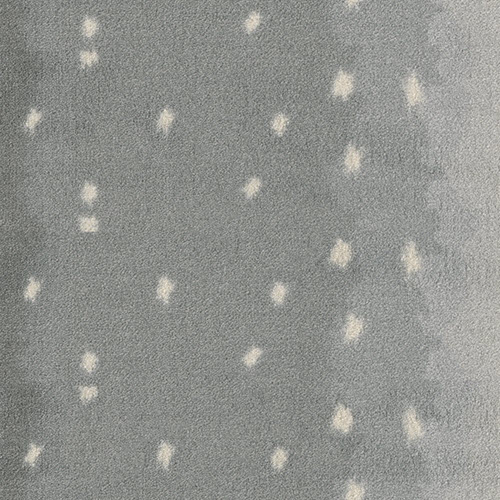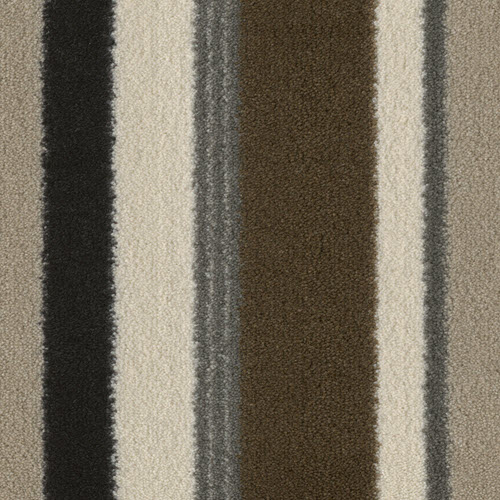 ---
Natural Rug Fibers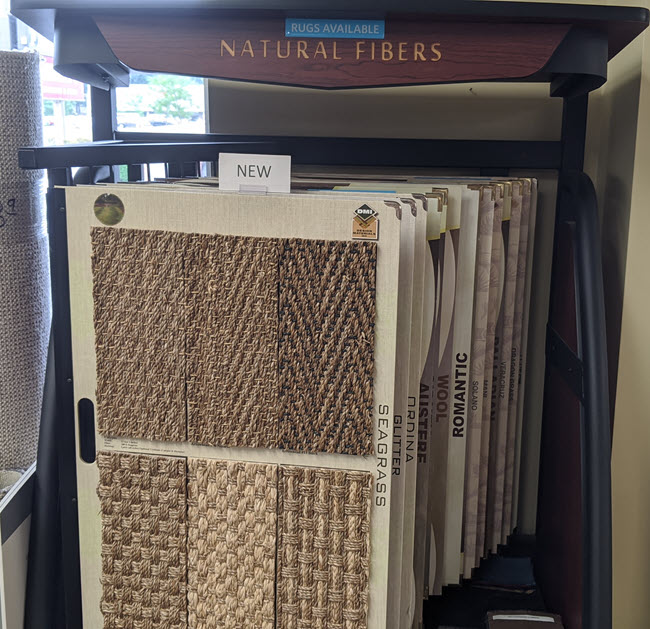 When it comes to natural and renewable fibers for custom area rugs, you have many options ranging from Seagrass, Sisal, Wool, and more.
>> See TRY SISAL RUGS FOR A NATURAL, RENEWABLE FLOORING SOLUTION
>> See Try Flatweave Wool Carpet for that Nubby, Natural Sweater Look
Here are just a few of the options available.
---
Stanton Carpet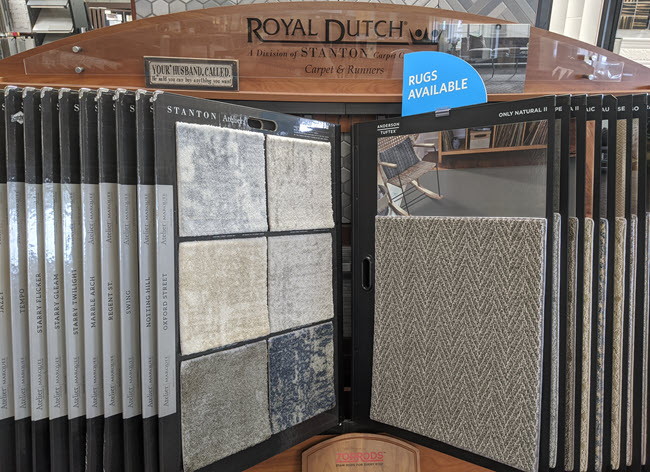 You'll love the range of carpet and rug styles and patterns available from Stanton Carpet. Stanton offers a variety of finishes for custom rugs including machine serging, patterned fabrics, wide cotton, linen, and faux leather.
The finished options are easy and range from modern edge (discreet and low-profile with a refined look) and machine serged (a substantial and prominent finished edge) to hidden stitch with a mitered corner and topstitch with a folded corner.
Stanton also offers three attached rug backing options:
Non-skid padding
Felt backing
Outdoor friendly cushion
>> See NEW SUPER SOFT CARPET STYLES FROM SHAW, STANTON CARPET, AND MOHAWK
>> See STYLISH ATELIER MAGNIFIQUE CARPET COLLECTION FROM STANTON
---
Tuftex Carpet and Rugs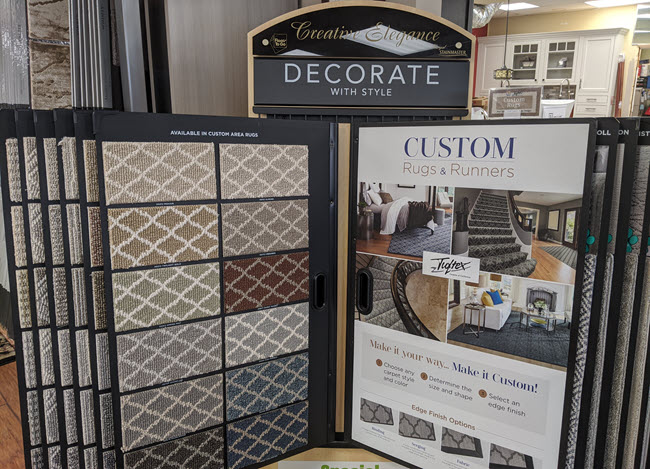 What makes Anderson Tuftex stand out in the world of area rugs is pattern versatility in a variety of colors. You'll find versatile classics, subtle contemporaries, bold geometrics, tonal compositions, and more -- all ready to complement any room in your home.
Not only can you opt to install these patterns and styles as wall-to-wall carpets, but you can select any in a standard rug size or customize it to fit perfectly wherever it needs to go.
---
Custom Area Rug Visualizers
Helpful Tools To Visualize Your Custom Area Rug Idea
Visualizers are truly useful tools for exploring rug ideas based on available carpet styles from the comfort of your home, and then having the information you need to share with your local flooring retailer.
Expressive Designs Rug Visualizer Tool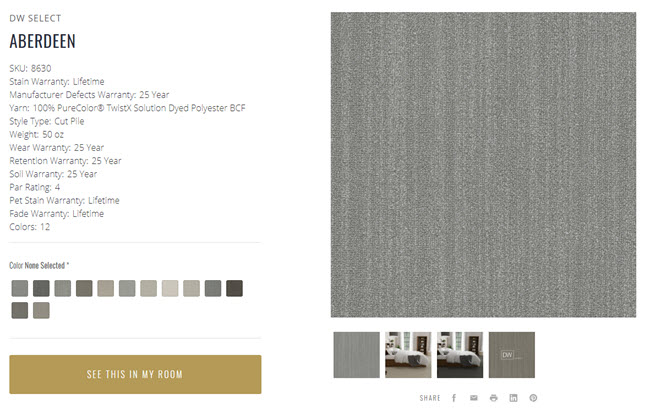 You can visualize your Expressive Designs custom area rug using the "See this in my room" button. It's available on every product.
Milliken Carpet Inspired Designer Tool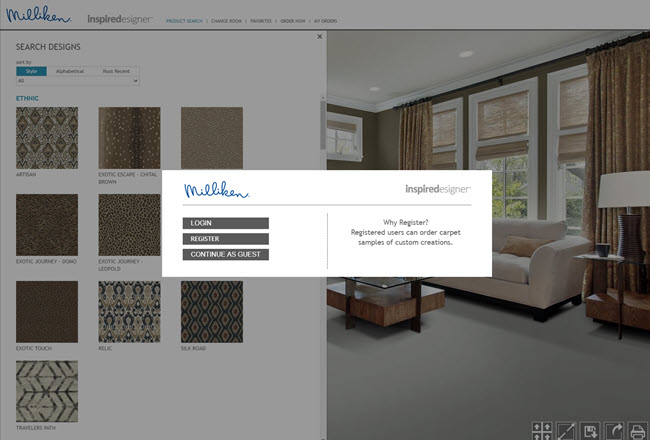 For Milliken products, you can visualize your custom area rug using their Inspiredesigner custom creation tool.
The Stanton Carpet Visualizer Tool

Stanton Carpet offers a Create a Rug tool. We've written about the process of using this tool in CREATE YOUR OWN RUG USING STANTON CARPET'S CUSTOM RUG VISUALIZER.
In that same article, you'll also find a reference to the Stanton Area Rug visualizer tool which allows you to compare different styles (note: be sure to choose the sample stair images; don't upload your own).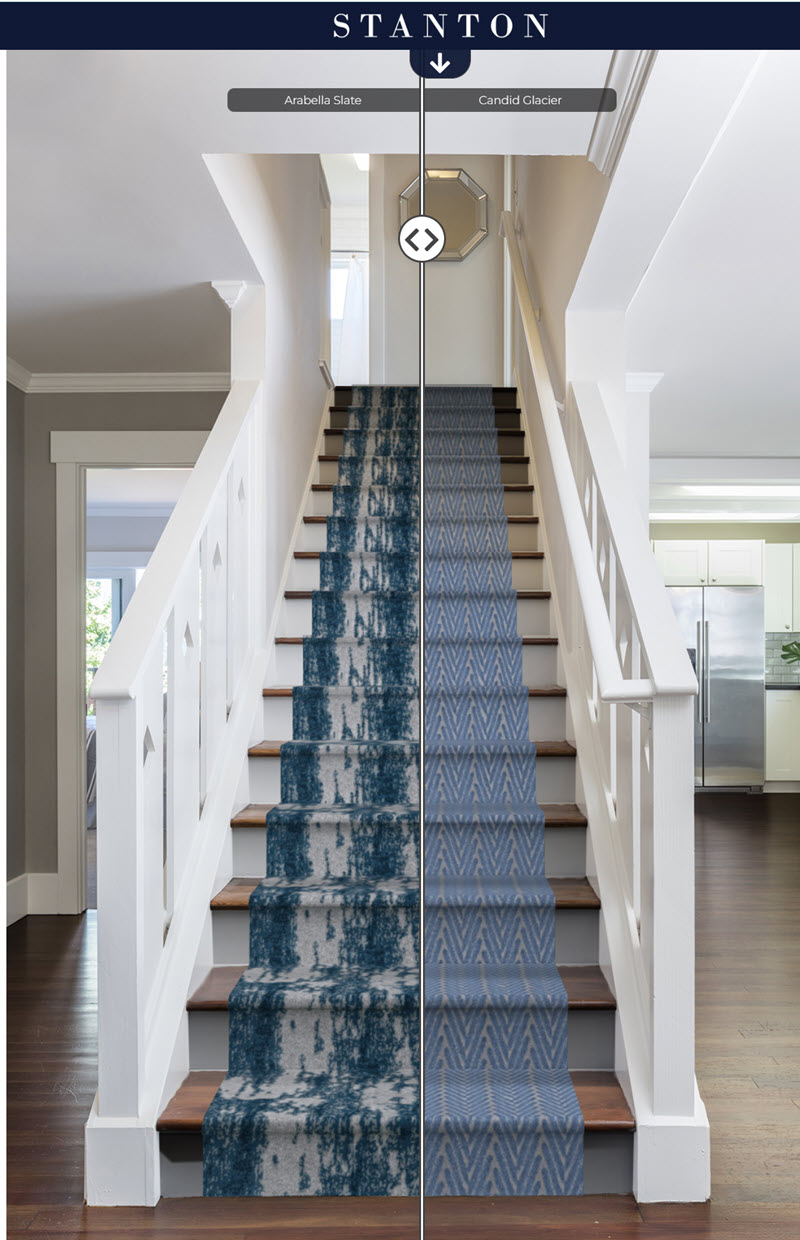 Tuftex - View in Your Space Floorvana Tool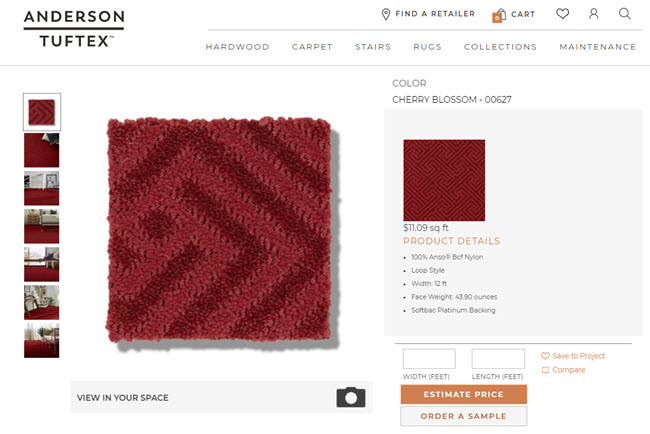 Tuftex offers the Floorvana Tool for visualizing your new custom area rugs and carpet installation. Look for the camera icon.
Visualizer for Floor Decor Design Center Products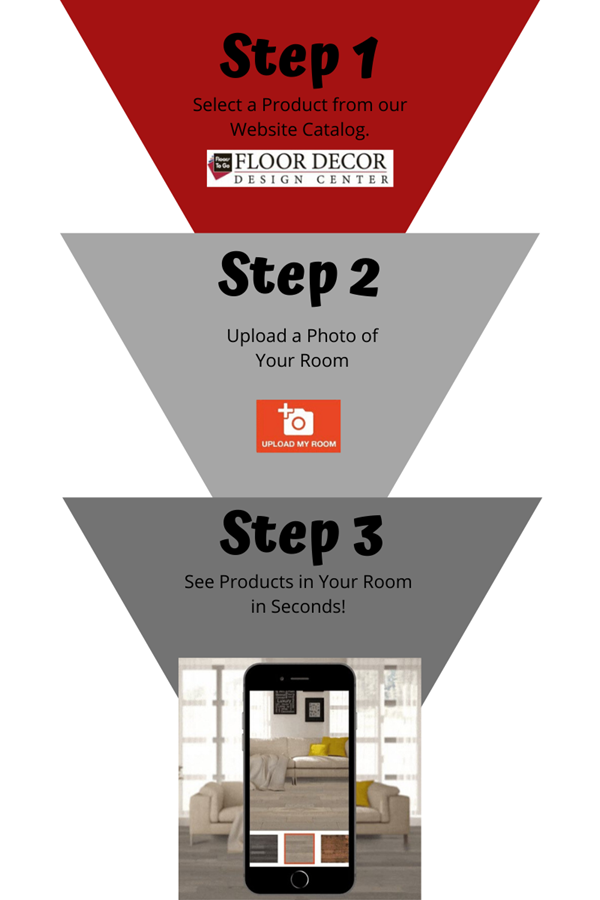 You'll also find a visualizer on the Floor Decor Design Center product catalog. It's easy to use and allows you to upload your very own images.
>> See HOW TO VISUALIZE YOUR FLOORS OR KITCHEN AND BATH REMODEL
---
What Customers Say About Custom Area Rugs From Floor Decor
You can't get any better!

Floor Decor recently installed carpeting for me.

The work I had done was very complicated and meticulous, involving a lot of custom cuts. The technician did a beautiful job and I could not have asked for anything better.

I have purchased area rugs and runners from Floor Decor in the past and they have always been good to me, so I knew I wanted to work with them for this big project. I did not shop around but the price seemed fine to me.

I recommend Floor Decor for excellent service and workmanship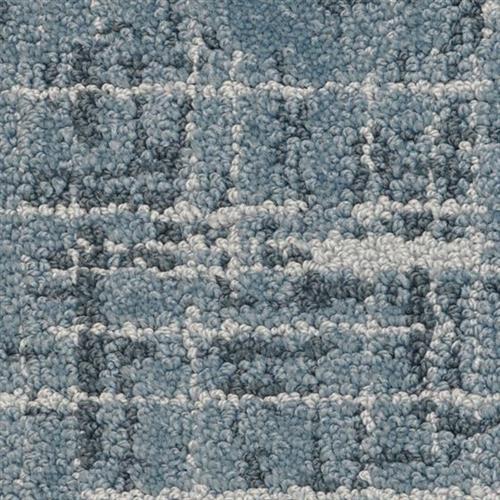 Barbara M. Milford, CT
Wonderful!

Floor Decor sells fine quality products.

We bought a 9x12 area rug, but it's big, and we got carpet in the hallway and on the stairs, both downstairs and upstairs. I got it put in a few weeks ago.

They also installed the carpeting for me, and it went excellently. The guys that came out were very professional, I have to say that. They cleaned up thoroughly after themselves and they even vacuumed everything when they were done. I have no complaints whatsoever and we are very pleased with Floor Decor.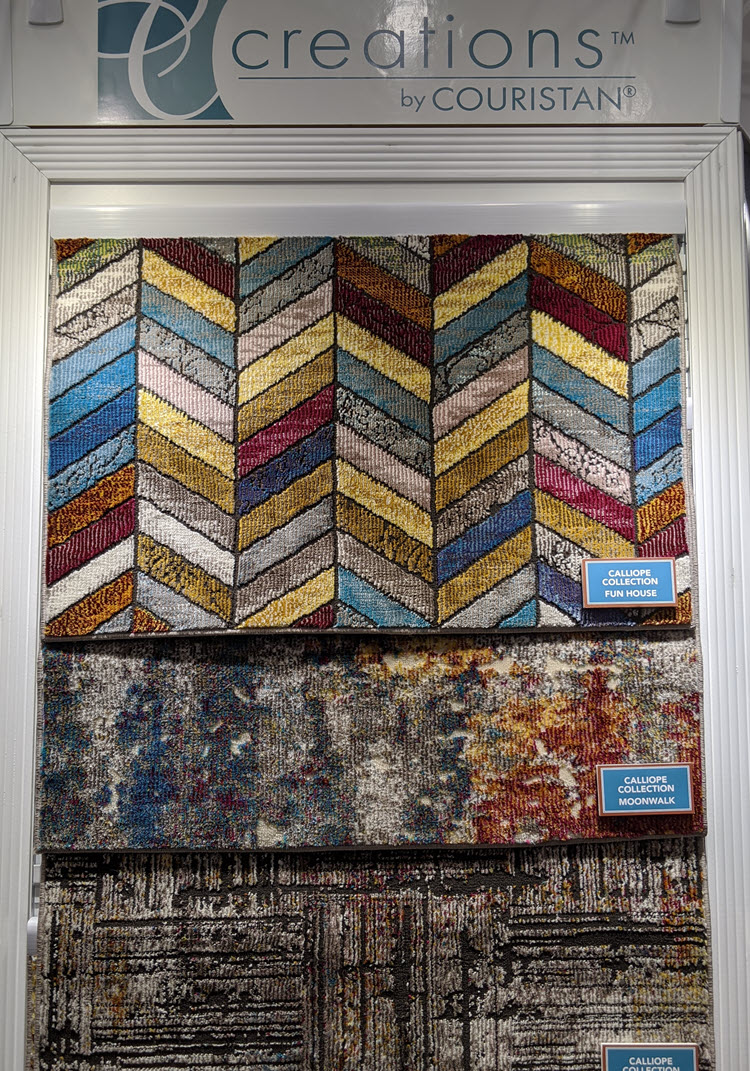 Jen F. Milford, CT
Excellent Service.

I had an excellent experience with Floor Decor.

Janine helped me pick a runner for my stairs and a matching area rug. She had excellent customer service. She was friendly and not pushy with the sales.

I wasn't sure what I wanted when I went in, and Janine was able to find something I liked, based on my description.

The installers were also very helpful. They arrived promptly and had a clean and neat installation. I would recommend their services.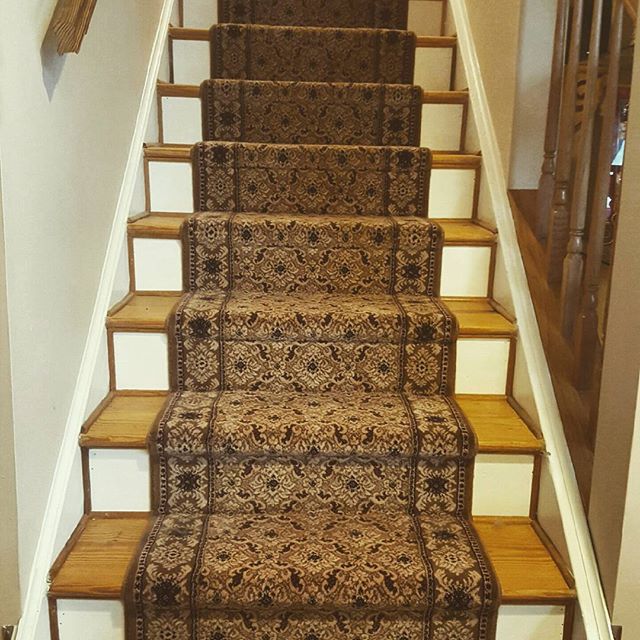 Amy L. Norwalk, CT
---
Don't hesitate to contact us if you have any questions!
Thank you for your business.

Janine Geneste & Michael Phoenix