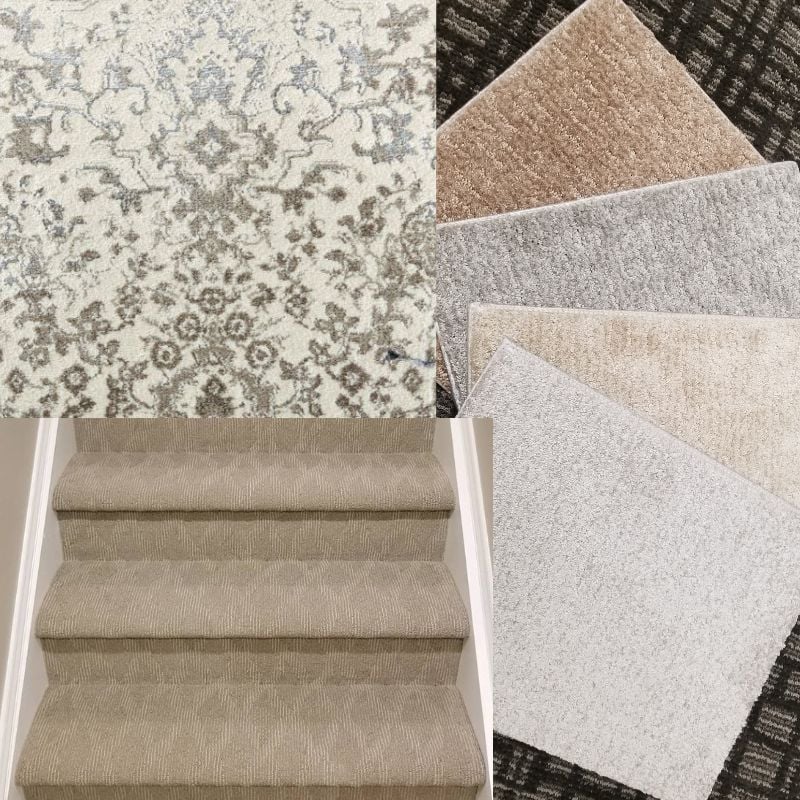 Are you considering carpet for your stairs and aren't sure which type of carpet to go with? This article is for you.
Or, are you on the fence and not sure whether to carpet your stairs? Let's start there and then explore what's the best carpeting choice.
Why Carpet Your Stairs?
There are four main reasons for carpeting your stairs.
1. Safety
Hard surface flooring tends to be extremely slippery and can be dangerous for seniors, children, and pets. If a fall does occur, carpeted steps will help soften the landing as compared to hardwood.
2. Protection
Carpeting your stairs whether you do wall-to-wall or as a decorative runner will help protect your steps from damage as well as protect you or a loved one from dangerous slips and falls.
3. Beauty
With today's trend toward hard surface flooring such as traditional hardwood or products such as Rigid Core LVT that mimic hardwood, many hard surface products offer coordinating stair treads that can cover your builder-grade pine steps to match your new flooring.
These new treads look great with your new hard surface flooring but it is still a good idea to carpet your steps for safety.
A carpet or runner will enhance the beauty of your stairs and transform them into an inviting space.
4. Peace & Quiet
Carpeted steps are also quieter and softer on your feet.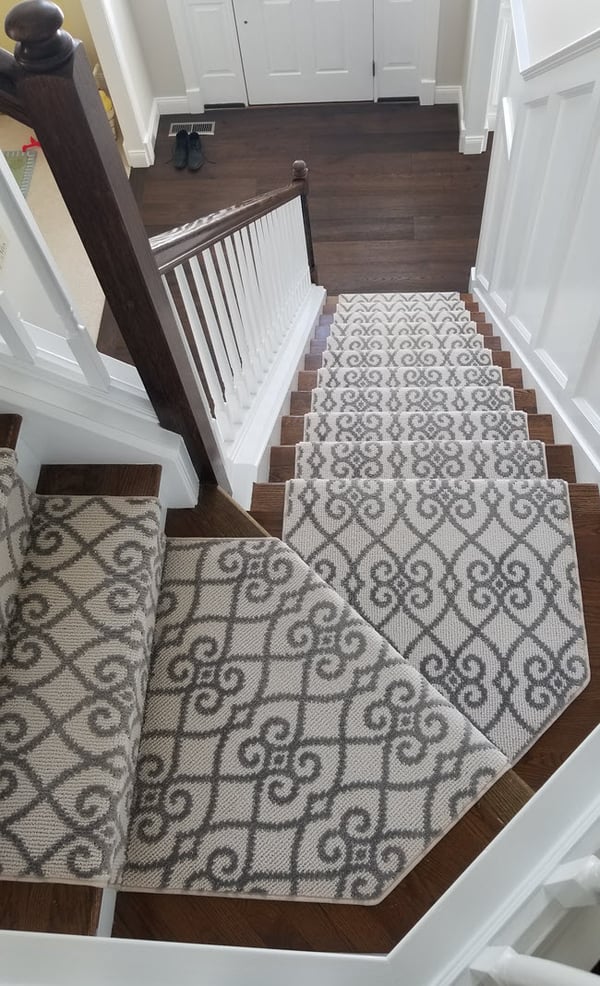 How to Pick the Right Carpet for Your Stairs
In many homes, stairways are a focal point to the entry of the home. You'll want to select a carpet that will fit your sense of decorative style and yet perform for years to come.
Choosing a carpet for your stairs is easy once you understand what to look for.
Step 1: Assess your stair needs
So where do you start? We recommend you assess your stairs and determine your needs.
For example, steps leading to bedrooms from the main floor probably will not receive as much traffic as steps leading into your home from your entry.
Other things to consider include:
What type of stairway do you have?
Are your steps a straight run?
Do you have multiple landings?
Are there turns as you go up or down your steps?
The answers to these questions will help in selecting a carpet or runner that will work best for you.

Step 2: Focus on Carpet Durability
Stairs are generally the highest traffic area in any home since most of us walk up the center of the steps and not along the walls. This concentrated foot traffic along with the impact of your foot is greater on stairs than on flat areas due to the added force of gravity as you descend the stairs.
Therefore it is important that you select a carpet that will perform and look good for years to come.
Step 3: Look for the Most Durable Carpet Within Your Budget
Carpet that you may use in bedrooms may be great for those areas but may not hold up on stairs. You'll want to purchase the most durable carpet within your budget. An important thing to keep in mind is if you set your budget too low your new carpet may not hold up.
So what should you look for?
Carpet Fiber
The first thing is the carpet fiber.
We recommend using a nylon fiber such as Stainmaster or Anso. These fibers have superior resiliency and will not mat as easily as polyester or olefin fiber.
You may want to also look for a solution-dyed nylon fiber which will also give you better fade resistance as well as superior stain resistance since the color goes all the way through.
>> See CARPET FIBERS 101: NYLON, POLYPROPYLENE, WOOL, POLYESTER, TRIEXTA
Carpet Construction
Next, you'll want to consider the construction of the carpet.
There are two main types, a cut pile, and a loop pile.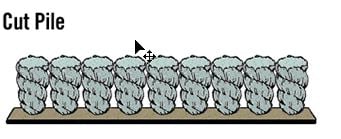 Much of today's fashionable carpets are a combination of the two, commonly referred to as an "LCL" (loop-cut loop).

The tighter and denser the carpet the better it will perform.
Carpet Thickness
For your stairs, you'll want a carpet that is comfortable underfoot but not too thick.
A carpet that is too thick can be dangerous as it creates a false tread on the nosing of the step and can cause slips and falls.
A good rule of thumb is to look for a carpet that is 1/2" or less in thickness.
Carpet Cushion
Your stair carpet requires a quality carpet cushion to preserve your carpet. The cushion will absorb the constant pounding from foot traffic just as shock absorbers on your car help extend tire wear.
You'll want to use a minimum 6 lb density cushion with a maximum thickness of 7/16".
You don't want a thick cushion such as 1/2" as that will shorten the tread and could cause slips and falls.
If your budget allows you would be better served upgrading to an 8 to 10 lb cushion or a 32 oz synthetic felt cushion.
The better your cushion, the longer your stair carpet will keep its like-new look.
>> See HOW TO SELECT THE BEST PAD FOR YOUR NEW CARPET

Caring for the Carpet on your Stairs
Taking proper care of your new stair carpet is a matter of simply vacuuming on a regular basis depending on your traffic.
Stairs leading into the house from outside will need to be vacuumed several times per week since you'll be tracking in dirt and grime from outdoors.
Stairs going to second-floor bedrooms may only need to be vacuumed once or twice per week.
If you have pets that shed you may want to vacuum more often.
>> See Top Flooring Maintenance Tips for Carpet and Hardwood
We recommend a good handheld vacuum with a stair attachment for proper cleaning. The Shark Hand Held Rocket has a 4.6 out of 5 Star rating on Amazon.
To clean your carpet we recommend Milliken Capture, a dry cleaner powder that will remove stains, smells and eliminate moisture that contributes to the growth of bacteria, mold, allergies, dust mites. For allergy relief, use it every 8 weeks.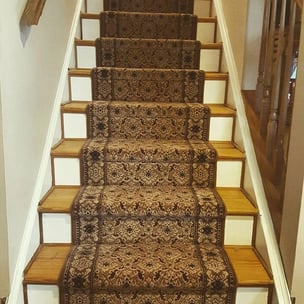 What is the Best Carpet for Your Stairs?
The best carpet for stairs is one that, based on the criteria detailed above, will meet your needs for design, performance, and budget.
If your home has beautiful hardwood steps, I would opt for a stair runner.
If you have builder-grade stairs that are meant just to get you from point A to point B with zero concern for aesthetics, I would recommend carpeting the entire step.
Carpet with multi-tones or patterns can help hide soil and will add a design element to your stairs.
In heavy traffic areas I would stay away from solid colors as they will show soil and if you have pets that shed darker colors will show pet hair.
>> See 20+ Carpeted Stairs Examples to Inspire You
>> See Waterfall vs. Hollywood Stair Runners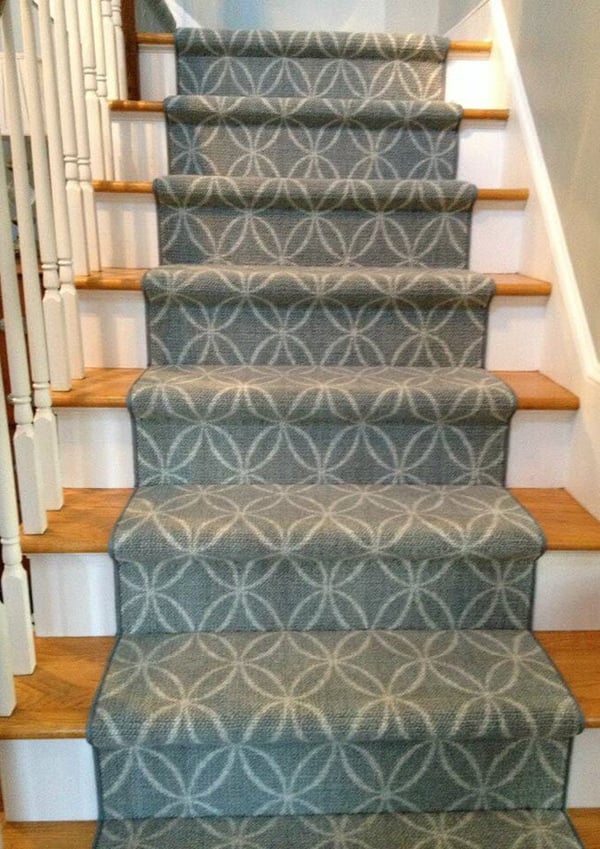 EXPERIENCE Stair Carpet Styles YOURSELF!
When you visit one of our two showroom locations in Middletown or Orange, you'll be able to experience for yourself several carpet styles that are ideal for stairs.
Let us know of any questions in the comments or contact us.
We look forward to helping you.
Thanks for reading,
Janine & Michael
Note: We originally published this article on 08/28/2019, and have updated it.