Does this sound familiar? You're set on having your stairs carpeted, and you're not quite sure which carpet style to choose and whether to go Hollywood or Waterfall.
If that's the case, here are over twenty examples of custom carpeted stairs that Floor Decor Design Center has completed to inspire you. They represent a range of carpet styles and designs as well as installation situations.
>> Check out the Custom Area Rug Guide!
Presenting oVER 20 Carpeted Stairs Examples from Floor Decor
We've organized these examples into six categories, so you have a better idea of the options available:
Stair runners
Stairs with strong graphic carpet patterns
Cosmopolitan carpet patterns on stairs
Traditional carpet patterns on stairs
Stairs with landings
Show-stopping carpeted stairs
1 - Stair Runners
The traditional stair runner has a banded motif along both sides of the runner. These can be geometric or more organic as you see in the animal print runner below.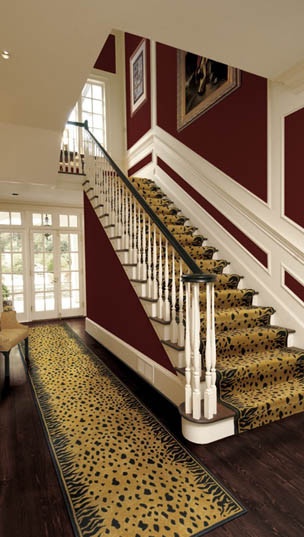 The next three examples show you that traditional runner motif along the sides. The band tends to focus the attention on the functional aspect of a runner: it takes you from one point to another. Just follow it, and you'll arrive.
First, is the New Zealand Wool runner Catherine in color Tannery which harmonizes with the exposed wood.
This next example features a soft-toned runner that's warm and elegant.
With both of these examples, you have the contrast with white risers.
Next, you see Couristan Bidjar in color Crimson which features a traditional pattern without the border.
2 - Stairs with Strong Graphic Carpet Designs
In addition to having carpet runners to choose from for stairs, you can also simply select a carpet style that can be cut and bound to suit the dimensions of a stair runner.
These next examples feature bold decorative patterns that work well for carpeting stairs with.
Here you see a Milliken carpet style. The look is both classic and contemporary.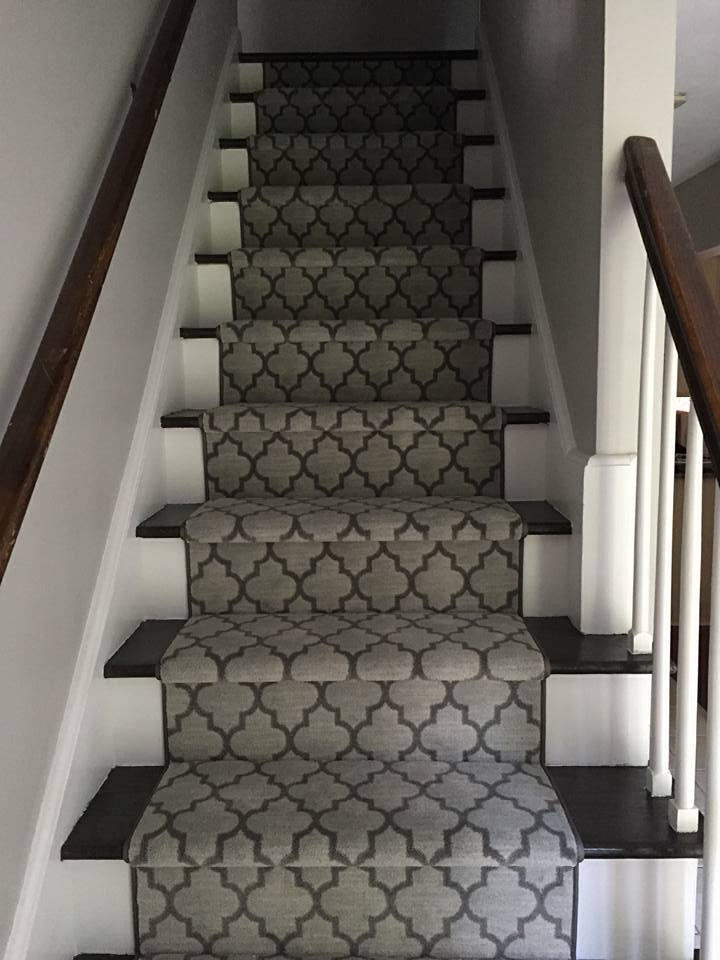 Although this next design is busier, the two-tone pattern is classic and works well with the white risers.
Imagine coordinating your carpeted stair patterns with tile. With some of these bold graphics, you could.
The carpet below is from Nourtex. It's a custom-fabricated nylon patterned stair runner.

We've written about the Stanton Carpet Atelier collection.
>> See Stylish Atelier Magnifique Carpet Collection From Stanton
Well, here's how two of those Stanton products look on stairs.
This is Pioneer Latticework in color Dusk.
And below is Atelier Icon in color Champagne. Although equally bold and geometric, this pattern is more contemporary in its style.
Here's another bold modern design!
This stair runner continues into the hallway.
3 - Cosmopolitan carpet patterns on stairs
Sometimes, the look you have in mind is more understated. You'll find plenty of those kinds of tone-on-tone or textural patterns to select from at Floor Decor.
The example below is a tonal diamond pattern.
Notice how it's not a runner. This carpet covers the entire step in a wall-to-wall installation.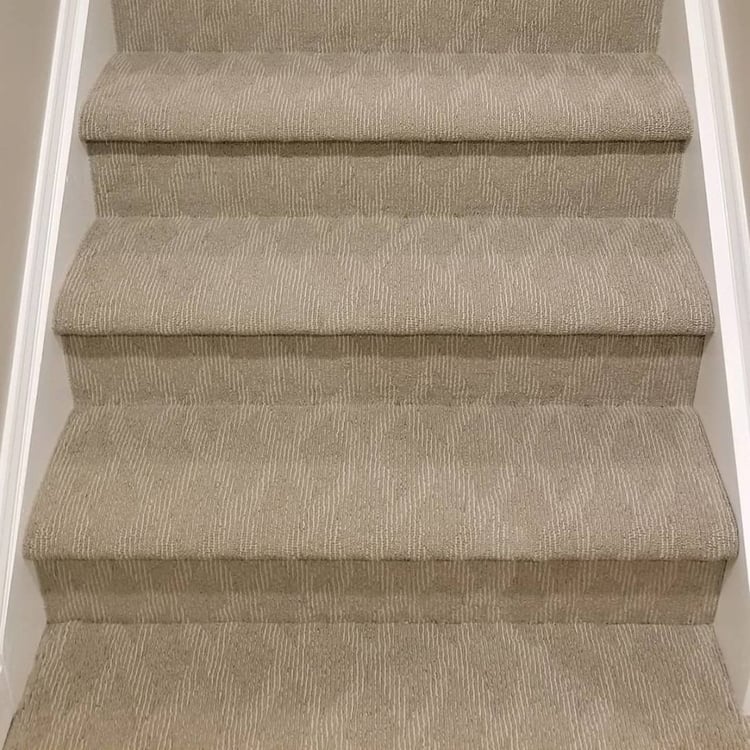 Below, you see a subtle two-toned pattern bound as a runner for these stairs.
Looking for subtle, classic, and unusual? Try a marble-look in carpet for your stair runner.
You can then coordinate it with marble-look porcelain tile in the bathroom.
>> See Feast Your Eyes on Marble Look Porcelain Tile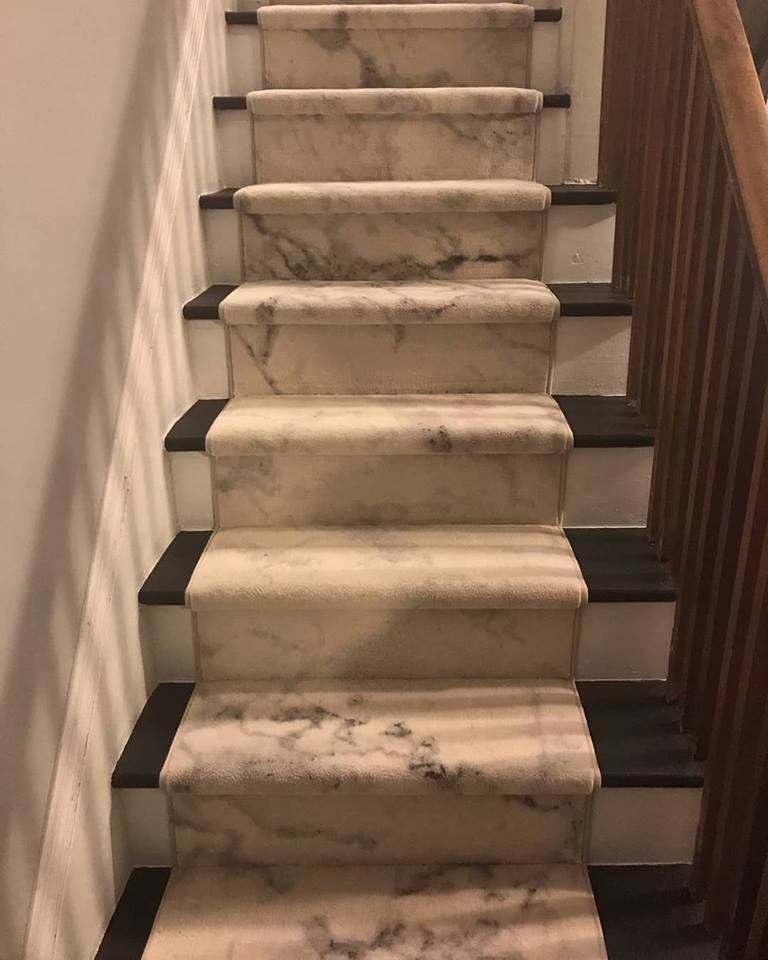 4 - Traditional carpet patterns on stairs
Another look to consider for your stairways is traditional. These are patterns that feature motifs such as scrolls and repeating patterns with central motifs.
The example below features scrolls. It also includes stair rods or carpet rods. These are ornamental decorative hardware traditionally used to hold carpeting in place on steps. They aren't necessary yet can add that traditional touch you're looking for in your home.
We featured the next two images in See How New Flooring Transforms 1980s Connecticut Condo.
The first in the condo foyer is installed as a runner, Hollywood style.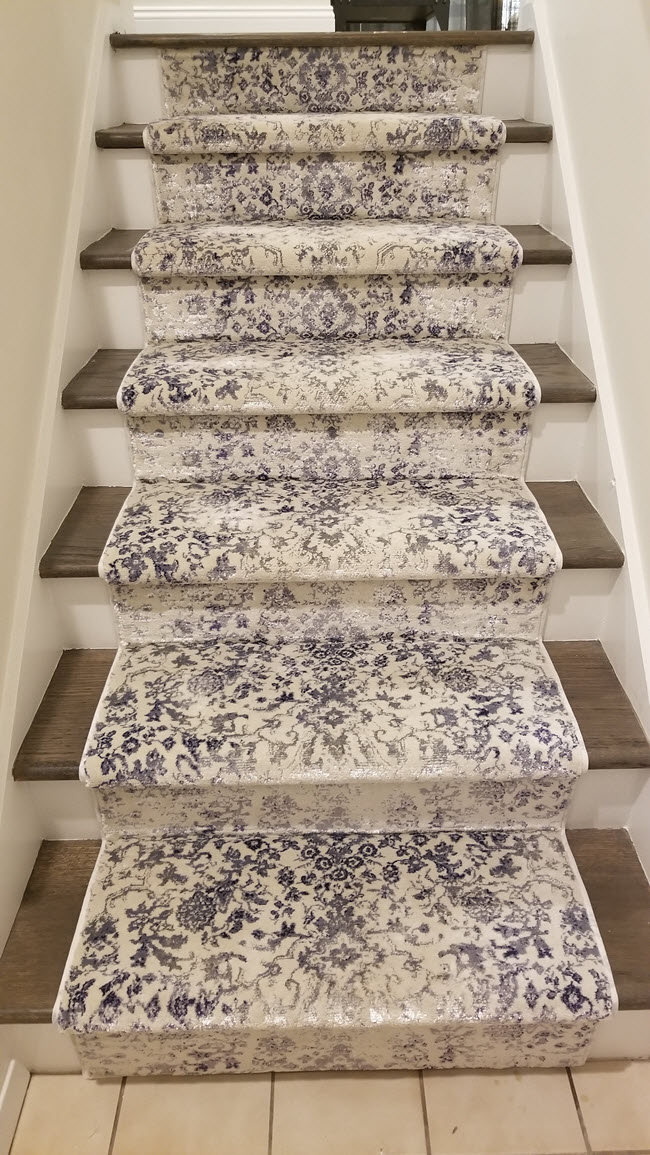 The second features a wall-to-wall waterfall installation. It takes visitors from the first floor to the second floor.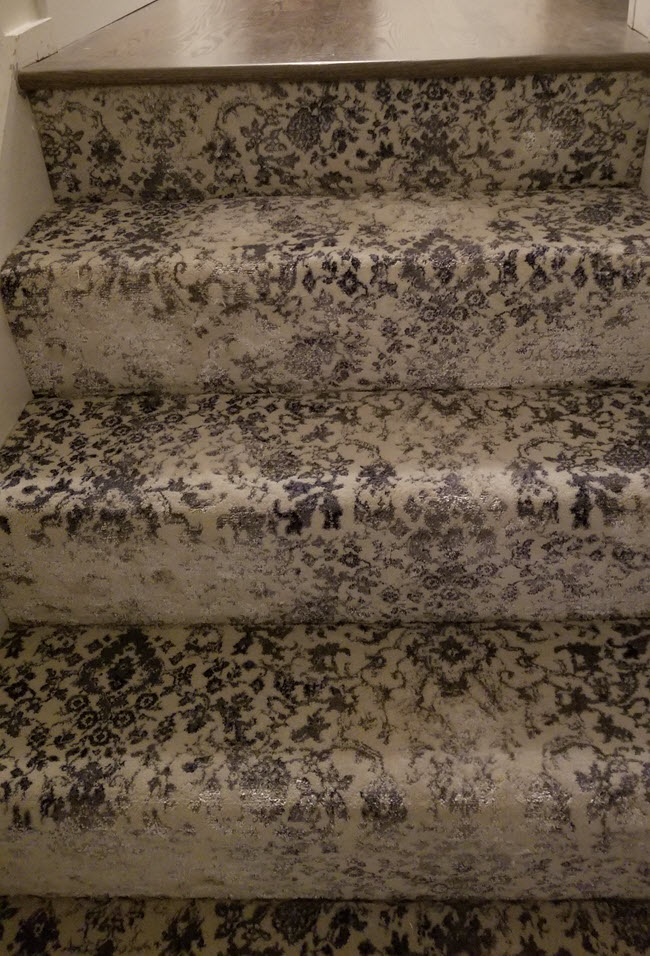 The comparison gives you the opportunity to see how different a carpet style can look based on how it is installed on stairs.
5 - Stairs with landings
Chances are, you'll have to deal with staircase landings. Just so you understand that we've not yet encountered a situation that we couldn't deal with, here's a non-traditional example of a stair landing.
The carpet is Fabrica's Serge in color Electric. The installation is quite modern. Rather than use a runner from step to step, we carpeted each step individually, then took a wall-to-wall approach for the landing and the final two steps which then meet a totally carpeted floor.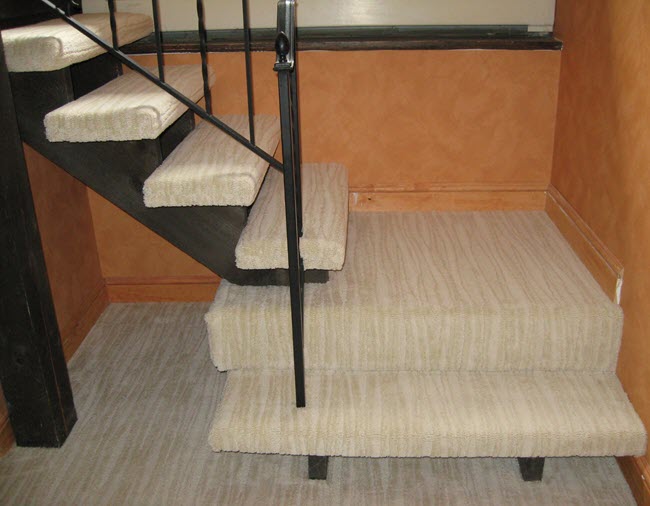 Here's a carpeted landing that may look more familiar to you. This wall-to-wall installation covers the entire staircase into the room below. The multi-tone pattern is warm and classic, and an excellent option for any home.
This next tonal multi-color cut/loop pattern is in Janine's home! She particularly loves that this runner is made of durable and stain-resistant nylon carpet.
Here's another Stanton Atelier collection carpet in a diamond pattern. Notice how it just flows from the wall-to-wall carpeted stairs into the rest of the room.
6 - Show-Stopping Carpeted Stairs
We've shown you quite a few examples. In this last section, you'll see an installation just completed that is unlike any other done recently.
This stair runner features nailheads along the border. The effect is stunning.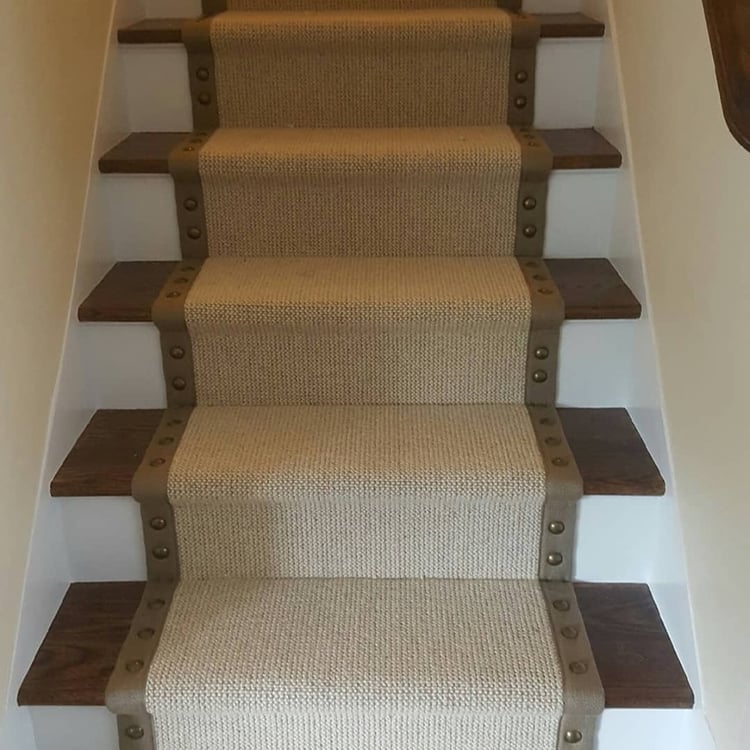 Here's another view from the top of the stairs looking down.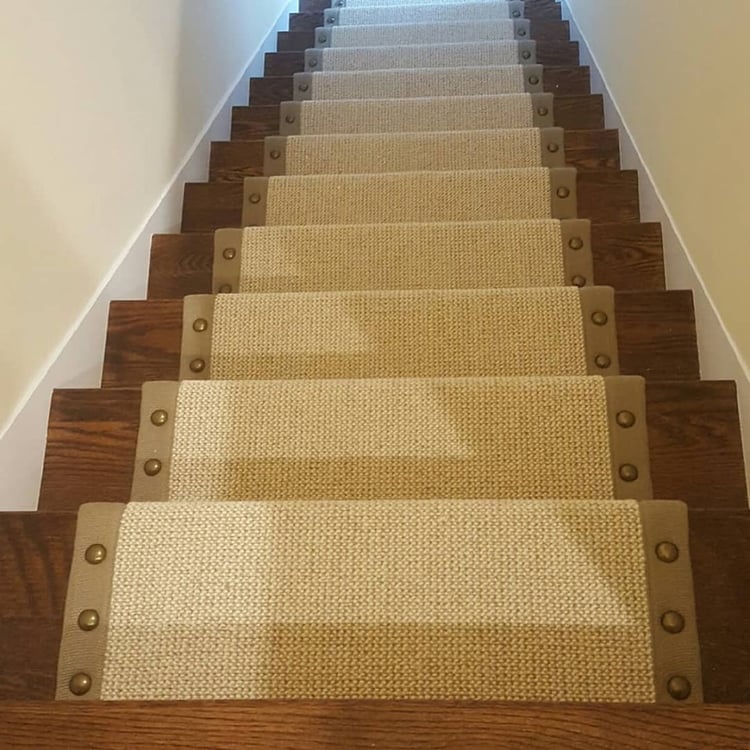 ARE YOU CONSIDERING Carpeted Stairs in your Home?
What's your reaction to these examples? Which ones do you prefer for your home?
We have two showroom locations in Middletown or Orange, Connecticut where you can explore carpet patterns when you're ready.
We look forward to helping you. Let us know how we can help you with carpeting your stairs. You can leave questions in the comments below or contact us.
Thanks for reading,
Janine & Michael
Note: We originally published this article on 06/26/2019, and have updated it.