If you have stairs in your home, they may be one of the first things anyone sees when entering your house. And even more so when you cover them with a stair runner. A stair runner can beautify your staircase and tie it into the rest of your living space.
Besides creating a beautiful new look, adding a stair runner adds safety for your family by preventing slips and falls. Stair runners will also make going up and down steps quieter.
Here's a pricing guide for adding a carpeted stair runner to your home.
Where To Start with Pricing Stair Runners?
1. What's Your Design Style?
Stairs runners should reflect your design style.
For that reason, I recommend first starting online by searching stair runner images. Check out the many styles that are available and find two or three you really like.
>> See 20+ Carpeted Stairs Examples to Inspire You
Save the images to a Pinterest or Trello board, or print them out and bring them to your local flooring store. You may not find the exact same carpet runner pattern there but a quality dealer will have something similar and possibly even nicer.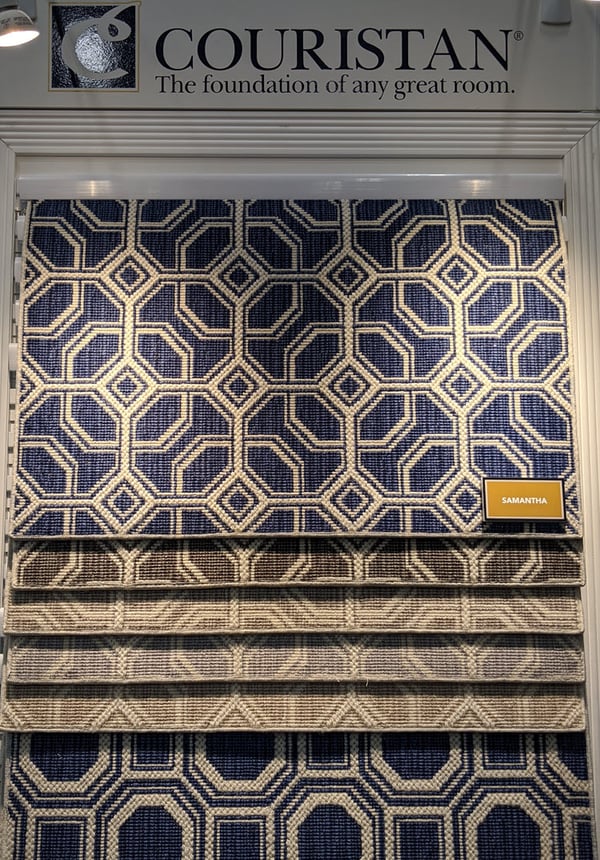 2. What's Your Stair Runner Style?
There are endless options for your new stair runner. Today most runners are custom-fabricated and made from the wide selection of broadloom carpets available as opposed to the traditional runner selection from a roll runner.
Decide your style. Is it contemporary? Traditional? Geometric? Floral? Styles are endless.
Once you decide on a style be sure it is a quality carpet. Stairs receive heavy foot traffic so the last thing you want to do is select a runner that will wear out in two years.
>> See What is the Best Carpet for Stairs?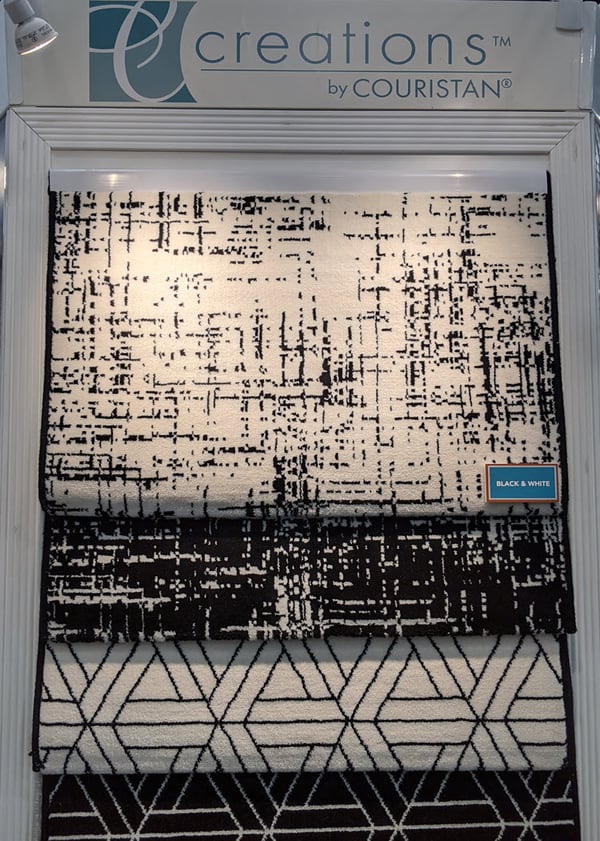 3. Bring Carpet Runner Samples Home
Just like other flooring projects, you will want to bring samples home and see how they look with your lighting and decor.
Take home two or three options but not many more. The more options you bring home, the more confusing it gets to finalize your selection.
Once you decide on a style, it's time to have a professional flooring estimator come to your home to precisely measure and be sure you do not run short of materials.
4. What Kind of Stairs You Have Affects Pricing
What kind of stairs do you have in your home? That will affect pricing.
A straight set of stairs is most common and figuring costs is much simpler.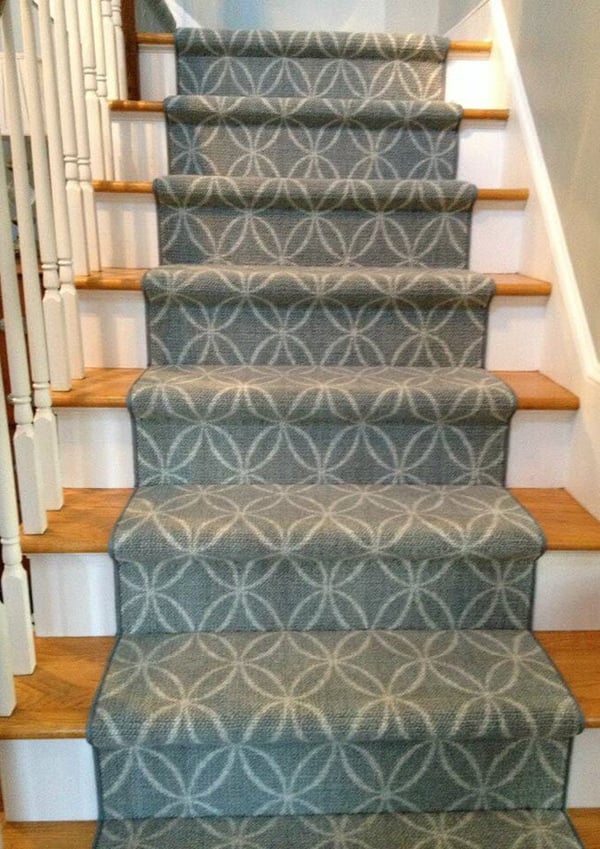 Stairs that have landings and 90-degree turns are more labor intensive and will need more material and therefore will cost more.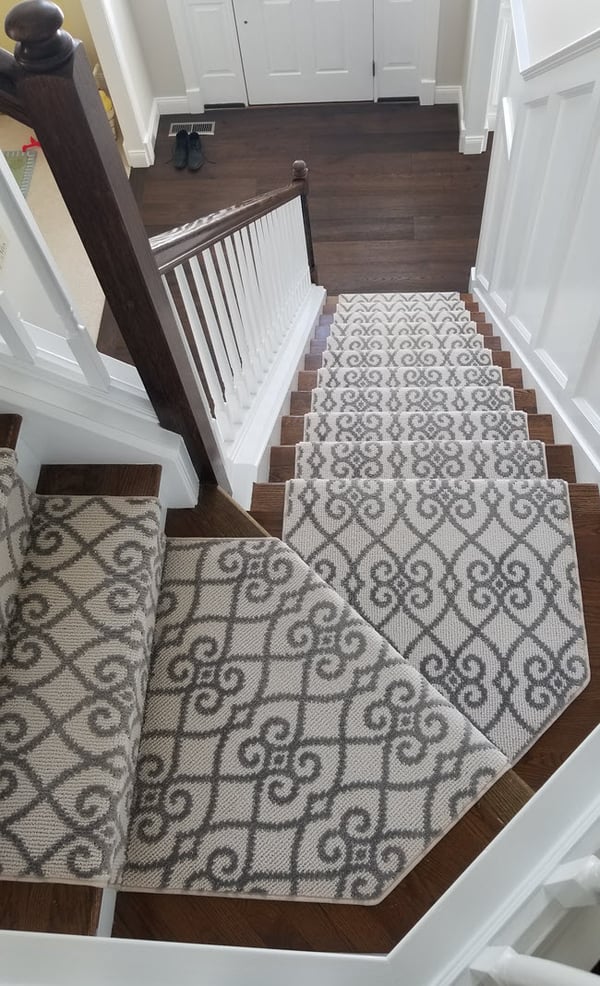 Cost will also be more for oval stairs and pie shaped stairs.
>> See Waterfall vs. Hollywood Stair Runners
5. Binding, Serging and Finished Runner Edges for Your Stair Runner
Next, you will want to decide on the finished edges for your runner.
You can select from standard cotton binding which will run $2 - $3 per linear foot.
Custom edges such as serging, wide width cotton binding (usually an 1-1/2 inch showing on the face), or other fabrics such as wide leather bindings or printed materials add upwards of $3.50 to $6.50 per linear foot to your cost.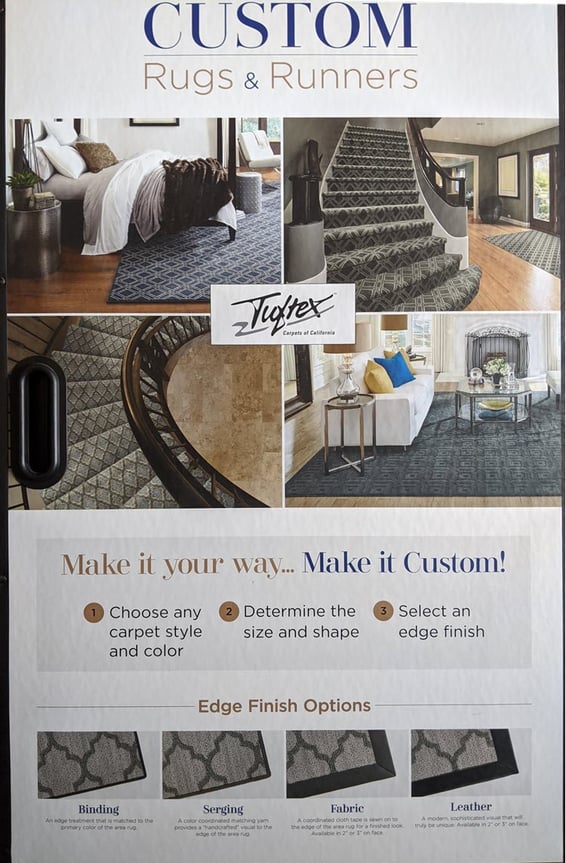 6. Expert Stair Runner Installation
Professional installation for a straight set of steps will run $295 to $395.
Custom runners for oval stair cases, stairs with landings that have 90-degree turns, and pie steps will cost $395 to $495 per set.
7. How Much will Materials Cost for Stair Runners?
Your cost will vary depending upon the quality, fiber type, and amount of materials needed.
26" Runner for a Straight Set of Stairs
A basic 26" runner off a roll runner will average $21 - $45 per lineal foot.
The average straight set of stairs usually need approximately 22 lineal feet so cost excluding installation would start at $462 and could go as high as $992.
Custom Runner from Broadloom Carpet
A custom runner cut from a broadloom carpet would be in the same $462 to $992 range excluding the finished edging and installation.
Custom Runners for Custom Steps
Custom runners for custom steps require more materials so cost will be 15 to 25% more.
Don't Forget a Premium Carpet Cushion
In any case you will also want to add a premium carpet cushion that will add life and comfort to your runner.
>> See How to Select the Best Pad For Your New Ccarpet
Stair Runner Pricing Guide Recap
You'll want to visit your local flooring store for advice in selecting the best runner for your needs.
You should estimate your total cost starting at $850 for a basic straight set of stairs not including taxes or removal of any existing materials.
Custom runners with miters, pie shaped steps, etc. will be in the $999 to $2400 range depending on the material selected with fine wool carpets being the most expensive.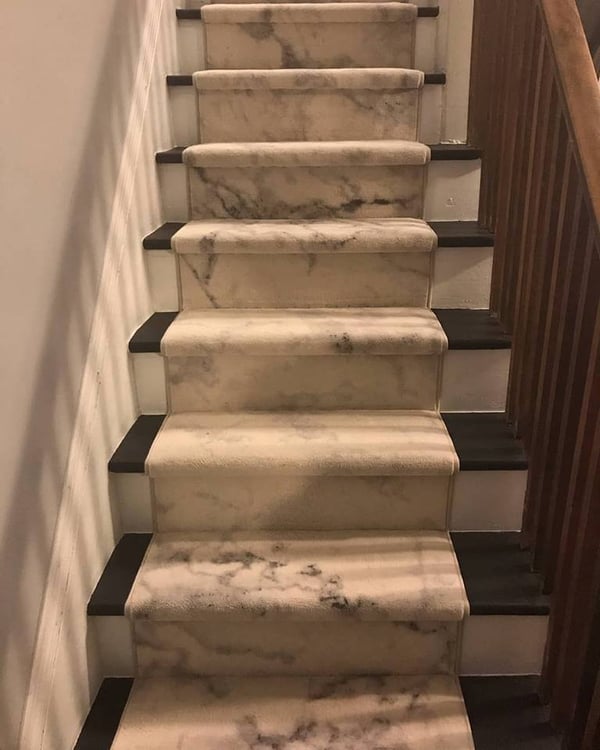 Ready to Explore Stair Runners for Your Home?
If you're ready to beautify your staircase with a stair runner, let us know.
You can visit one of our two showroom locations in Middletown or Orange by appointment to experience for yourself several carpet styles that are ideal for stairs. Or, you can do so remotely.
>> See Open for Business While Respecting Social Distancing
Let us know of any questions in the comments or contact us.
We look forward to helping you.
Thanks for reading,
Janine & Michael
Note: We originally published this article on 04/22/2020, and have updated it for you.