To help you understand the commitment Floor Decor Design Center has to help homeowners in the Orange and Middletown, Connecticut areas transform their floors and their homes, we want to introduce you to father-daughter owners Michael Phoenix and Janine Geneste.
As Michael explained in Welcome to Michael's Floor Talk Blog,
"Floor Decor Design Center is a family-owned business that my daughter Janine and I run... From vision to design, execution to meticulous installation, we can transform your home room by room to a haven to be enjoyed by you and your family for years to come."
We caught up with the two to understand what's behind the commitment and how that has affected the evolution of the business since 1998.
Meet Michael Phoenix and Janine Geneste, Owners of Floor Decor Design Center
FDDC: Michael, how did you get started in flooring?
MP: My Dad was a lifelong carpet salesman and regional manager for both Allen Carpet and Cadillac Carpet respectively. Naturally I went into the carpet business as well.
I began as a carpet installer in 1973. In 1982 I moved into sales working for an Armstrong distributor in Connecticut. I then moved on to become a territory manager for Coronet Carpet, Salem Carpet, and Image Carpet. And in 1990 I became the Northeast regional manager for Salem Carpets.
In 1998 left the wholesale side of the business and opened my first retail store with my then-partner Ed Melowcowski in Orange, Connecticut named The Floor Store. We opened our second location in Manchester, Connecticut in 2001. Both stores were warehouse-type operations that stocked hundreds of rolls of carpets and carpet remnants.
FDDC: What inspired you to start Floor Décor Design Center?
MP: In 2008 at the height of the recession, I opened Floor Decor Design Center which catered to the mid and upper end client.
Carpet had steadily declined, and hard surface was becoming the dominant choice for homeowners. This new store concept was focused on presenting the product in an upscale showroom with the emphasis on customer service and design.
My daughter Janine who ran the office at The Floor Store now was on the showroom floor working with our predominantly female customer base. Janine became the design consultant customers depended on for their flooring and decor needs.
In 2017 Janine became my partner in our family run business.

FDDC: How did the Middletown, Connecticut location happen?
MP: Shortly after opening the Floor Decor Design Center in 2009, we opened our second location at the Galleria Design Center in Middletown. It's a 30,000 square foot showroom offering all your home design needs under one roof.
The Galleria was the perfect complement as it had various businesses featuring lighting, plumbing, cabinetry, appliances, and interior design services.
FDDC: How did Floors To Go fit in?
MP: In 2016 we joined Floors to Go, a nationwide flooring group of over 800 locally owned flooring retailers.
Joining the group gave us the buying power to compete with the big box and online retailers along with exclusive programs to enhance our flooring offerings to our customers.
Another benefit of belonging to the group is the camaraderie of talking with other members of the group and sharing ideas of what they are doing that is helping their business grow.
FDDC: As Michael said, this is a family business. Janine, what inspired you to get involved?
JG: I used to love coming to the store when I was young.
Over the years, my love for design has grown immensely. I hope to one day make my grandfather and dad proud and eventually be the 3rd generation to take over one day.
Design is something I have always loved. Our showroom has transitioned from the days of many rolls of carpet to a design center which I feel allows for more customization. I think a lot of clients can appreciate that.
My goal is to ensure that all clients end up with the space they have always wanted & dreamed of.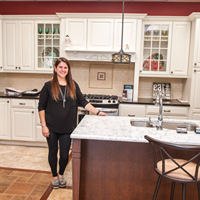 FDDC: How do you both split the responsibilities?
JG: Along with running the showroom and working with clients, I do the ordering and bookkeeping.
I also do the social media posts to keep us in front of our target audience.
MP: And I do the measures, job assessments, and work with our commercial customers. We work together on ways to grow the business and offer our customer a memorable shopping experience.
FDDC: What do you love most about the business?
MP: Along with working with my daughter and the independence of constantly looking for ways to better our business, each job is unique in its own way. There is something new each day.
Working with our customers to create rooms they love is a great feeling and having them refer us to their friends and family is very rewarding.
FDD: You also carry countertops, offer rug binding, hardwood refinishing, kitchen and bath remodeling, design and installation… How has that evolved over time?
MP: By necessity.
We started out as a warehouse operation 20 years ago and evolved in to a full-service flooring and design showroom. If we had remained a carpet-only retailer, we would have gone out of business a decade ago like the mega chains Kaufman, Carpet, Allen Carpet, and Cadillac Carpet.
Customers are constantly watching HGTV and seeing products that they want for their own homes. We decided long ago that to survive and thrive, you had you offer customers design products in a way big box stores and online retailers couldn't compete. That's with a showroom that's easy to shop, with great customer service and incredible, hassle-free installation.
Simply make it easy for the customer to create the room of her dreams.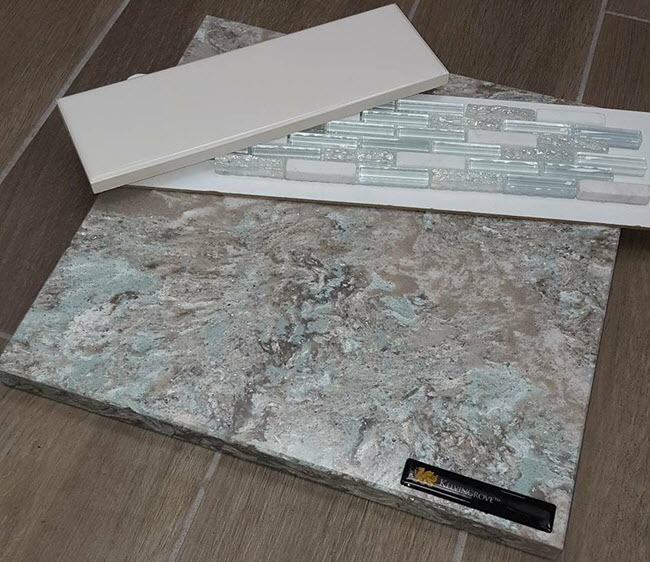 FDDC: Your business has a strong customer focus. Was that a point of differentiation from the beginning? How has it evolved over time?
MP: A strong customer focus has been part of our concept from the beginning.
It remains as one of the most important factors that set us apart from the competition.
We are constantly looking for ways to offer our customers more. Whether it's bringing in new product categories, adding new services, we are committed to be our customers' go-to source for flooring and design services.
FDDC: You have amazing customer reviews. Are those all for real? Have you had bad ones and how did you deal with them?
MP: Yes, they are all real and sent in by our customers.
From day one we concentrated on customer service. Back in the Floor Store Days, we sent a thank you card to each customer along with a self-addressed post card asking them to describe their Floor Store experience.
We received thousands over the 10 years at Floor Store and they were all posted on our "Wall of Fame" for potential customers to view.
Then with Floor Decor, technology changed, and everything went digital. We work with an independent 3rd party (Customer Lobby) that calls or emails our clients and posts their reviews to their platform as well as to our website.
>> Read reviews from Floor Decor's customers.
We haven't had bad ones but occasionally we would have a client who wasn't 100% happy and we would address the problem immediately. It's one of the reasons we ask our customers for feedback so if there is an issue we can take care of it or them.
There is nothing better than having a customer with an issue she is unhappy about and taking care of it to win her as a customer for life.
Customers just want to know that you stand behind your products and services.
FDDC: Which are your favorite products and services?
MP: Actually, there is not one product or service. Rather, it's when the completed project totally transforms the home into a space that our client loves, that is the most rewarding.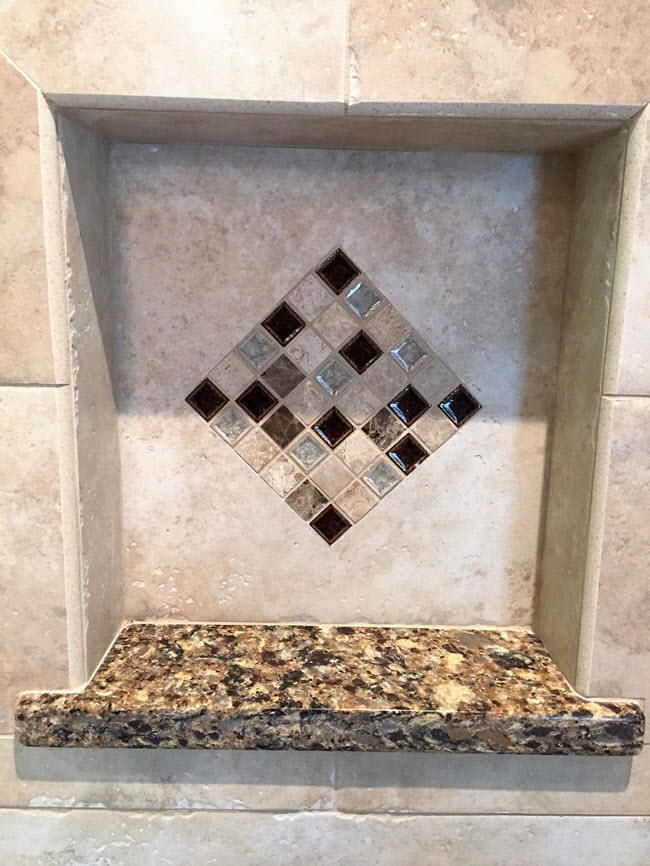 >> See images of Floor Decor Design Center's work.
FDDC: What makes Floor Décor Design Center Different?
MP: It is our passion to create a truly unique shopping experience followed with amazing design and flawless installation that drives us forward.
It's a principle that we call "Boutique Excellence":
A desire to create amazing spaces by paying unrelenting attention to detail, having personal passion and a love for what we do.
We strive to have the principle of Boutique Excellence reflected in each and every floor we install and each customer we work with.
Ultimately, everyone wants to love where they live, and we believe we can play a part in achieving it.
FDDC: How has the Orange CT showroom evolved over time?
JG: We are constantly updating the showroom with new and innovative products and moving out those that have fallen out-of-fashion. It's simply our desire to offer the most fashion forward flooring and flooring-related products in a comfortable setting where our customer can be inspired with ideas for her home.
Thank you, Michael and Janine.
If you have questions for Michael and Janine, let us know in the comments.
We hope you'll visit one of our two Connecticut locations, so we can help you achieve the look of your dreams for your home.
Thanks for reading.
The entire Floor Decor Design Center team