Are you welcoming friends and family to your home during the holidays? If yes, you may enjoy these five holiday decorating tips that the Floor Decor Design Center Designers share with you in this article.
>> Meet Randee Slotkin, Floor Decor Design Center Designer
>> Meet Stephanie Mazzula, Interior Designer in Middletown, Connecticut
Floor Decor's Designer-approved 5 Tips for Holiday Decorating
1. The Ultimate Holiday Welcome Starts At Your Front Door
The front door sets the stage for the holiday experience. It's where you start the welcoming process and the holiday magic.
Plus, it gives your neighbors something to admire when they pass by!
An ideal solution is to add a wreath that contrasts with the color of the door.
For example, the wreath below combines holly berries and white berries crystallizing in the winter cold... And, if you feel like leaving it up beyond Christmas and New Year's, add some velvet roses for Valentines Day.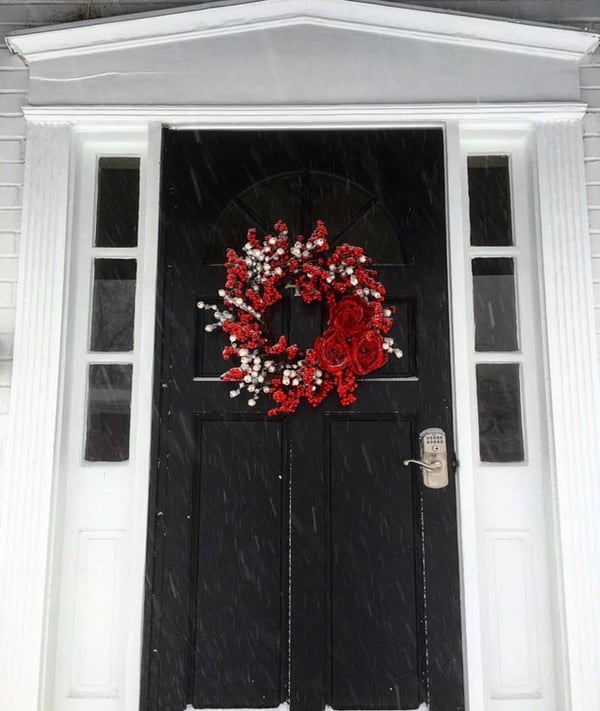 A red door is the ultimate in evergreen seasonality. In the example below, not only does the evergreen wreath with whimsical winter sled and pine cone details make a strong holiday statement, but it accessorizes perfectly with the planters around the door.
Notice how the planter on the left side of the door is at a different height than the one on the right.
In contrast, the more formal entryway below is all about symmetry. The be-ribboned garland frames the doorway with elegance and cheer.
2. Have Fun With Seasonal Wreaths
Did you notice the wreaths above? What better way to dress up your door than with a wreath.
Here's a closeup of the beautiful wreath from the first image above. Stephanie Mazzula designed it. The shimmering white and light touches add the perfect touch to this door,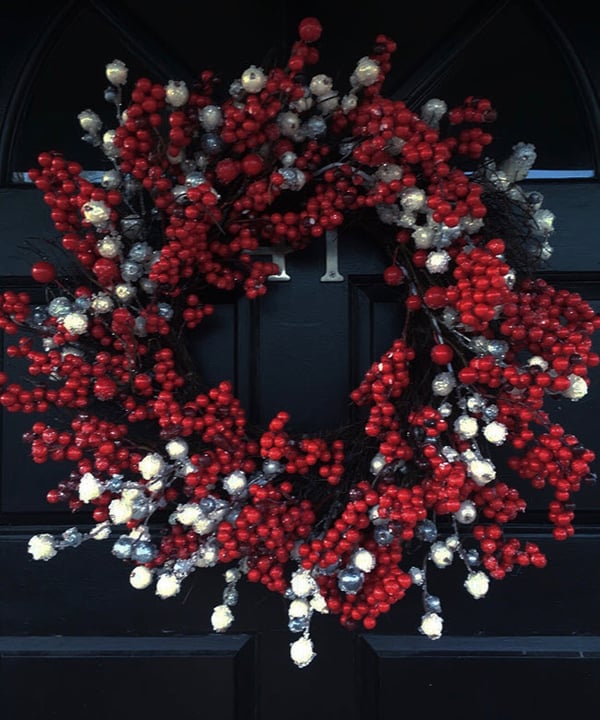 Here's an even closer-up view. It's
truly romance at your entrance, giving your home a homey whimsical feel.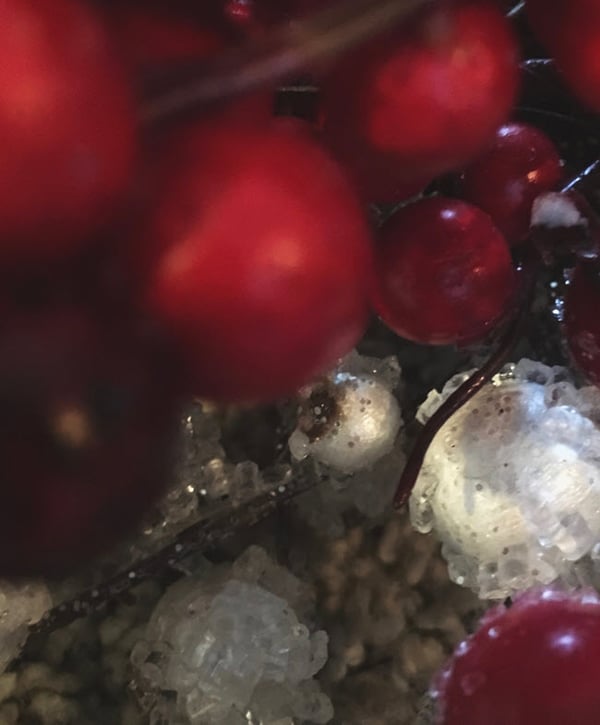 What's wonderful about wreaths is that there's no limit to what you can create. It's not limited to the winter months or to holiday colors. Rather, they are about bringing your own vision to life with ribbons, fanciful shapes and textures, contrasting or complementary colors, with flowers or without.
3. Add Subtle and not so Subtle Touches
Once your visitors beyond your front door, it's time to expose them to subtle and not so subtle holiday design elements as you extend the holiday welcome.
For example, if you have a hearth, why not dress that up with a wreath as you see in the image below.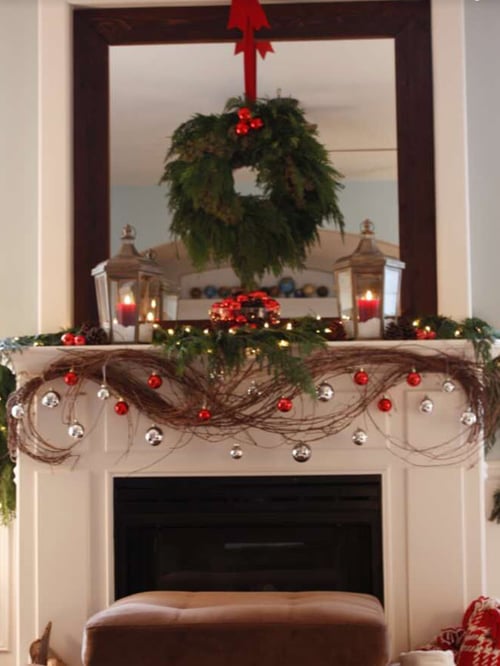 Perhaps, instead of a mantle piece, you've made your Christmas tree the focal point of the room. Consider adding touches such as bright red ornaments that hang from the exposed beams below.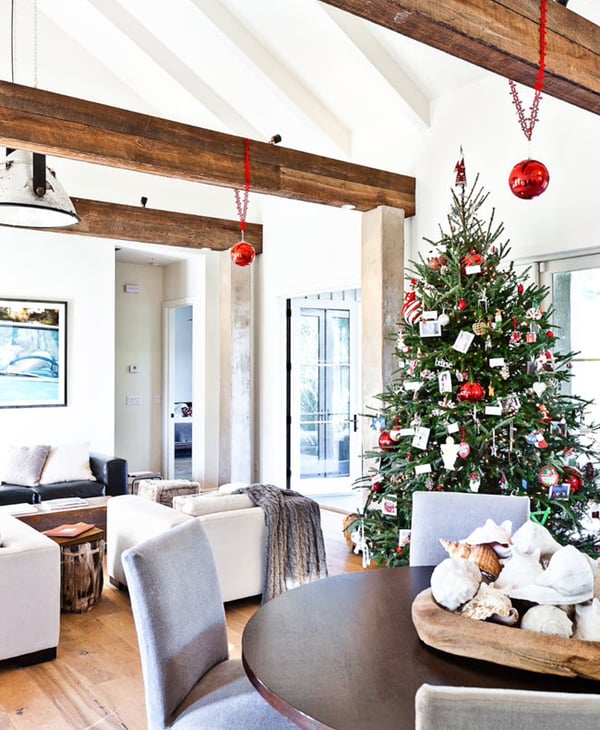 4. Where Holidays, Festivities and Decor Come Together: At a Beautiful Table!
Holidays focus on bringing people together to enjoy one another's company. That's where a beautiful table is so important as a backdrop for conversation and for inspiring good cheer.
And it's now all about reds.
Stephanie highlights keeping the house festive in coppers, silvers, and whites... Consider using white roses as a live center piece to add glam to the table and visually transition from fall to winter!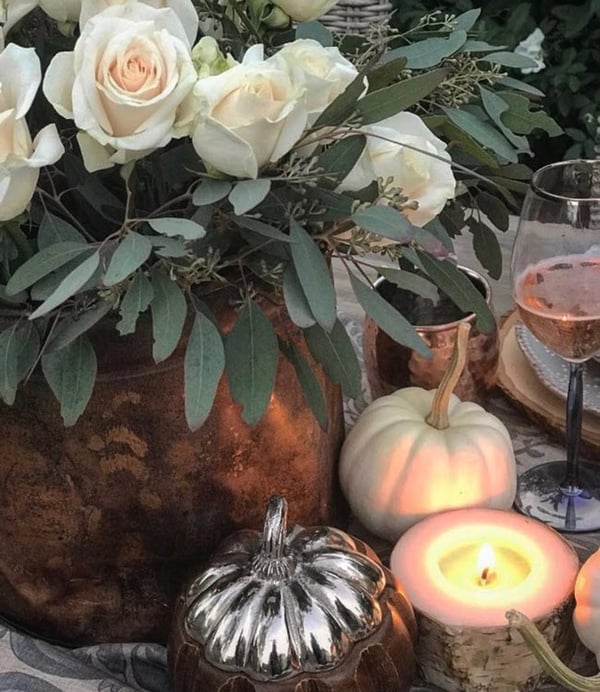 Randee emphasizes that it's
important to make the table and settings festive and interesting. For example, in the image below, notice the different candles, the seasonal decorations in the corners and the berries on the table.
The place setting below contrasts intricate patterns - from the floral centerpiece, the glassware, the plate design against the warm wood tones of the table.
Perhaps you'd prefer a more monochrome theme as you see below. As winter approaches, Stephanie likes to add birch to the table with placemats and silver linens.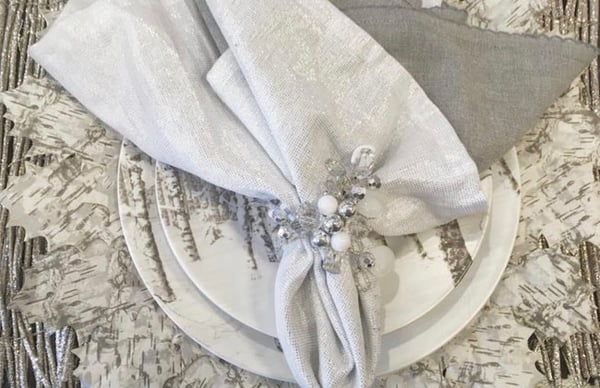 Don't Forget the Kids!
A special note during the holidays: don't forget the kids! They appreciate holiday details too. Why not, as Stephanie reminds us, present them with a place setting geared towards their own sensibilities?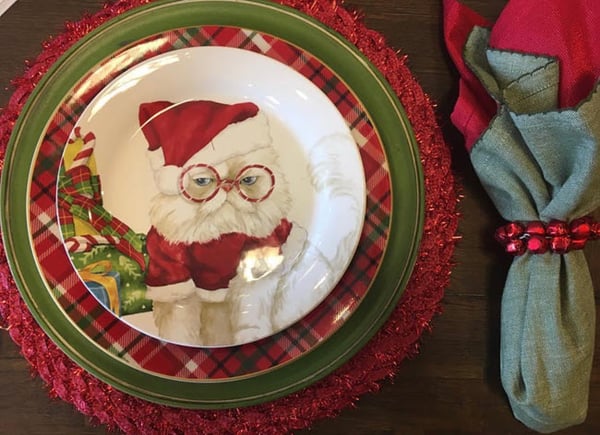 5. Add Festive Floral Touches Throughout Your Home
Regardless of the season, floral touches can make a room. During the holidays, they add warmth and cheer.
Take this poinsettia in a vase as a focal point. The color is mesmerizing and the vase adds light and whimsy to the table.
You could create a similar effect with bulbs.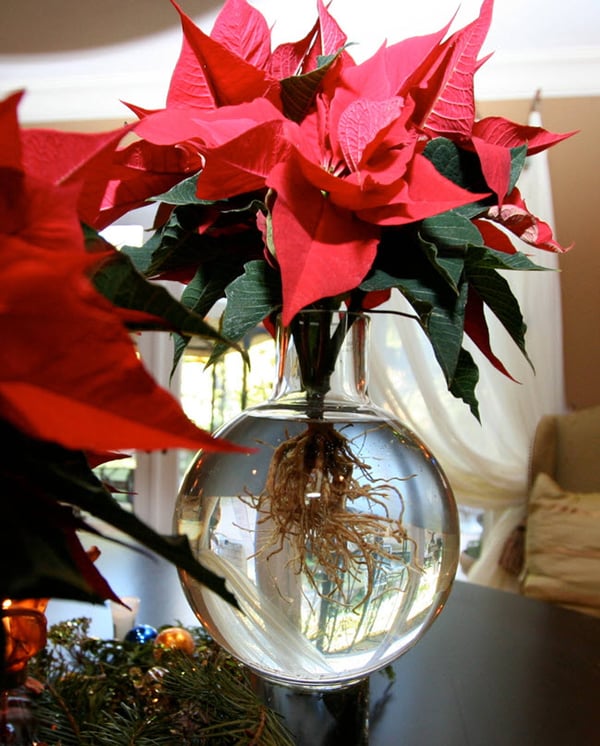 Here's a gorgeous dramatic floral arrangement you can admire in the Middletown, CT showroom that Stephanie created.
It has height with the birch branches, holly here and there, and hydrangeas in velvety red.
>> Take a Virtual Tour of Galleria Floor Decor Showroom in Middletown, CT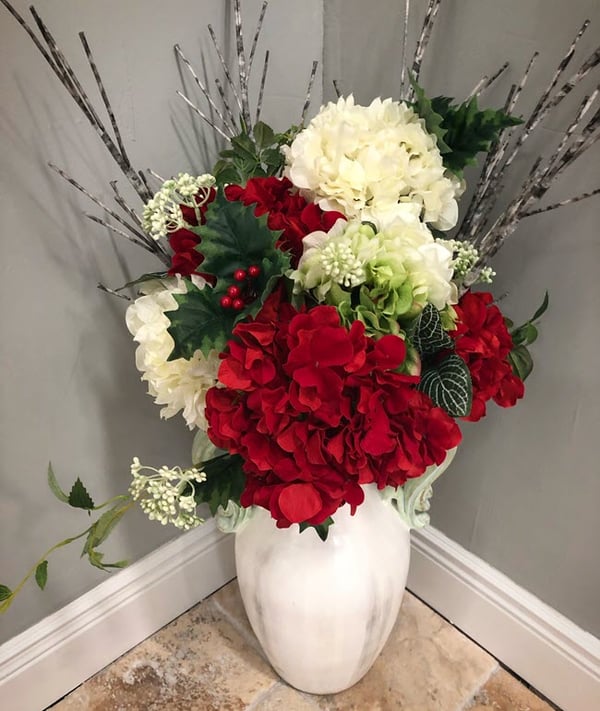 Christmas trees epitomize bringing the outdoors in. Consider taking that a step further with flocking. It brings the snow inside without the chill.
Truly winter inspired.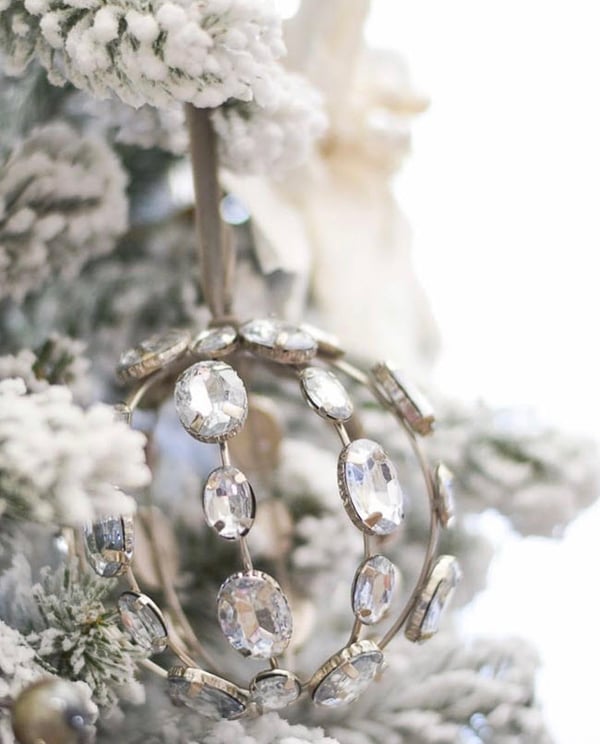 Don't forget the element of surprise. Snowflakes, flocking, pine cones and owls.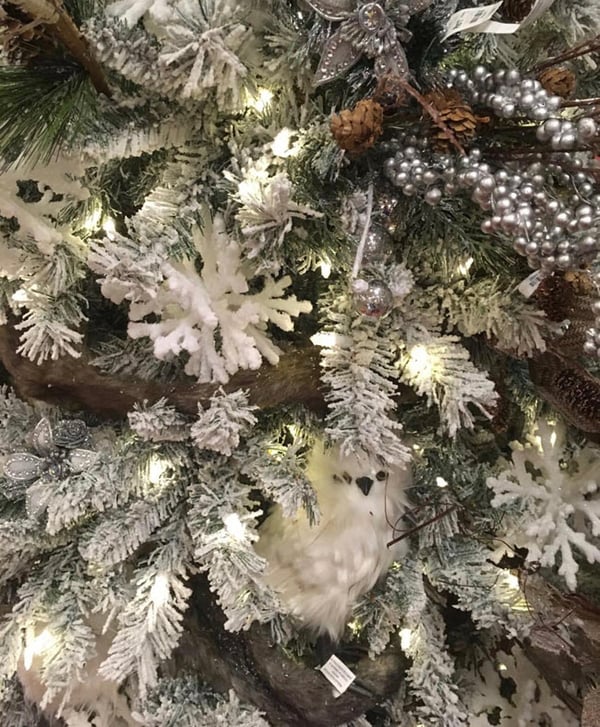 What Holidays Are About: Family!
Most important, though, is remembering that the holidays are about family and ensuring that everyone feels welcome.
Stephanie loves setting the table for the kids, seeing their delight in how their Auntie sets the table in characters reflecting her nieces and nephews. She organizes a craft every year, something that reflects the holidays and gives them pride!
Here you see Cole. He is 5 years old and models his Christmas tree made from ornaments and other fun stuff found at a local craft store. He had such a good time.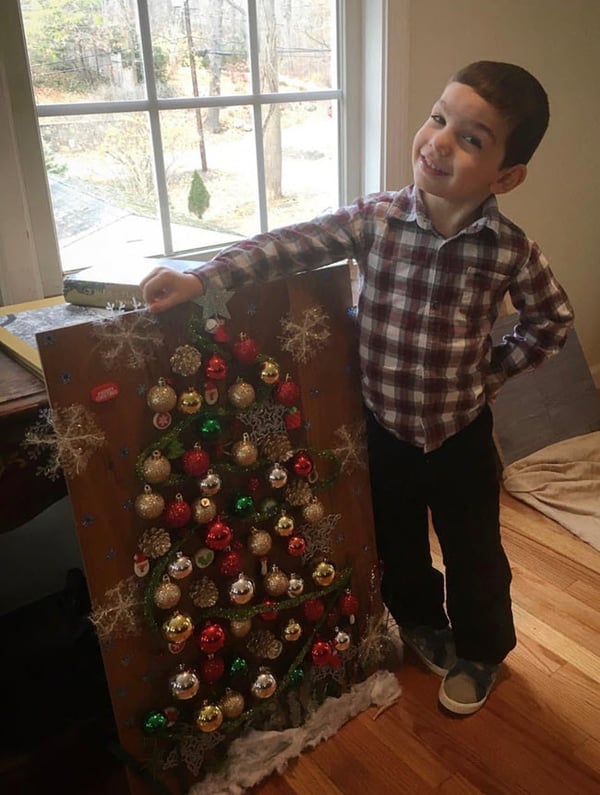 You can also have fun with cut gift wrapping. Here, Santa is holding a present as he rests on the carpet.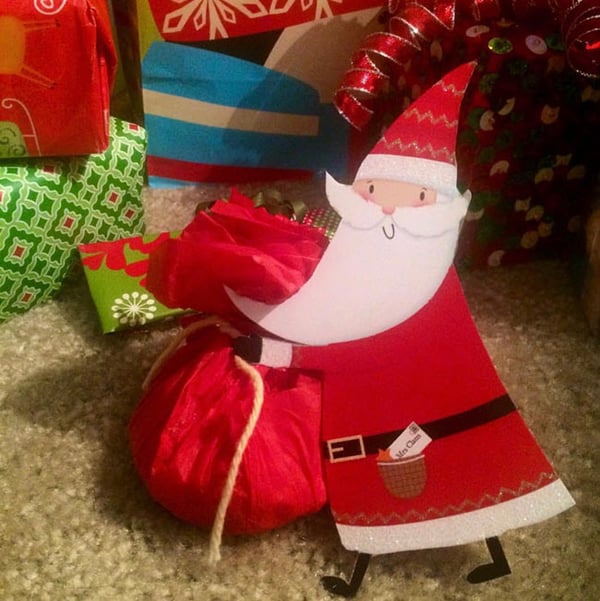 From Our Family to Yours: Happy Holidays!
We hope these five holiday decorating tips inspire you to create your most welcoming holiday decor ever. If you need help, let our designers know.
From all of us, Happy Holidays!
Thanks for reading,
Michael