As a full-service design center, Floor Decor is ready to help you every step of the way as you remodel your home, change your floors, update your kitchen back splash, or reimagine other spaces. The process, though, can be intimidating. That's why we offer shop at home services as well as expert design help.
At the Orange, Connecticut showroom, your expert resource is designer Randee Slotkin. We caught up with her to ask her a few questions.
Meet Randee Slotkin, Floor Decor's Designer in Orange, Connecticut
MP: Randee, what is your background and how did you get started as a designer?
RS: I graduated from Philadelphia University with a degree in textile & interior design.
I moved to New York City to take a design position and spent the past 35 years designing fabrics. I traveled to Europe several times a year for concepts and inspiration. The experience was priceless!
I've always been more on the creative side and turned my passion for color & textures into design. I moved to Connecticut and started my own interior design consultant business.

MP: What do you love most about being a designer?
RS: What I love most about being a designer is to help clients turn their dreams of a bathroom or kitchen remodel into a reality.
My designs must address their functional needs, as well as the designs being a personal reflection of my clients' taste which we work together on as a team.
Some people can't visualize a room. This is where a designer is extremely valuable by removing the stress involved in making design choices and turning it a fun process instead of a stressful one.
I also like to explore new design options for my clients by exposing them to new ideas they wouldn't naturally gravitate towards due to the fact that we usually like what we are used to seeing.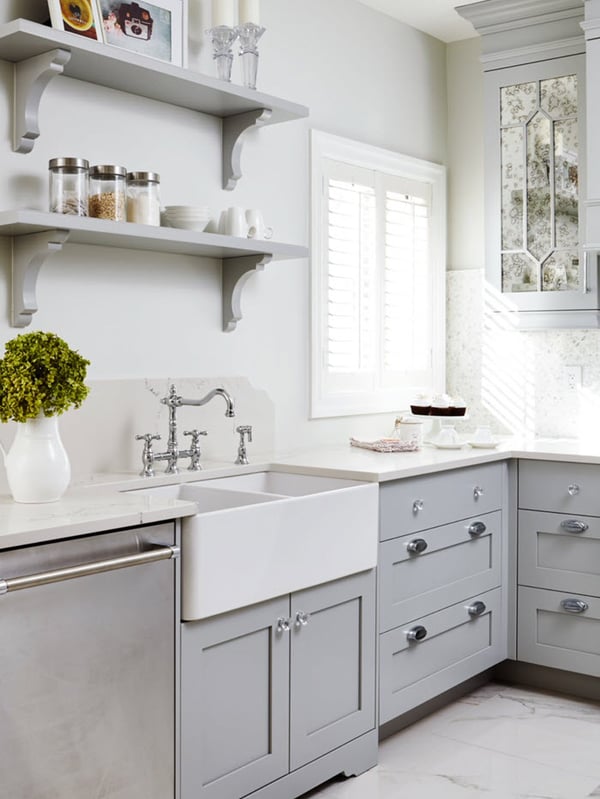 MP: Randee, what are some of your favorite installations?
RS: I've included images of four kitchens I've designed in this article.
In the first one above, you'll notice wood plank tile on the wall immediately outside the kitchen. That's in contrast to the hardwood floors. The result is cozy, inviting yet light and fresh.
>> See How to Choose the Right Hardwood Floor for Your Home
In the kitchen image immediately above, the backsplash and cabinetry details add playfulness and visual interest without taking away from the simplicity. Notice the marble pattern on the floor. This can be done in porcelain tile as well as Luxury Vinyl Tile.
The kitchen below features subway tile on the walls, and a subtle marble pattern on the countertops.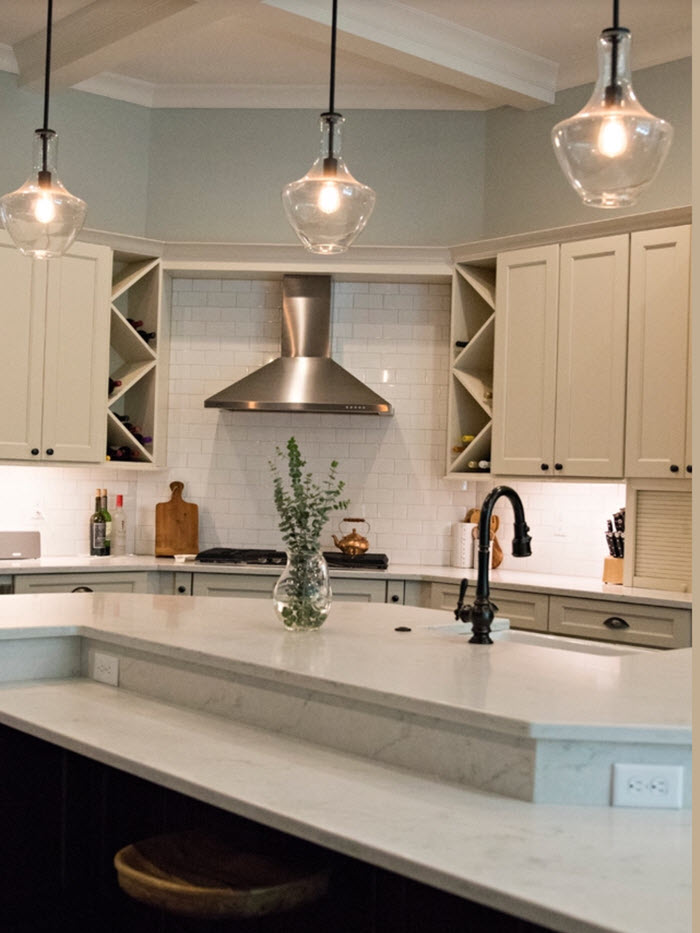 The image below also features subway tile. Notice how different the effect is depening on the countertop, the light fixtures and details such as wood plank tile around the island.
When it comes to designing a kitchen, it's important to understand work flows and traffic patterns.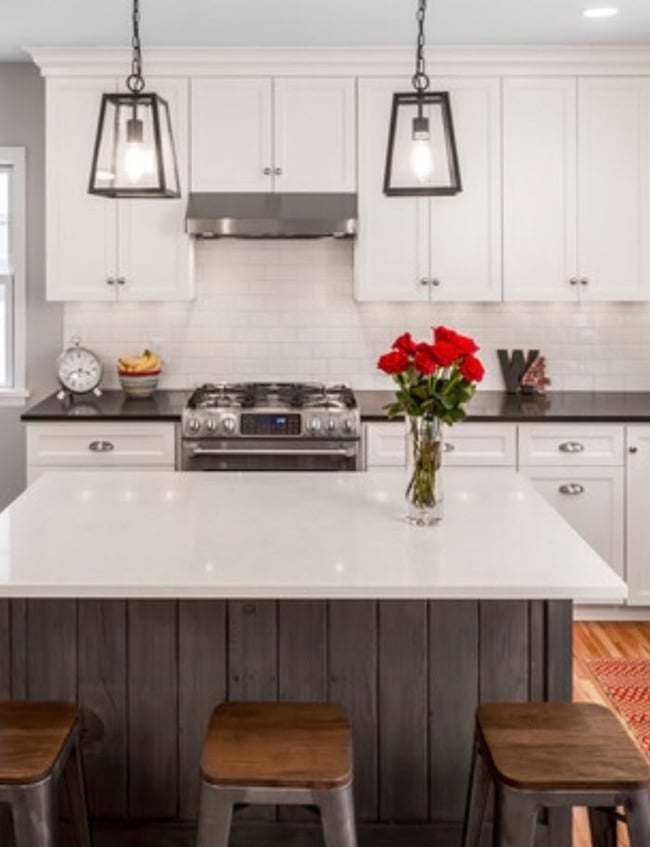 MP: Which are your favorite Floor Décor Design Center products?
RS: There are so many exciting products to discover at Floor Decor! Here are a few favorites from the Orange, Connecticut showroom.
From a wood plank tile perspective, I like these distressed barnwood-type styles. Notice how rich the variation in pattern is.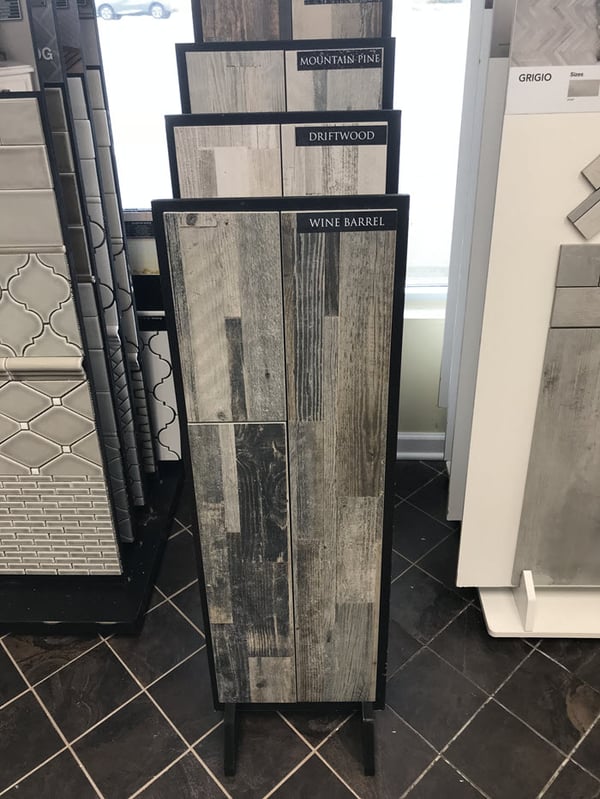 Decorative tiles like the ones you see in the image below can transform an otherwise uniform look by adding visual interest. I like these circular patterned mosaics.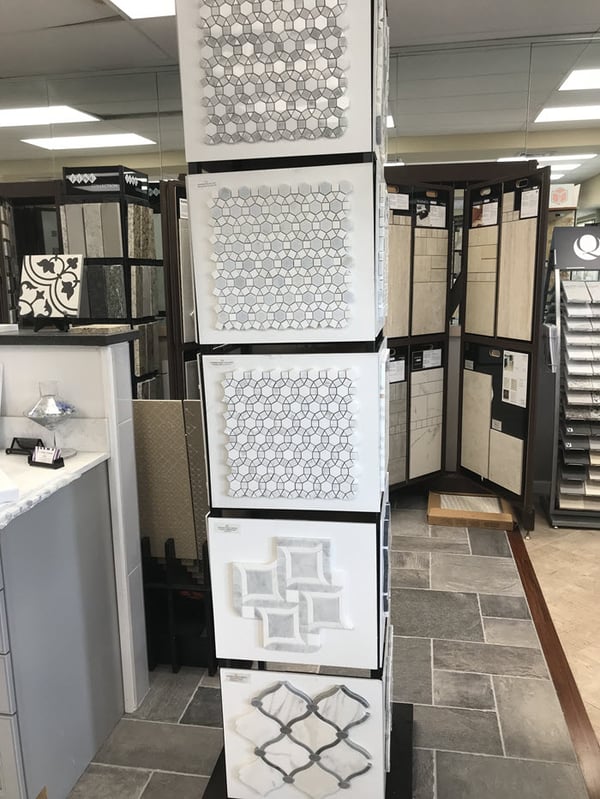 I like these hexagons and waterjet cut patterns such as the ones in the next image. They can look very different depending on the grout color you choose.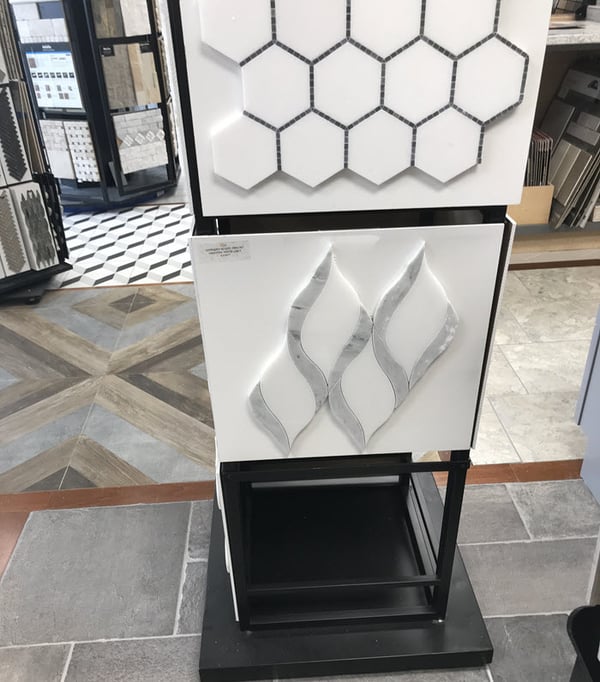 MP: Have you noticed if there are design trends specific to Connecticut homeowners?
RS: Design trends are constantly changing but nothing is really specific to Connecticut. When it comes to design, we do all styles, modern, transitional, eclectic or coastal to name a few.
>> See Three Tile Backsplash Trends For Your Connecticut Home
MP: How do you help customers with their design projects?
RS: Besides bathroom and remodels, I do floor plans, window design, paint selection, flooring and construction when needed.
For example, I just finished a three-season room which, because it was so stunning, turned into an all season room with air conditioning and heat.
Here are some images of the project, first in the early remodel stage: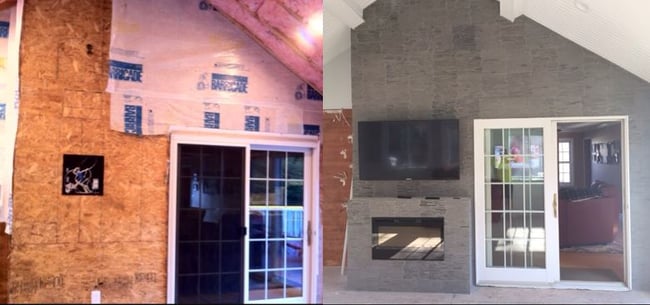 Here you see how that main wall looks when it was close to completion.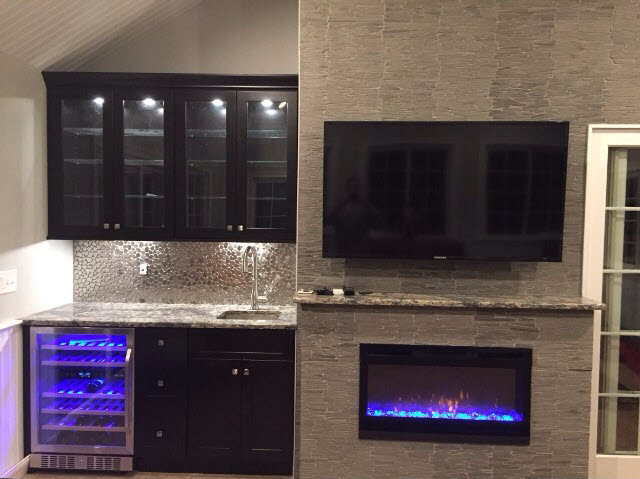 And here's a closeup of the sink area, with metallic pebble mosaics for the backsplash and a rich patterned countertop.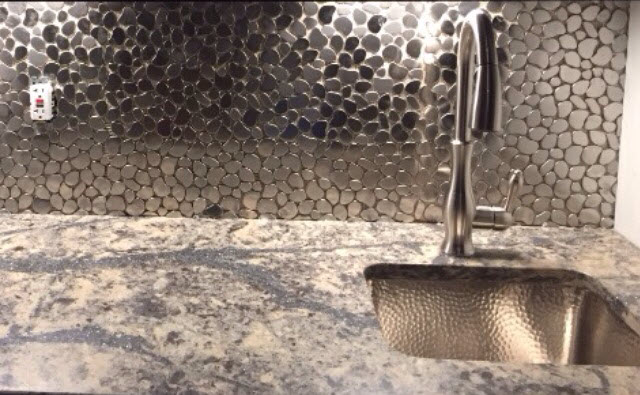 MP: What about when it comes to making product selections?
RS: As you know, it can be overwhelming for a customer to make product selections when there are so many beautiful products to choose from. I help by pre-selecting products that I'll take to a customer's home where we can review the options in the right setting.
Here's an example of products I selected for a laundry and powder room.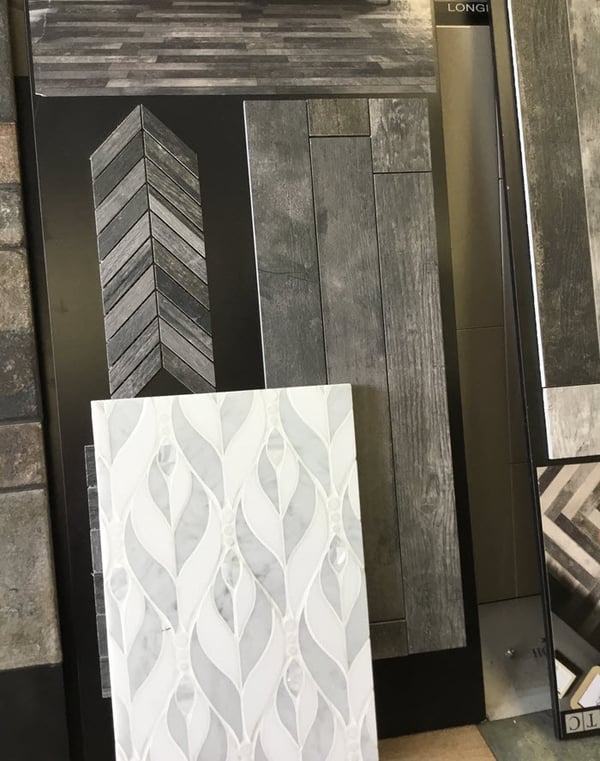 MP: What tips do you have for clients just getting started with a remodel project?
RS: I tell clients starting a new remodel or interior revamp to ask for help. It takes the burden off of them as to what to do or where to go. And, it makes it easy for them to get the project they are working on done. Then, they can move onto other things on their agenda.
MP: Randee, how can readers reach you?
RS: You can reach me by email - randeeslt@optonline.net - or by phone at 203 783-3047. You can also find me on Houzz under R S Design Consultant.
I am in the Orange, Connecticut showroom on Friday and Saturday. Anyone needing help can request an appointment to come into the showroom, though, on any day. Call me directly, or leave a message with Janine or you, Michael, and I will meet with them at their convenience.
MP: Thanks, Randee.
Are You Considering a Kitchen or Bath Design Project? Work With Our Designer
If you are considering a home remodel project such as a bathroom or kitchen redo, work with our designer, Randee Slotkin.
Visit Floor Decor Design Center in Orange, Connecticut or contact us with your questions.
We look forward to helping you.
Thanks for reading.
Michael