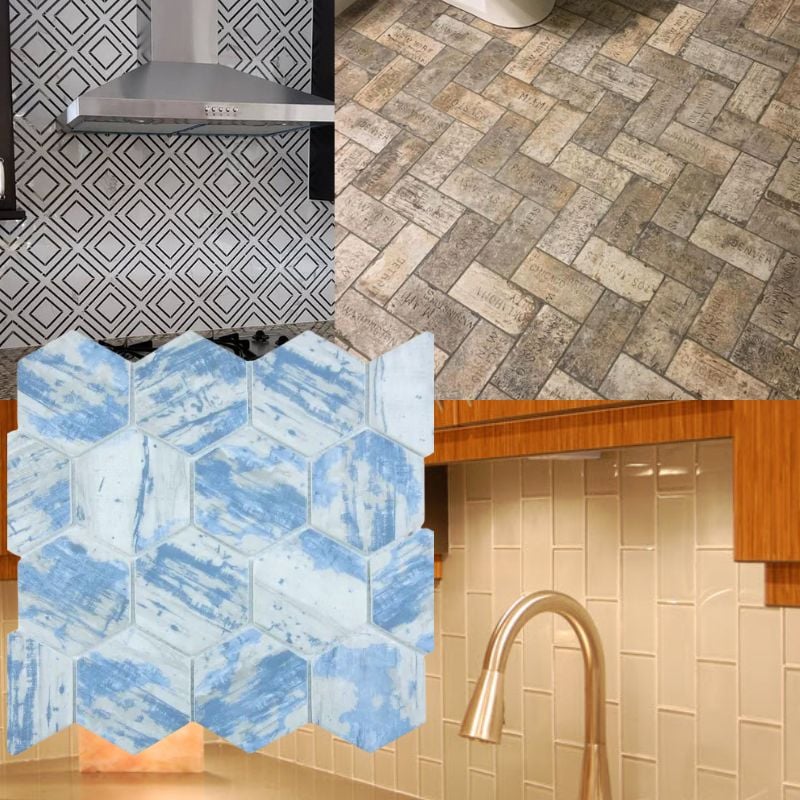 A tile backsplash can completely transform a space with a design that is unique to you and your Connecticut home. That's what our customers love most about tile: it's versatile, fun, and design-friendly.
Here are three tile backsplash trends to inspire you as you create a design you love.
Be Inspired by these 3 Tile Backsplash Trend Ideas
In this article, we'll focus on three tile trends that make for particularly stunning backsplashes and wall designs: subway tiles and brick shapes, hexagons, and bold tile patterns/colors.
1. Subway Tile and Bricks
Classic, clean white subway tile has been a top kitchen and bath trend for years.
As you can see from the image below, subway tile has a clean aesthetic that works really well on walls. This is a 2" x 5" porcelain glazed tile called Medley Grey by GRZ.
Notice the change in pattern at the top and bottom of the installation. It adds visual interest to the design.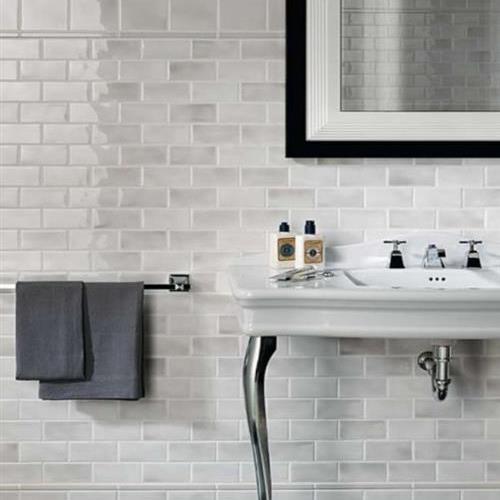 Several factors are keeping the class subway tile trend fresh:
Size: The traditional 3" x 6" tile size is stretching longer and/or narrower, as well as smaller for mosaics.
Color: White is but one option.
Pattern on the tile as well as how you install the tile
Material: A subway tile can be glass, brick, porcelain, and more. It can be smooth or textured.
This image below from the Floor Decor Design Center showroom in Orange, Connecticut demonstrates the look of a 3" x 12" subway tile. Here, too, notice the bullnose and pencil border details.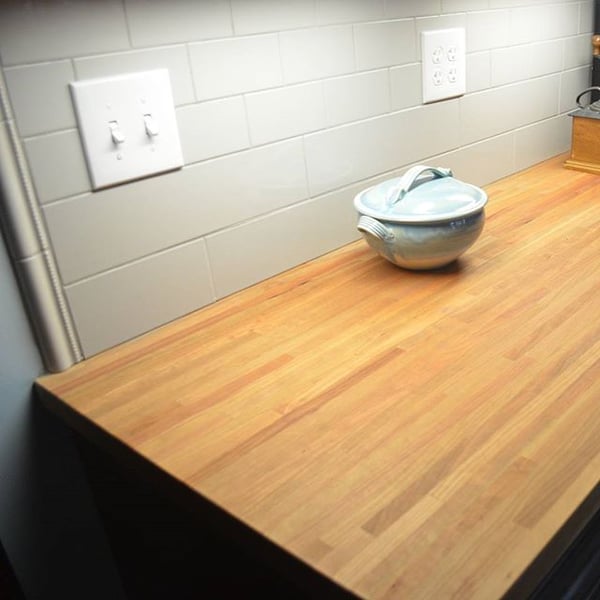 The bathroom installation below features a porcelain marble-look subway tile.
Notice the details around the niche, and also the decorative tile band which adds visual interest to the installation.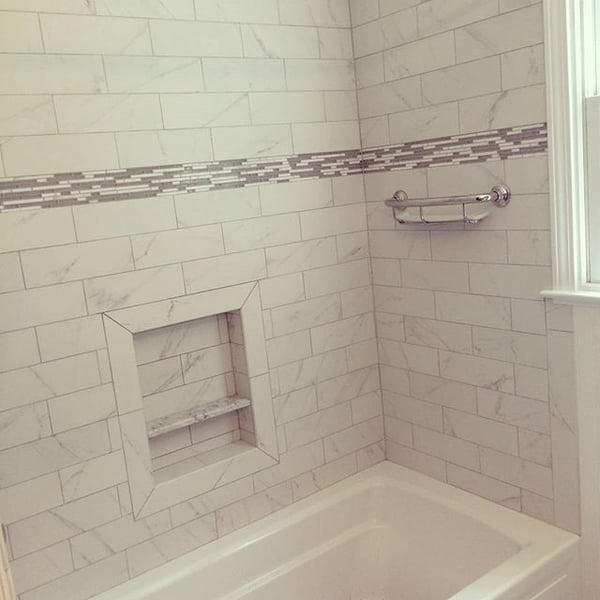 The image below from Tile of Spain highlights a subway tile called Ocean from Adex which combines patterns and shapes for a beautiful backsplash installation:
"Micro crackle glaze tile with an undulated surface and a gloss finish. When looking into the ocean on a calm day, you feel a sense of serenity and a depth of vision. Relaxation, reflection, and visual stimulation are inherent to the OCEAN COLLECTION. With the surface effects of a typical crackled glaze combined with the unique micro crackle and its reflective yet dimensional surface makes it not only unique but transitional in design from Classic to Contemporary. The color palette and its decorative components and finishing pieces make it the choice of Designers and Homeowners globally."
We particularly like the herringbone pattern.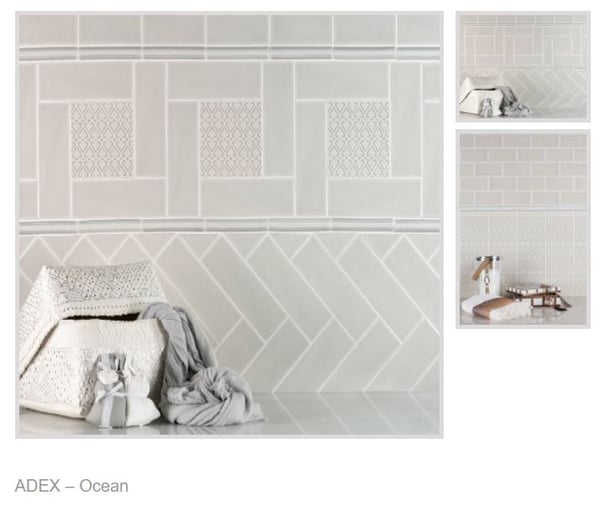 Speaking of herringbone patterns for subway tile, what about trying a brick-look tile? This is Chicago Wrigley, a 4x8 glazed porcelain tile by MED with a matte finish that can be used for a backsplash as well as on floors.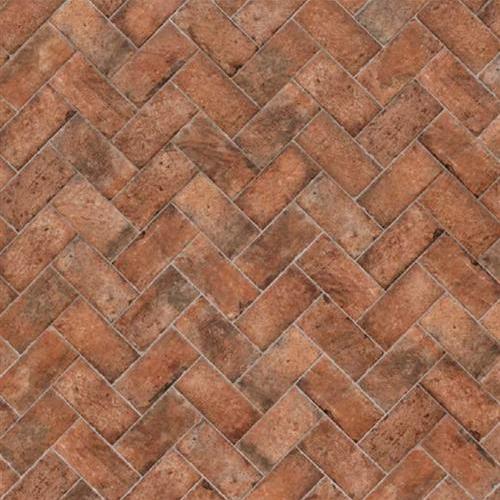 >> See COSMOPOLITAN TILE DESIGNS FROM SHAW TILE AND STONE
2. Hexagon Tile Backsplashes
Next in the tile backsplash trends is the hexagon shape which also continues strong.
You'll find it in a small size - see Modern Mythology by Crossville Tile, a 2x2 limestone mosaic tile below - and in oversized formats (check out the floor tile installation in the blog header above).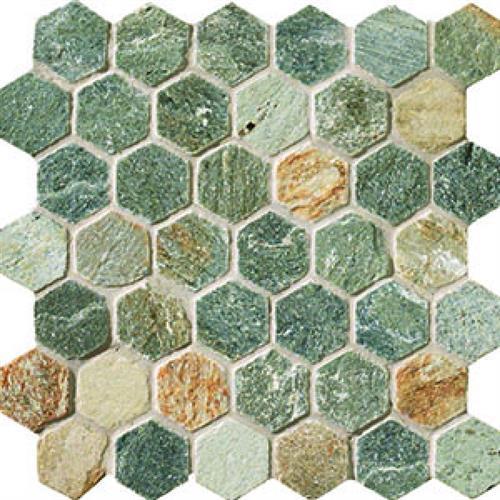 You'll find tonal installations and ones with high-contrast, ones with muted colors as well as bold ones.
You'll also see the hexagon shape used playfully. This image below captures a small hexagon mosaic tile which creates a larger hexagon in a contrasting color.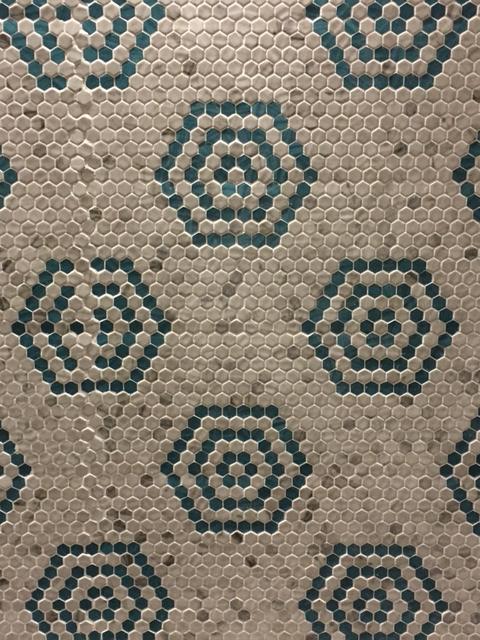 >> See DESIGNING WITH TILE SHAPES
3. Bold Colors, Patterns, and Combinations
Speaking of contrast, try combining colors, patterns, and even sizes for one-of-a-kind tile installations.
This backsplash in the Orange, Connecticut showroom combines a large-size subway tile with a coordinating brick-shaped mosaic tile. The central bold motif and the decorative pencil tile add a unifying touch.
Another approach takes vibrant colors and bold patterns for a strong visual backsplash statement.
For example, try an encaustic cement tile pattern such as the one below by BD. This image captures four 8x8 tiles of the same pattern. Depending on how you combine them, you can get different looks for your backsplash. You can even match the patterned tile with a solid color tile.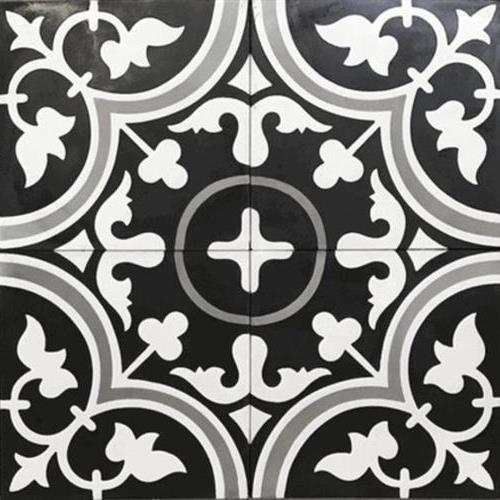 Bonus Trend Tip: Love the Tile You Create Your Backsplash Design With
As you can see from these top tile trends, you have wonderful options to choose from for creating a backsplash design. Most important, though, is finding products that will work with your own design style and preferences. Our advice is to:
Explore your options and then pick what you love since you'll be living with it for a while.
Follow your instinct. If you really like something, it's going to work within the rest of the design.
Your style will come out in the finished product. There's a big trend in eclectic decorating. Don't be afraid to make a statement; just go for it.
It can be difficult to decide which tile to use during a remodel, so we suggest visiting our showroom to see your options in person.
Check out the Back Splash Tile Cost Guide.
For additional tile-related inspiration, check out: Stunning Examples of Tile Trends.
READY TO explore Tile Backsplash ideas?
Exploring tile backsplash ideas firsthand is a perfect next step. When you are ready, we invite you to visit Floor Decor Design Center in Orange or in Middletown, Connecticut at the Galleria Design Center to see what's available.
Or, contact us with your questions.
We look forward to helping you.
Thanks for reading.
Janine & Michael
Note: We originally published this article on 04/11/2018, and have updated it.