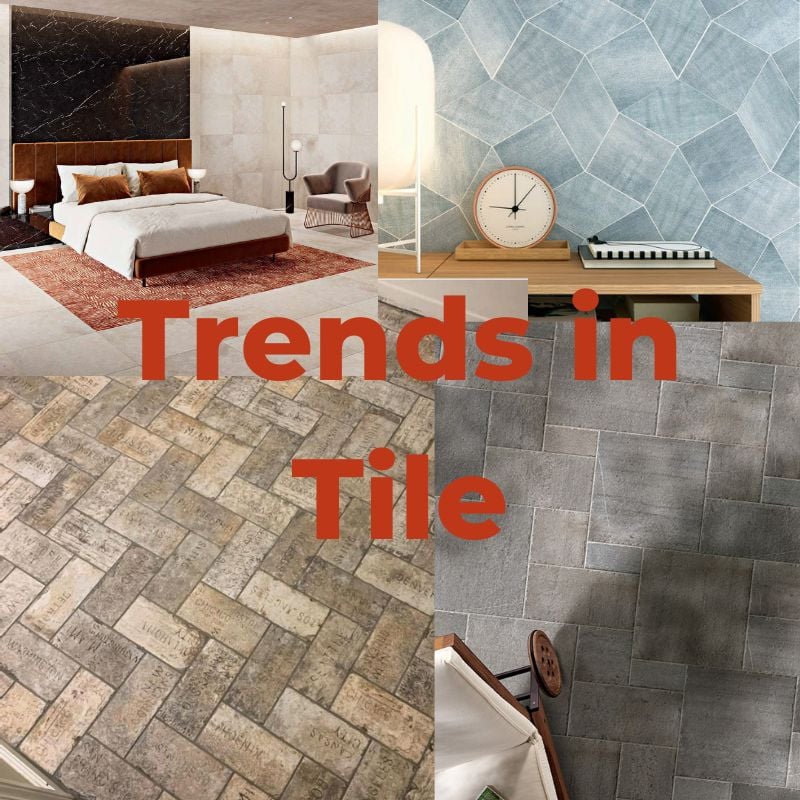 To make a statement in your home, go with tile. It's beautiful, stylish, versatile, and available in a stunning range of creative options as you can see from these examples of recent tile trends.
What's wonderful, too, about tile is that you can create that statement in a small area such as a backsplash or a shower, or in a large one. You can use it on the walls, or the floors, and you can even find options for outdoors.
Stunning & Classic Tile Trends
To put the trends we've observed at Floor Decor Design Center into perspective, you'll want to explore a few from leading style and design sources. First, because they include gorgeous installation images, and second to appreciate what's similar. Trends can go by different names and yet capture the same vibe.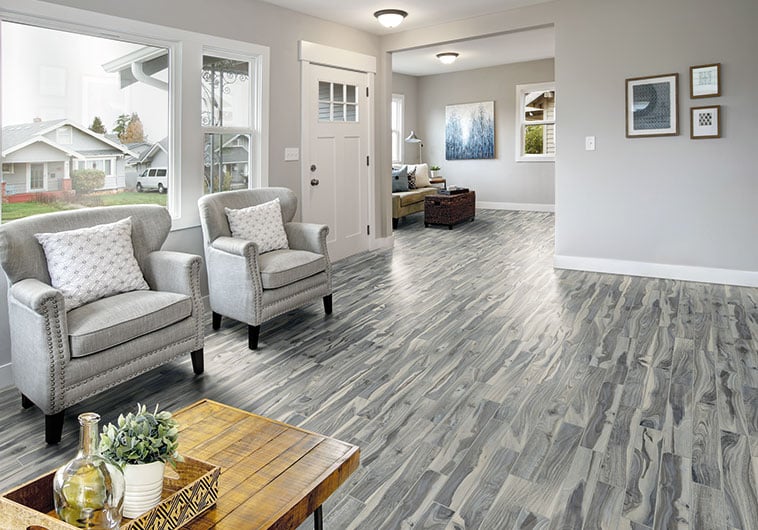 Tile Trends from Better Homes & Gardens
The recent trends from Better Homes & Gardens come from asking designers for their input. The resulting article is titled Tile trends 2023 – we asked designers what's big, what's new, what's now? and includes:
Textured Tiles
Checkerboard
Artistic Statements
Luxurious Natural Stone
Timeless Terracotta
Magical Moroccan
Colors That Are At One With Nature
Art Deco Exuberance
The Bigger The Better
Tiles That Blend Indoors And Out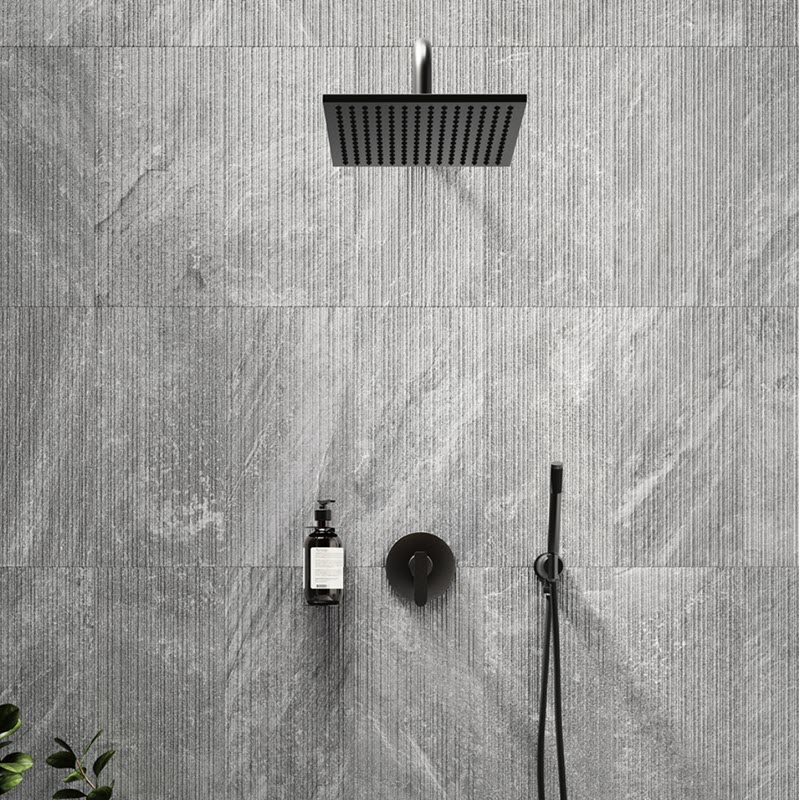 Trends in tile From The Spruce
The Spruce also shares designer perspectives in 8 Tile Trends Designers Can't Wait to See in 2023 and details:
Handmade Tile
High Gloss
Decorative Patterns & Mosaics
Natural Stone
Textured Tile
Monochromatic Checkerboard Patterns
Statement Backsplashes
Unique Shapes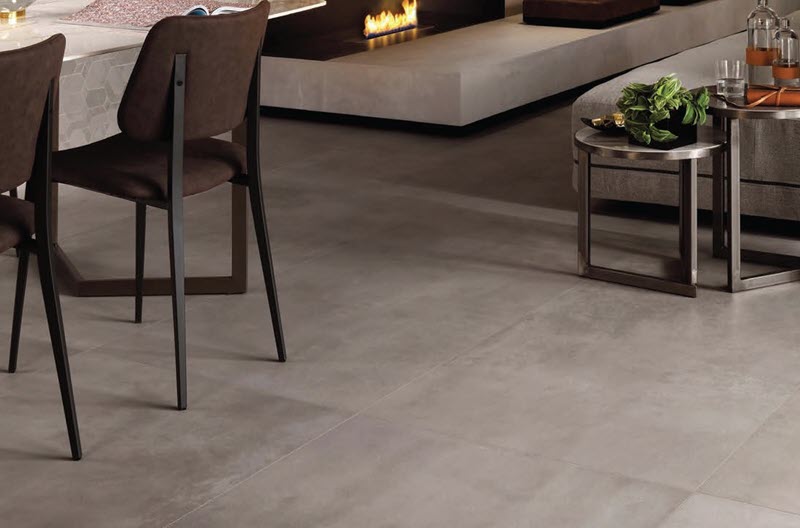 Coverings List of Top Tile Trends
An important source of trend information for the tile industry is Coverings, the Global Tile & Stone Experience that recently published Top 10 Tile Trends of 2023:
Bricks Tile
Cemented Tile
Cobbled Tile
Creative Uses of Wood-Look Tile
Emerald City Tile
Enduring Elegance Tile
Mother Nature-Inspired Indoor-Outdoor Tile
Sensory Seduction Tile
'70s Tile
Undulated Tile
Bonus Tile Trend!
Be sure to read The Ceramics Obsession Has Moved to Our Walls from the New York Times about handmade wall tile.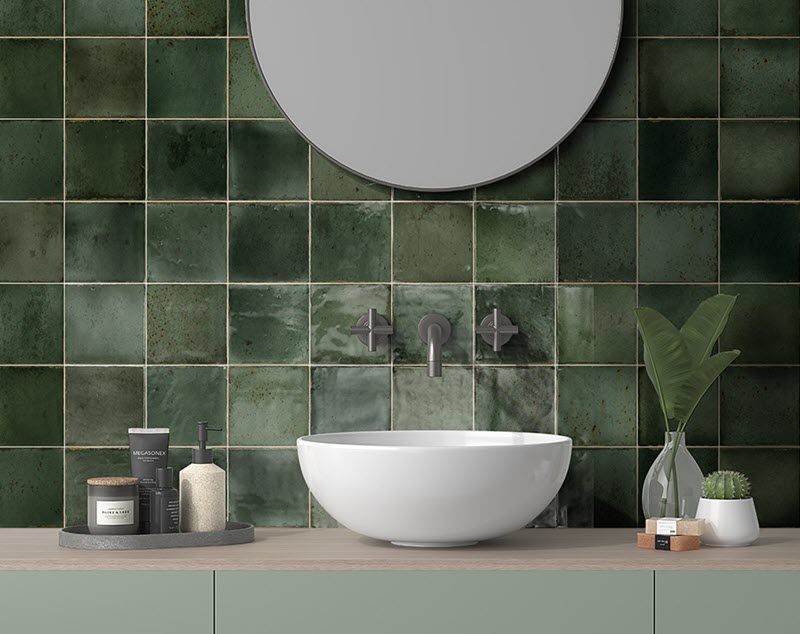 7 Examples of Tile Trends from Floor Decor Design Center
Here are seven trends you may find intriguing for your tile projects.
1. Tile Textures
Texture on a wall adds visual dimension and often a desire to touch and feel. As tile manufacturing technology has advanced with specialized glazes that add texture, it has enabled more special effects including looking like a tile is human-created as well as mechanically.
This first example demonstrates an all-over horizontal line texture. Notice how the backlit mirror and shelving unit add drama to the overall installation.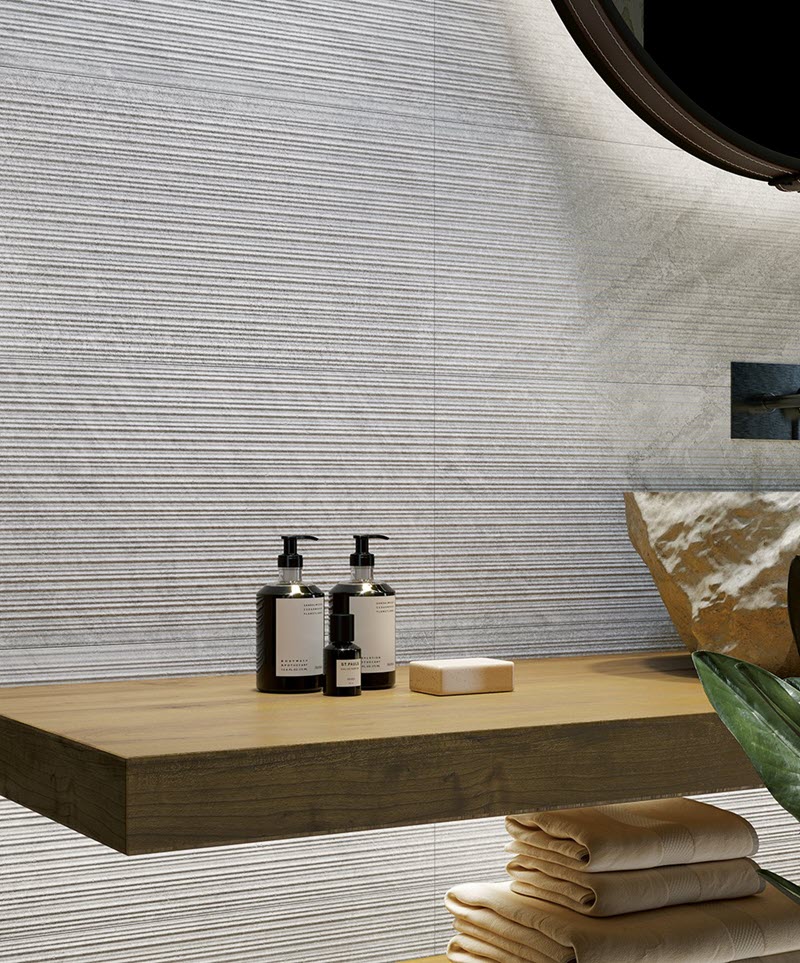 Texture can be vertical and in varying patterns.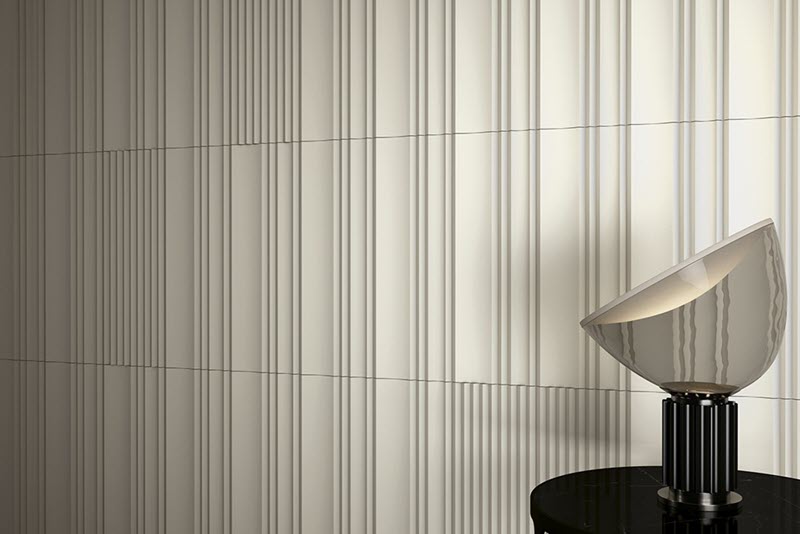 It can also be undulating and mimic the shape of grasses and leaves.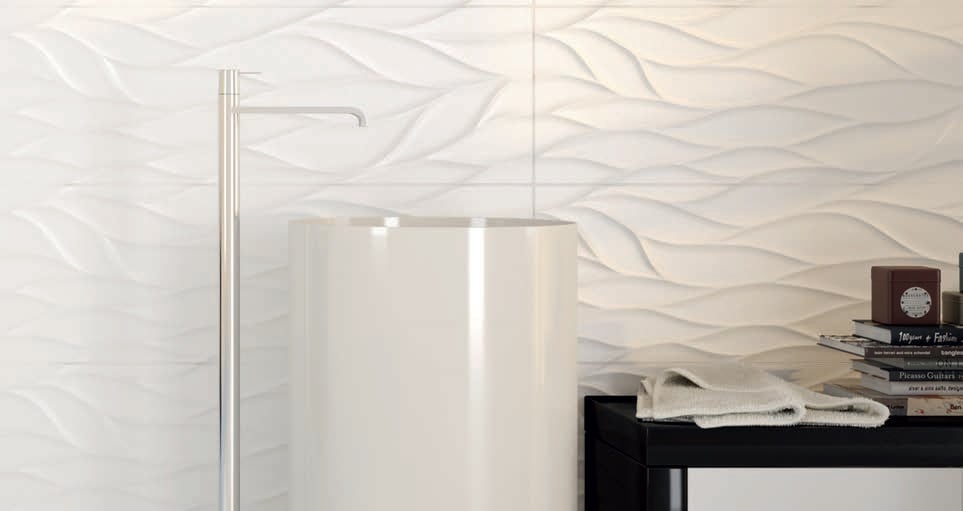 Other examples include non-skid textures on floor tile, weathered looks, and even metallic sheens.
2. Subway Tiles and Bricks
Subway tiles and bricks are closely related in shape and in how they never go out of style.
Subway Tile
In addition to the traditional subway tile sizes, you'll notice subway tile getting longer and sporting stone-inspired finishes as you see in this kitchen installation with a green marbleized subway tile.
You'll even see wood plank subway tiles used on walls and in backsplashes in addition to floors. You might even ask yourself at what point is a tile a plank or a subway tile? It depends, right?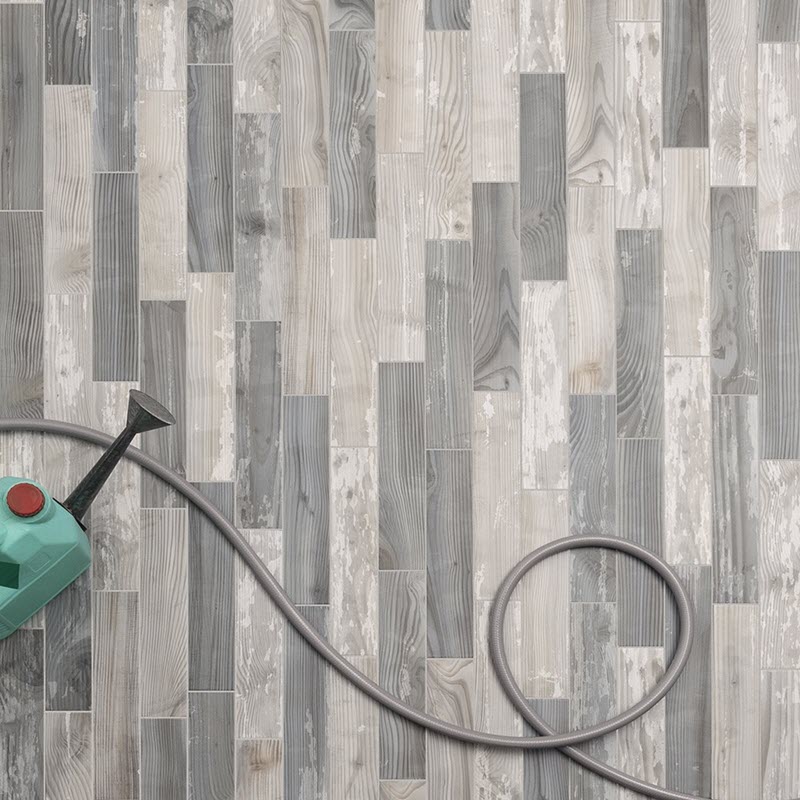 Bricks
The other classic, bricks, is now interpreted in porcelain with wear integrated into the design of the tile and used indoors.
From the traditional brick red with its warmth and charm to more variated patterns, you're sure to find a brick style that suits you.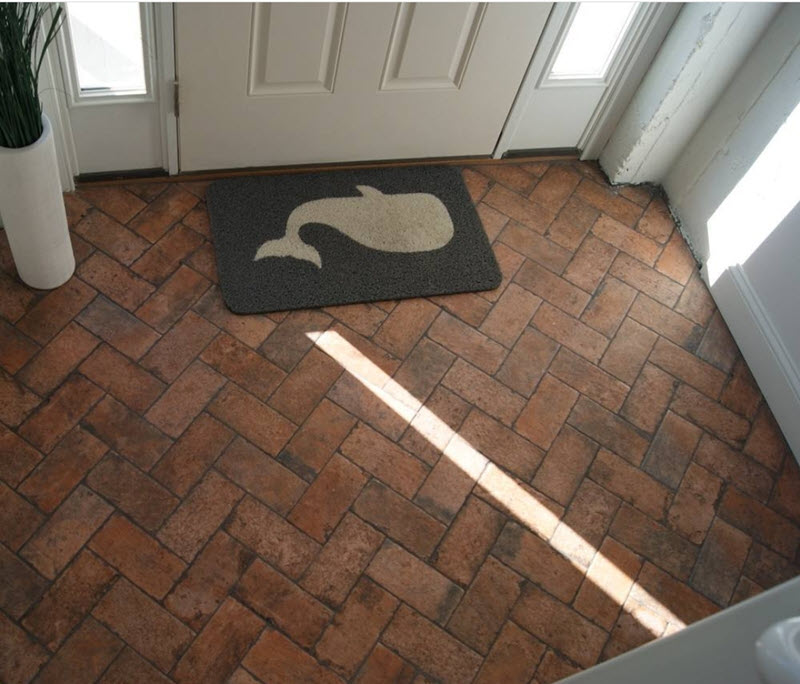 Because of its consistent size, brick can easily be installed in repeating patterns, as you can see in the herringbone above and the repeating square pattern below.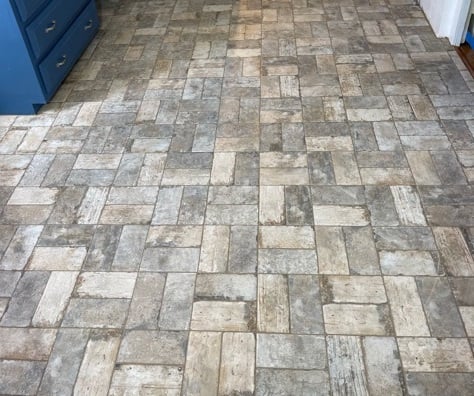 3. Large Scaled Tile
Tile is trending larger and in some cases very large with 6-foot tall porcelain panels. What used to be considered large (e.g., 12x12-inch squares) has been eclipsed by 24x24-inch and 35x36-inch tiles. The biggest appeal comes from fewer grout lines.
The examples below capture two style categories that work well with large size format tile: cement looks and stone looks.
Cement Looks
This first example features porcelain wall panels and floor tiles with a concrete look in two distinct colorways. Notice the textural patterns visible on the floor.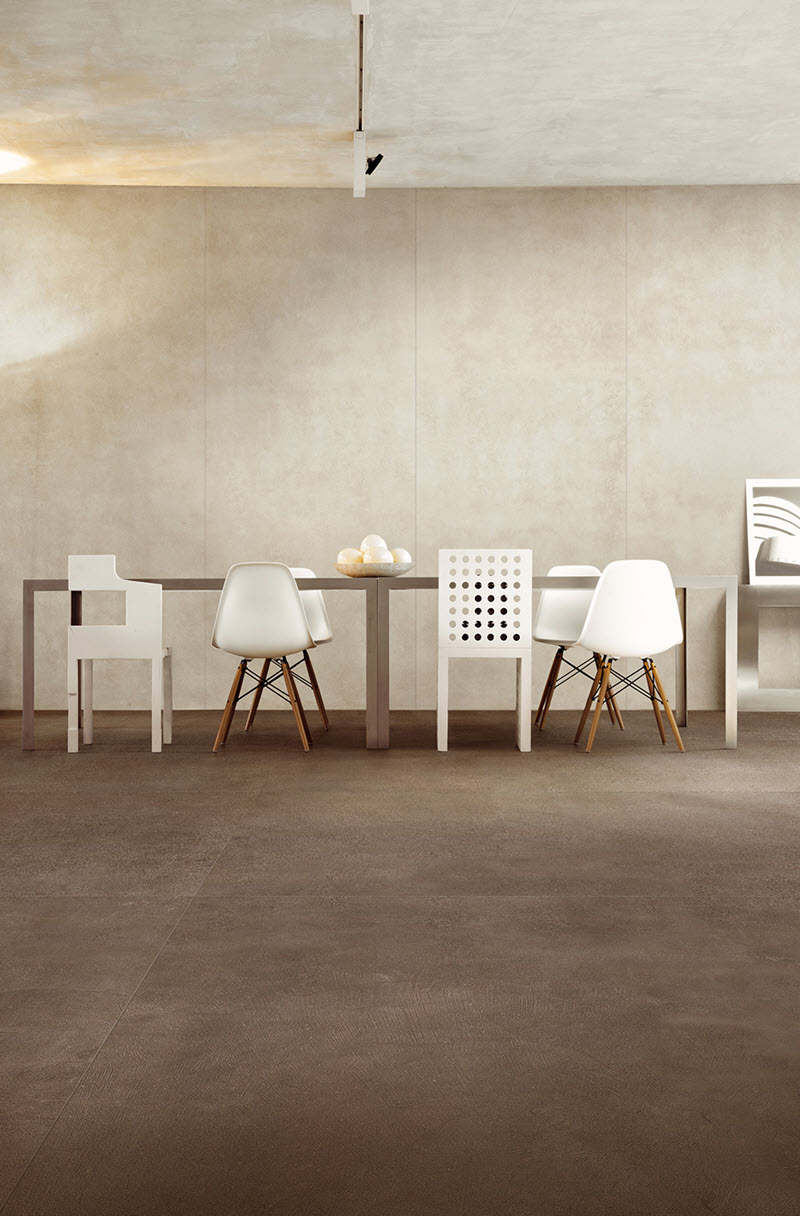 This bathroom installation highlights a more human-scaled version of a large tile in a rectangular format with the same tile on the floor and wall. The concrete look features interesting variations.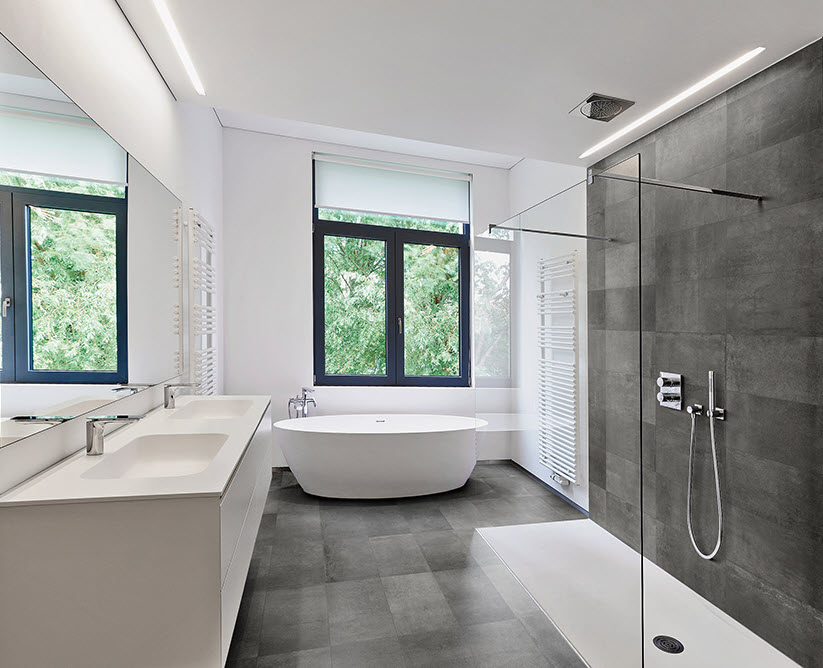 Stone Looks
Stone looks capture the amazing naturally formed striations found in natural marbles, granites, onyxes, and other stones. They add depth and interest.
When combined with a large format, the effect can be breathtaking.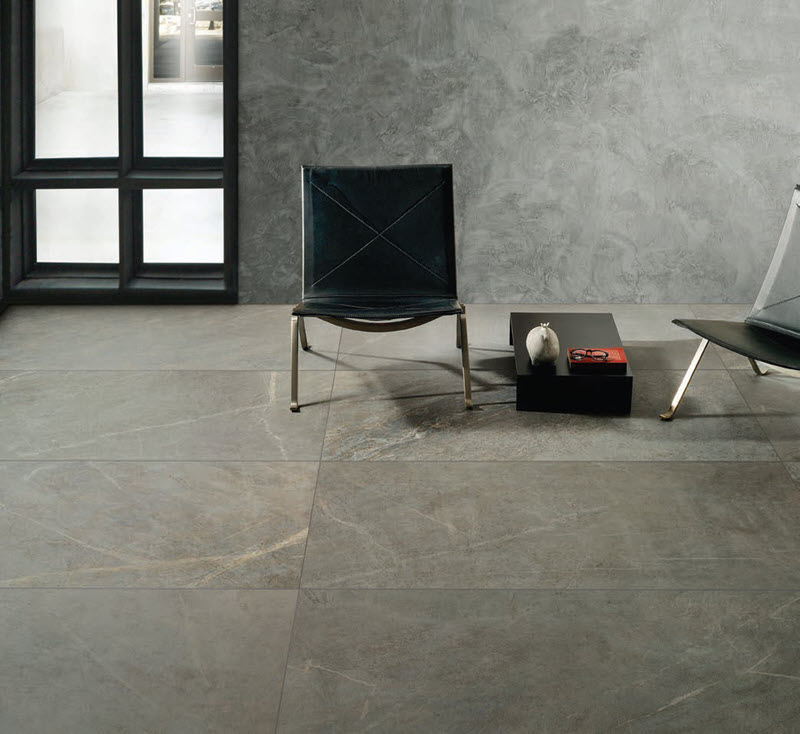 The installation below combines a rectangular wall tile with a square floor tile (both large format), and a more traditionally sized square tile in the shower area.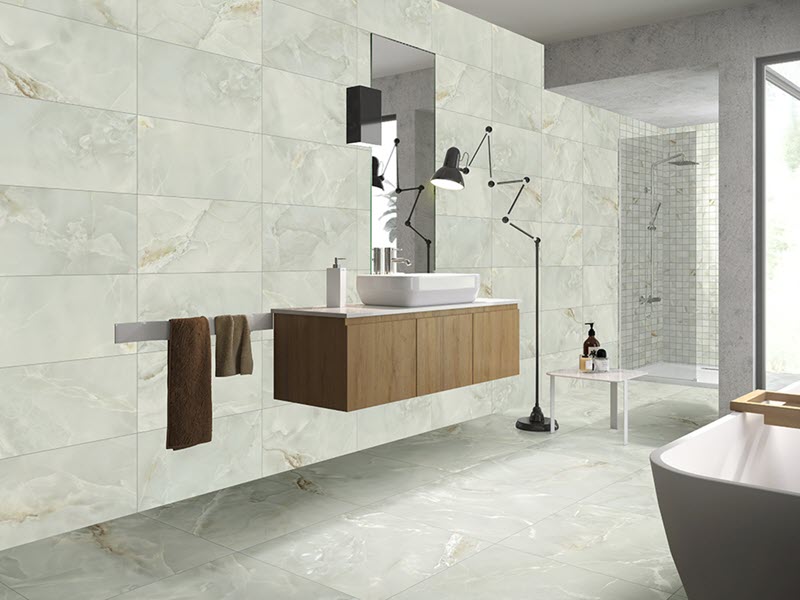 Notice how soothing the installation below looks. The subtle stone striations echo the lines of the sofa and soften the angles of the other elements in the room.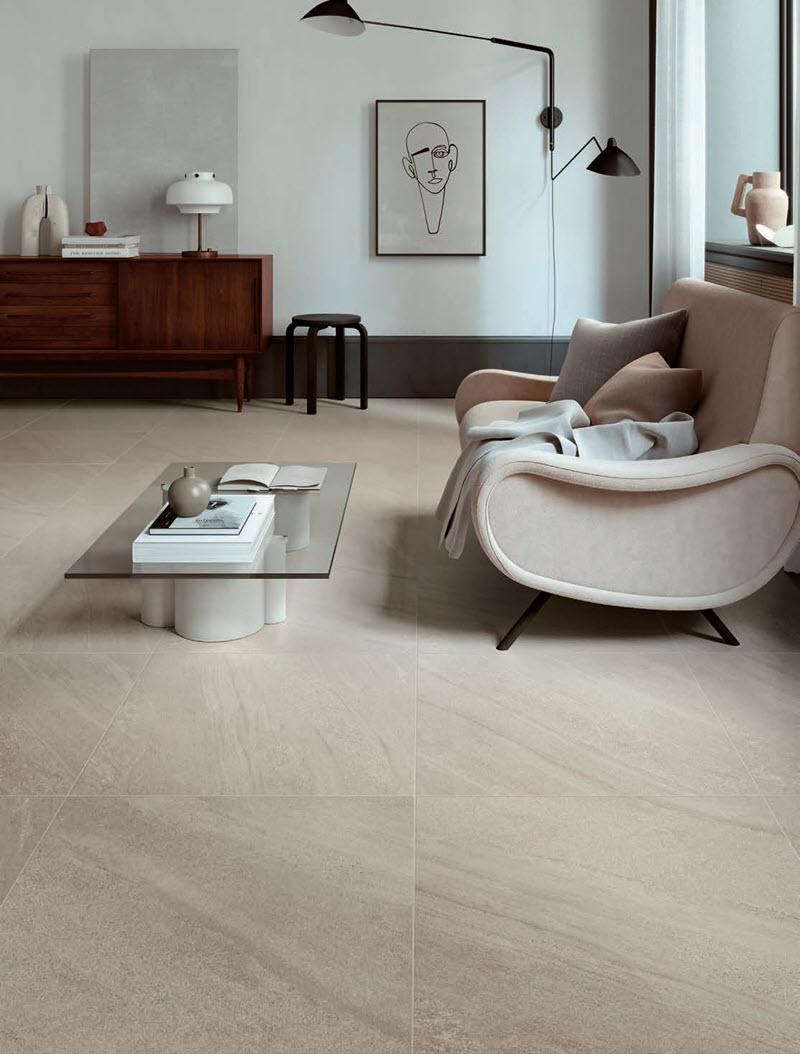 The striations in this large format stone-inspired tile echo the color of the wood table.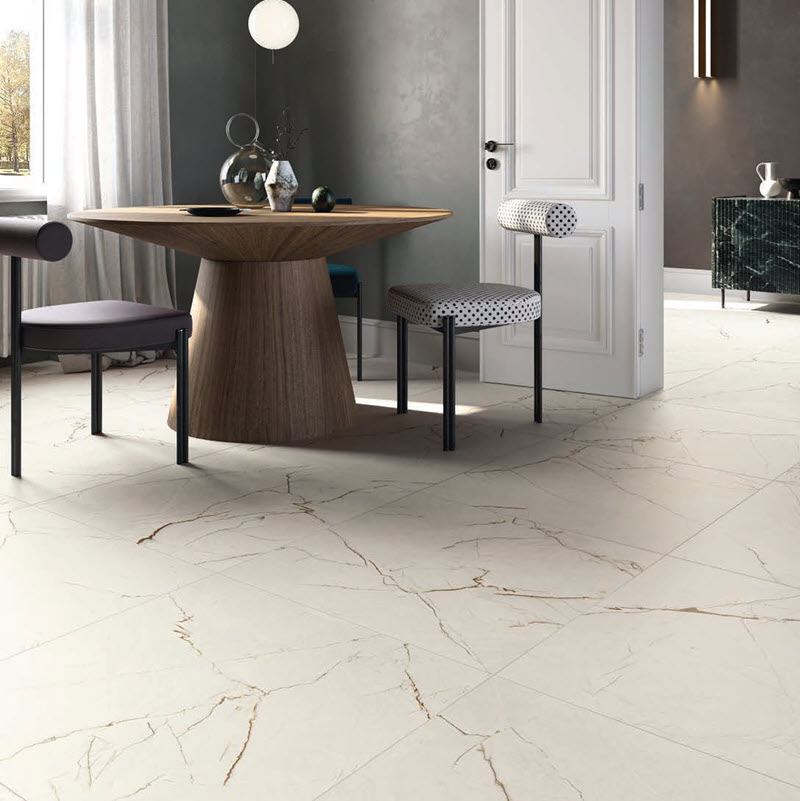 This more extreme example highlights intense drama with the black stone-inspired striations against the white background. Notice the size of the pattern repeat.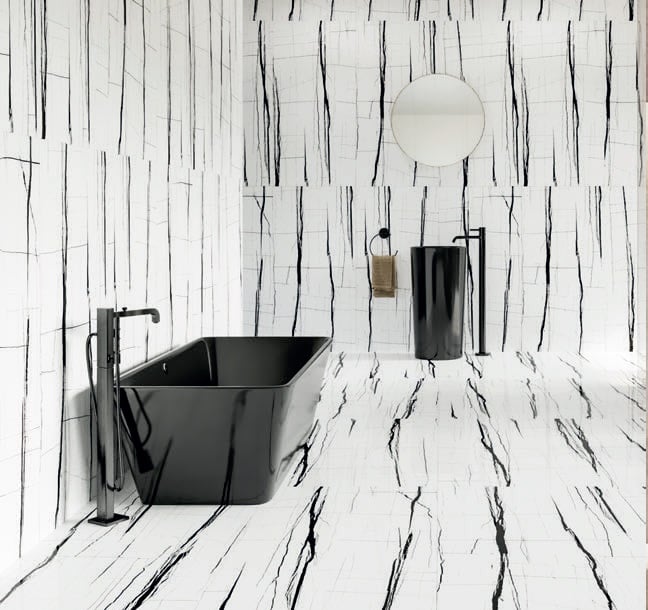 4. Mixing Tile Patterns and Shapes + Shades of Green
Speaking of patterns, the next image below successfully mixes a square concrete look with a small square patterned tile and a square sage green tile.
The effect is soothing yet energizing.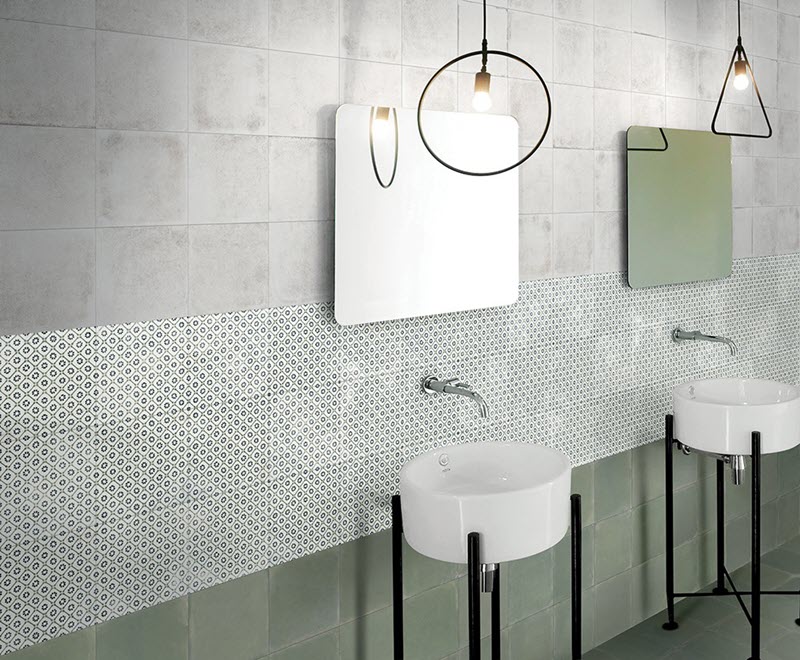 Green in all its iterations conjures feelings of nature and life. It works well in matte finishes as well as highly glossy versions as you see below.
By the way, notice the mixing of three different tile patterns below with one continuous wall of variated green and two different floor tiles. The style on the shower floor coordinates well with the wooden etagere.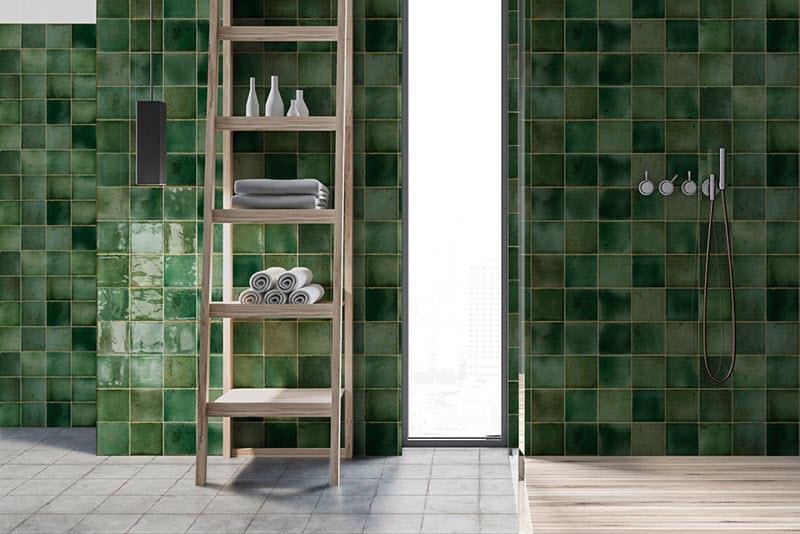 This lower backsplash installation under the bar in the image below not only captures a sage version of green but it also includes interesting weathered effects on the tile. In other words, here's a new tile installation that purposely looks old.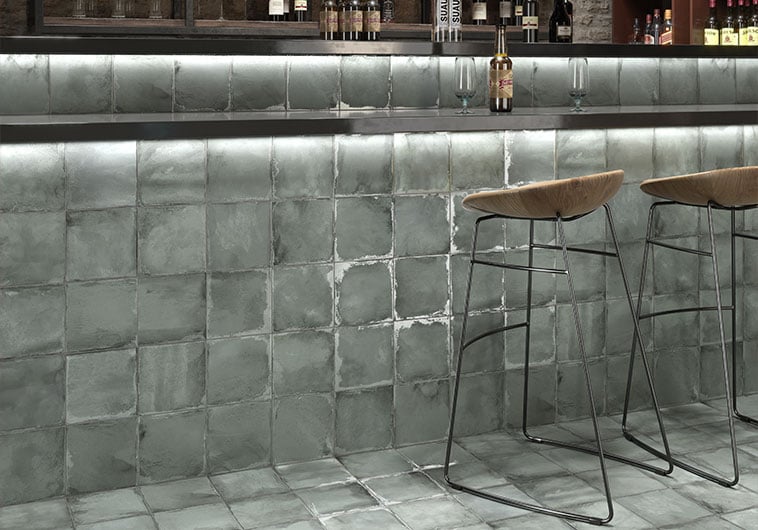 5. Wood Plank Look Tile Trends
Wood plank tile is another enduring tile trend as it offers the look of wood with easy maintenance and no concern over exposure to water. What started out as almost exact interpretations of hardwood floors have evolved to include increased whimsy and creativity.
If you'd like a weathered wood tile look, you can have it.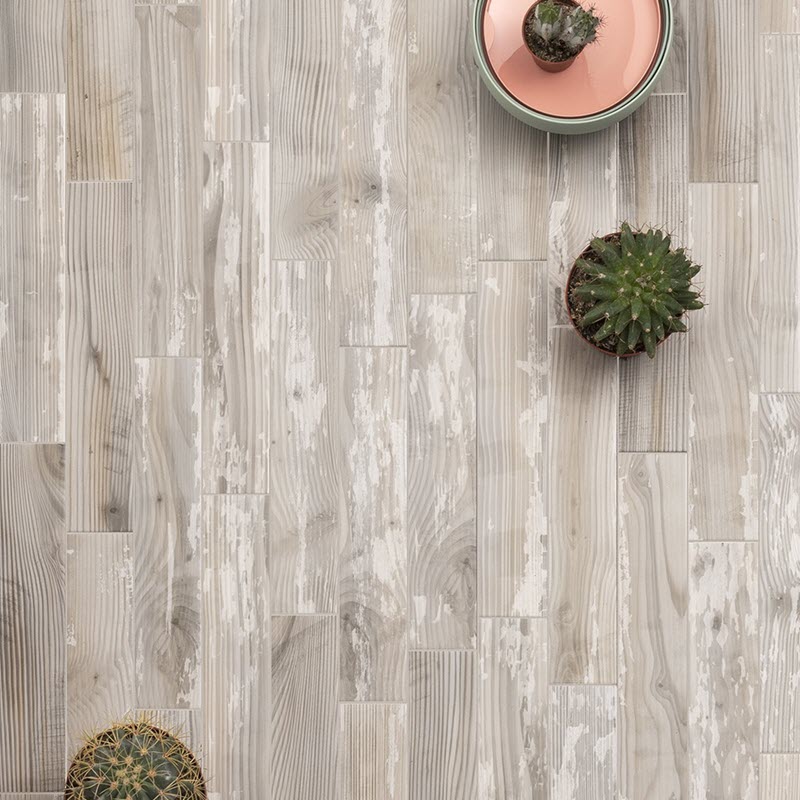 If you're yearning for a soothing blue-toned wood pattern for a bathroom, no problem!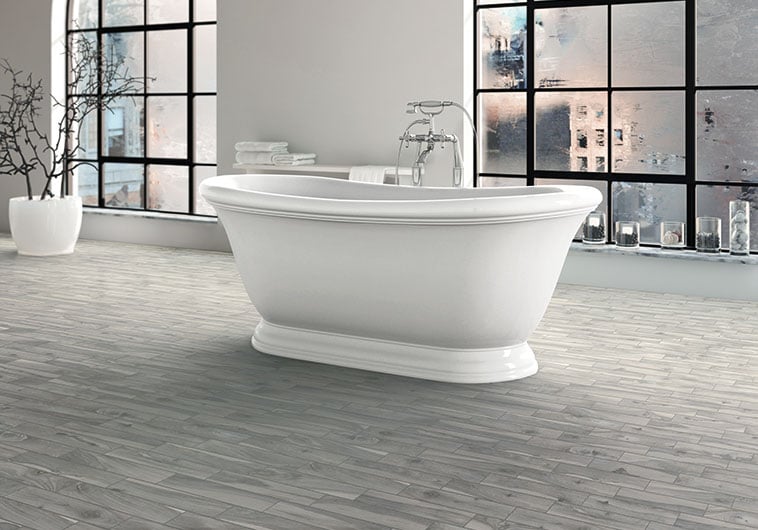 Do you prefer a dramatic highly variated herringbone installation for your dining room? Absolutely!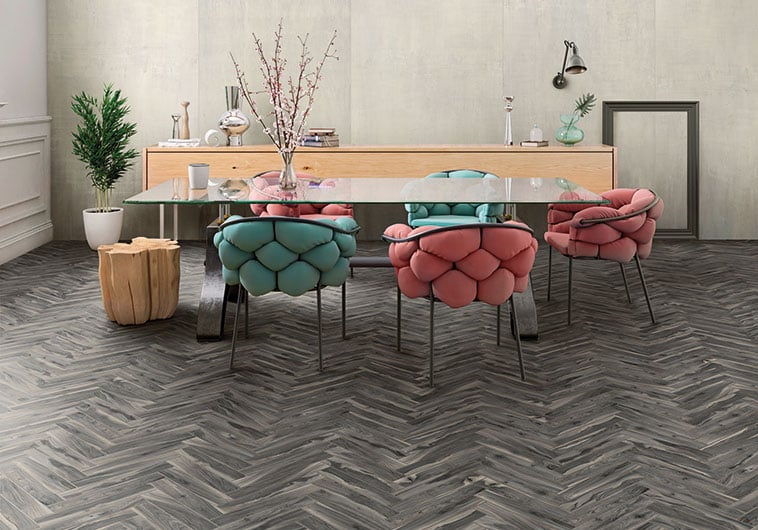 Would you like a wood look tile that's shaped specifically for chevron patterns? Here it is.
Do you prefer a more novel installation pattern for your wood-look tile? Be ready for your dream to come true!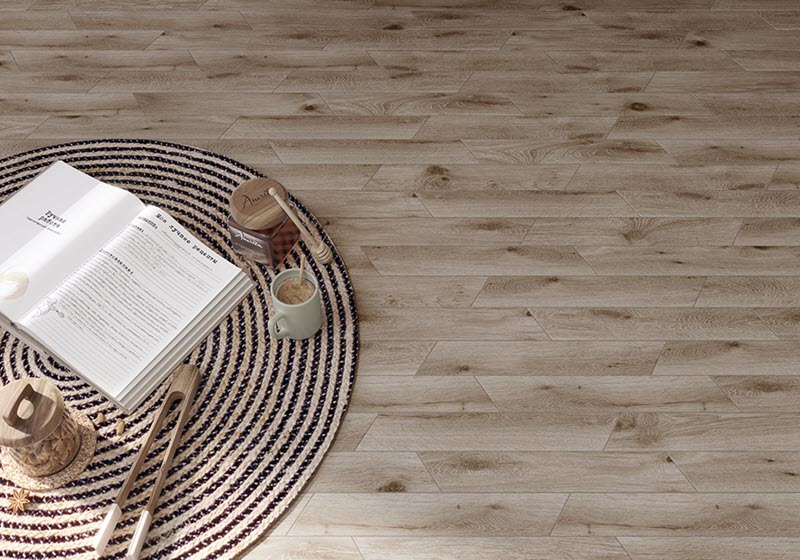 6. Trends in Tile Shapes
Given those fabulous shapes interpreted for wood plank tile, why not have fun shapes in other tile styles?
This trend is for you, and it adapts perfectly to creating memorable walls.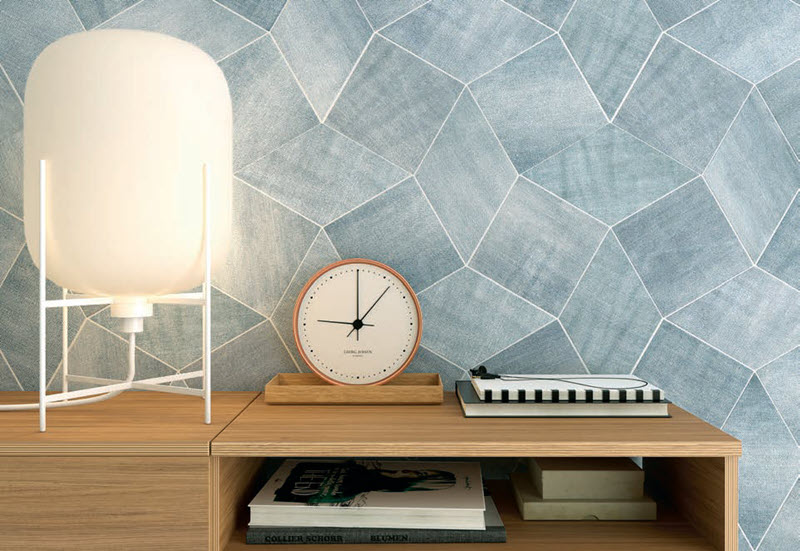 Let's not forget the importance of having a fun floor pattern created out of unusually shaped tile. Here the pattern creates three-dimensional effects.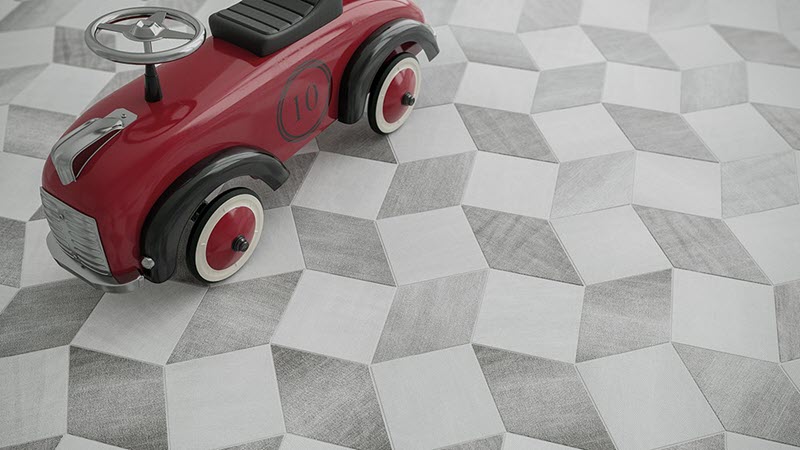 Isn't it amazing to see the difference in interpretation based on the color chosen. Here's that same tile in a denim-blue tone.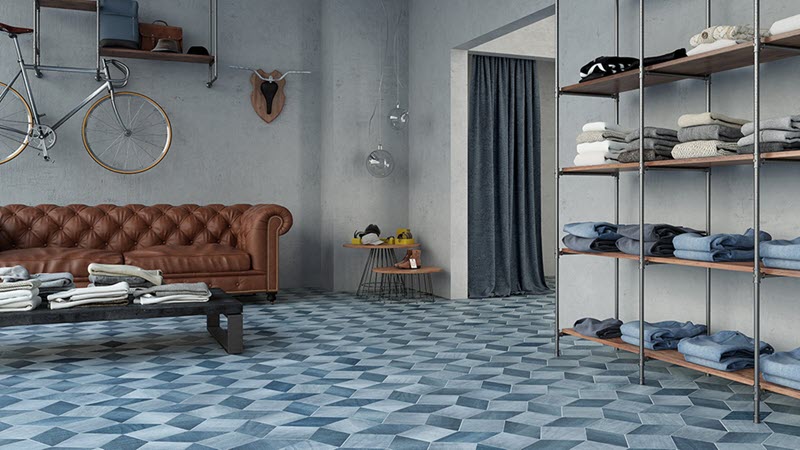 And here you have a combination of different patterns that challenge how your eye interprets shape and scale.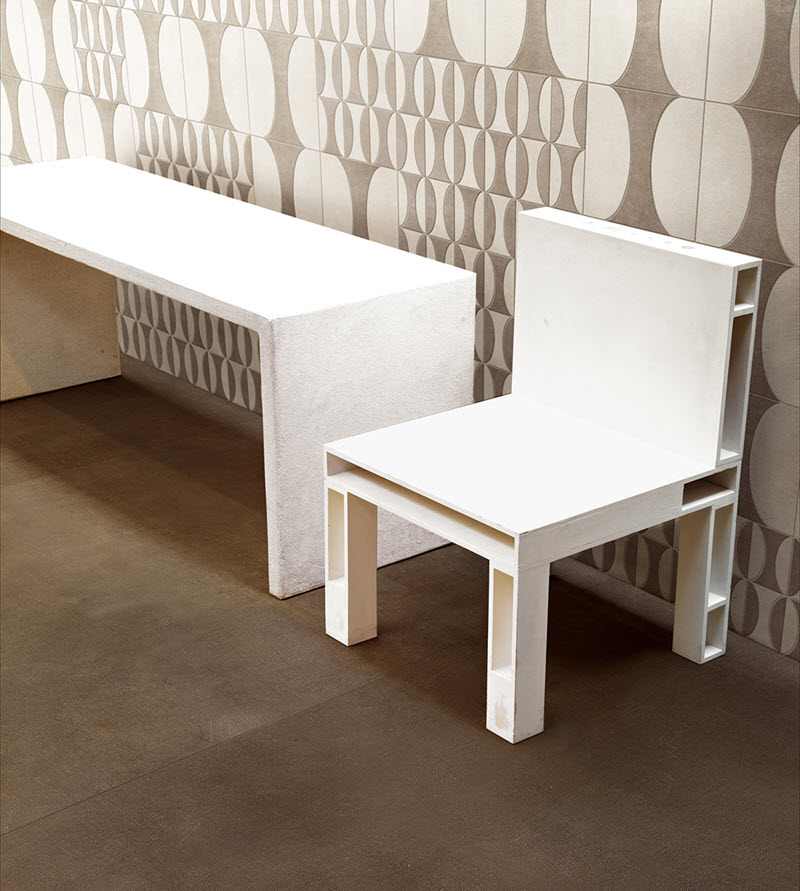 7. Indoor / Outdoor Tile Trends
Tile, depending on its construction, can work outdoors as well as indoors. So, if you have a space that extends out to a patio, why not create a sense of flow with a similar pattern as you see here with the use of hexagons in different colors.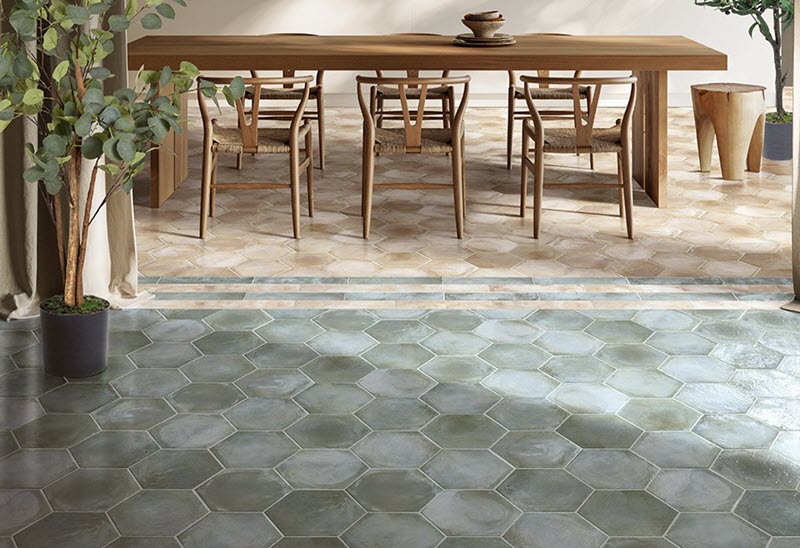 You might have a space that extends from a garage to a patio. In that case, stone-look porcelain tile might be just the solution for creating this Roman-inspired pattern.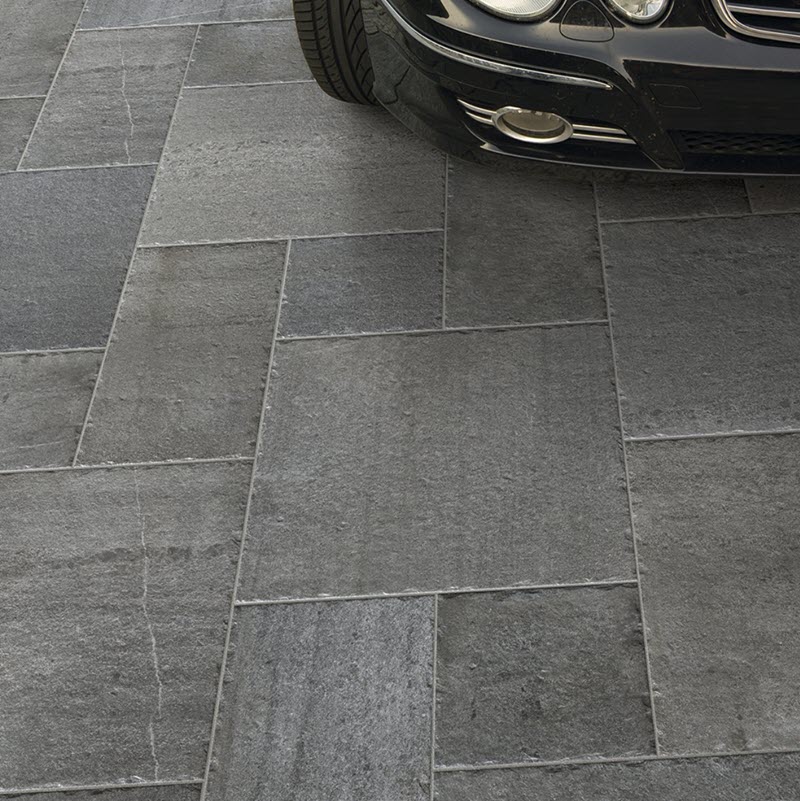 You can even find specially made thick porcelain tiles that can be used to create outdoor paths.
Intrigued By these Tile Trends and Ready to Consider one FOR YOUR CONNECTICUT HOME?
What's your reaction to these tile trends? Could you see interpreting one or two of them to your Connecticut home?
We invite you to explore one of our two showroom locations in Middletown or Orange. There, you can experience tile firsthand. We'll be happy to discuss your specific questions.
In the meantime, let us know of any questions in the comments or contact us.
We look forward to helping you.
Thanks for reading,
Janine & Michael