At Floor Decor Design Center, we are constantly on the lookout for interesting new products and shapes that customers can use in their homes to create stunning design statements. Possibly the best product for that is tile. You can use tile on walls and you can use it on floors - although what goes on the wall isn't necessarily ideal for floors.
In this article, we focus on tile shapes available at Floor Decor in the Orange, Connecticut showroom.
8 Fabulous Tile Shapes to Design With
What makes tile so much fun to design with is that it's ideal for areas such as kitchens and bathrooms, fantastic for showy spots such as a feature wall, not to mention practical because it's not afraid of water.
And, although you can go with safe tile choices (think square, flat, monochrome), you can also go wild with color, pattern, texture, and shape. For that matter, you can even combine the safe with the wild.
1. Diamond-Shaped Tile
Diamonds have become such fun to use in a tile installation.
Half a diamond creates a triangle, and six triangles create a hexagon. The playfulness is infinite and look how well it plays with a rectangular subway tile as you see in the image below.
The combination makes the white theme come alive, especially when the diamond includes surface texture.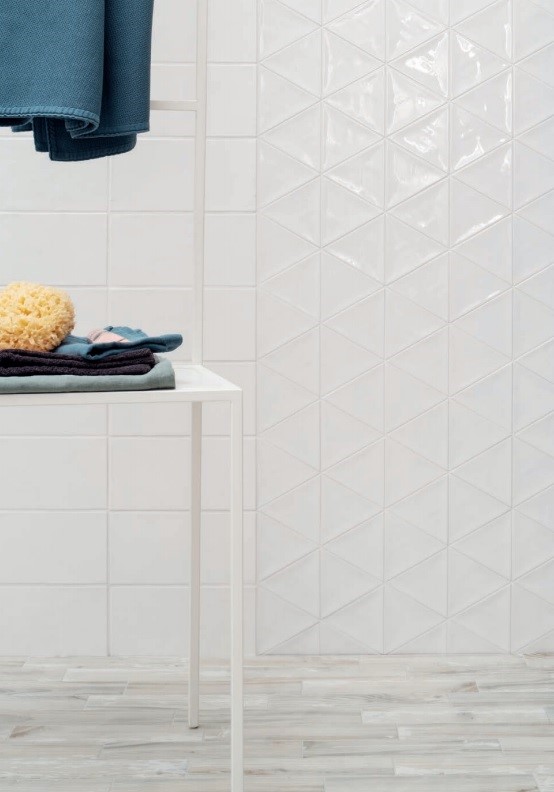 Diamond Accent Wall with Enlarged Subway Tile - Porcelain
Go one step further with that surface texture and combine it with color and shimmery-shiny metallic-like effects as you see below. Imagine this diamond-shaped wall tile as a backsplash or even an accent wall.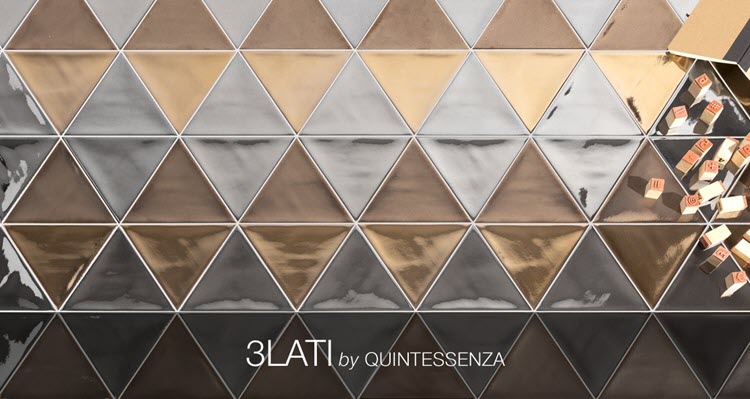 Diamond Shaped Wall Tile – Great for Accent Wall or Backsplash - Porcelain
Or, try a diamond shaped-tile in mixed metal and glass for a countertop-to-ceiling backsplash such as what you see in the image below.
Notice how perfectly this showy tile works with the glass subway tile.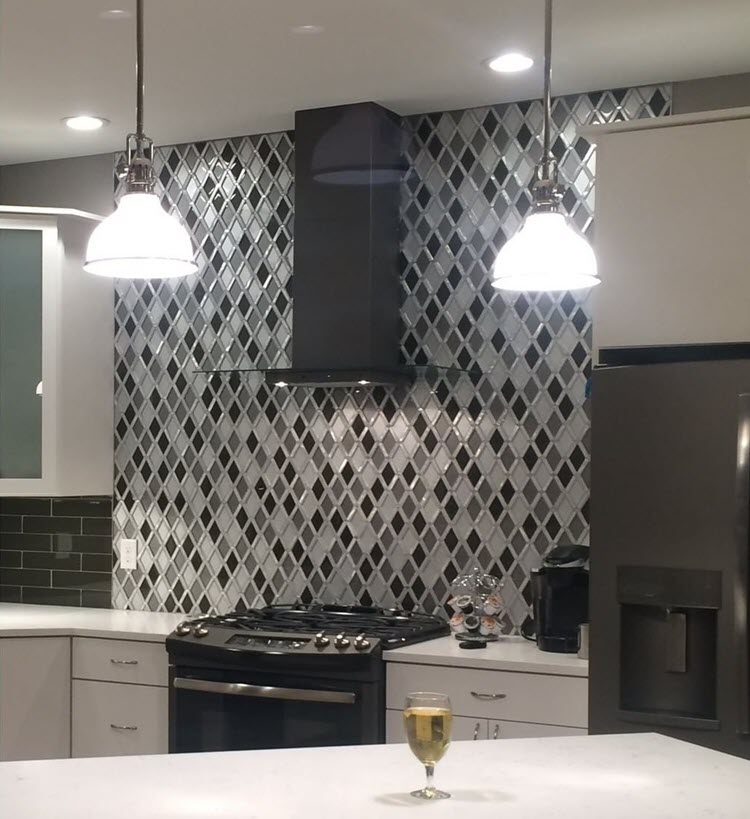 Mixed Glass & Metal Mosaic
2. Geometric Tile Shapes and Patterns
If you love the look of geometric shapes and patterns, you'll love some of these tile ideas.
The tile below consists of a patterned glass mosaic in subtle shades of grey.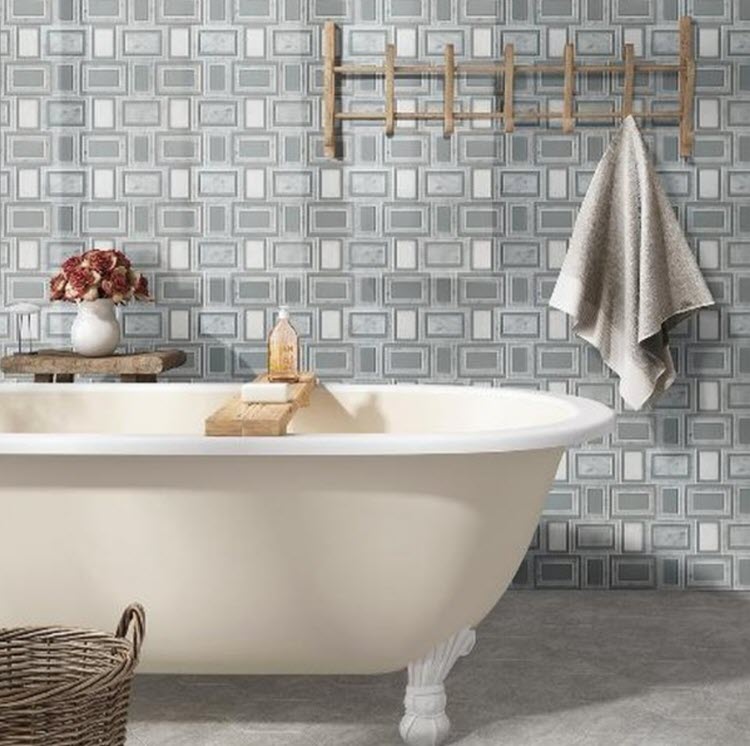 Patterned Glass Mosaic
You can also find geometric shapes in marble as you see in the image below. What a terrific way to use a classic product in a fresh way.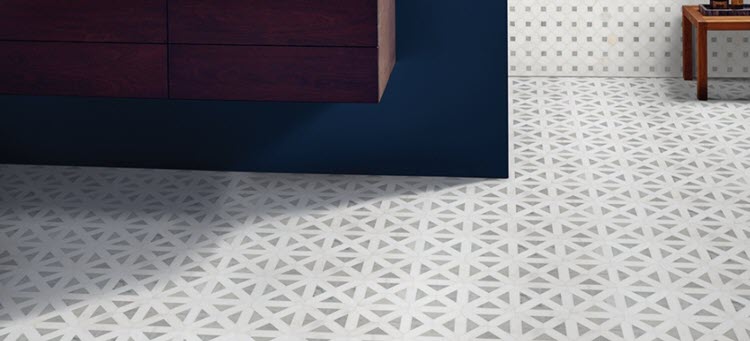 Bianco Dolomite Geometric Mosaic – Marble
3. Wood Plank Shaped Tile
Given all of the advances in the manufacturing of tile, you now have a wealth of realistic interpretations of products not traditionally associated with tile.
A perfect example is tile that looks - and feels - like natural wood as you see in the two images below of 2.5"x12" wood plank tile.
Both give the impression of painted wood, first in a herringbone installation.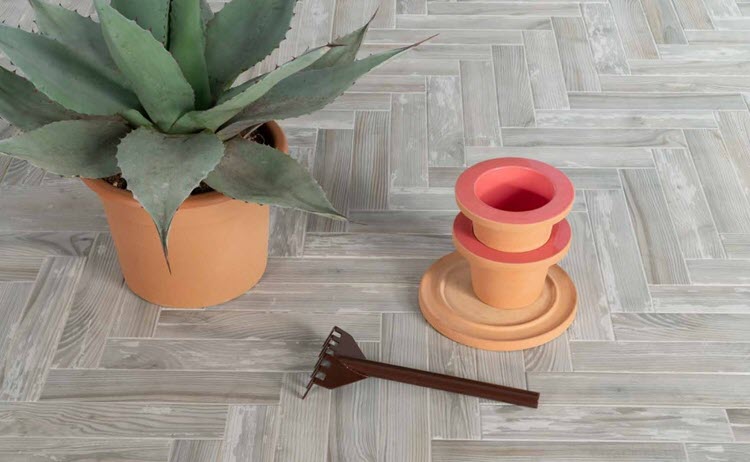 2.5 x 12 Wood Planks – Painted Visual - Porcelain
Here you see a more random horizontal pattern where the visual effects are slightly more pronounced. It's a great look!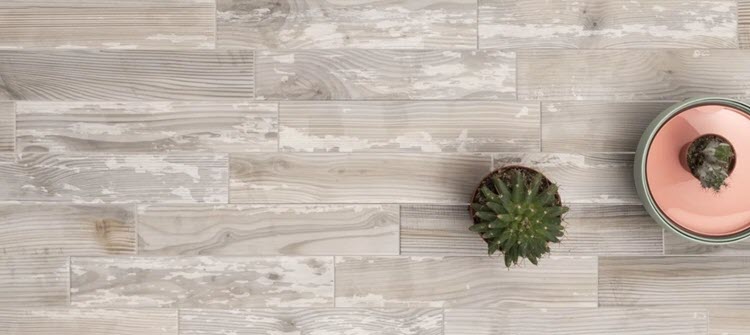 2.5 x 12 Wood Planks – Painted Visual - Porcelain
For additional ideas, check out Designing with Wood Plank Tile
4. Subway-Shaped Tile
In many ways, a short wood plank tile has a great deal in common with subway tile based on the shape. Take away the wood look and you can find a range of exciting wall tile options.
For example, take a traditional white subway tile and add an alternating concave/convex shape and you can create a basket weave effect for a backsplash as you see in the image below of a 3x12 wavy subway tile.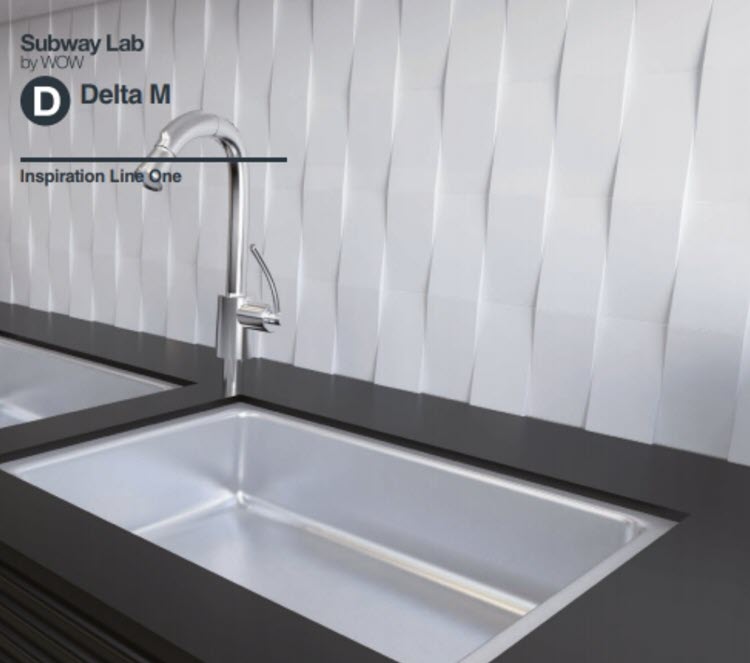 WOW 3x12 Wavy Subway – Delta M - Porcelain
Here's another subway-inspired tile that's a bit bigger and wider than your average subway tile. In the image below, you see a 5.2 x 10.3 wall tile in delicious shades of blue.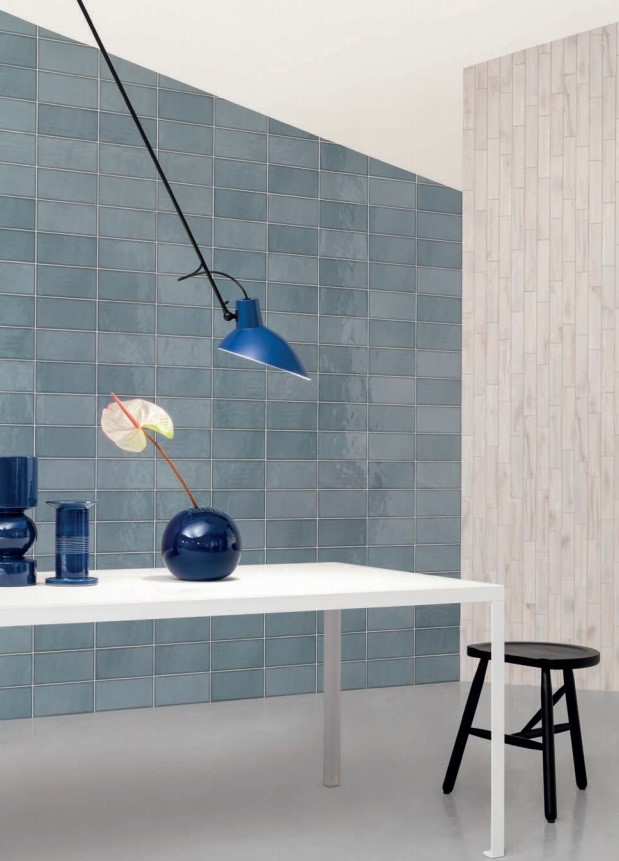 Framed 5.2 x 10.3 Wall Tile – Shaded - Porcelain
Another subway-shaped tile calls for surface texture. These 3x12 tiles feature several different patterns that, when combined, add tremendous visual interest to a wall.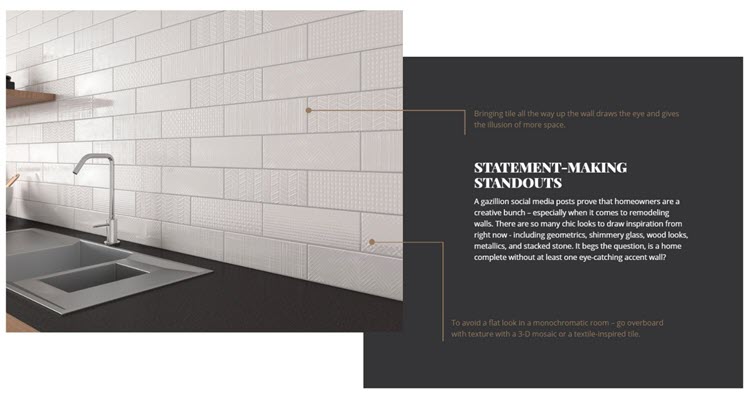 3x12 Patterned Subway Tile - Porcelain
Below you see a closeup of that 3x12 patterned tile in a herringbone pattern. Isn't it wonderful?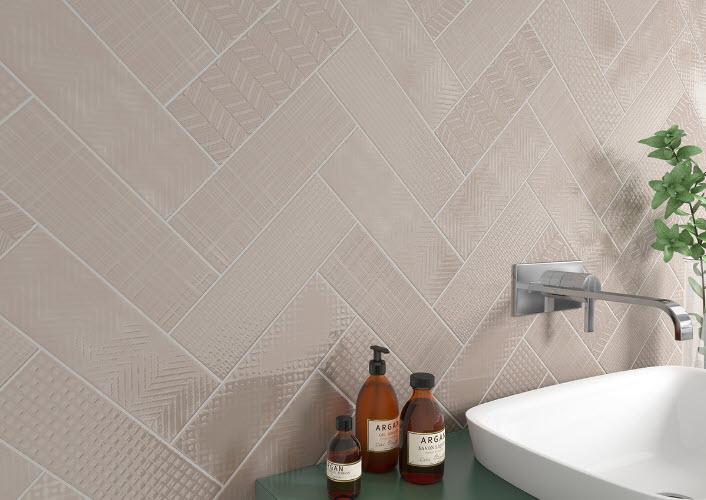 3 x 12 Patterned Tile – Herringbone – Porcelain
5. Hexagon and Rhomboid Shaped Tile
No exploration of shapely tile can skip hexagons and rhomboids (aka stretched-out hexagons). You'll find them in a tiny scale as well as a very large scale.
Below you see a medium-sized porcelain hexagon with the look of slate. The effect with the dark counter and the light cabinets is stunning.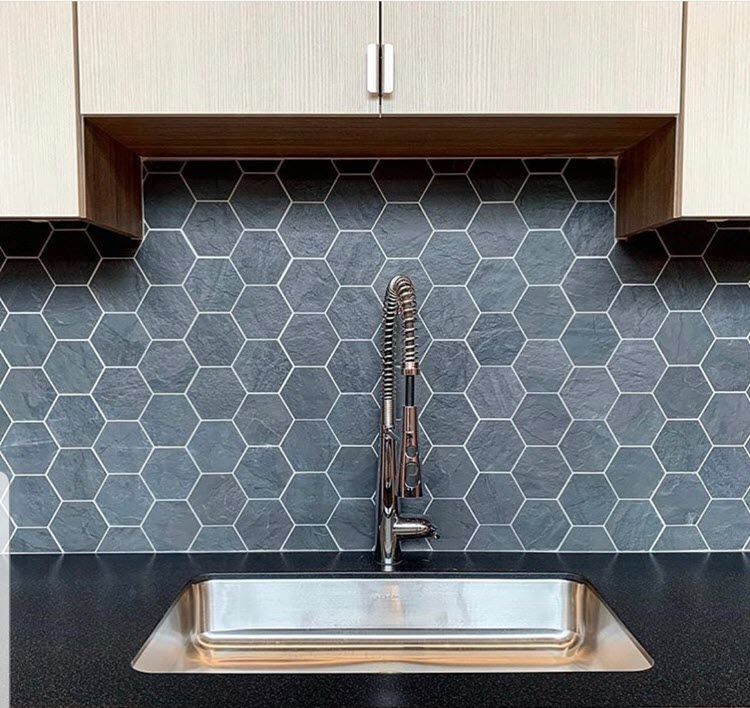 2-3/4 x 2-3/4 Hexagon Mosaic - Porcelain
In the image below, you see that combination of scale: very large on the floor and a 2" multi-toned marble mosaic on the wall. The effect is classic yet contemporary.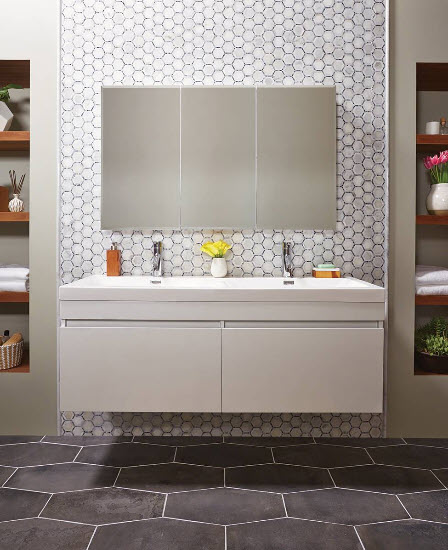 Telaio 2" Multi Toned Mosaic - Marble
Add a little vertical stretch to a hexagon and you'll have a rhomboid such as the porcelain mosaic you see below in this kitchen.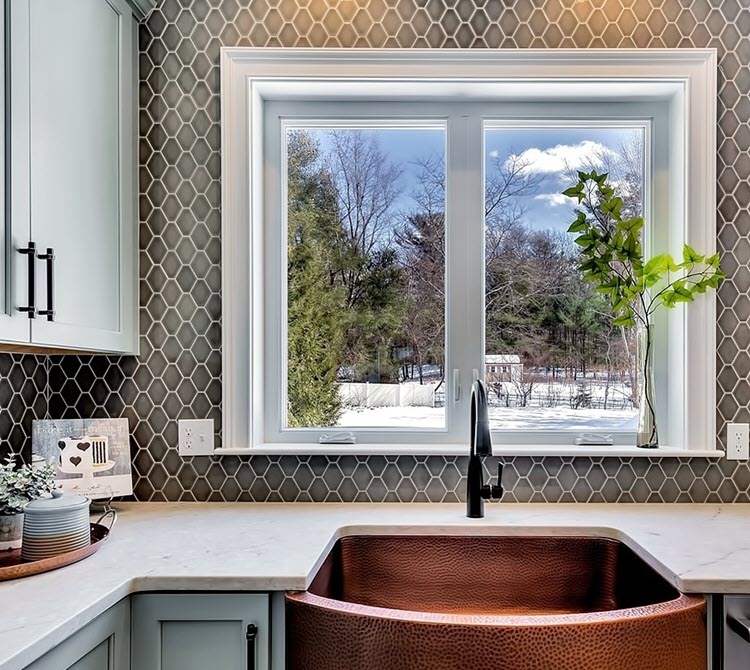 Rhomboid Mosaic - Porcelain
Or, what about this mixed glass and stone mosaic where the stretch is horizontal.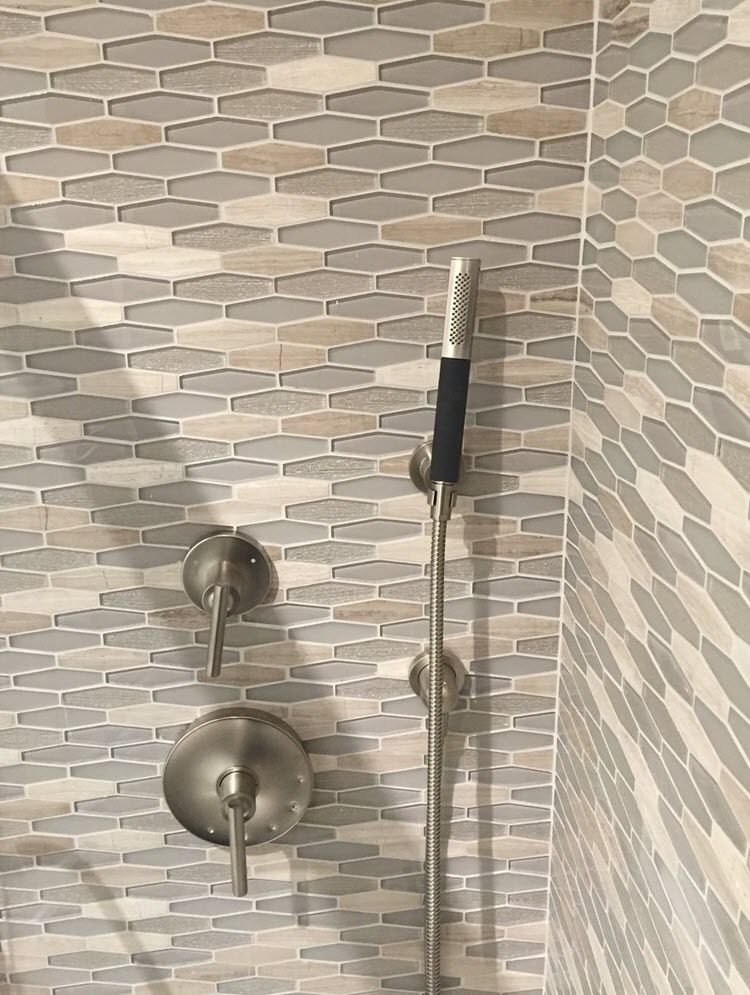 Mixed Glass & Stone Mosaic
6. Conche, Tulip, or Fishtail Tile
Here's one of our favorites: the conch, tulip, or fishtail-shaped tile. It's playful, in this case colorful, and full of whimsy - perfect for a stunning feature wall.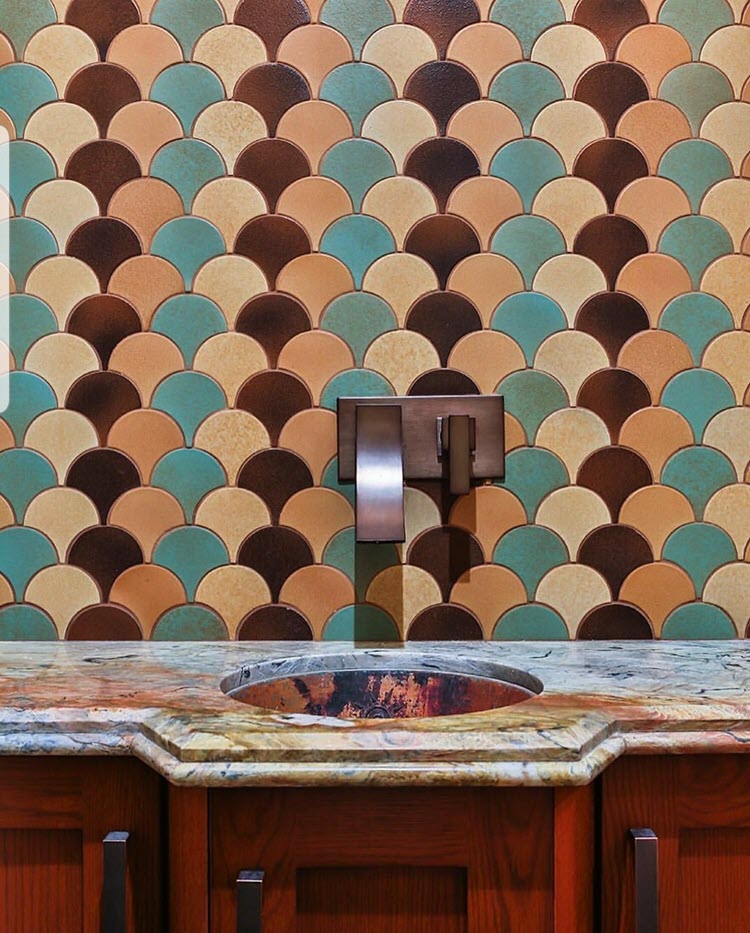 Custom Shape – Conche – Multi Tones - Porcelain Tile
7. Marble Patterned Mosaic Tile
You've already seen a few examples of what's possible with marble. Here are a few more to inspire you.
Below you see a marble flower-patterned mosaic. That pattern adds just the right level of visual interest to the space and the color tones coordinate perfectly with the countertops and cabinets.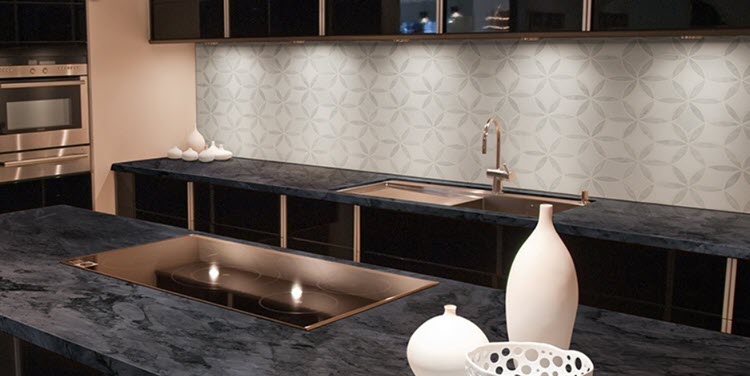 Marble Patterned Mosaic – La Fleur
Here's an elaborate marble mosaic in an arabesque pattern.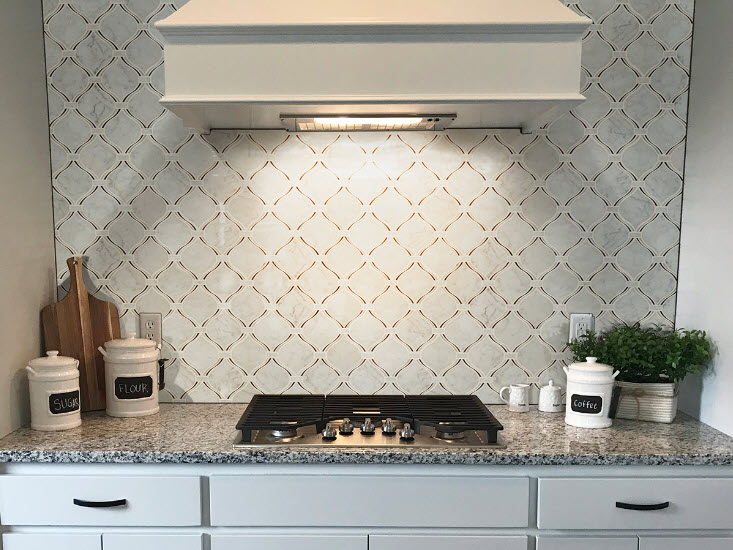 Marble Patterned Mosaic – Danza Mosaic - Marble
8. White Textured Tile
Last but not least for your walls are white textures.
Below you see a wild combination of tiles starting with 12x24 wavy porcelain tile on the shower walls.
Notice the tiny hexagon shower floor tile and the interesting dark tile used in the shower niche. Then, step out of the shower to that dark wide wood look floor tile and the rustic subway wall tile. The entire design ties together thanks to that classic white yet wavy tile.
12 x 24 Wavy Wall Tile – Porcelain
Here's another take on white tile and texture: a 12x24 modular wall tile that, when assembled, creates a tonal pyramidal effect. Even the lighting accentuates the shape.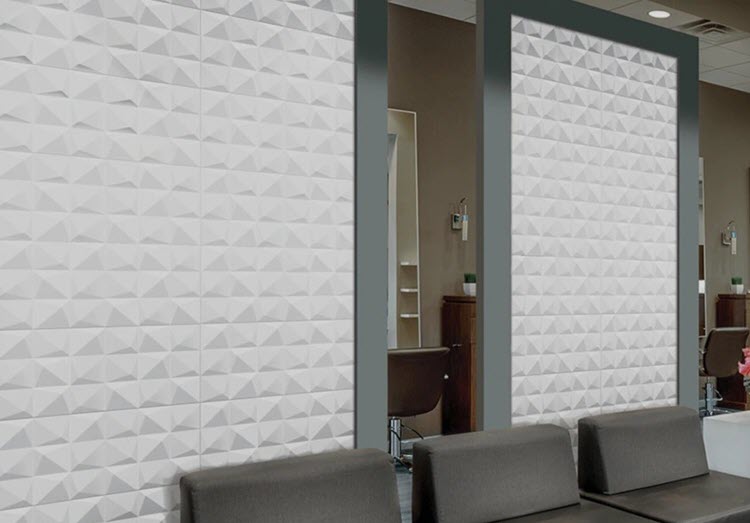 Modular Wall Tile – 12 x 24 – Linea Prizmatic – Porcelain
EXPERIENCE TILE Shapes FOR YOURSELF!
What's your reaction to these bold tile shapes? Can you see using them to create your own design statement?
When you're ready to consider tile, we invite you to visit our showroom located in Orange, Connecticut. You'll find a vast assortment of products to experience for yourself.
Let us know of any questions in the comments or contact us.
We look forward to helping you.
Thanks for reading,
Janine & Michael
Note: We originally published this article on 10/16/2019, and have updated it.