Marble is a classic. And yet, it's a challenge. For that reason, we think you'll want to feast your eyes on marble look porcelain tile and the many sizes, styles, and design options you'll find available at Floor Decor Design Center.
What Makes Marble Such a Classic?
Perhaps what makes marble so classic is how timeless and luxurious it looks on floors and walls, not to mention that it's been used throughout history in some of the most magnificent buildings and sculptures around the world.
Marble color tones range from alabaster white to off-white with yellow and gray casts.
The veining, too, is magical making the stone come alive with movement.
The examples you see in the image below are water-jet cut marble shapes available from Floor Decor.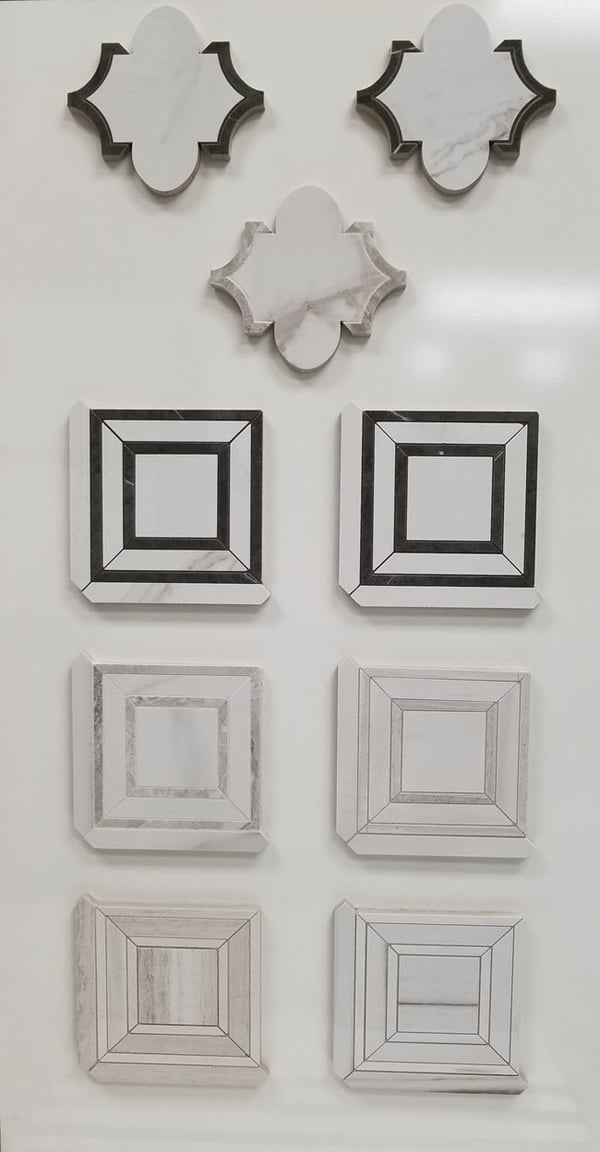 What Makes Marble a Challenge for Walls and Floors?
At the same time, marble is a maintenance challenge.
Since it is made from limestone, marble is porous. It's also susceptible to acids. To prevent damage and discoloration, it requires regular cleaning and sealing. Otherwise, whatever gets spilled on it, gets absorbed: red wine, hard water minerals, lemon juice...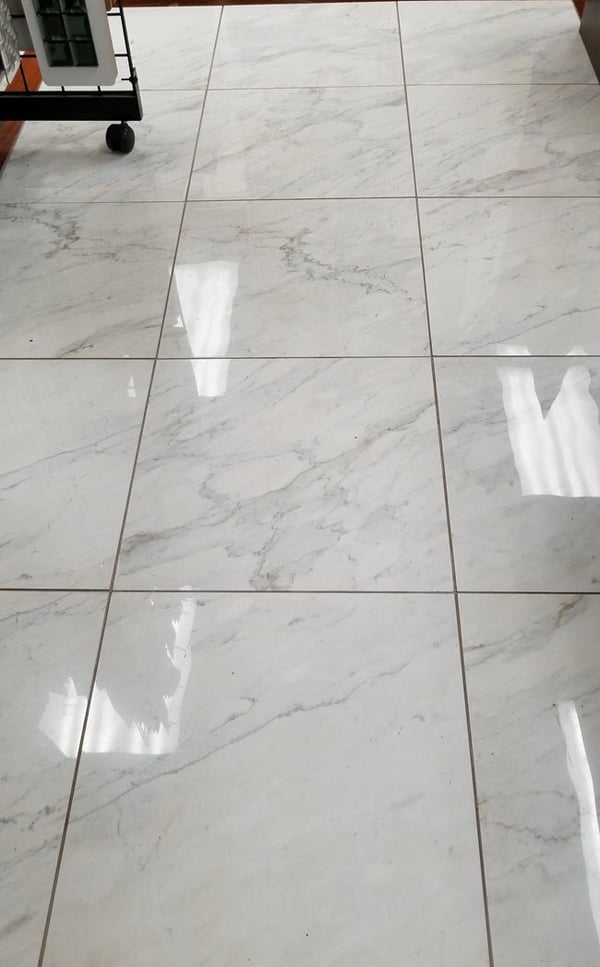 Solution: Marble Looks in Porcelain Tile
Assuming non-stop marble maintenance isn't your cup of tea, you can still have the marble look in your home. The solution is porcelain tile with the look of marble.
Porcelain tile has a low water absorption rate, making it impervious to water and staining. That means it can be used in bathrooms and kitchens without concern.
As you can see from the image above from our showroom in Orange, CT, it's available in high-gloss finishes that set off the beautiful and realistic-looking marble veining.
Check Out the Wide Range of Marble Looks at Floor Decor Design Center!
In this next section, I share with you some of the displays of marble looks in porcelain tile available at Floor Decor. These styles can be used on floors and walls, and make stunning backsplash tile designs.
The display below of 12"x24" tile includes polished, honed, and rectified samples in a range of marble patterns and colors.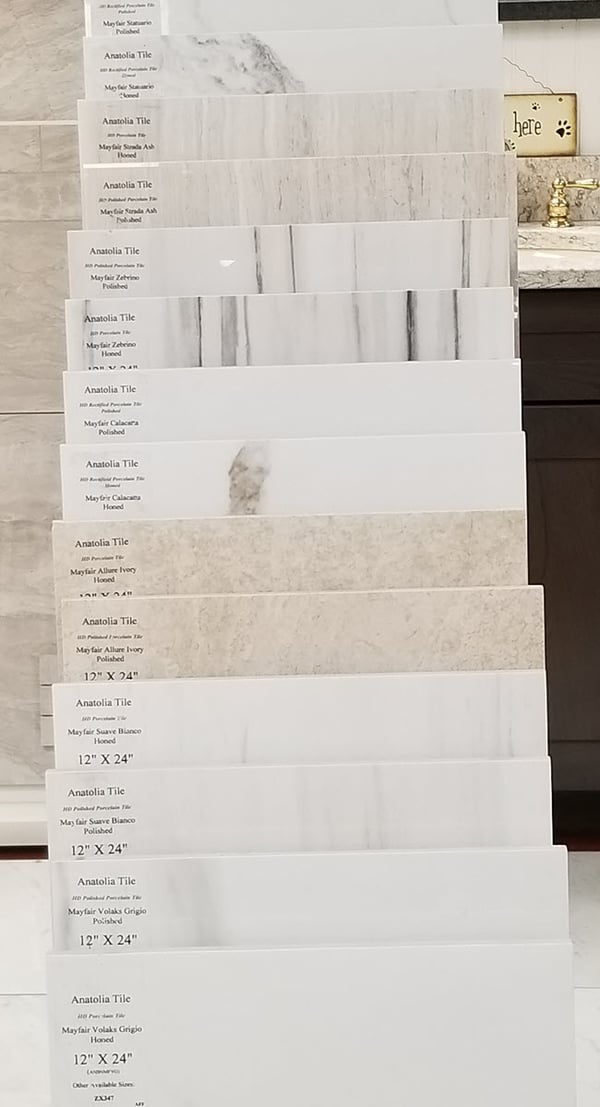 In this next display, you see that each of these tile styles includes a series of supporting tile products: mosaics, subway tile, and patterns.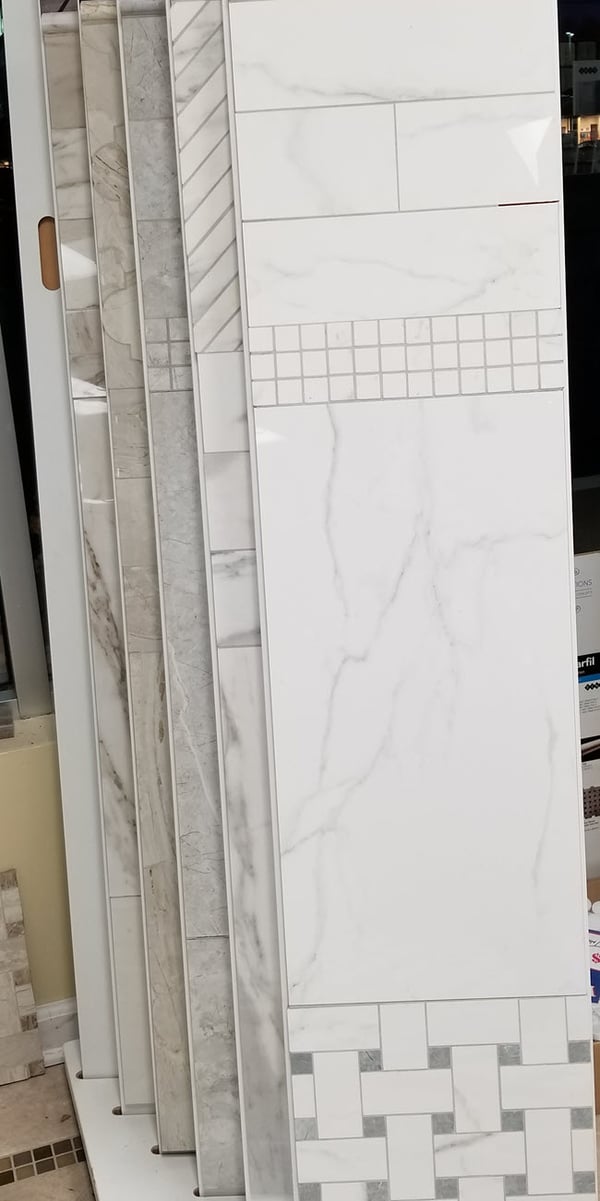 Thanks to new porcelain tile manufacturing technology, you can find these marble looks available in very large formats that not only minimize grout lines but also transform the veining into focal points.
Notice, too, the range of colors. Were you aware that marble looks include such dark high-gloss tones?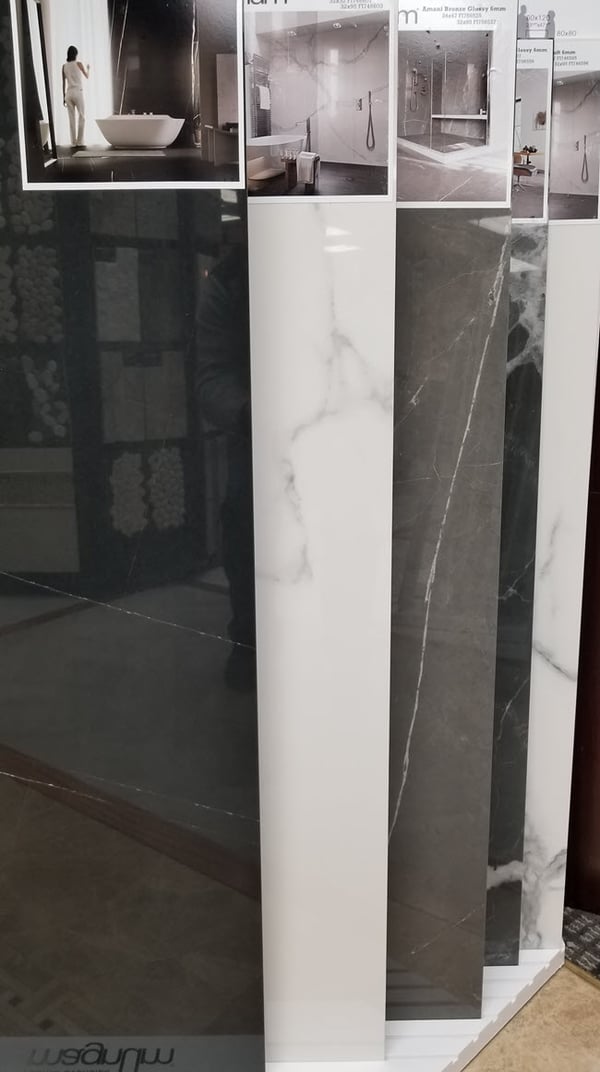 Here, you see another example of the different tile formats in a collection. In addition to the rectangular shapes and planks below, you see hexagons and other mosaics.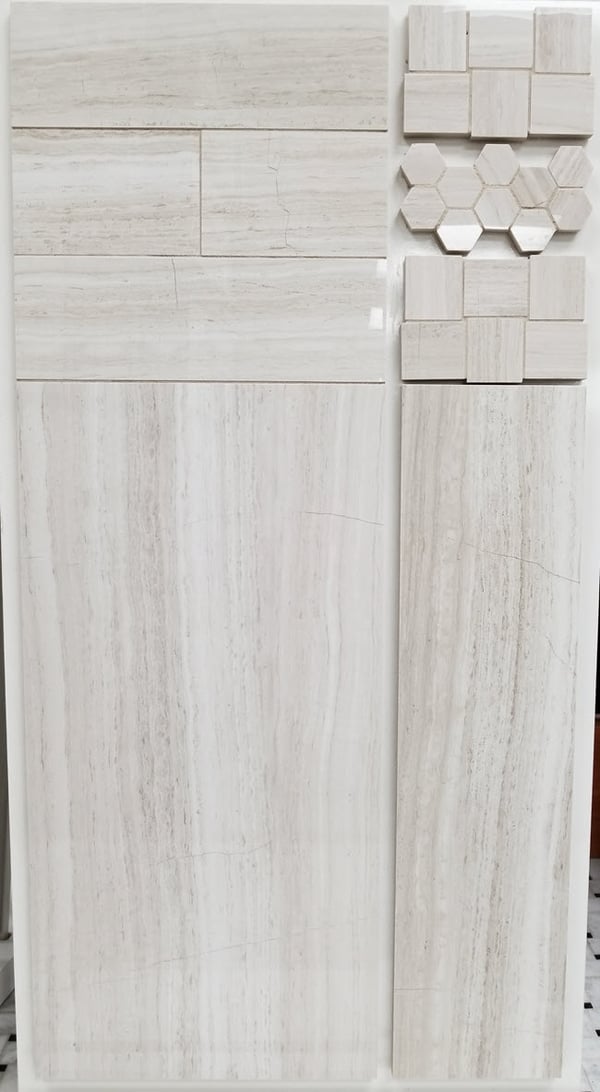 Look at the fabulous marble-like details in the display below. This marble pattern shows high variability. It also includes interesting textural effects on the surface of the porcelain tile.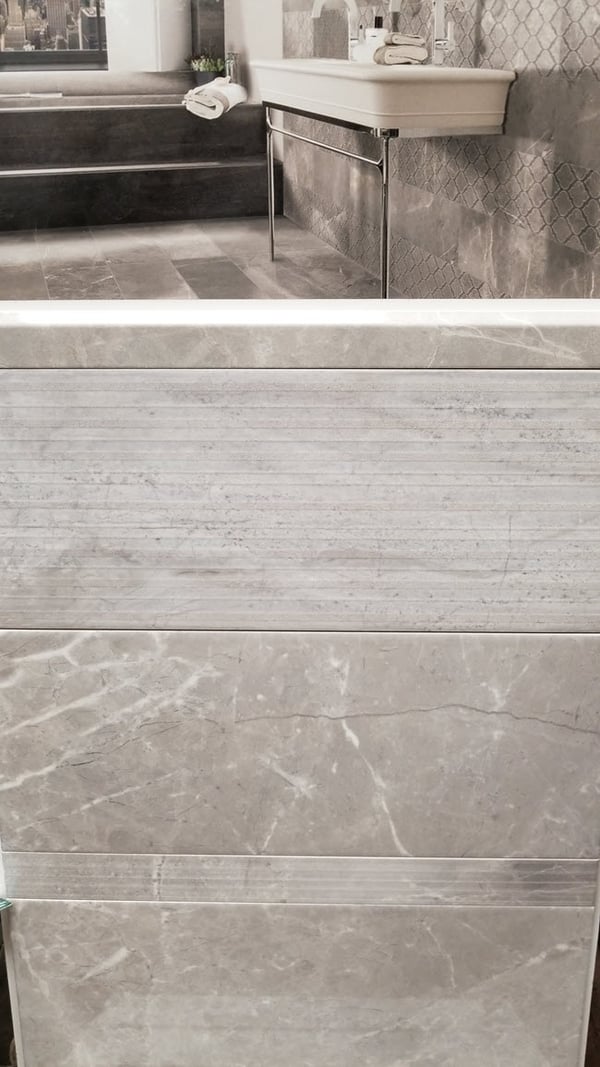 Select more of an ochre tone, and the look is completely different as you see in this next display of the same product.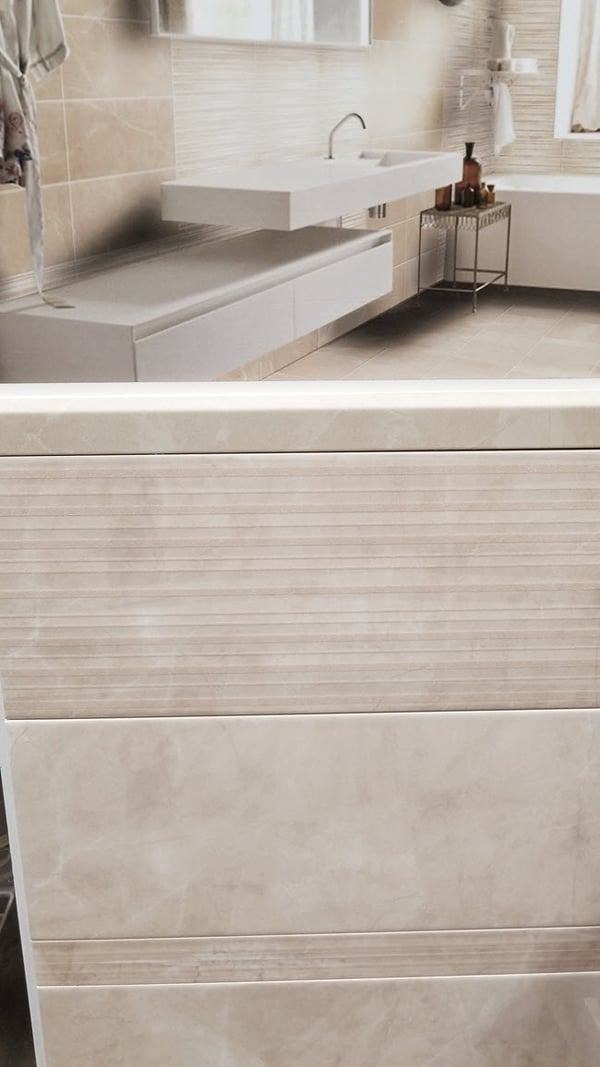 If you like decorative marble looks, here's the display for you.
Combine arabesque shapes with rectangular-shaped porcelain tiles.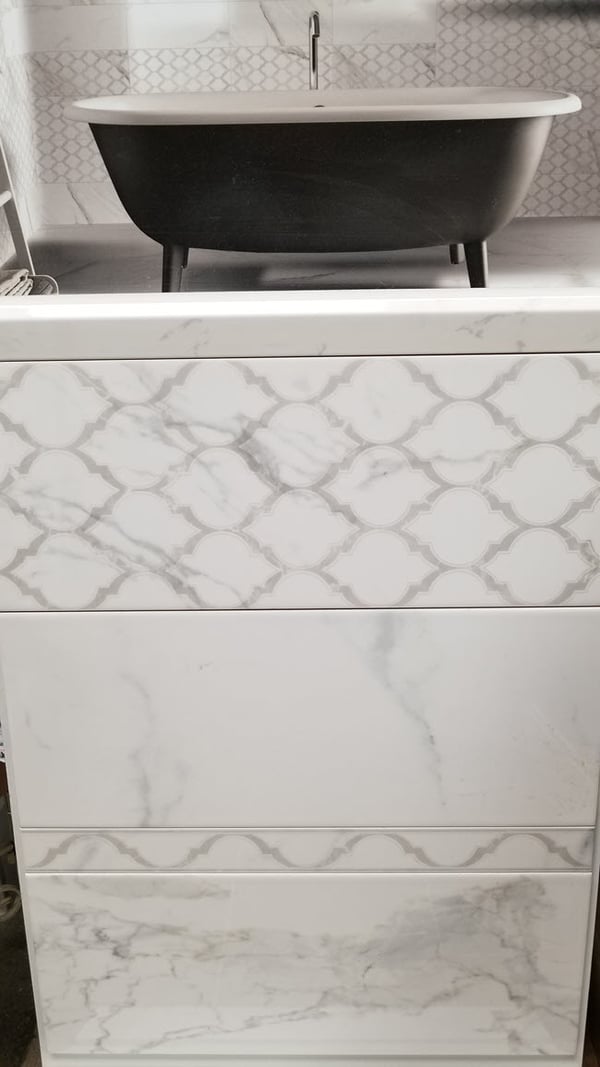 High gloss marble looks in large format squares create an elegant contemporary look as you see in this next display. Imagine combining that tile with a basketweave type pattern - perhaps for an entryway or a border.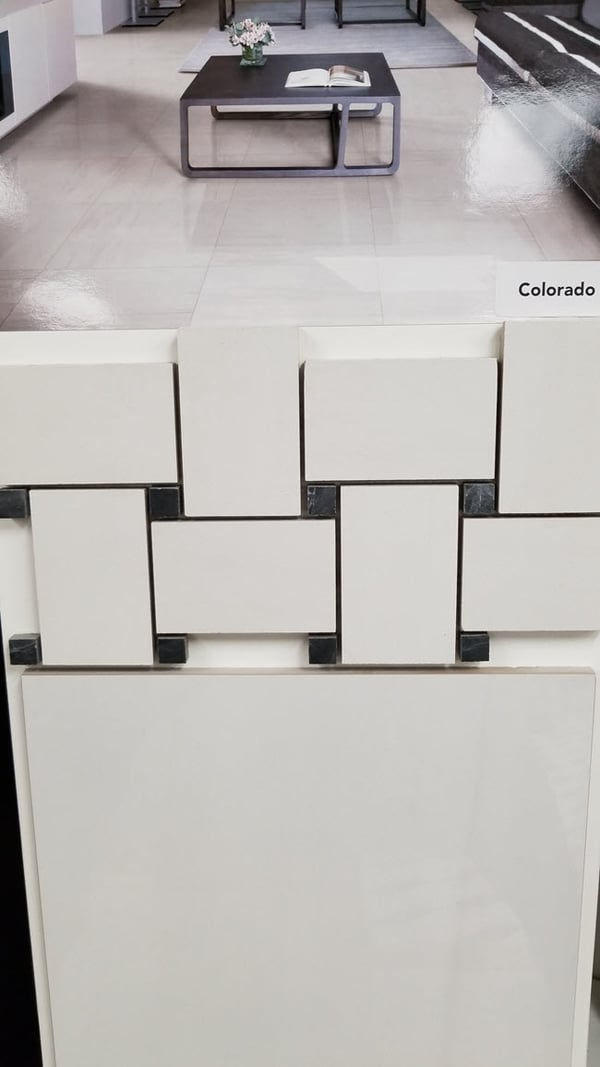 Check Out These Marble Look Porcelain Tile Installations
So far, you've seen displays of marble look porcelain tile. Here follow three bathroom installations we completed for customers who wanted the classic look of marble without any of the maintenance issues.
The show installation below combines two marble looks: classic white marble for the shower threshold and the niches; a travertine look for the shower walls and floor.
Notice the combination of rectangular wall tile with the small format floor tile.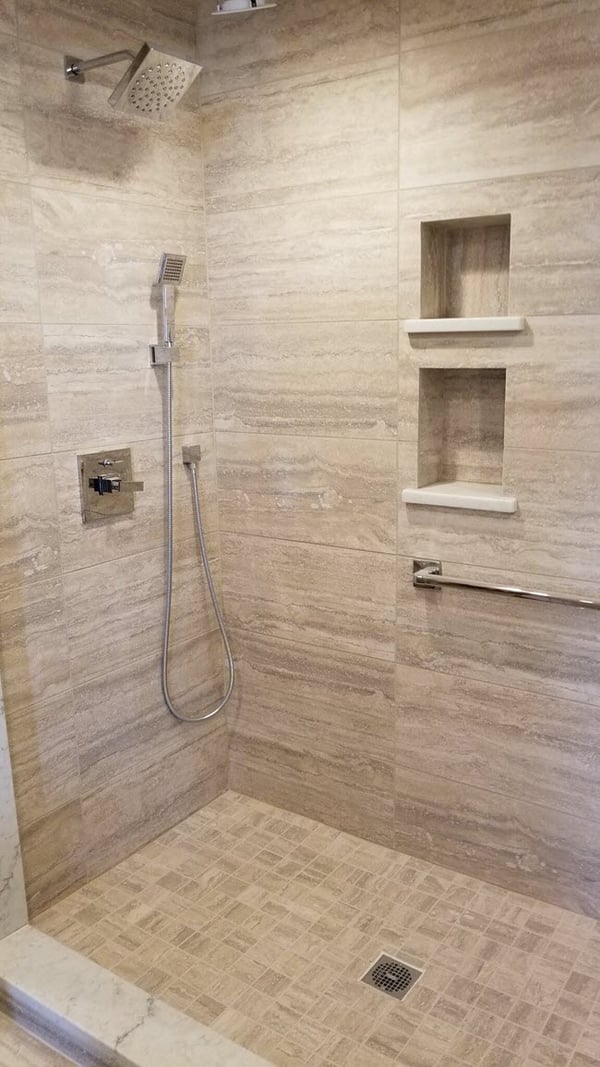 The shower below combines a light marble with a darker marble in the niches. Isn't the veining beautiful? Using the same marble tile on the shower walls and the bathroom floor ties the entire design together.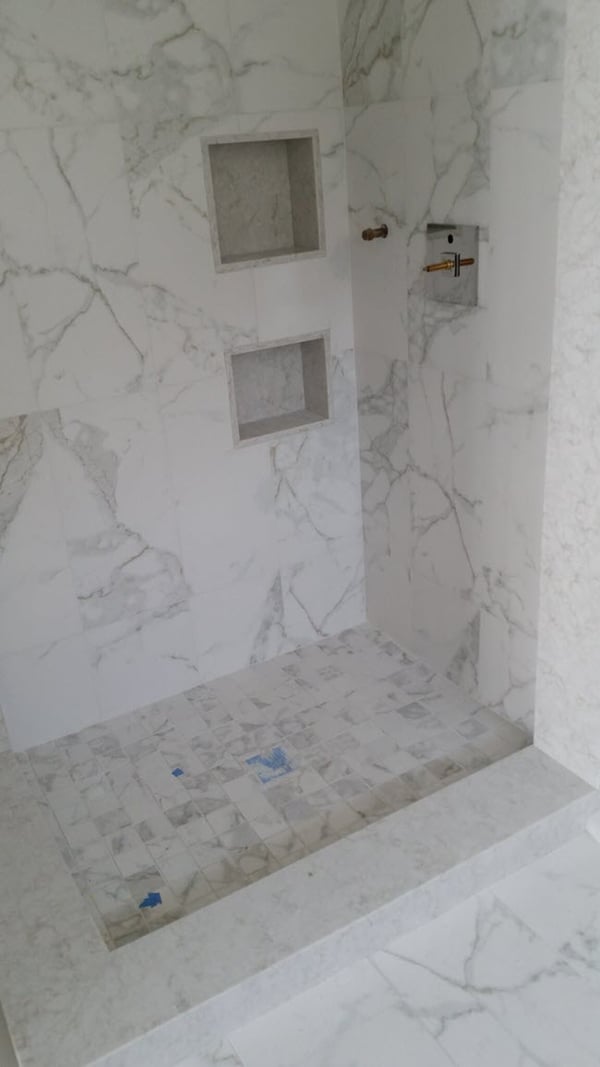 The tub installation in the same bathroom uses the marble style used in the niches for the tub surround.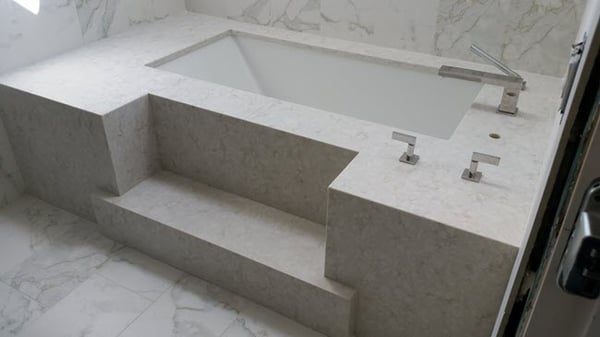 Have You Considered Marble Look Porcelain Tile for Your Home?
If you love the look of marble yet want a more practical, durable solution, we recommend porcelain tile that looks like marble. When you visit one of our two showroom locations in Middletown or Orange, you'll be able to see these products first hand.
If you have any questions, just let me know in the comments or contact us.
We look forward to helping you.
Thanks for reading,
Janine & Michael
Note: We originally published this article on 01/09/2019, and have updated it.