There's something magical about decorative stone pebble tile for your home. Pebbles are tactile; your hands and feet yearn to feel them. You tend to associate them with places... exotic beaches, crystal-clear river beds, waterfalls...
And, when you bring pebbles inside, they carry the magic in, transforming a backsplash, a shower floor, or a decorative wall feature into a story to be shared with those who use the space.
For that reason, we're excited about the Toemi pebble collection available at Floor Decor Design Center.
Decorative Stone Pebbles Available at Floor Decor
Before going into detail about the Toemi collection, here's an overview of pebble mosaics you'll find when browsing through our tile products.
These come mesh-mounted in 12" sheets for easy installation. All can be used for wall installations such as backsplashes and features such as what you see in the shower installation image below.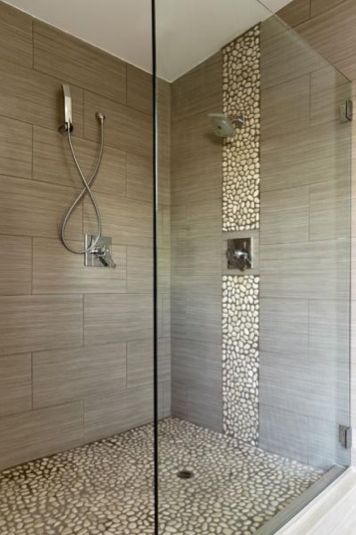 We recommend flat pebbles for floor installations.
Flat Pebbles
In the Quick Ship category, you can choose from 13 different flat pebble color options: Bali Black, Galaxy, Pastel Green, Grey & White, Jupiter, Merak, Quartz, Sedona Red, Red & White, Desert Sandstone, Snow White, Terracotta, and Yellow Marble.
Moon Pebbles
Then, there are moon mosaics in 10 colors: Bali Black Moon, Coral Green, Grey Marble, Quartz, Sunset, Porcelain White, Aberdeen Grey, Sedona Red, Desert Sandstone, and Merak. They are round, moon-shaped flat pebbles.
Sliced Pebbles
Sliced pebble mosaics come in 10 colors: Black, Grey & Black, Black & White, Green, Green & White, Sliced Grey, Grey & White, Maui Turtle, Autumn, and Tan.
Round Pebble Mosaics
You'll also find round pebbles in 5 colors: Black, Breccia, Brown Mix, Cream, and White.
Check out how these products are described:
"A spirited babbling brook pouring out upon a stream of vivid earthen gems in a distant meadow; those treasures can now be shared with you. Discover the arduously arranged mosaics seamlessly united in visual perfection. Raw order, every pebble set rightly in its place. Sensible and pristine, this collection comes in sliced, round, and oval formats. Become immersed in a grand Venetian corridor, settle down next to a humbled pond, wade in a colorful river, or skip rocks pressed by the sea. Undergo these captivating transformations in your home with Pebbles."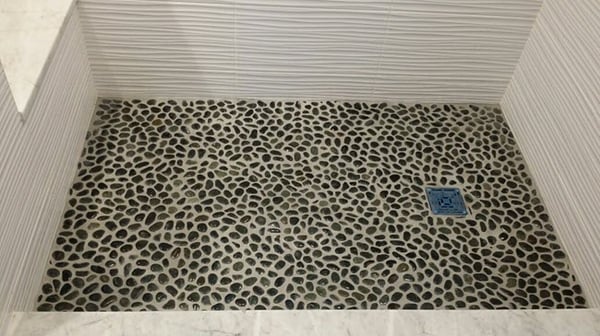 The Toemi Decorative Pebble Tile Collection
The Toemi pebble collection includes marvelous colors and shapes such as,
Exotics that the company comes across in its travels as it keeps an eye open for opportunities, and unusual, rare, and intricately made products.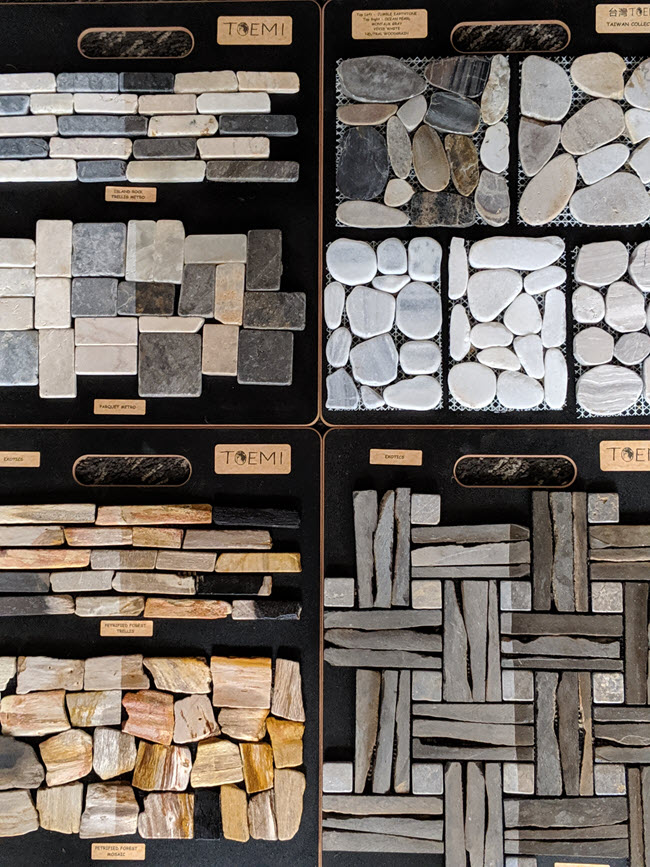 Pebbles that reflect the uniqueness of the islands where they were formed in colors and blends that make fashion statements worldwide.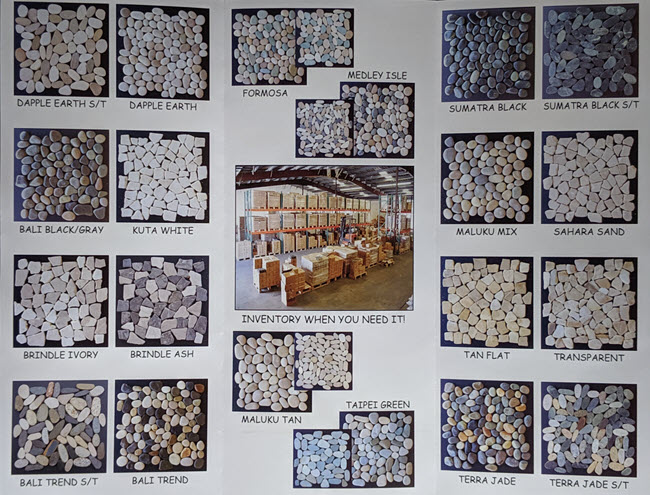 Sliced & Tumbled Pebbles designed for flat surface applications. These pebbles are precision cut and then tumbled to reveal their inner beauty.
Tumbled Marbles that come from mountainous regions in Java and offer a variety of design alternatives.
Decorative Pebble Tile Characteristics
As you can see from the images in this article, decorative stone pebble tile comes in a range of looks. Characteristics include: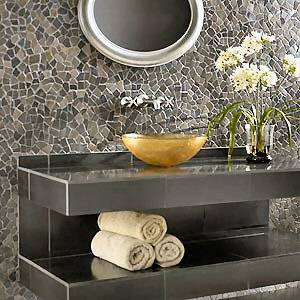 Polished vs. matte surface
Angular vs. round shape
High to low shade variation
Raised vs. flat surface
A rainbow of colors, finishes, pebble types...
That combined with shapes that are ever so similarly dissimilar is what creates the magic.
Pebble tiles create a one-of-a-kind decorative effect that can be subtle or bold depending on what you want to create with these versatile mosaics.
Take the installation below we completed recently. It features wood plank tile on the walls and decorative pebble mosaics on the floor and on the back wall of the generously sized niche.
The lighter pebbles draw out the lighter wood tones, while the darker ones relate to the darker wood. The end result is beautiful and makes a statement.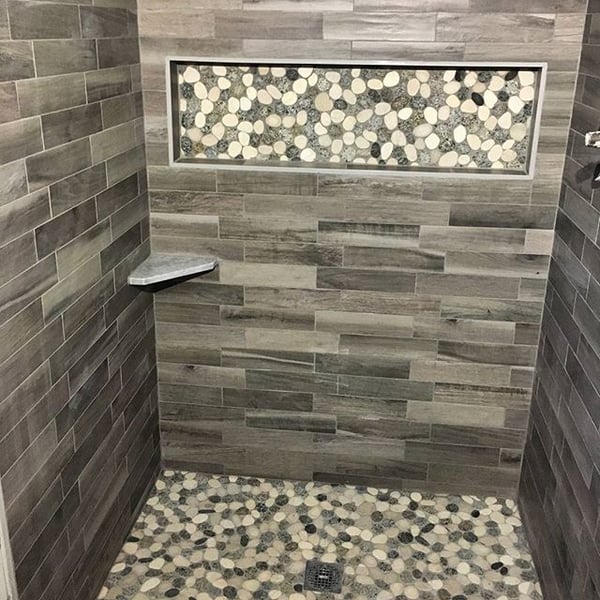 Feast Your Eyes on Design Ideas with Pebbles
If pebble mosaics make your heart sing, then you'll enjoy feasting your eyes on the design possibilities - starting with the images in this article.
Before sharing additional resources with you, here are two more images of a pebble installation we completed.
Here you see a shower bench in a marble-look tile with stone-look tile on the walls. And, at your feet, you see pebbles.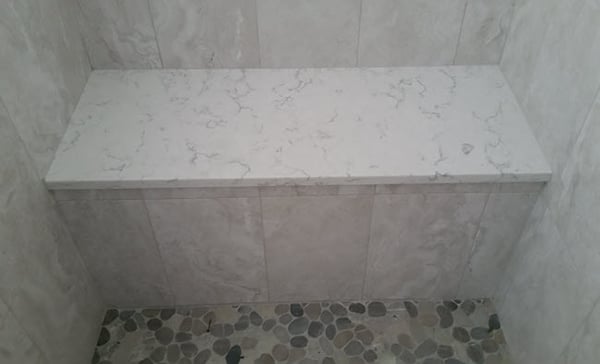 Here's a close-up view of the pebbles on the shower floor. Fun, no?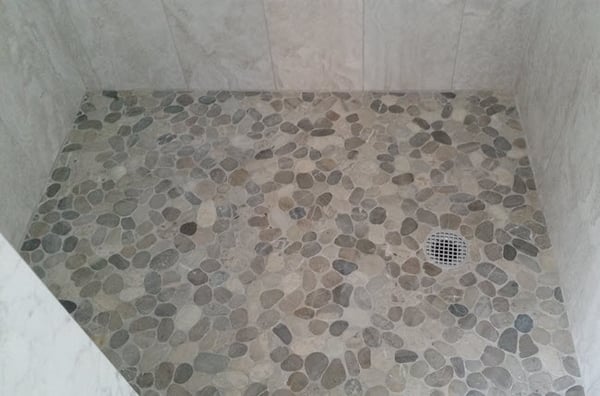 So, for additional design ideas, you must visit Pinterest and check out Bathroom Pebble Tile and Stone Tile Ideas. You'll find pebbles combined with glass subway tile, textured wall tile, and more.
Here's even a 4th century BC octopus created from stone pebbles!
READY TO ADD Pebble TILE TOUCHES TO YOUR HOME?
What's your reaction to decorative stone pebble tile mosaics? Is this a look you'd like to add to your home?
We invite you to visit one of our two showroom locations in Middletown or Orange, where you can explore the possibilities available.
Let me know of any questions in the comments or contact us.
We look forward to helping you.
Thanks for reading,
Janine & Michael
Note: We originally published this article on 05/29/2019, and have updated it.