Are you familiar with the term 'multilayer flooring' or MLF?
If you aren't, you're not alone. It's a term used to describe a relatively new category of flooring that consists of vinyl products constructed in layers.

What Does Multilayer Flooring Include?
The category is evolving rapidly and includes flooring products with a rigid core. Some of those products are referred to as:
LVT or LVP - Luxury Vinyl Tile or Planks

WPC or Wood Plastic Composite which has an expanded PVC core

SPC or Stone Plastic Composite which has a solid PVC core
There are others as the category evolves and manufacturers bring new products to market. For example, MGO has a mineral core.
All Multilayer Flooring Products Feature Layers
Perhaps it's obvious. However, all of these vinyl-based products feature layers. More specifically,
A top wear layer that protects against dents, scratches, UV, and moisture.
A vinyl layer that showcases stunning visuals and even texture, so you are hard-pressed by just looking at the flooring to determine if you're standing on wood or stone.
A core layer
The bottom layer is usually made of a product such as cork, rubber, or foam for sound absorption, stability, and cushion.
Here are two cutaway examples from products you'll find at Floor Decor Design Center.
COREtec Flooring
One of the first in the category is COREtec flooring. Notice the four layers in the image below. The bottom layer is cork.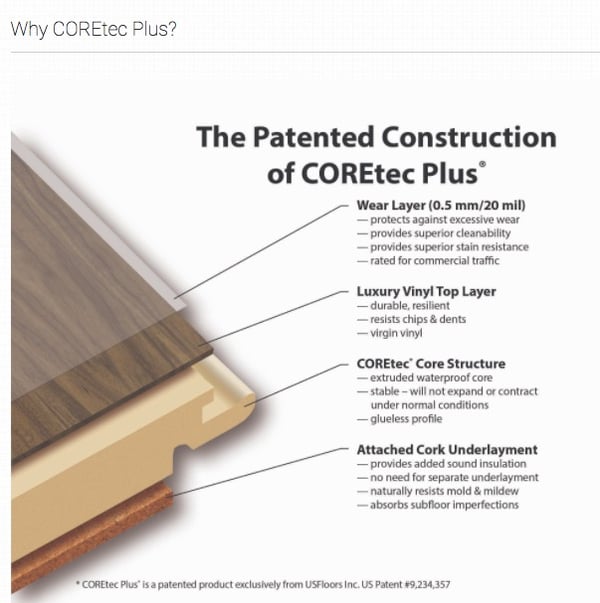 >> Learn more by reading Have You Considered COREtec Waterproof Flooring for Your Connecticut Home?
>> And CORETEC GRANDE THE ULTIMATE WATERPROOF FLOORING...
Aquatec Flooring
In the case of Aquatec flooring, notice five distinct layers. The bottom one consists of rubber padding.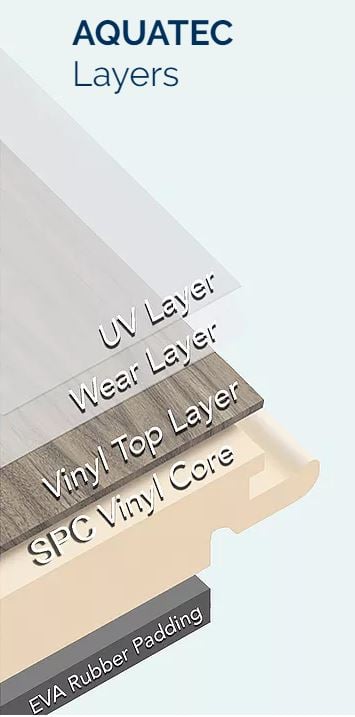 >> To learn more, read What Makes Stone Plastic Composite (SPC) Flooring Waterproof? Try Aquatec
the 9 Benefits of Multilayer Flooring
This is where exploring multilayer flooring as an option for your home becomes fun. Why? Because it offers homeowners so many benefits. Here are nine for you to start with.
1. Installation Versatility
From an installation perspective, multilayer flooring can go where other flooring types such as wood can't go. In other words, it can be installed above, on, or below grade over concrete or suspended wood.
It can be installed in wet areas and won't swell when exposed to water because it is inert and dimensionally stable. Because it doesn't expand or contract, it doesn't require expansion strips in large rooms.
That said, you still need to ensure your subfloors are flat, clean, and dry before installation.
In addition to glue-down installations, you can opt for a floating floor.
2. Water Resistance
Multilayer flooring products such as LVT, WPC, and SPC have no problem dealing with areas such as bathrooms, mudrooms, family rooms, basements, and kitchens. The products are 100% Water Resistant. And if you ever spill water on your floors, you won't have to worry about it getting through the floor to the backing.
>> See THE CHRISTINA COLLECTION: DIAMONDWALK WATERPROOF FLOORING
3. Comfort Underfoot
In comparison to natural stone or tile, multilayer flooring is warmer, softer, and more comfortable underfoot. That's thanks to that bottom layer which is so resilient.

Comfort goes hand-in-hand with safety and you'll find that these floors tend to be slip-resistant as well as flame retardant.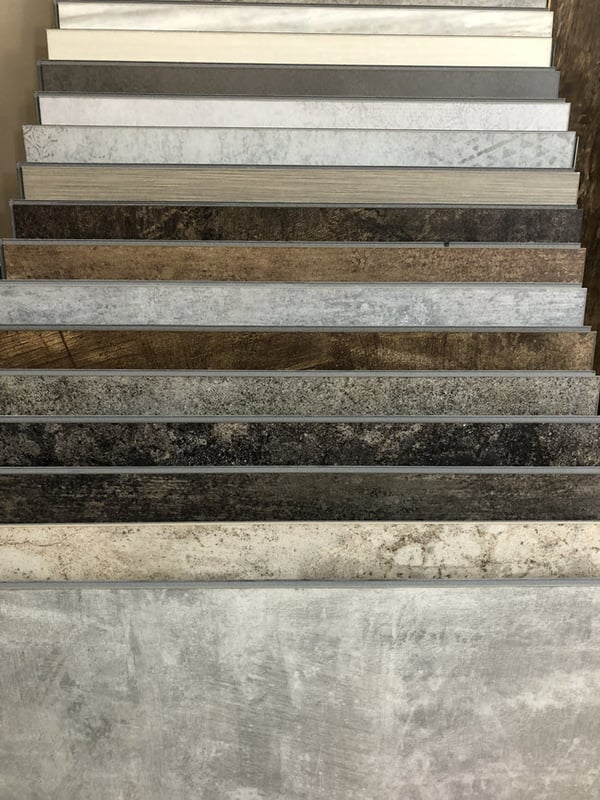 4. Spectacular Visuals
When it comes to the visuals of multilayer flooring, this is where you can have endless fun!
Thanks to the amazing breakthroughs in digital technology, you'll find flawless replications of natural materials. Not only do high-quality photos capture the look of the material, but textures and finishes add depth to the material.
Anything you can do with porcelain tile or natural stone, you can do with Luxury Vinyl Tile (LVT).
Anything you can accomplish with natural hardwood floors, you can do with LVT.
Concrete looks, floors that glitter, metal-look floors, marble, slate, hardwoods-all of these are available.
Check out the images in this article. They give you a sense of what's possible.
>> See The Farmhouse Manor Rigid Core Luxury Vinyl Flooring Collection
LVT Customer Testimonial
"I am extremely pleased with the installation of my luxury vinyl flooring. The product is beautiful. The 3 installers were very professional, courteous, knowledgeable, and easy to work with. I would not hesitate to recommend Floor Decor to family and friends. I plan to use their services again when I have my bedrooms carpeted. Thank you Mike and Janine for all your help."
Georgia L., Cheshire, Connecticut
5. A Multitude of Design Options
The visuals offer you a multitude of options. Add to that a range of size options and designer patterns.
Size Options
This is usually one of the first questions I am asked by designers and customers,
"Won't I be limited as to the size tiles or wood planks I want to use if I choose LVT or SPC or WPC?"
The simple answer to that is,
"Absolutely not."
You'll find options in 12 x 12", 12 x 18", 18 x 18", or 12 x 24".
Wood planks come 3 x 36", 4 x 36", 6 x 36", 7.25 x 48" and even 9 x 48" (with an extra charge for the last two size options).
Size options are limitless (almost).
Designer Patterns
Some flooring patterns have a timeless feel to them and are requested over and over.
Herringbone layouts, parquet, random plank, key insert layouts, and many more are offered as a "package" floor for just a bit more cost. The result is exceptional precision-cut floors, all manufactured and ready to be professionally installed.
You can choose from the company's product range, the correct amount of total square footage is then ordered, all of which is pre-cut and ready for a glue-down installation. (Smooth wood subfloors or concrete substrates are best.)
6. Including LVT Medallions
We've seen beautiful medallions (or motifs) offered by hardwood flooring manufacturers; they're perfect for foyers, formal living rooms, even as a focal point in a master bedroom.
Guess what? Whatever you can do with wood, you can do with LVT and multilayer flooring.
Many manufacturers have stock patterns in standard sizes available. These are usually laser-jet, precision-cut motifs offered in both contemporary and traditional modes. If you require a custom medallion or a custom size, leading manufacturers have design teams in place to work with you to create your vision. CAD drawings are generated for your approval, and LVT wood samples of your choice are provided, so each and every design motif can be one of a kind.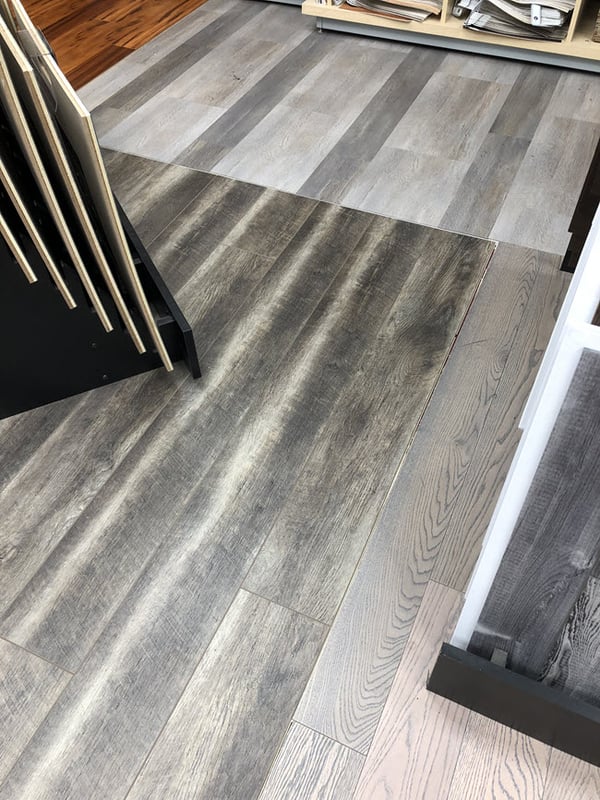 7. Flooring Durability
Floors tend to take a beating, especially in high traffic areas and places where use and abuse happens. When it comes to multilayer flooring, you have a solution that takes abuse well. That's why you'll find these products often used in commercial projects as well as residential ones. From kitchens, basements, bathrooms, offices, and home gyms, to hospitals and retail stores, this product will last and hold its value for over 15 years.
>> See Check out the Commercial Flooring Options Available for Your Business (Video)
It's so durable that scratching, staining, denting, and scuffing aren't a big issue. Those specialized wear layers protect the surface of your flooring and allow you to relax.
8. A Cost-Effective Flooring Option
Perhaps what is most wonderful about multilayer flooring is that it is cost-effective. It creates authentic and rich looks more cost-effectively than the price of other materials plus you have all of the performance advantages.
9. Easy Maintenance
Let's not forget that multilayer flooring is easy to care for and maintain. Essentially, sweeping and mopping take care of anything that life sends your way in your home!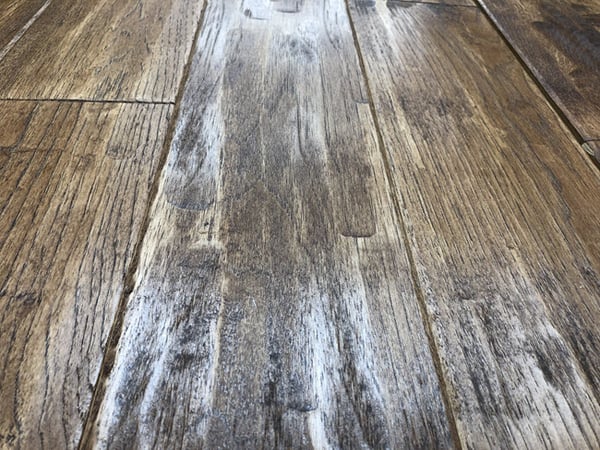 Curious About Multilayer Flooring?
We invite you to visit one of our two showroom locations in Middletown or Orange, where you can ask more questions as you examine the different multilayer flooring products available - from LVT, LVP, WPC, SPC, and more. We have them installed in our showroom and many beautiful styles to select from.
Or, you can let me know of any questions in the comments or contact us.
We look forward to helping you.
Thanks for reading,
Janine & Michael
Note: We originally published this article on 05/08/2019, and have updated it.