What Makes Stone Plastic Composite (SPC) Flooring Waterproof? Try Aquatec

Are you familiar with Aquatec Flooring? It's a Stone Plastic Composite or SPC flooring collection that's worth exploring if you're looking for a waterproof solution for your floors.
Plus, when you next visit Floor Decor Design Center, you'll discover three new Aquatec introductions.
What Makes Aquatec an Example of Stone Plastic Composite Flooring?
Aquatec represents new luxury vinyl flooring technology based on combining different layers of materials to achieve a result that's waterproof throughout.
The Top UV Layer
The top layer of Aquatec flooring consists of a UV layer that protects and prevents discoloration from UV light.
In addition, the UV layer is stain resistant and inhibits the growth of bacteria.
The Wear Layer
The next layer, the wear layer, protects the vinyl top layer which captures the styling of the floor. We'll discuss that further in this article.
This micro-ceramic bead wear layer prevents additional wear and tear to the vinyl top layer, ensuring that your floors look stylish for years to come. It guarantees extremely high durability and acts as an additional protectant layer.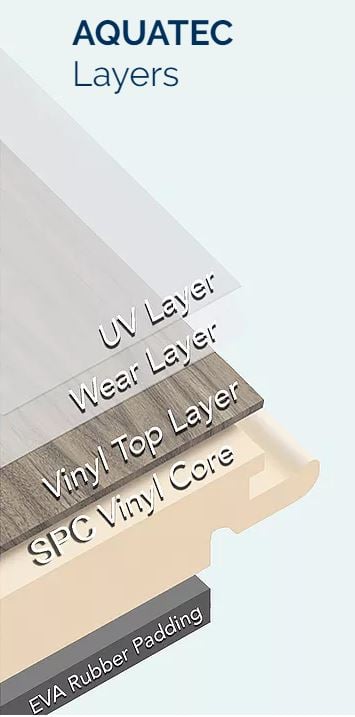 The Vinyl Top Layer
As I just mentioned, the luxurious Vinyl Top Layer is the design element of this technical flooring. It's made from the highest quality, virgin vinyl, and boasts elegance and beauty as it replicates the look of authentic hardwood.
The SPC - Stone Plastic Composite - Vinyl Core
Next is the SPC part of this engineered floor.
Aquatec's extruded waterproof SPC Vinyl Core will never expand or contract. This rigid core luxury vinyl flooring has high dimensional stability created to withstand and prevent moisture from penetration.
The EVA Rubber Padding
Finally, the last layer consists of EVA rubber padding to provide maximum comfort underfoot.
The EVA Rubber Padding also conforms to sub-floor imperfections, which means that you don't need a separate underlayment of any kind when installing this floor. That means you can install this product over any substrate such as hardwood, tile, porcelain, or concrete, without telegraphing.
The padding is also mold and mildew resistant, making it ideal for basements, bathrooms, laundry rooms, three-season porches, and other areas where moisture can be a concern.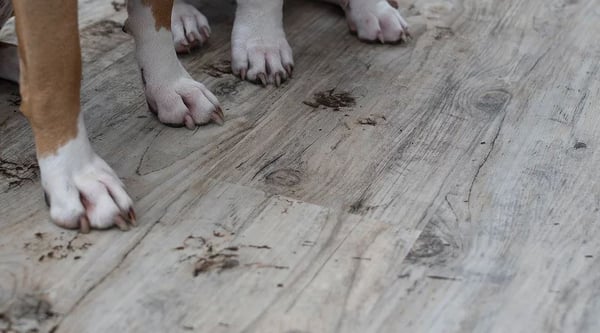 How Does Aquatec SPC Flooring Work?
This flooring product is a floating floor that you install using a 5G click locking system (similar to how many laminate floors lock into place for installation).
This 1:19-minute video shows you how it works. (Note: by clicking on the link, you will go to the Aquatec website. Don't forget to come back!)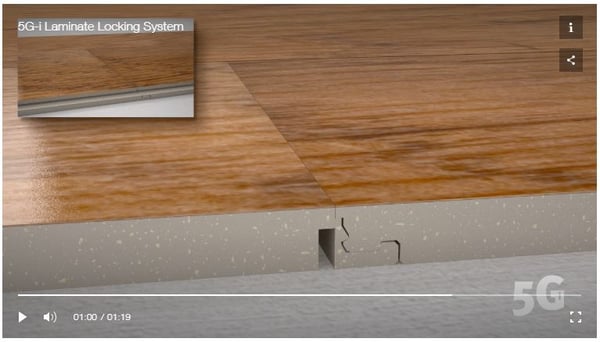 You'll also find durable matching transitions available.
What Are the Benefits of Aquatec Stone Plastic Composite Flooring?
Given the engineered layers of this flooring, you might imagine how Aquatec offers many performance benefits. Here they are:
100% Waterproof because each layer is fully waterproof

Child and Pet-Friendly Flooring. Neither child nor animal can harm the floor. Furthermore, the floor can't harm them.

Eco-Friendly: low in VOCs and formaldehyde-free

Recyclable

Easy to Install and With Matching Transitions

Lifetime residential warranty that is transferable once; 20-year commercial warranty

5,000 Pound PSI allowing your floor to maintain structural integrity under heavyweight items

Seasonability that can withstand seasonal temperature extremes

2mm EVA Rubber Padding for comfort underfoot that absorbs shock and sound

SPC Vinyl Core is made of stone dust and virgin vinyl

No Acclimation necessary

Pattern Selection that ranges from traditional to unique styles (see below)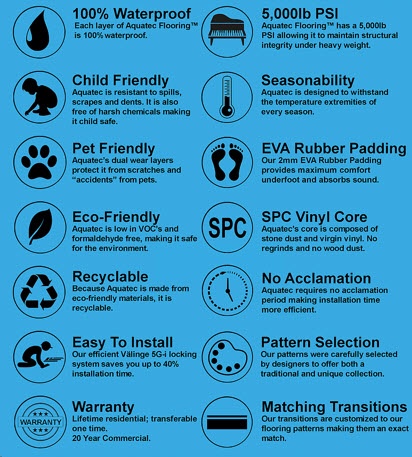 Ready to Explore Aquatec Flooring Styles?
This is the best part!
The Aquatec SPC flooring collection offers you stunning realistic visuals that include texture, too.
This image below, for example, has the look and feel of rough-hewn hardwood floors.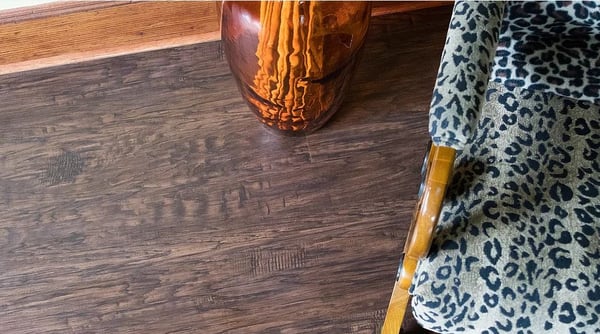 As you can see from the options below, the style options range from traditional - natural oak, chestnut, metro brown - to rustic - driftwood, beach wood, weathered, oxford grey, antique pine - to contemporary - saddle, provincial, contemporary, cedar.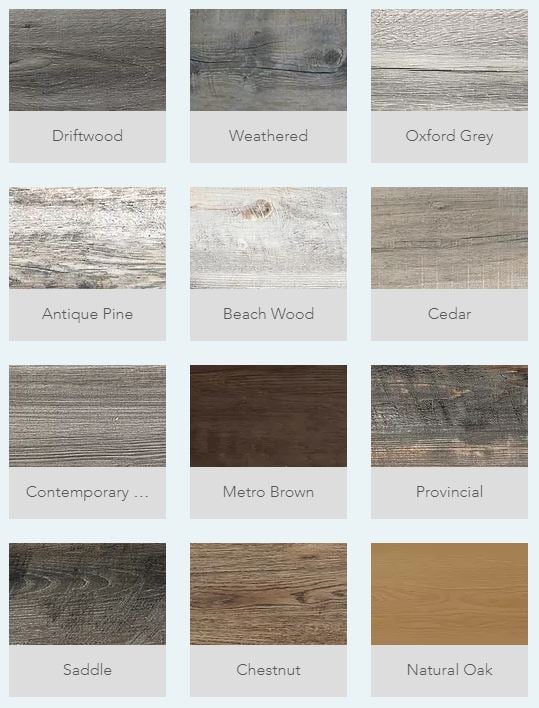 You can definitely have fun creating the room of your dreams with these stylish options.
Did we mention that the Aquatec flooring collection is ideal for families with pets, as well as children?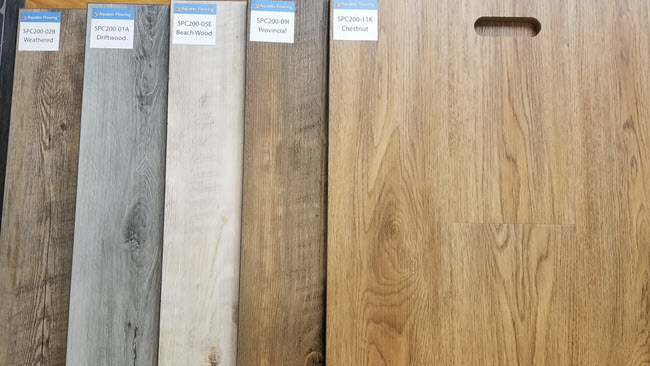 Three New Aquatec SPC Introductions
An important reason for updating this article is to introduce you to the three latest Aquatec flooring SPC style options.
Lacewood
Lacewood features warm browns and beiges with remarkably realistic wood-looking striations and texture on the surface.
Whitewood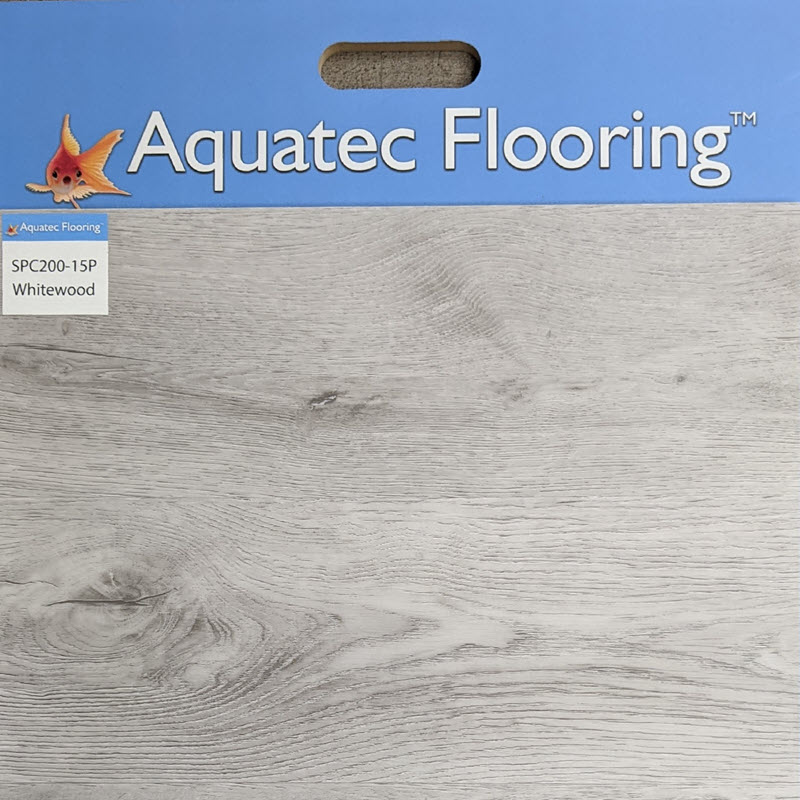 Aquatec Whitewood SPC offers a fresh take on whitewashed wood looks.
Quarry Grey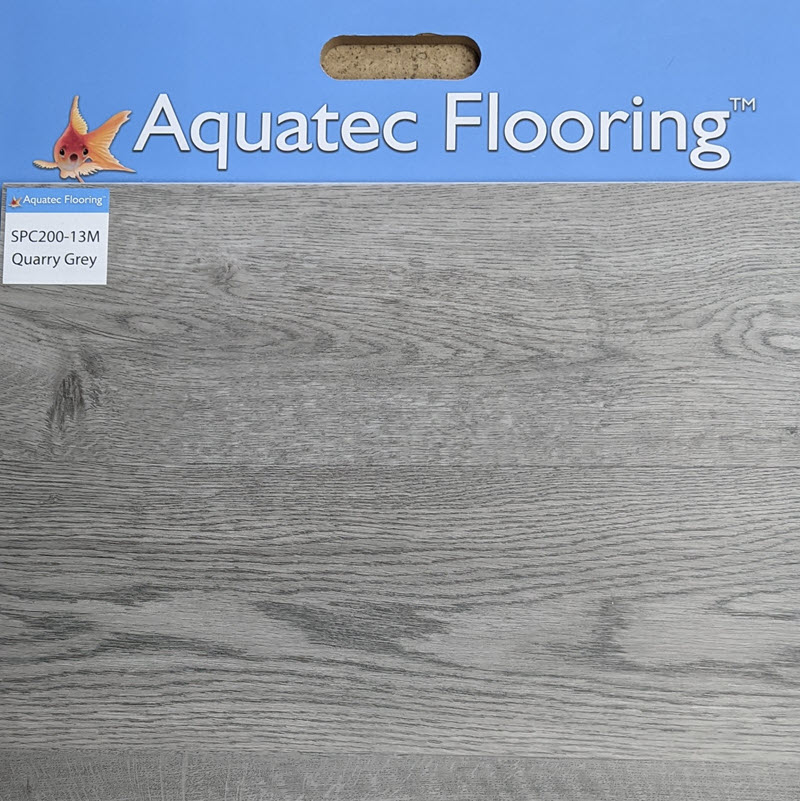 Quarry Grey from Aquatec Flooring offers a contemporary vibe to wood flooring looks.
COME See Aquatec Stone Plastic Composite Flooring for Yourself!
If you're looking for a waterproof flooring solution with beautiful stylish options to pick from, you'll want to visit one of our two showroom locations in Middletown or Orange, Connecticut where you can explore samples of Aquatec. We think you'll love it!
Or, contact us with your questions.
We look forward to helping you.
Thanks for reading,
Janine & Michael
Note: We originally published this article on 11/08/2018, and have updated it with new product introductions.