What goes into the cost and installation price of ceramic and porcelain tile?
The cost of ceramic or porcelain tile can vary considerably. Not only will you find many different sizes and shapes such as mosaics that can be used for shower floors, backsplashes, or as accents in a shower but every tile job is unique in that you can take one tile and install it a dozen different ways.
This article explores this topic in detail.
HOW COST AND INSTALLATION PRICE FOR CERAMIC AND PORCELAIN TILE VARIES
Depending on where you install tile and the type of tile you choose, you'll find that installation price varies. Here are three areas that are a natural for tile.
1. Tile and Back Splashes
Let's start with back splashes since that is what most of our customers ask about when shopping for tile.
No surprise since back splashes can truly transform a kitchen space into a gorgeous space that gives you endless pleasure. There is no one tile that fits all in this category. You can choose natural stone, glass tile, metal tile, ceramic, or porcelain; they will all vary in price.
To keep it simple, we will use the classic 3 x 6 white subway tile as you see in the image below.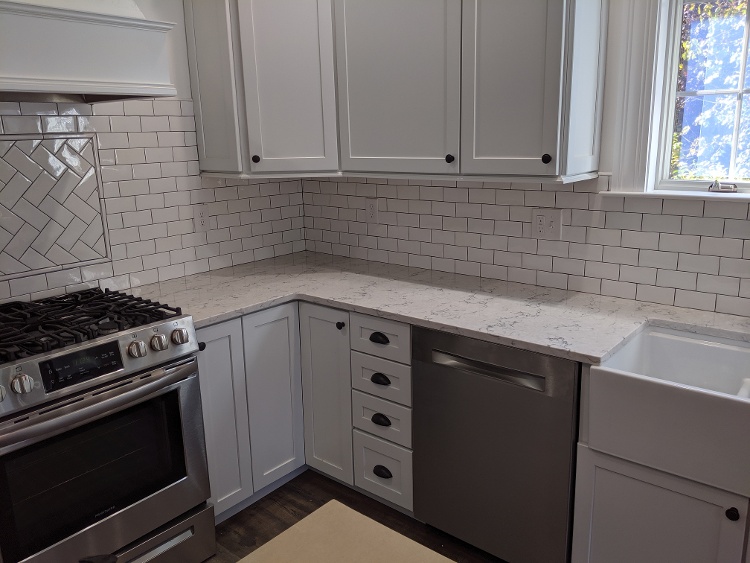 Cost Estimate for a Tiled Backsplash
The average back splash is about 30 square feet.
Materials would include:
The tile
Mortar
The grout. We recommend a high-performance grout that will be highly stain-resistant or require yearly sealing from the occasional splash.
The cost for materials would range from $400 to $800.
Professional installation would be in the $400 to $700 range.
Many homeowners opt for this to be a weekend DIY project so you could save half the cost.
Installation costs will increase as the backsplash design gets larger and/or more intricate. They will also go up if you select more decorative tiles, in both cases by several hundred dollars.
2. Bathroom Tile
The next most popular area for ceramic or porcelain tile is in bathrooms.
Ceramic tile is a great option for bathrooms for both the floor and wall since it is waterproof. Remodeling a bathroom is one project that is generally a good investment according to many realtors.
>> Check out Bathroom Remodels Increase Home Value—Fact or Myth?
The most popular tile today for bathroom flooring is the 12 x 24 format. Homeowners prefer as little grout as possible and by using the larger format over the old 6 x 6 or 12 x 12 you'll reduce the amount of grout by 75%.
If you want your bathroom to appear larger, check out 11 simple ways to make a small bathroom look bigger.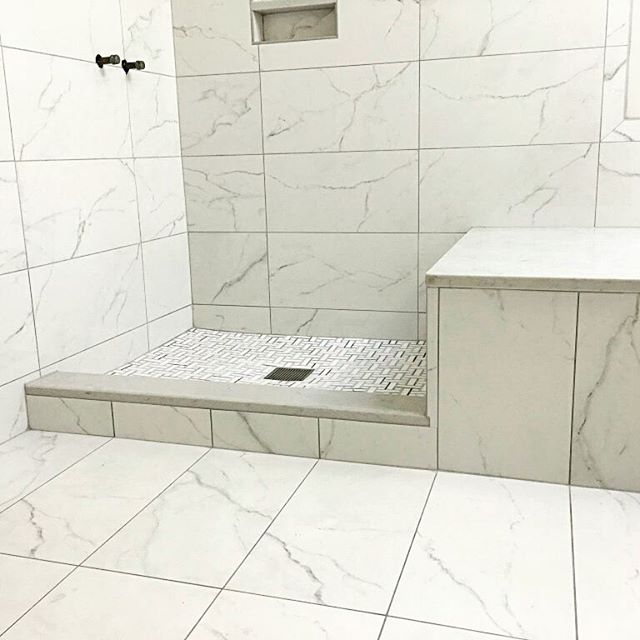 Shown above in a 12 x 24 size for both floor and wall using a porcelain tile that replicates a Carrara marble. This is a classic look that will never go out of style. It's clean and elegant best of all it's affordable.
>> See Feast Your Eyes on Marble Look Porcelain Tile
Cost Estimate for Bathroom Tile
For floor tile in your average 6' x 9' master bath you would pay $500 to $1000 for materials and professional labor would run you another $500 to $800.
For a 3' x 4' mosaic shower floor materials would cost $300 to $700 and labor another $300 to $500.
For approximately 100 square feet of shower walls expect to pay $800 to $1600 for materials.
Adds on such as a marble shower jamb would cost $100 and the marble bench seat $300.
3. Kitchen Floor Tile
Would you like an upscale look for your kitchen that is easy to maintain? You'll definitely want to consider ceramic tile. Although tile can be hard on your feet as well as cold, if you are okay with that then tile is an excellent choice.
You'll find many options to choose from for kitchen floors - from stone looks, marble looks, even hard wood plank looks.
Keep in mind that larger planks (12 x 24) are the choice for most designers and the tiles keep getting larger. We have many tile as large as 24" x 48"!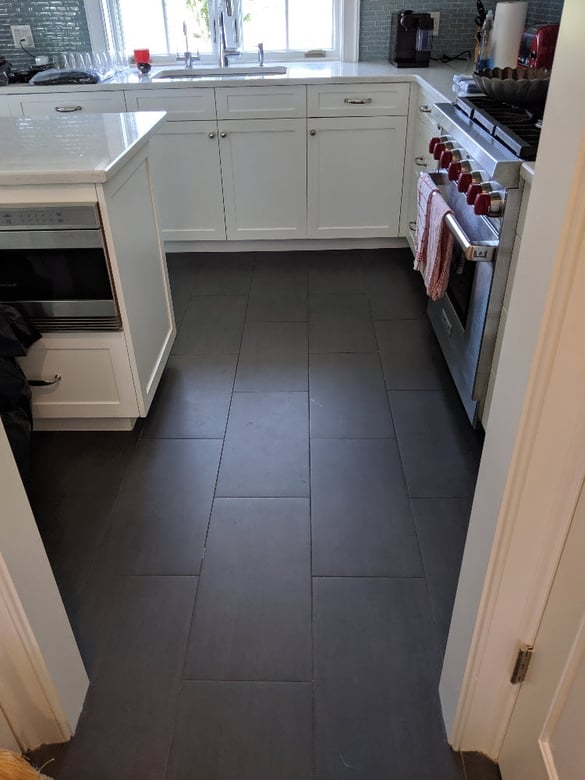 Cost Estimate for Kitchen Tile
In the kitchen above, we used a 12 x 24 stained concrete look porcelain to go with the classic white cabinets and white quartz counter tops to give it a coastal contemporary feel.
Cost for materials for this 12' x 15' kitchen would range from $1500 to $2000.
Professional installation would run from $1500 to $2000 as well.
Recapping Tile Costs and Installation Prices
The cost for tile as you can see varies from job to job.
As a rule of thumb, quality ceramic and porcelain floor and wall tiles will be in the $3.99 to $9.99 square foot range.
Natural stone will be higher in the $9.99 to $19.99 square foot range.
Mosaics and glass tiles for shower floors, back splash, and as decorative options will be in the $9.99 to $29.99 square foot range.
Keep in mind that you will have other costs such as setting materials, grout, sealers, cement board, levelers, and spacers that will add additional costs to your budget.
Professional installation can most times be calculated by the square foot in a range from $6.50 to $15 square foot depending on the complexity of the installation.
Other labor factors that may be needed will be costs associated with:
The demolition of existing flooring
Floor leveling
Other prep work to get the substrates ready for a quality installation.
Do You HAVE ADDITIONAL QUESTIONS ABOUT THE COST AND INSTALLATION PRICE OF TILE?
Have we addressed all of your questions relating to buying and installing tile? Let us know in the comments or contact us.
When you're ready to consider tile, we invite you to visit our showroom location in Orange, Connecticut. You'll find a vast assortment of products to experience for yourself.
We look forward to helping you.
Thanks for reading,
Janine & Michael
Note: We originally published this article on 10/30/2019, and have updated it.