Now available at Floor Decor Design Center in Orange, Connecticut is the marvelous Seashore Ceramic Tile and Mosaic collection.
It consists of three colors - Seafoam White, Seamist Blue, and Seaspray Green - in two different finishes: matte and corduroy deco which has a parallel texture to it.
Would you like to learn more? Read on!
Explore Seashore Ceramic Tile & Mosaics from Genrose
This ceramic tile collection is extremely versatile, allowing you to create designs ranging from contemporary, modern and on-trend, to classic with a fresh twist as you can see from the images we've included in this article.
Seashore Ceramic Tile Product Information
Let's start with the basics about the product.
Handcrafted in the United States and more specifically locally in Connecticut, this ceramic tile product has a matte finish, is 8mm in thickness (almost 3/4 of an inch) with a pressed edge (i.e., soft rounded edge).
Some product is available for Quick Ship; others will take 6 to 8 weeks.
From a wear perspective, the collection has a PEI rating of 3 which means that it has moderate wear resistance; it's suitable for all residential uses and in commercial areas where light to moderate foot traffic is anticipated.
This product is not frost-resistant, so best to use it indoors only.
Finally, in terms of shade variation, Seafoam White has a uniform appearance, whereas Seamist Blue and Seaspray Green exhibit slight shading variation. The image below captures the three colors in the two finishes.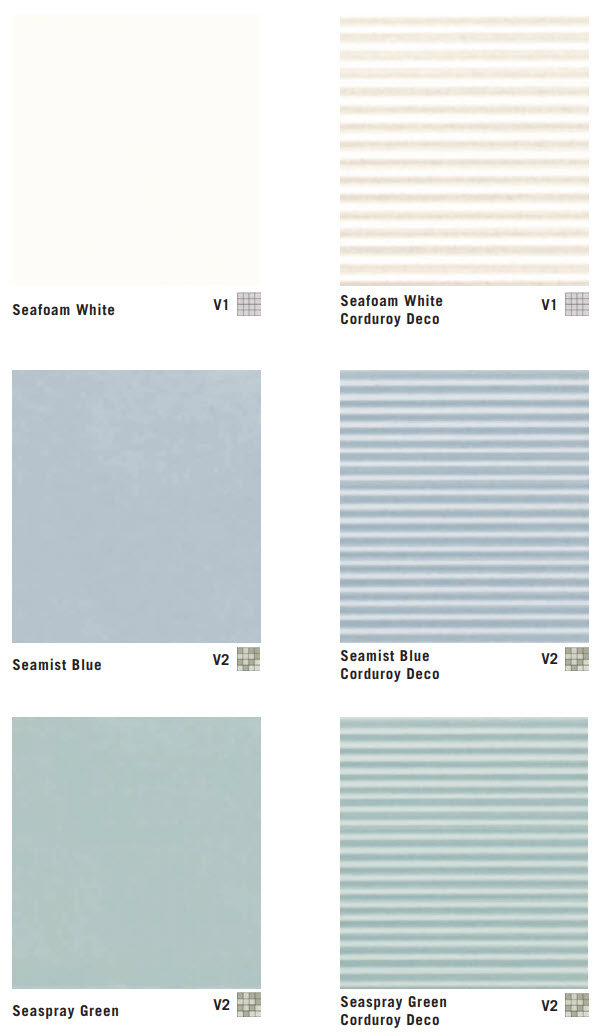 The Seashore Tile Collection
What makes this collection so appealing is that it includes many different tile size options, mosaic types, and trim pieces.
Wall Tile & Deco Tiles
The matte-finished tiles - in solid and in the Corduroy Deco texture - are available in the following subway tile sizes:
The image at the top and the one immediately below capture what you can create with a herringbone pattern layout.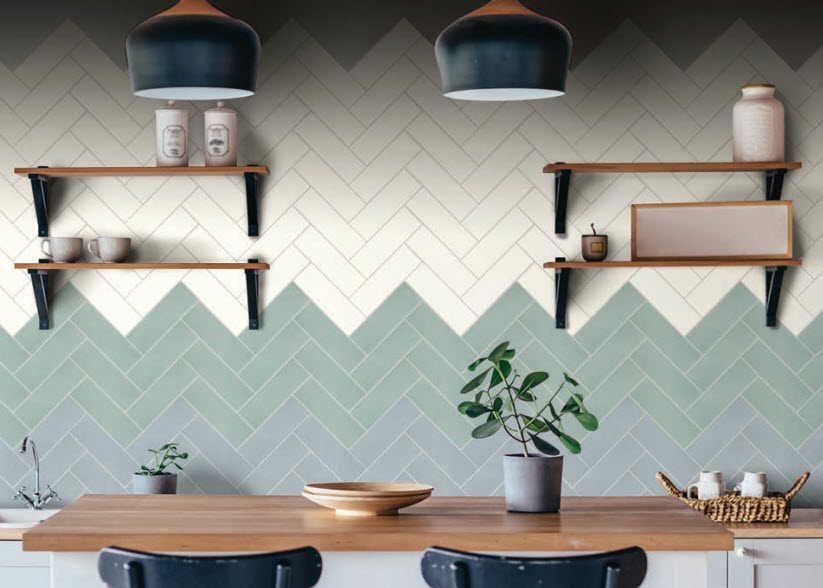 This next image combines the 3"x3" Seafoam White tile with the 3"x9" Seamist Blue and Seaspray Green to create a stunning geometric floor pattern.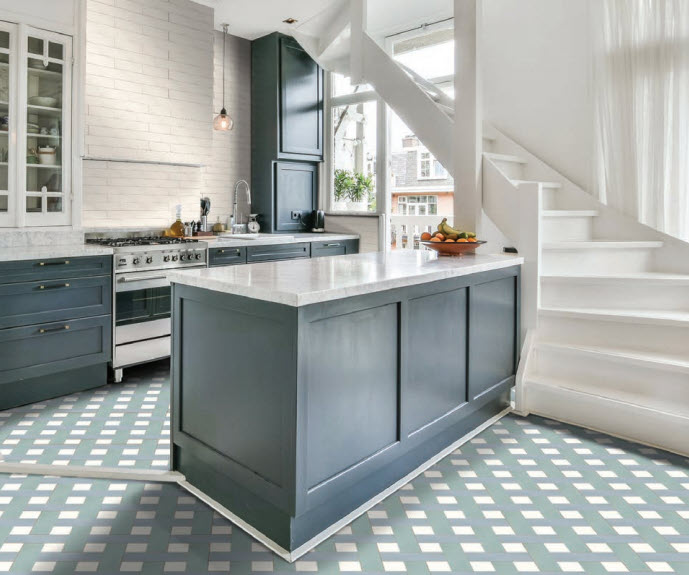 Mosaics
The mosaics in the Seashore collection are marvelous! They consist of 1-inch penny dots (or penny rounds) and 2-inch hexagons in different designs, all available in the matte finish:
2" hexagon mosaic comes in an 11.25"x13.5" sheet
2" hexagon mosaic with a diamond & dot pattern comes in the same 11.25"x13.5" sheet
Seastar hexagon deco mosaic comes in a 15" sheet
1" penny dot mosaic comes in a 12"x12" Sheet
Trim Pieces
To complete your project, you have the following trim pieces included in the Seashore collection:
0.5"x9.5" 8mm Flat Liner Matte Finish
5/8"x9.5" 8mm Quartino Matte Finish
Be Seashore Mosaic and Tile Inspired!
Look at what's possible with this versatile collection!
Designing with Seashore Penny Round Mosaics
Penny mosaics are fun to design with. In addition to doing all over designs in the same color, you can alternate colors.

The two examples below similarly alternate the 1" Seashore Penny Mosaic in Seafoam White with another color.
Here's the Seaspray Green with white in a vertical installation.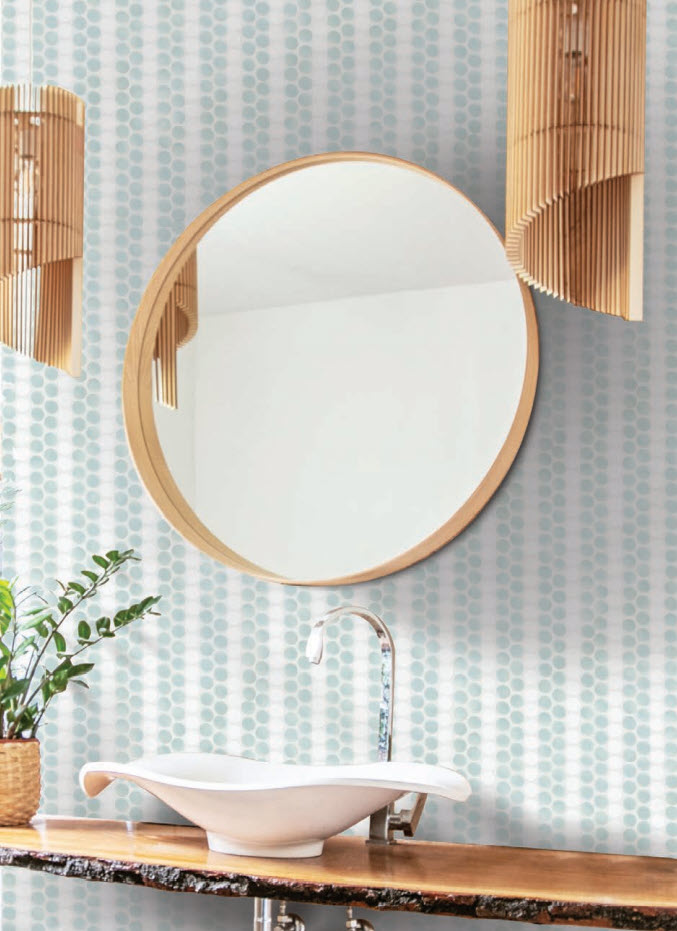 Next, you see the white alternating with the 1" Penny mosaic in Seamist Blue. What's also interesting here is that the installation is on the diagonal.
Essentially, you can rotate the mosaic sheets to create different designs.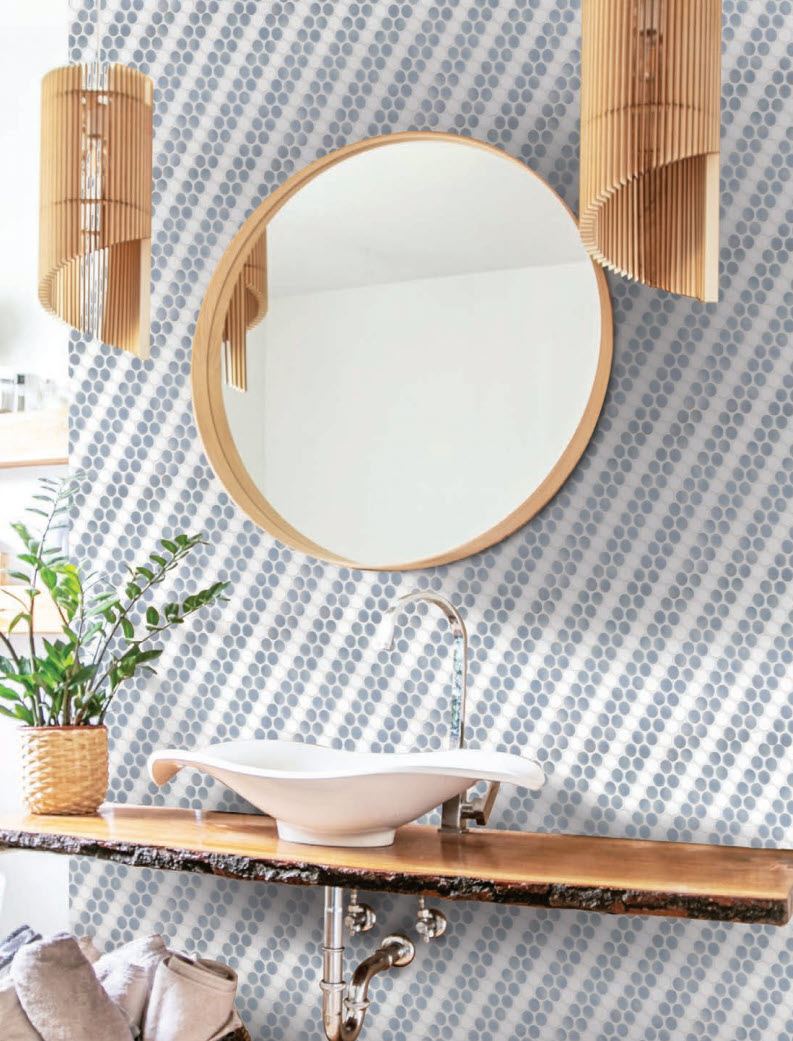 Designing with Seashore Hexagon Mosaics
Hexagons add to the fun with the Seashore collection.
Below, you see the 2" Hexagon in Seafoam White mixed with parallel rows of the Blue Diamond & Green Dot mosaic. The effect is retro yet fresh.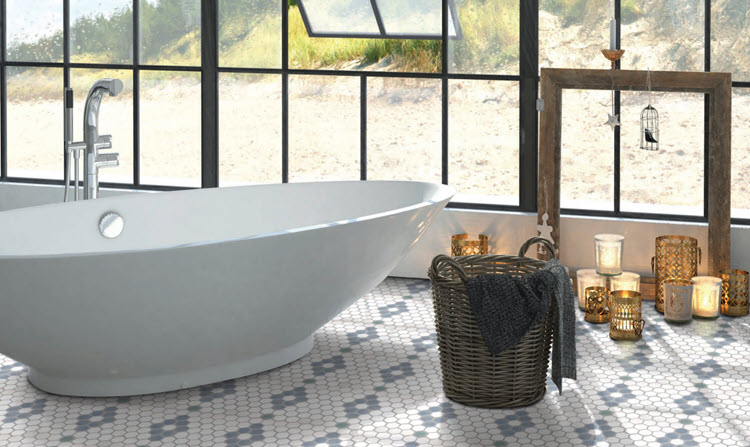 This next installation features Seastar Deco Mosaic in Seafoam White with Blue and Green on the walls.
On the floor, you see the 2" Hexagon Mosaic in Seafoam White.
Isn't the combination wonderful?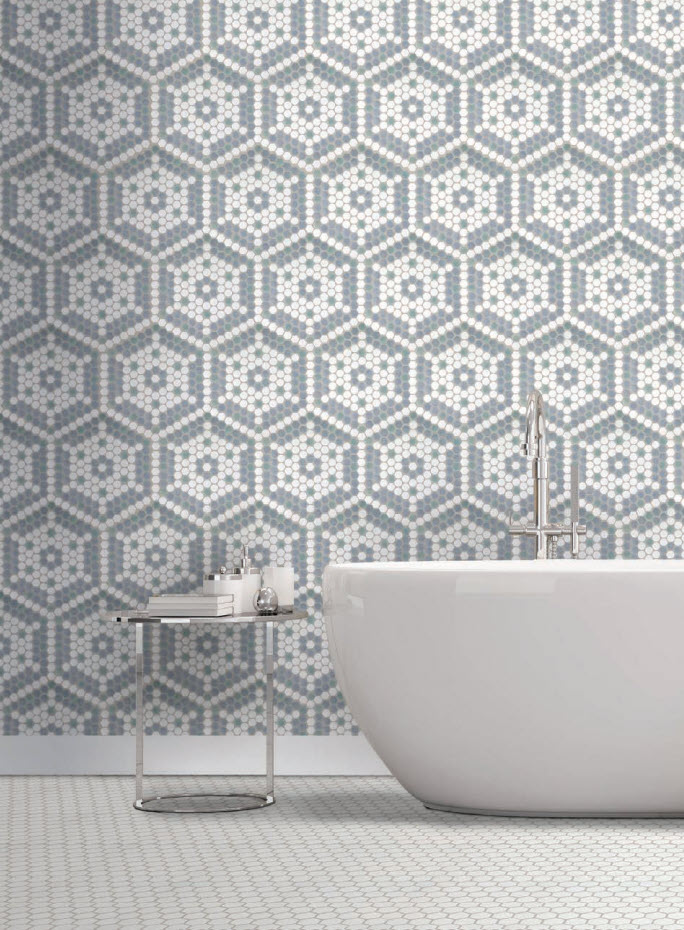 By the way, for more mosaic ideas, check out: Mosaic Tile Ideas: Your Big Guide to Little Tiles.
Designing with Seashore Ceramic Tile
To show you what's possible with the corduroy finish version of the Seashore ceramic tile collection, here's an installation that combines the 3"x9" subway tile with the 3"x3" Corduroy Deco in Seafoam White to create an interesting basketweave pattern.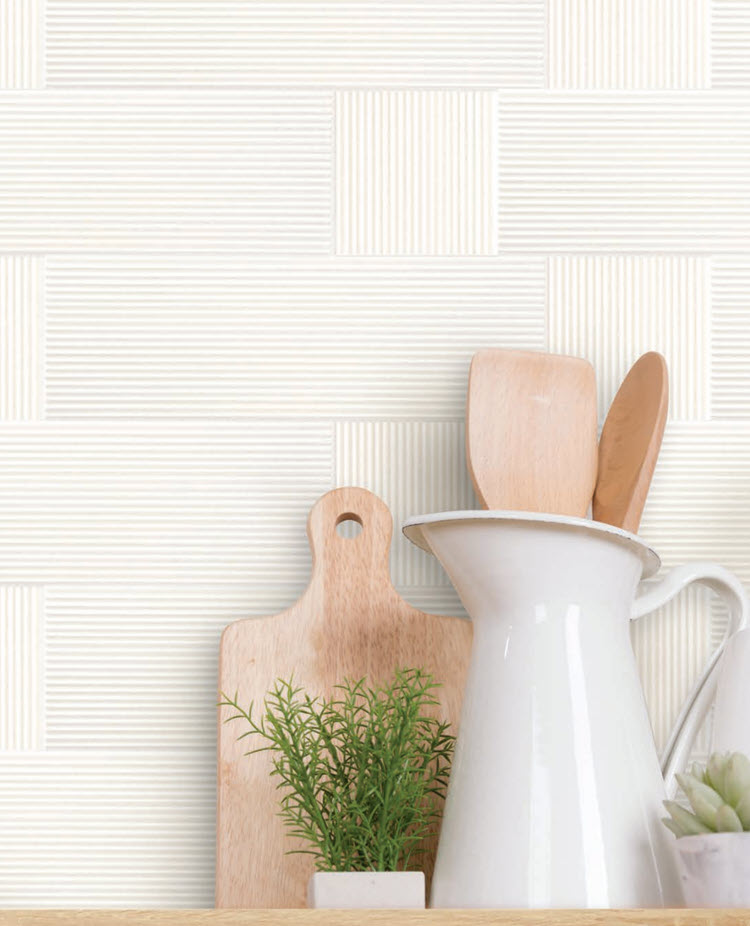 Ready to Design With Seashore Ceramic Tile & Mosaics?
If you're interested in designing with the Seashore Ceramic Tile and Mosaic collection from Genrose, we invite you to visit our showroom located in Orange, Connecticut. You'll love how it will transform your floors, walls, backsplash, and more.
We look forward to helping you.
Thanks for reading,
Janine & Michael