When it comes to carpet for commercial settings, the options have traditionally been... limited to dull shades and uninspired designs that have more to do with functionality than with improving the vibe of a space.
Luckily, Stanton Carpet has decided to change that with Stanton Street, its decorative commercial product collection that redefines what's possible with bold, abstract patterns in modern textures available in broadloom as well as carpet tile and planks.
>> See Stanton launches Stanton Street commercial
Discover Stunning Decorative Commercial CArpet Collections From Stanton Carpet
Introducing Stanton Street Decorative Carpet
Stanton Carpet's new Stanton Street Decorative Commercial collection includes 17 carpet tiles and broadloom styles tailored for the decorative commercial market. Reflecting the company's strong contemporary, downtown interior design talent, these carpet styles have been created and tested for heavy commercial use.
All are committed to quality, class I, and hold a "stain safe" and "wear" warranty.

You'll find the following (includes recent product additions):
Stanton Street Carpet Tiles (20x20):
High Line tile: Five colors in solution-dyed nylon;

Liberty tile: Six colors in solution-dyed nylon;

Grand Central tile: Six colors in solution-dyed Royaltron polypropylene;

Central Park tile: Five colors in Royaltron polypropylene;

Flatiron tile: Six colors in Royaltron polypropylene.
Stanton Street Carpet Plank Tiles (18x39):
Prospect plank tile: Six colors in solution-dyed nylon;

Headquarters Plank tile: Five colors in machine-tufted nylon.
Stanton Street Broadloom (13'2"):
17 nylon-based patterns from transitional to more contemporary styling.
(By the way, did you notice that all of the product names reference the New York City area? That's because Stanton Carpet was founded in Manhattan.)
Here's the display showcasing the range of products and colorways.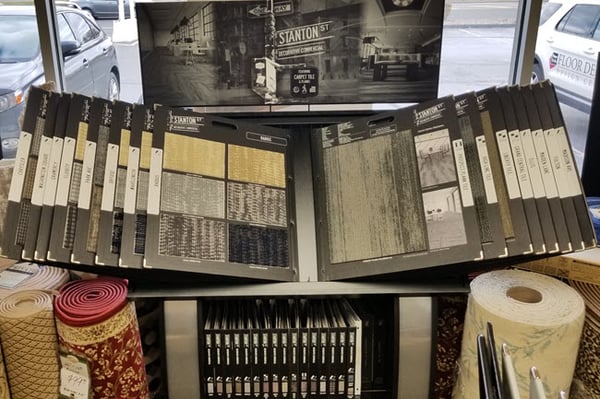 To give you a feel for the versatility of carpet tile and carpet planks in particular, here are a few room scenes.
Below you see Grand Central tile in the color buff.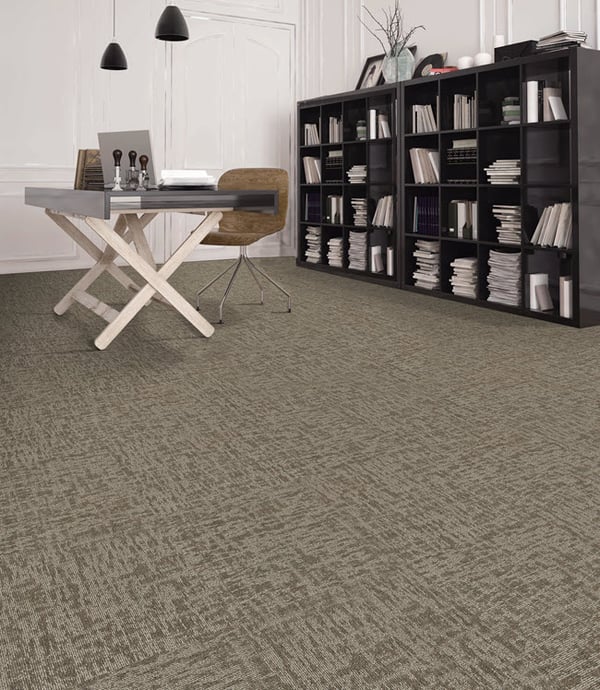 Next, you see Prospect Plank tile in color Fog with the planks installed parallel to one another.
Rectangular shapes such as planks make for interesting patterns. For example, in the image below you see Prospect Plank in color Shadow installed in an alternating horizontal/vertical pattern.
Talk about making an office space environment inspiring and comfortable!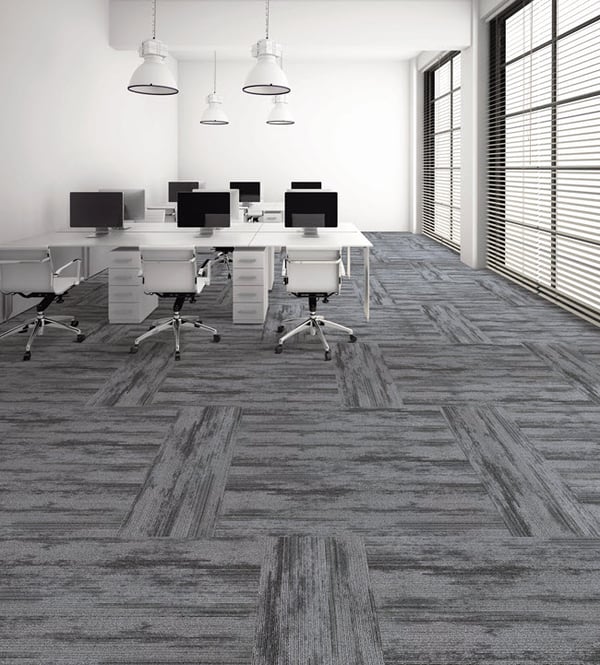 New Stanton Street Styles!
Stanton Street continues to update its commercial connection, and here are several images to inspire you.
You'll love the versatility that Headquarters plank tile offers a commercial flooring design. The image below captures the style in color Dark Harbor.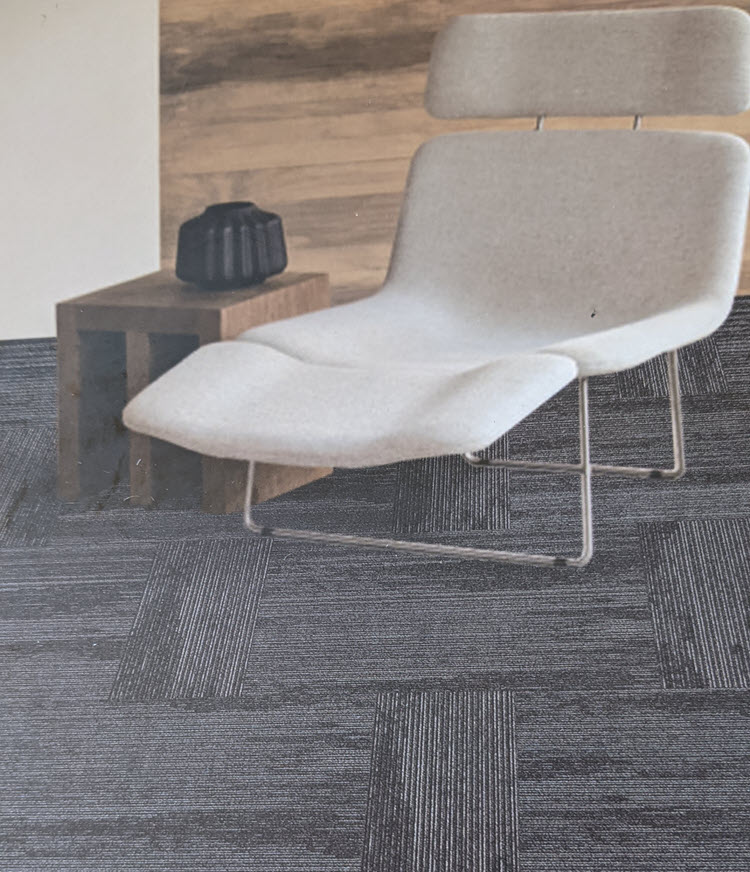 Here's Longitude in color Cinder. It captures warmth and energy in a mid-century modern design. This style comes in six colors - Metal, Navy, Sable, Fog, and Sandstone, in addition to Cinder.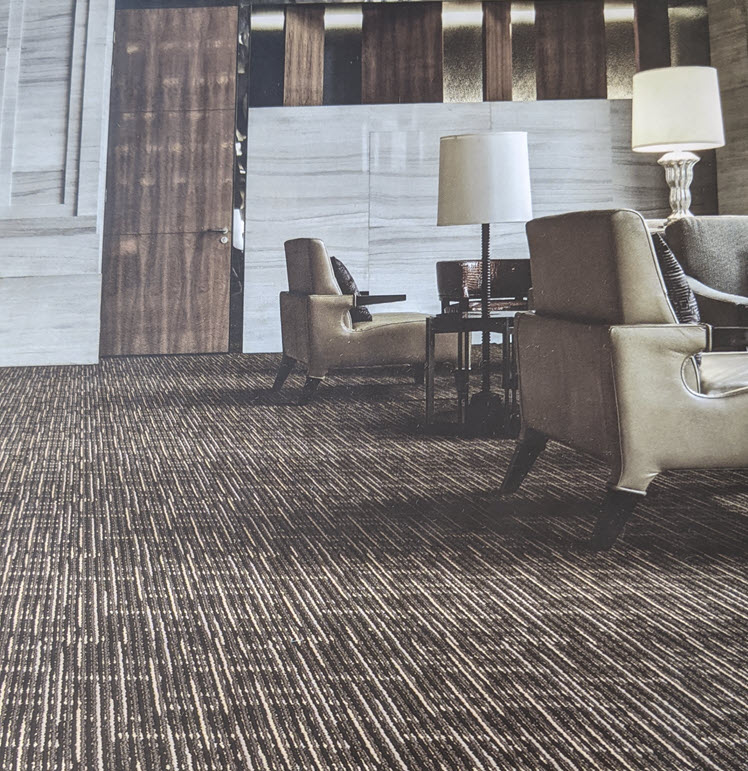 Here is Stanton Street's Opera in color Storm. This broadloom commercial carpet captures a classic scroll pattern, adding a fresh perspective. Other colors include Bluestone, Navy, Cloud, and Ruby.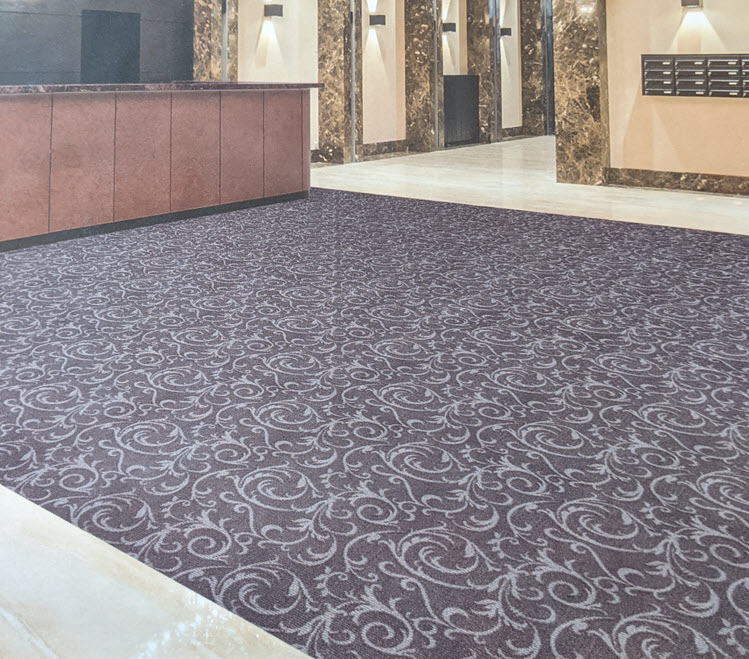 Below, you see Theatre in color Fog. This style also offers a fresh take on a classic pattern and is available in Ash, Marine, Ruby, Bluestone as well as Fog.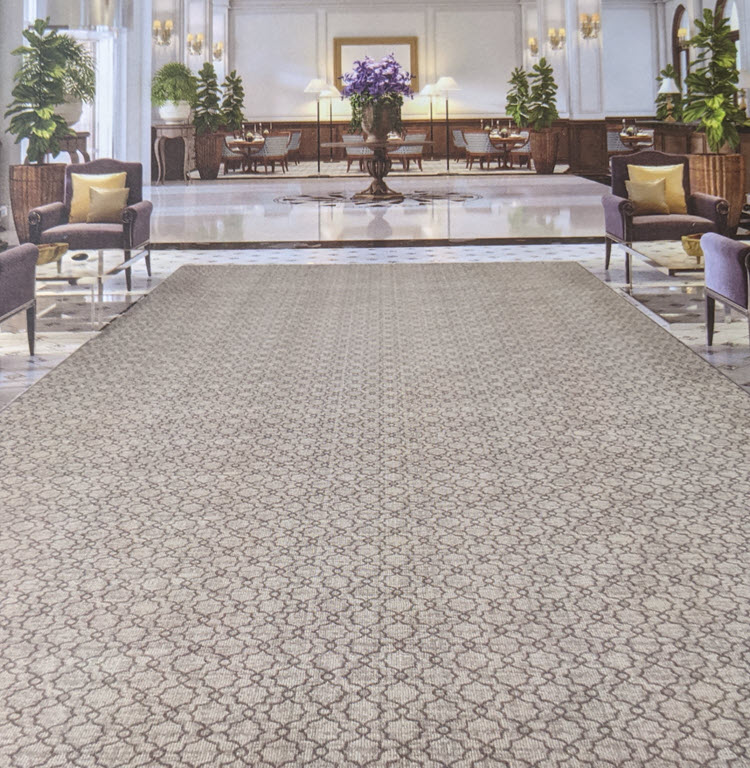 Stanton Atelier Textur Decorative Commercial Carpet Collection
In addition to the Stanton Street carpet tile, planks and broadloom, you'll find several other carpet collections that are ideal for commercial settings or even home office environments.
More specifically, the Stanton Atelier Textur collection consists of the six following styles which are 13'2" in width and consist of printed 100% Nylon Type 6.
These styles include Acceleration, Amplitude, Diffraction, Dispersed, Gravity and Magnitude. All come in seven colorways except for Amplitude with four and Magnitude in two vibrant colors.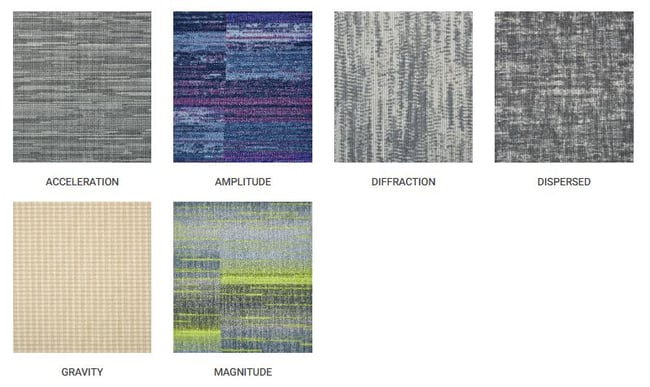 Nylon is a durable, resilient and versatile carpet fiber with superb resiliency, which helps keep your carpet's beauty for longer. It also has inherent anti-microbial properties, is resistant to moisture and has good cleanability.
Below you see Atelier Textur Gravity in color steel.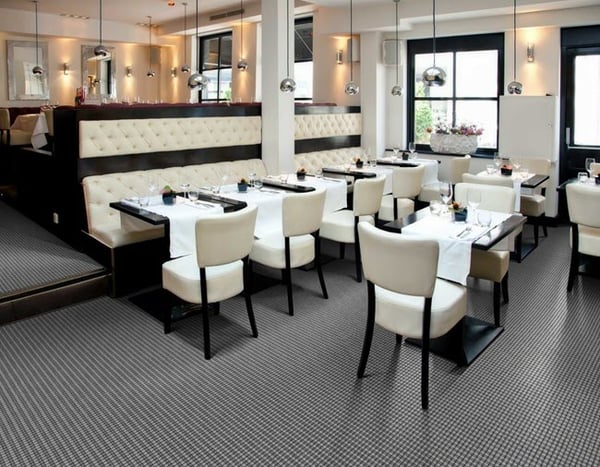 Here you see Magnitude in color Electric Green. It's sure to generate intense energy!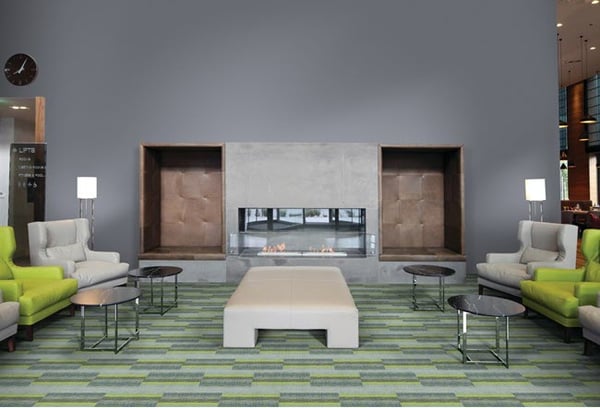 CREATE An Atelier Textur CUSTOM RUG!
If wall-to-wall carpet isn't your thing, don't worry! Consider a custom area rug instead.
Stanton offers a variety of finishes for custom rugs including machine serging, patterned fabrics, wide cotton, linen, and faux leather.
The finished options are easy and range from modern edge (discreet and low-profile with a refined look) and machine serged (a substantial and prominent finished edge) to hidden stitch with a mitered corner and topstitch with a folded corner.
Stanton also offers three attached rug backing options:
Non-skid padding
Felt backing
Outdoor friendly cushion
To learn more, read Create Your Own Rug Using Stanton Carpet's Custom Rug Visualizer
For the ultimate stylish design experience, consider using Atelier Textur both as a wall-to-wall carpet and a custom area rug. You might do your stairs in wall-to-wall and have a coordinating (or matching) custom area rug in the adjoining space.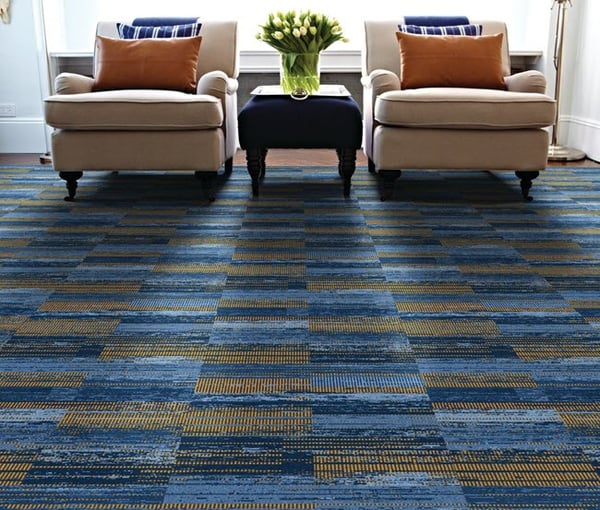 HOW TO CARE FOR sTanton Street and ATELIER Textur CARPET
As with any flooring investment, you'll want to care for your decorative commercial carpet, so it retains its beauty for years to come. Here are some tips.
Vacuum regularly. Don't let anyone tell you that vacuuming will hurt your carpet or rug. The more you vacuum, the better.
Remove spills immediately.
Professionally clean annually. Do not apply stain-repellent treatments that contain silicone because they tend to accelerate carpet soiling.
Use doormats and keep them clean. Exercise preventative maintenance by placing absorbent mats at the most frequently used entrances to your office. Change or launder when these mats become soiled.
You'll find more advice and guidance in this article: Top Flooring Maintenance Tips for Carpet and Hardwood.
READY TO EXPERIENCE Decorative Commercial Carpet? Check OUT STANTON Street and ATELIER Textur AT FLOOR DECOR DESIGN CENTER!
When you visit one of our two showroom locations in Middletown or Orange, you'll be able to learn more about the Decorative Commercial products in the Stanton Street and Atelier Textur carpet collections.
Let us know of any questions in the comments or contact us.
We look forward to helping you.
Thanks for reading,
Janine & Michael
Note: We originally published this article on 02/06/2019, and have updated it to include new products.