You'll love how stylish the Atelier Magnifique carpet collection from Stanton looks! It redefines what carpet is about.
Discover Atelier Magnifique from Stanton Carpet
The Atelier Magnifique carpet collection from Stanton consists of four carpet styles:
Louvre - a linen look
Luxembourg - a diamond pattern
Mont Blanc - a novel interpretation of a stripe
Vilette - suggestive of an animal print

Made of Solution Dyed Nylon
This collection is made of 100% Solution Dyed Nylon Type 6.
Nylon fiber is particularly durable. In fact, it's considered the most durable of all types of synthetic fiber. Furthermore, it has inherent anti-microbial properties, and is resistant to moisture and bacterial growth.
The process of solution-dying nylon infuses the carpet yarn with color pigment during the manufacturing process, creating superior colorfastness characteristics and color retention.
Wilton Face to Face Construction
The different Atelier Magnifique carpet styles have been woven in a Wilton Face to Face construction.
According to Brinton's,
"A traditional wilton weave carpet is one in which the pile threads run continuously into the carpet and are raised above the surface of the integral backing by means of wires or hooks."
This construction makes for added dimension and texture which is why the patterns are so magnificent!
These carpets are 13'2" in width.
The pattern repeat is 31-1/2" wide by 26-1/2" long.
The images below will give you a better sense for the richness of the pattern, the freshness of the looks and the overall stylishness of the collection.
Close Up on Atelier Magnifique Louvre
You will find Louvre available in five colors:
Antique
Silvermine
Platinum
Steel
Blue Topaz
The image above features Louvre in color Antique in a custom area rug.
CLOSE UP ON ATELIER MAGNIFIQUE Luxembourg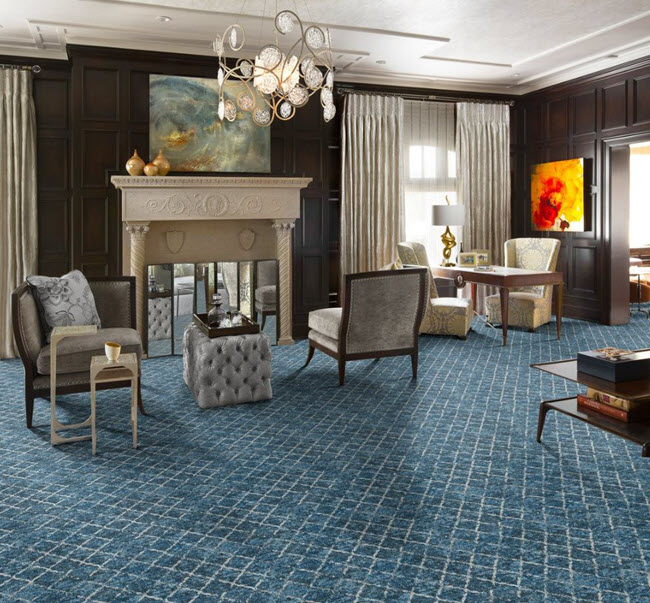 Luxembourg comes in the following five colors:
Antique
Sienna
Silvermine
Steel
Blue Topaz
In the image above, you see Blue Topaz in a wall-to-wall installation.
For a better perspective on the richness of the patterns and the complexity of the colors, check out the closeup image below.

CLOSE UP ON ATELIER MAGNIFIQUE Mont Blanc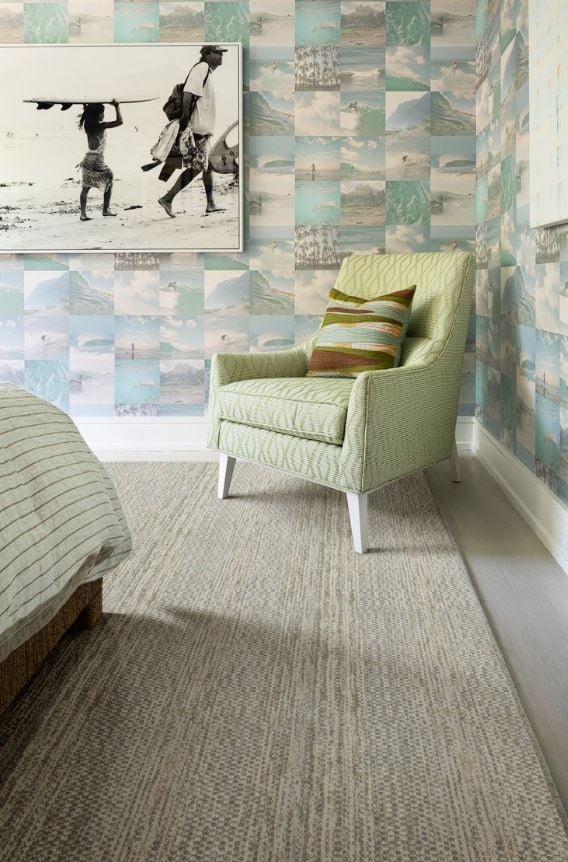 In the case of Mont Blanc, you have six colors to select from:
Antique
Sienna
Silvermine
Wheat
Eclipse
Blue Topaz
In the image above, you see color Antique in a custom rug and you get a feel for the alternating linear pattern.
As with Luxembourg, you get a feel for the richness of the colors and pattern in this close up below.

CLOSE UP ON ATELIER MAGNIFIQUE Vilette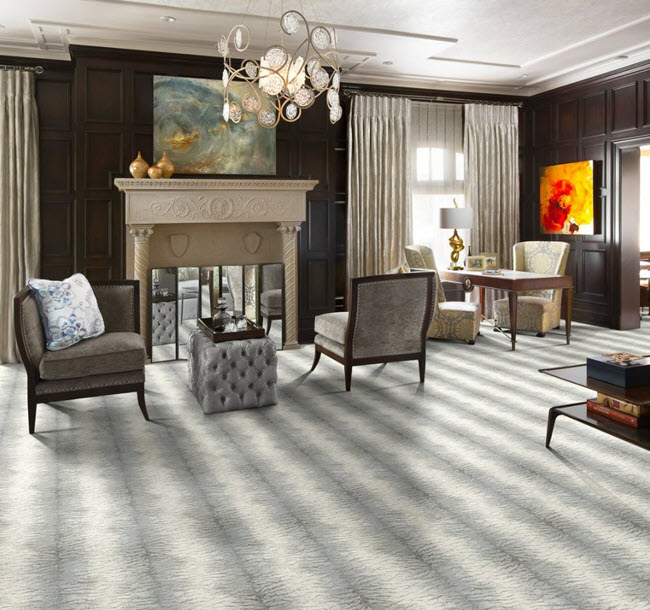 The last style is Vilette. It comes in the following four colors:
Platinum
Sienna
Antique
Eclipse
In the image above. you see Vilette in color Platinum in a wall-to-wall carpet installation. Notice how textural the color looks.
You can see color Sienna in the carpet image below.
Create a Magnifique Custom Rug!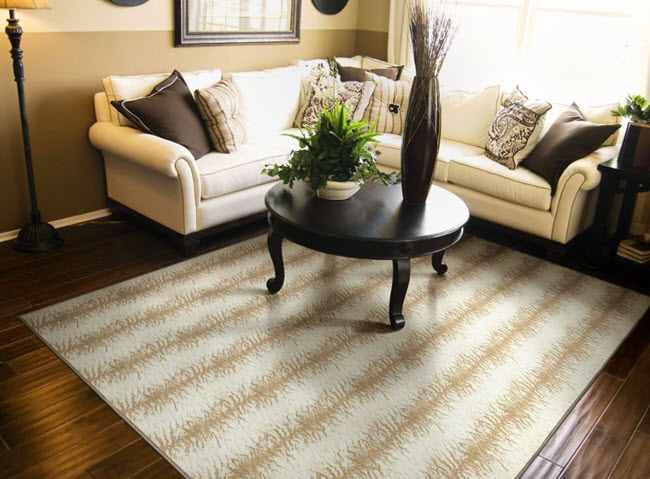 If wall-to-wall carpet isn't your thing, don't worry! Consider a custom area rug instead.
Stanton offers a variety of finishes for custom rugs including machine serging, patterned fabrics, wide cotton, linen, and faux leather.
The finished options are easy and range from modern edge (discreet and low-profile with a refined look) and machine serged (a substantial and prominent finished edge) to hidden stitch with a mitered corner and top stitch with a folded corner.
Stanton also offers three attached rug backing options:
Non-skid padding
Felt backing
Outdoor friendly cushion
To learn more, read Create Your Own Rug Using Stanton Carpet's Custom Rug Visualizer
For the ultimate stylish design experience, consider using Atelier Magnifique both as a wall-to-wall carpet and a custom area rug. You might do your stairs in wall-to-wall and have a coordinating (or matching) custom area rug in the adjoining space.
How to Care for Atelier Magnifique Carpet from Stanton
As with any flooring investment, you'll want to care for your Magnifique carpet so it retains its beauty for years to come. Here are some tips.
Vacuum regularly. Don't let anyone tell you that vacuuming will hurt your carpet or rug. The more you vacuum, the better.
Remove spills immediately.
Professionally clean annually. Do not apply stain repellent treatments that contain silicone because they tend to accelerate carpet soiling.
Use doormats and keep them clean. Exercise preventative maintenance by placing absorbent mats at the most frequently used entrances to your home. Change or launder when these mats become soiled.
You'll find more advice and guidance in this article: Top Flooring Maintenance Tips for Carpet and Hardwood.
READY TO Experience Truly Stylish Carpet? Check OUT STanton Atelier Magnifique AT FLOOR DECOR DESIGN CENTER!
When you visit one of our two showroom locations in Middletown or Orange, you'll be able to learn more about the Atelier Magnifique carpet collection.
Let me know of any questions in the comments or contact us.
We look forward to helping you.
Thanks for reading,
Janine & Michael