Did you know that every year the Pantone Color Institute chooses a color of the year? For 2019, it's Living Coral, a color that softly adds life and energy to more subdued flooring and tile neutrals.
Meet Pantone's Living Coral Color of the Year
Here's how Pantone describes Living Coral:
"(It's) an animating and life-affirming coral hue with a golden undertone that energizes and enlivens with a softer edge."
Furthermore,
"Vibrant, yet mellow PANTONE 16-1546 Living Coral embraces us with warmth and nourishment to provide comfort and buoyancy in our continually shifting environment."
When identifying noteworthy colors, Pantone looks at cultural and societal influences. In this case, Living Coral is a reaction to the 24/7 digital technology and social media onslaught. It represents,
"...authentic and immersive experiences that enable connection and intimacy. Sociable and spirited, the engaging nature of PANTONE 16-1546 Living Coral welcomes and encourages lighthearted activity. Symbolizing our innate need for optimism and joyful pursuits, PANTONE 16-1546 Living Coral embodies our desire for playful expression."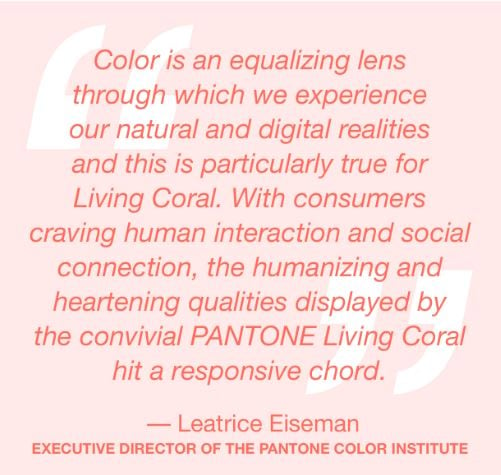 Did you notice that the color includes the word 'living'? That's to draw attention to the naturalness of the color. Whether you see it as coral under the sea, around you in nature or even online, it speaks to us, embraces us, nurtures us even and generally energizes everything around it.
How to Incorporate Living Coral Into Your Flooring and wall Choices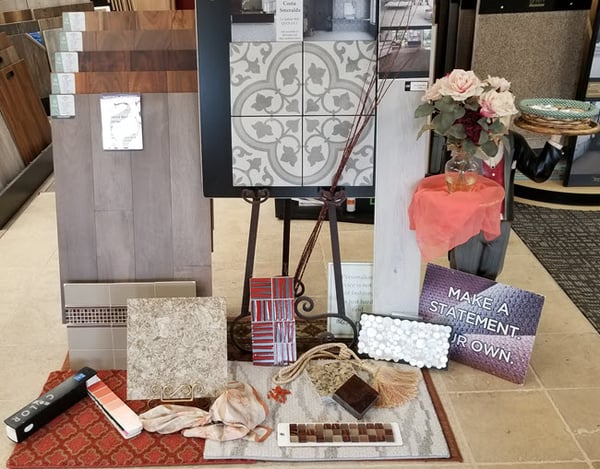 All that said, how might you incorporate such a bold color into your home as opposed to the ocean or nature? I'm so glad you asked!
The beauty of a color like Living Coral is that you can add just a touch or you can add much more.
As you can see from the display above in the Floor Decor showroom in Orange, Connecticut, a touch of coral adds warmth to neutral tones. A bold wall tile in coral tones and dark gray makes a statement that harmonizes with grey-toned wood planks. And carpet in strong shades of coral enriches stone floor tile, a subtle backplash, not to mention window treatments.
>> See 9 Kitchen Backsplash Ideas to Inspire your Next Remodel (Video)
>> See An Overview of Window Treatments for Connecticut Homeowners
Carpet Styles Inspired by Living Coral
If it's color you're looking for, consider starting with carpet. After all, as a textile, carpet offers you a multitude of color options in patterns and solids. Here are a few bold colored, coral-inspired carpet ideas.
Chelsea Gilston 3020 by Fabrica is a vibrant patterned cut loop residential carpet. Imagine it next to gray-toned wood plank tile or a travertine patterned tile.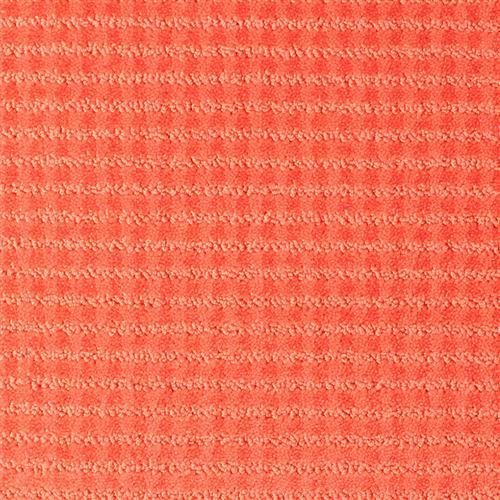 This next carpet style is a Patterned Cut Pile carpet by Milliken in color Scarlett, called Brushed Linen. It's definitely more subdued yet brings that coral tone into the space. You might combine it with darker wood tones.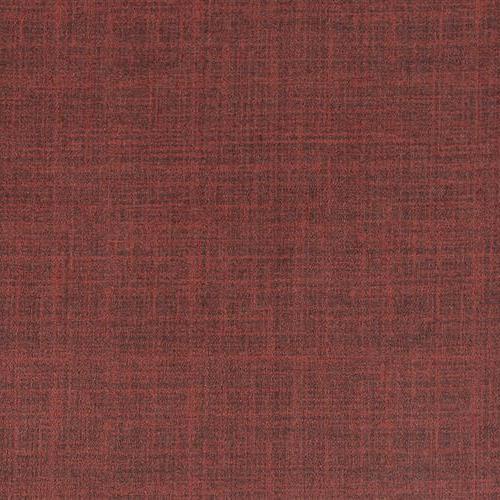 This next carpet style is by Stanton. It's called Nautilus Pompeii Red 3470 and brings a North Star motif to your floors. You might imagine this carpet pattern combined with marble looks in tile and an interesting stone-glass mosaic backsplash.
>> See Feast Your Eyes on Marble Look Porcelain Tile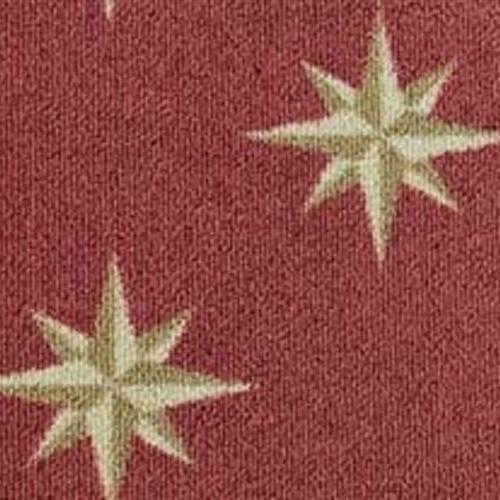 Inspired Living Coral Tile Touches
Speaking of tile, that's the next most versatile surface when it comes to adding touches of color to your home.
For example, imagine adding a contemporary touch of color such as this solid coral-colored shelf.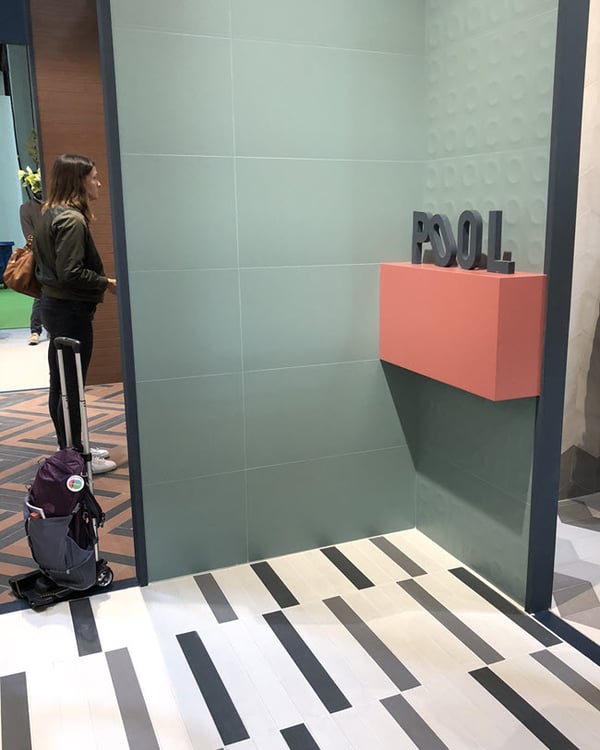 Or, what about a wood plank tile in coral ones combined with a darker plank in a herringbone pattern as you see below?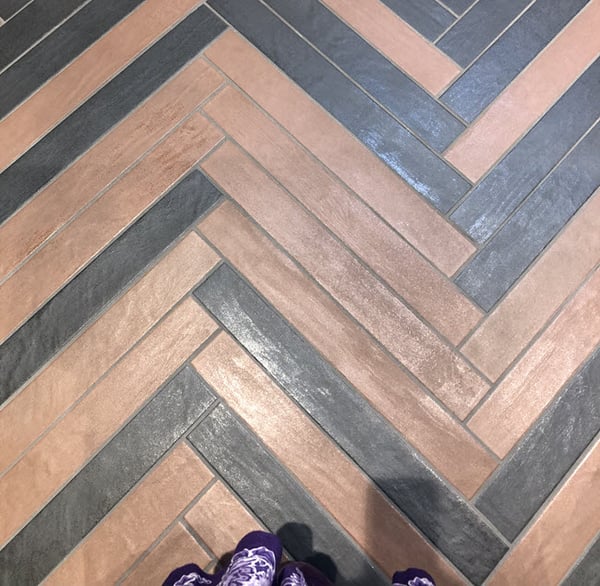 Then, there are backsplashes with coral colored glass mosaics combined with other textures and shapes. The possibilities are truly energizing and best seen in person!
Looking for Additional Living Coral Information?
If you'd like more information and ideas about Living Coral, here are a few more resources:
>> Living Coral Is Pantone's 2019 Color of the Year from Adweek
>> Five Color Trends to Watch in 2019 from the Journal of the American Institute of Architects. You'll notice four other color trends: warm terra-cottas, mid-tone blues, calm greys and classic greens - all of which look fantastic with Living Coral!
>> Flooring companies showcase Living Coral from Floor Covering Weekly
>> Flooring Manufacturers Celebrate "Life-Affirming" Living Coral from Floor Trends
READY TO Add Living Coral to Your Floors and Walls?
If you're interested in adding Living Coral to your space, we invite you to explore one of our two showroom locations in Middletown or Orange.
Let me know of any questions in the comments or contact us.
We look forward to helping you.
Thanks for reading,
Michael