What's difficult to handle on your own, yet makes a room come together as no other design element does? If you answer window treatments, you're right. That's why we've put together this overview of window treatments options available to Connecticut homeowners through Floor Decor Design Center.
Why are window treatments difficult to do on your own?
Just as with many product categories related to the home - including flooring and tile - you have a ton of window treatment possibilities available, not to mention fabrics and colors to choose from. It can get overwhelming quickly.
And measuring windows correctly can get challenging. Some window solutions go inside the frame; others go outside, and you can't assume that all of your windows are sized the same.
Then, when you realize that window treatments can make a room sing, that they are design elements that truly pull a room together, the pressure can seem intense.
That's when working with a professional designer can be the best route to take. Generally, you'll want to save your window treatments to the end of the project, when you can determine the style and the fabrics and colors that will work best for the room.
So, how do you get started?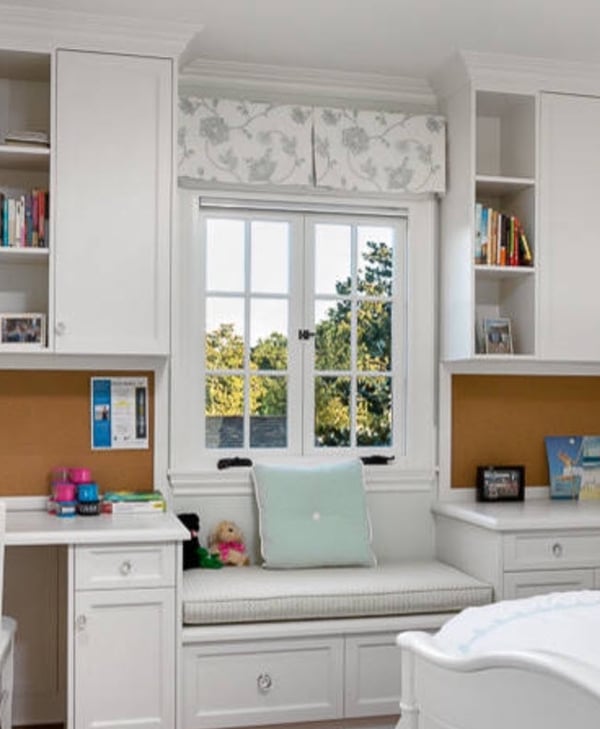 Step 1: Figure out your goal for your window coverings
First, think about your goal. In other words, what are you looking to achieve with window treatments?
Is it for privacy?
Do you need to meet aesthetics requirements of your neighborhood or community?
Is it so you can have a completely blacked out room for sleeping?
Are you looking to add elegance to a formal room?
Is it to keep out the sun?
Whatever your reason or reasons, thinking through your wants and needs will help you evaluate options and make decisions.
Step 2: Explore window coverings...
Next, go explore.
Check out window treatments on Houzz.
Feast your eyes on window treats (yes) on Pinterest.
Pay attention to what you see in the homes you visit.
Generally, you're looking for what you love and what you hate so you can share those insights with an interior design professional.
Step 3: Set a window treatment budget for yourself
This will help you when it's time for you to make decisions.
(Don't forget to download our project planning checklist!)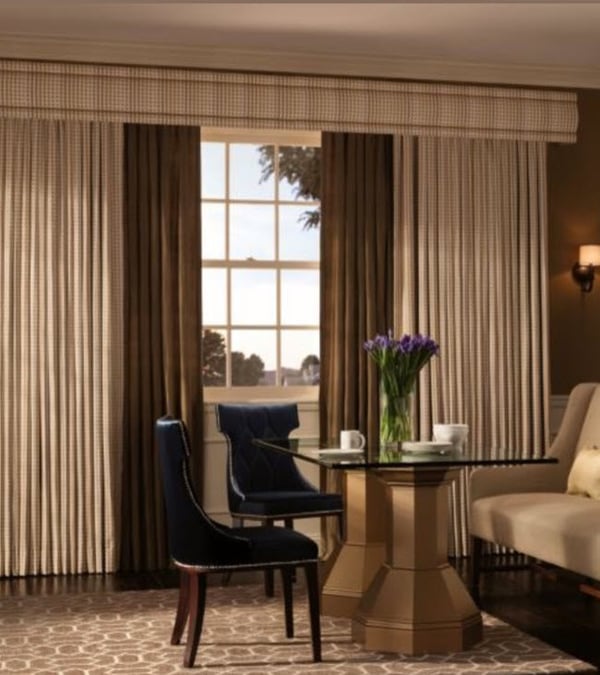 Photo credit: Drapes Traditional Dining Room Seattle
Window Coverings: What's available?
When it comes to window coverings, you have five categories to choose from. Keep in mind that - depending on your goal - you may decide to combine categories.
1. Horizontal and Vertical Blinds
Widely used, blinds come in either horizontal or vertical (hanging) format. Horizontal blinds consist of aluminum, vinyl faux wood slats or wood ranging in slat size from 1/2" to 2-1/2". You can select from vinyl, aluminum to decorative fabric vertical blinds which rotate, open, close and draw across a window or slider like drapery.
Blinds are extremely practical and cost-effective. They offer excellent light control, and some can help with energy efficiency.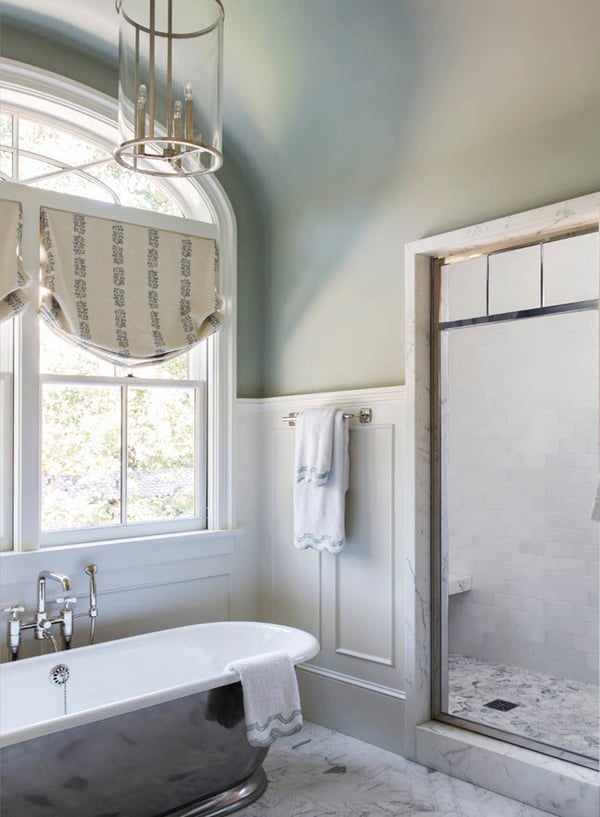 2. Shades
The next category - shades - is made of fabric, offering pattern and color versatility. It comes in different levels of opacity.
You'll find shades in these three types:
Roller shades unroll from a spring-loaded valence tube at the top of the window
Cellular or honeycomb shades are made of honeycomb-like chambers that trap air and contribute to energy-efficiency
Roman shades elegantly gather up fabric into folds when opened. When it's closed, the fabric lies flat against the window.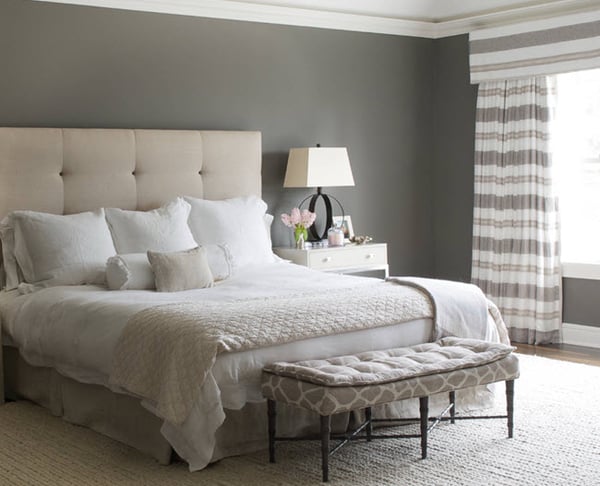 Photo credit: A New Start Transitional Bedroom
3. Drapes or Curtains
Drapes or curtains consist of fabric that hangs from a rod above the window to the bottom of the window or to the floor. The design and color possibilities are limitless and offer tremendous versatility when it comes to matching or contrasting with upholstery patterns, floor covering colors or even paint choices.
The final effect can be traditional and formal, warm and casual, as well as ethereal, light and airy.
You can combine several fabrics, so you have privacy and light during the day with sheer panels, and blackout fabric on the back of more substantive panels for cozy night-time use (and energy efficiency).
Curtains can hang above the window frame as well as wider than the window frame.
The top of the curtain is known as the heading and can be any of the following:
Basic with hooks
Rod-pocket heading
Pleated heading
Tab-top
Curtain rod options vary, too, from classic to return, track and tension.
You might include a tieback for an added touch of drama to your drapes.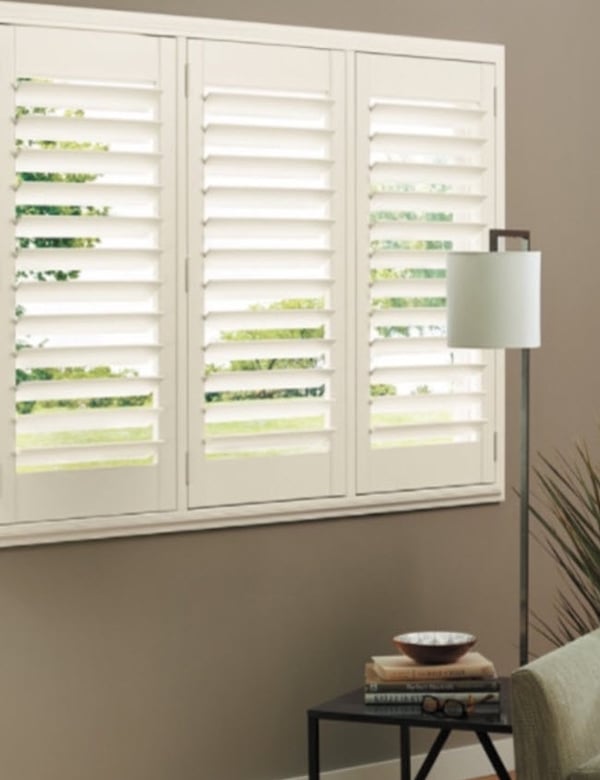 4. Shutters
What's not to love about window shutters? They look elegant both inside and from outside the home. They offer privacy and a clean, classic custom woodwork look.
If you choose shutters, you'll want to have them custom-fit to your windows for the best appearance.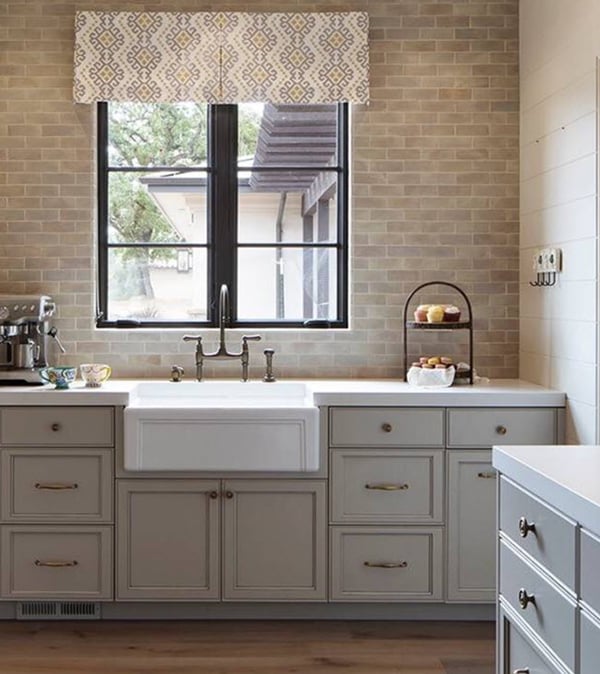 5. Valences and Cornices
If you're looking to add decorative interest to window, consider valances and cornices. Either is particularly effective in a kitchen where you want the touch of color or pattern, but don't want to have to worry about spills and splashes.
A valance consists of fabric stretched across the top of the window. It can be simple or more complex when you add pleats.
A cornice is a valance made of wood and painted or covered with fabric or wallpaper. It works best in rooms without architectural details such as crown molding.
Both work well with curtains or shades for added privacy.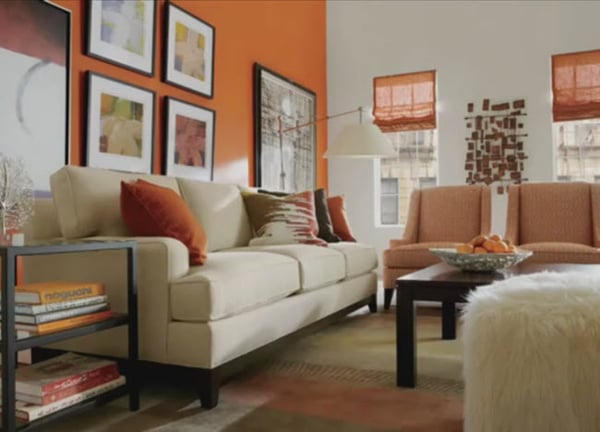 What about color and window coverings?
As you can see from the images in this article, whether you're looking to add a dash of spice with color or sophisticated understated elegance to a space, window treatments are the way to go.
Try matching your shades to the spicy orange of a wall.

Consider shutters that match the trim color of a room.

Try curtains with vertical stripes that coordinate with the grey wall color and top them off with a horizontal valance.

Pick a roman shade fabric that suggests the marble veining of your walls and floors.
In other words, have fun with your window coverings!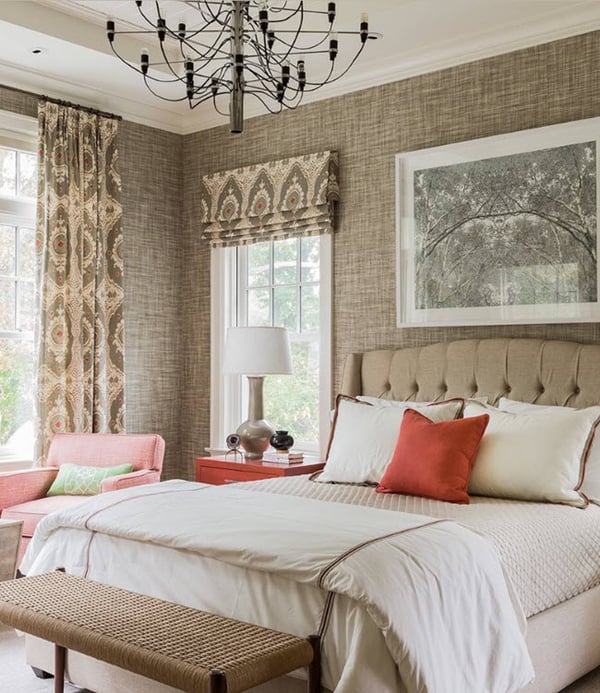 Photo credit: Terrat Elms Interior Design (Boston)
Interested in Discussing Your Window Treatment Questions?
Sometimes it's just easier to speak with someone about window coverings. If that's the case for you, we have just the expert available to help you: Randee Slotkin. You can reach her via phone at 203-783-3047.
>> Meet Randee Slotkin, Floor Decor Design Center Designer
According to Randee, when you're working on window coverings, timing for the project depends on the availability of fabric or other materials. Generally, that takes 6-8 weeks from start to installation.
And, if you prefer to work through the Middletown showroom, Stephanie Mazzula is ready to help.
We invite you to visit Floor Decor Design Center in Orange and Middletown, Connecticut and contact us with your questions.
We look forward to helping you.
Thanks for reading.
Michael