MEET PANTONE'S Classic Blue COLOR OF THE YEAR
Here's how Pantone describes Classic Blue: "Instilling calm, confidence, and connection, this enduring blue hue highlights our desire for a dependable and stable foundation on which to build as we cross the threshold into a new era."
According to Leatrice Eiseman,
"We are living in a time that requires trust and faith. It is this kind of constancy and confidence that is expressed by PANTONE 19-4052 Classic Blue, a solid and dependable blue hue we can always rely on. Imbued with a deep resonance, Classic Blue provides an anchoring foundation. A boundless blue evocative of the vast and infinite evening sky, Classic Blue encourages us to look beyond the obvious to expand our thinking; challenging us to think more deeply, increase our perspective and open the flow of communication."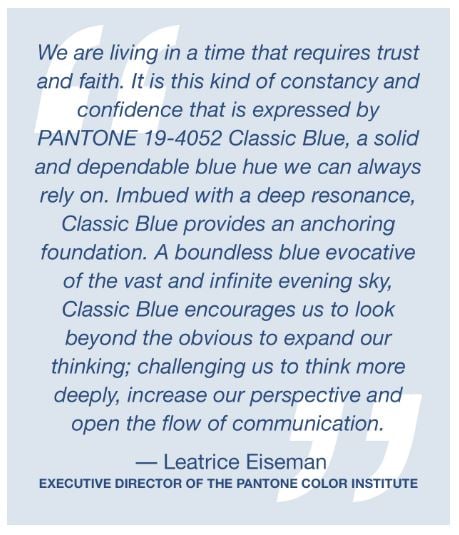 This classic color makes sense in a chaotic world, especially reinterpreted for the present. It's grounding, calming and stabilizing, while allowing us to consider deep thoughts and vast perspective.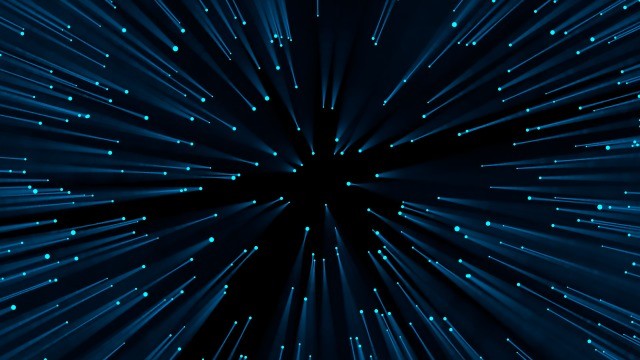 It's a confident color associated with trust. It's seasonless as well as genderless, and it welcomes possibilities.
HOW TO INCORPORATE Classic Blue INTO YOUR FLOORING AND WALL CHOICES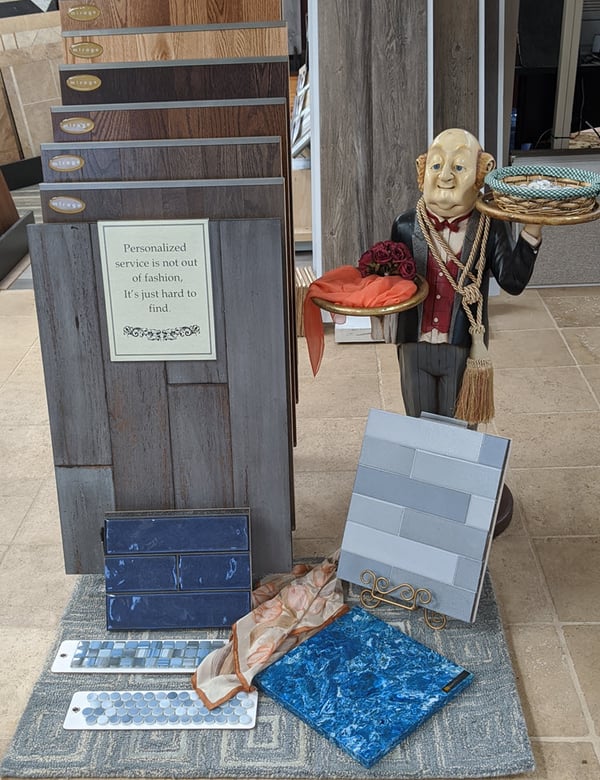 So, how might you incorporate such a boldly confident and calming color into your home? We're so glad you asked because the possibilities are inspiring!
With a color like Classic Blue, you can use it as the grounding element of your design with carpet, wood or tile, as you see in the display above in the Floor Decor showroom in Orange, Connecticut, or as strong accents in a backsplash or a focal wall. You can add just a touch or much more.
>> See 9 Kitchen Backsplash Ideas to Inspire your Next Remodel (Video)
>> See An Overview of Window Treatments for Connecticut Homeowners
These examples will give you a taste of the possibilities.
Carpet Styles Inspired by Classic Blue
Why not place the sky or the ocean at your feet with an all-over classic blue carpet such as Pop Culture Skater Boy from Tuftex. This is a 12' luxurious cut pile carpet.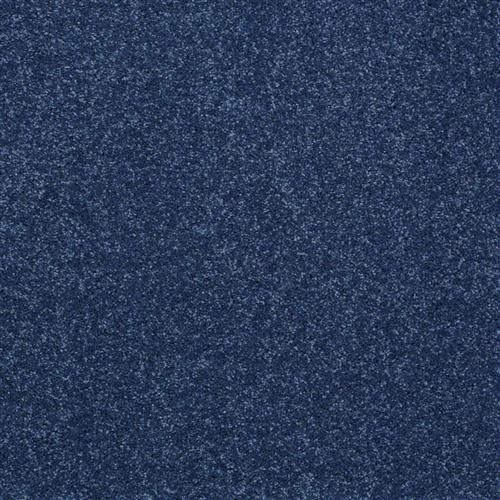 Classic Blue is ideal to combine with white - for a nautical feel - or even light neutrals. From Stanton Carpet, here's Frequency Marine a 13.2' patterned cut loop.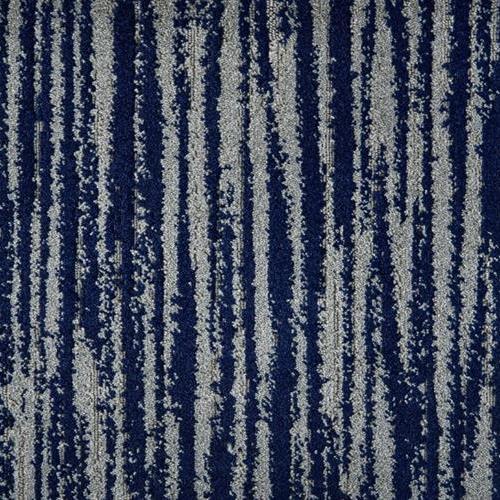 If you prefer more geometric patterns, try Mount Clare Indigo from Tuftex, a 12' patterned loop carpet from Tuftex.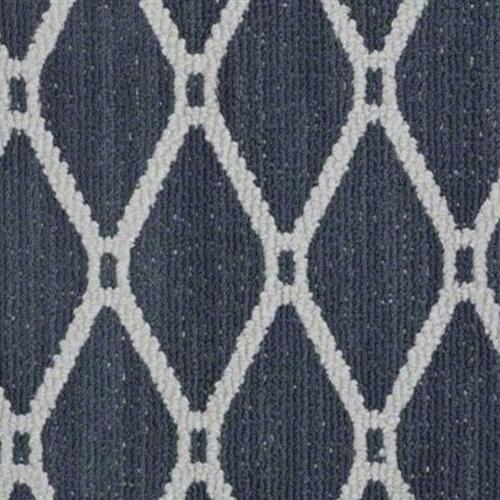 Or add several neutral shades as you see here with Visage Mystic Deep from Fabrica. It's a 12' patterned loop carpet.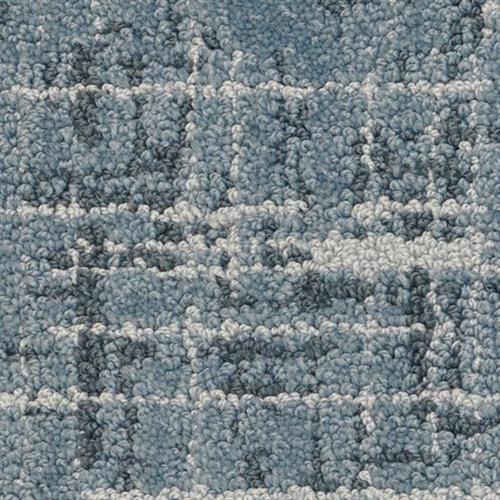 This next carpet style is by Stanton.
It's called Nautilus Ultramarine 3469 and brings a North Star motif to your floors. You might imagine this carpet pattern combined with marble looks in tile and an interesting stone-glass mosaic backsplash.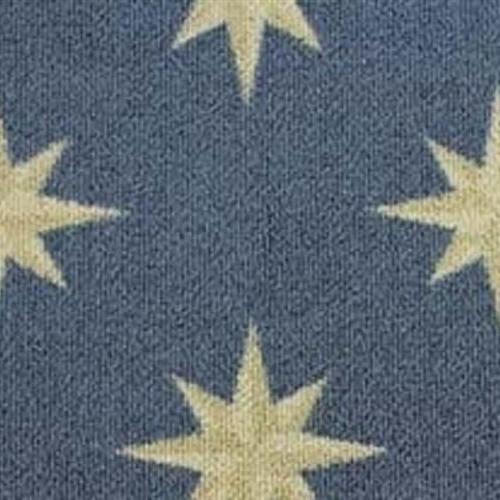 >> See Feast Your Eyes on Marble Look Porcelain Tile
Inspired Classic Blue Tile Touches
Speaking of tile, that's another versatile surface when it comes to adding classic blue touches to your home.
Here are just a few examples starting with Longitude Deep Midnight from HOR, a 4x16 high gloss subway tile for walls. It has a lovely wavelike texture.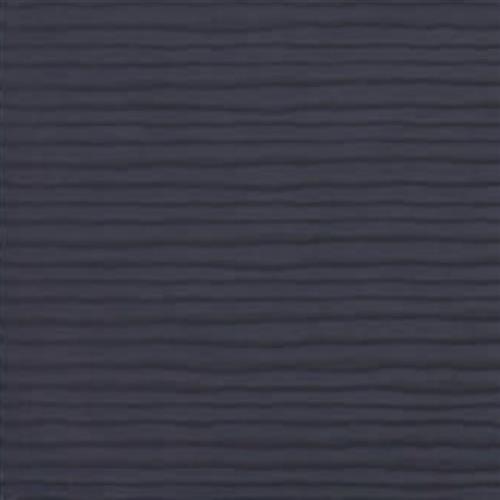 Especially if you're creating a backsplash or focal wall, you can decide to combine a variety of shapes such as squares and hexagons to create interesting patterns and designs as you see in the image below from a recent tile trade event.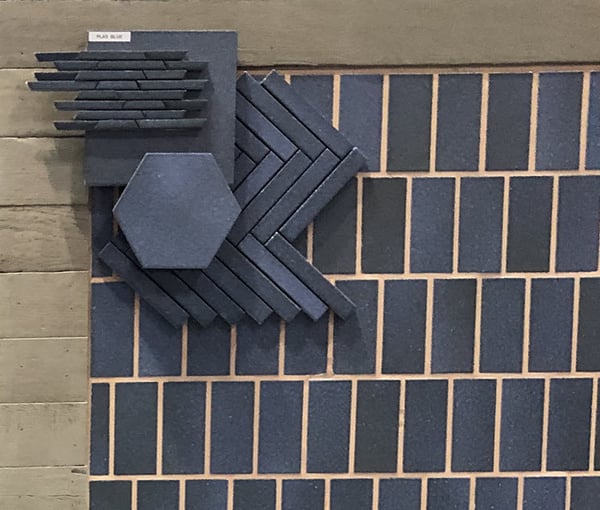 Imagine having this kind of a visual statement in your home! It's as much about color as it is about texture. This, too, comes from a recent tile trade show event.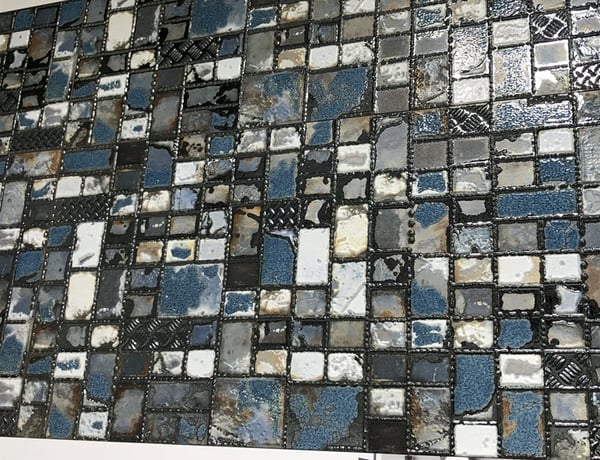 To create a similar effect, you could use Una Kora Series Oceana which is a 3"x3" glazed porcelain wall tile and combines warm gold shades with classic blue.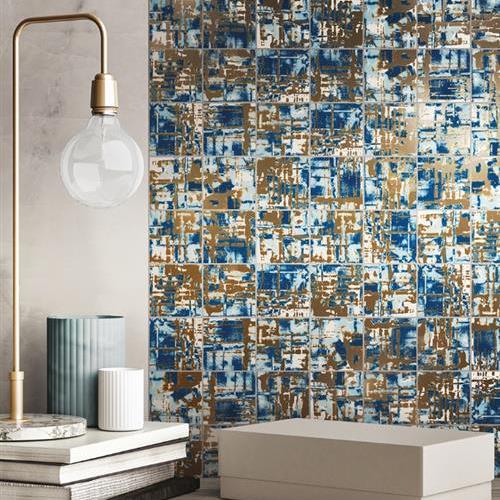 >> See Back Splash Tile Cost Guide
>> See Ceramic and Porcelain Tile Cost and Installation Price
>> See Designing with Tile Shapes
Incorporating Classic Blue on the Floors
In addition to considering carpet for your floors, you might explore blue-inspired wood planks to coordinate with classic blue backsplashes and walls.
For example, Anderson Raw Char alternates light and dark shades of blue-grey.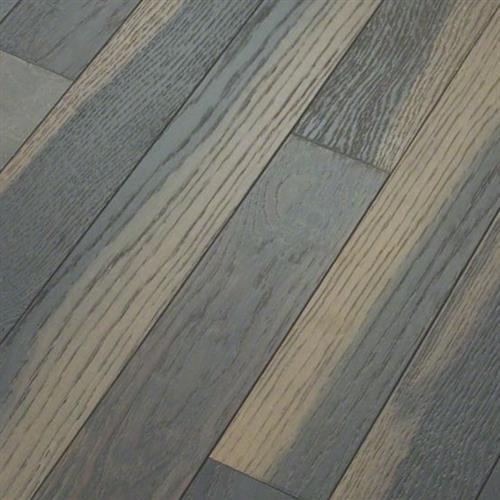 For a more uniform wood pattern, consider Mirage Sweet Memories Red Oak Hopscotch 5" wide engineered wood planks.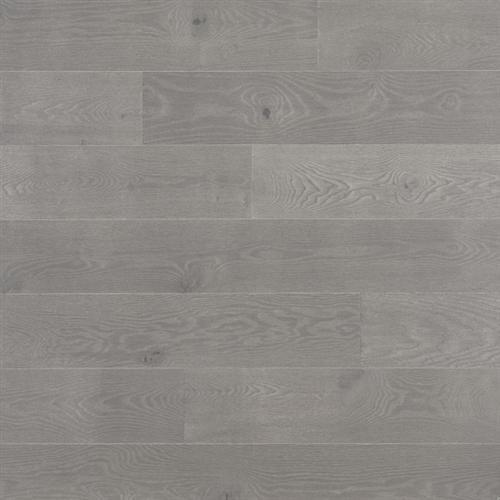 >> See For the Highest Quality, Select Mirage Hardwood Floors.
Don't forget about cork! From WeCork, here's Eco-Nomical Collection in color Ash in 12"x36" planks.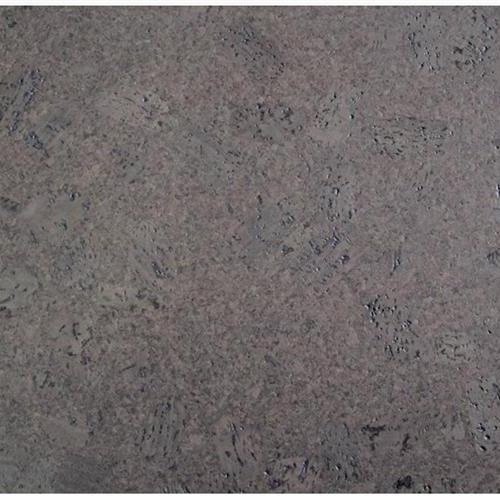 >> See Consider Cork Flooring for your Home: WE Cork Serenity Collection
ADDITIONAL Classic Blue INFORMATION
If you'd like more information and ideas about Classic Blue, here are a few more resources:
>> Pantone's Color of the Year Is a Comforting Start to 2020. Here's What to Know About the Choice from Time
>> Pantone's Color of the Year is awful from Fast Company
>> It's Official, Classic Blue Is the Color of 2020 from Hyperallergic
>> Pantone's Color of the Year Is 'Solid and Dependable' Classic Blue from the Smithsonian Magazine
>> Interior Design Inspiration: Pantone 19-4052 Classic Blue Tiles by Walls and Floors
>> 10 Ways to Use Classic Blue, Pantone's 2020 Color of the Year from HOUZZ
READY TO ADD Classic Blue TO YOUR FLOORS AND WALLS?
If you're interested in adding Classic Blue to your space, we invite you to explore one of our two showroom locations in Middletown or Orange.
Let us know of any questions in the comments or contact us.
We look forward to helping you.
Thanks for reading,
Michael