Are you familiar with COREtec Wood? It's a new flooring product introduction now available at Floor Decor Design Center in Orange and Middletown, Connecticut. Here's detail on it so you are fully in the know.
What is COREtec Wood Flooring?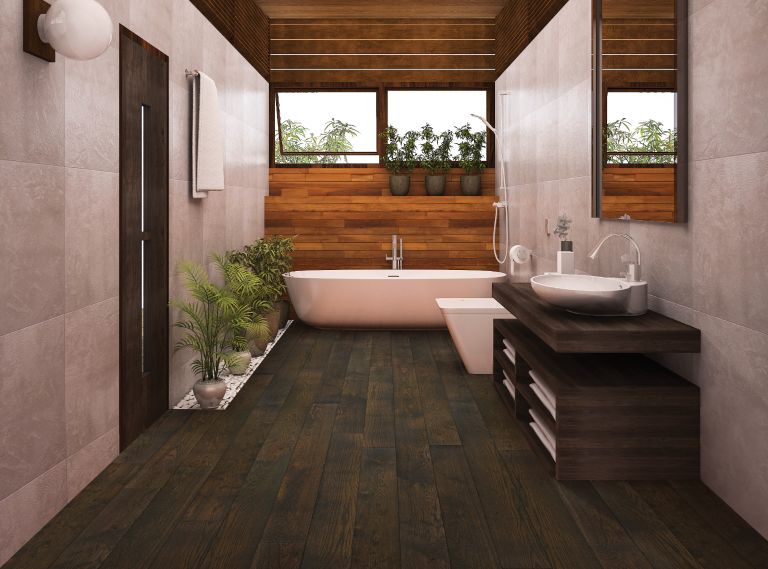 Longbow Oak
COREtec Wood flooring belongs in the Multilayer Flooring category. However, it is also an engineered product with wood veneer.
As COREtec explains,
"Enjoy the natural grown beauty of hardwoods with the engineered resilience of COREtec. The hand formed mineral core gives you protection against exposure to moisture that will damage any other wood floor.
Yet, once it's installed, all you see is real, natural hardwood patterns. That's the joy and peace of mind of a floor with natural beauty and engineered toughness. Designed by Nature, Perfected by COREtec."
In fact, that's what makes COREtec Wood so exciting. As Janine explains in the brief 1-minute video below, those real, natural hardwood patterns mean that you have a completely unique custom floor.

Here's a closeup of one of the COREtec wood styles where you can see the natural wood characteristics and patterns. You won't find any pattern repeats in this product.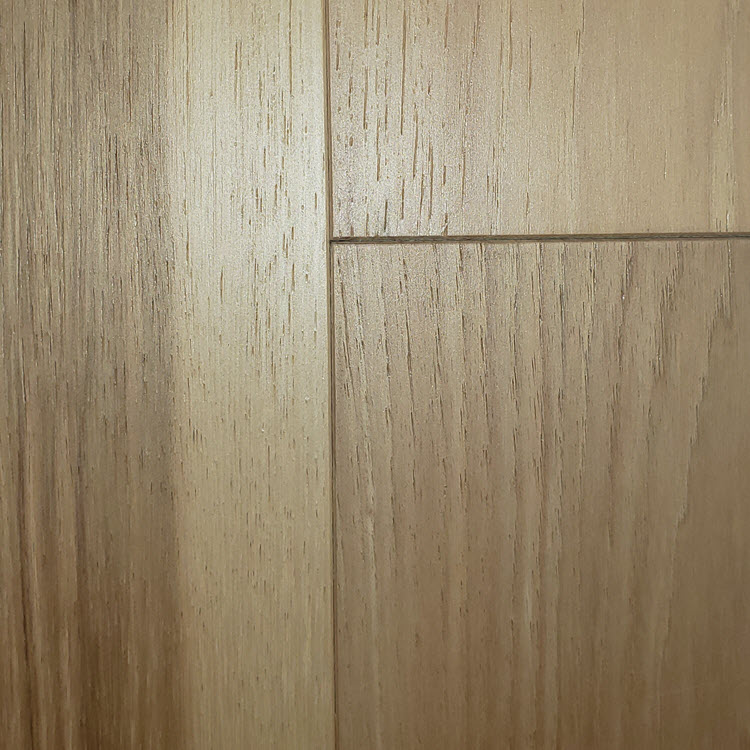 What Makes Up COREtec Wood Flooring?
COREtec Waterproof Wood Plank is made of several layers.
The top layer consists of wood veneer
The middle features a super-rigid COREtec High Density Mineral Core for extra stability. This also prevents the expansion and contraction of wood veneer
On the bottom, you'll find an attached cork underlayment for a quieter, warmer floor that is naturally resistant to odor causing mold and mildew.
In the image below, you can see the three layers and the tongue-and-groove construction.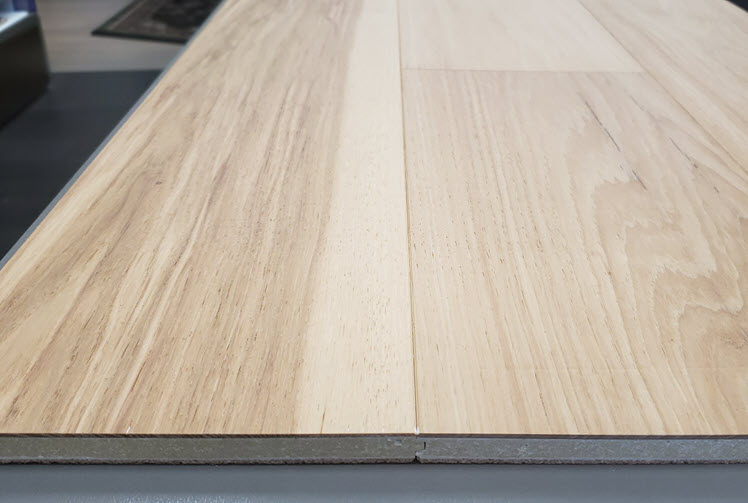 What Are the Dimensions of COREtec Wood Planks?
These planks are 12 mm thick, 7.56 Inches wide and 72 Inches long. Each carton includes 18.91 square feet of product.
As you can see from the room scene installations, the end result is warm, rich and elegantly casual.

Haven Oak
Where Can You Install COREtec Wood?
This new COREtec product is ideal for bathrooms, kitchens, laundry rooms, and basements. You can have it installed below grade, on grade as well as above grade level.
You can also install it over tile, and it doesn't need acclimation before installation.
If you have a 3-season room, you may want to select another option. Because of the rapid change in climate (temperature as well as humidity levels), the product isn't warranted.
As a rule of thumb, aim for rooms where humidity levels remain between 25 to 55%.
In terms of installation type, COREtec wood is a Direct Glue Only product.
Robin Hickory
What Kind of Warranties does COREtec Wood Flooring Come With?
COREtec Wood comes with the following warranties:
Limited Lifetime Residential Wear
Limited Lifetime Commercial
Limited Lifetime Waterproof
By the way, it is also GREENGUARD GOLD Certified.
COREtec Wood Styles Available at Floor Decor Design Center
You'll love the selection of Oak and Hickory styles available in COREtec Wood!
Oak Selections
You'll find eight oak options:
Asher Oak - a medium tone of oak pictured below
Salado Oak - medium toned
Wren Oak - light color range
Linden Oak - a light colored oak
Sylvan Oak - in a light gray color range
Haven Oak - in a medium gray color range
Longbow Oak - a rich dark oak - pictured above
Finn Oak - medium toned
Hickory Selections
In the Hickory category, you'll find the following eight options:
Sparrow Hickory in a medium gray
Falcon Hickory - rich and dark
Crane Hickory - a light tone
Afton Hickory - also dark with some lighter tones
Robin Hickory - a medium toned hickory pictured above
Fawn Hickory - dark
Kai Hickory - dark
Archer Hickory - in a medium tone pictured below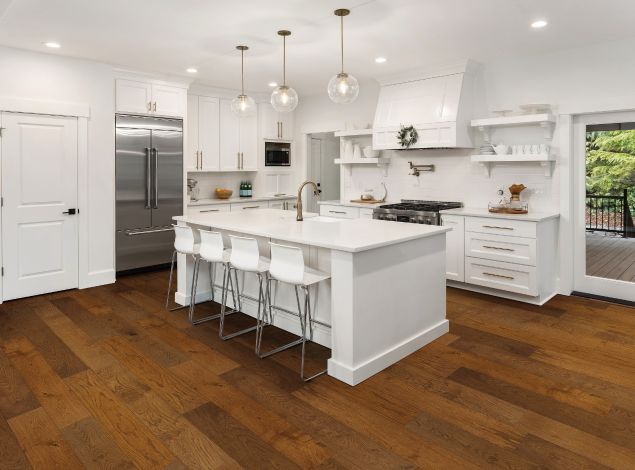 Asher Oak
What Kind of Maintenance and Care Does COREtec Wood Require?
As with all types of flooring, avoid sliding heavy furniture over your COREtec wood Floors.
Also avoid mopping your floors with a bucket.
Don't apply waxes or oil; they're not necessary.
Don't vacuum your floors with rotating beater bars.
To clean your floors, simply use a spray cleaner and wipe up with washable floor cleaning pad. Use a PH Neutral Hardwood Floor Cleaner. Sweep up dirt and dust before spraying down the cleaner.
Do use furniture pads under heavy furniture.
>> See Top Flooring Maintenance Tips for Carpet and Hardwood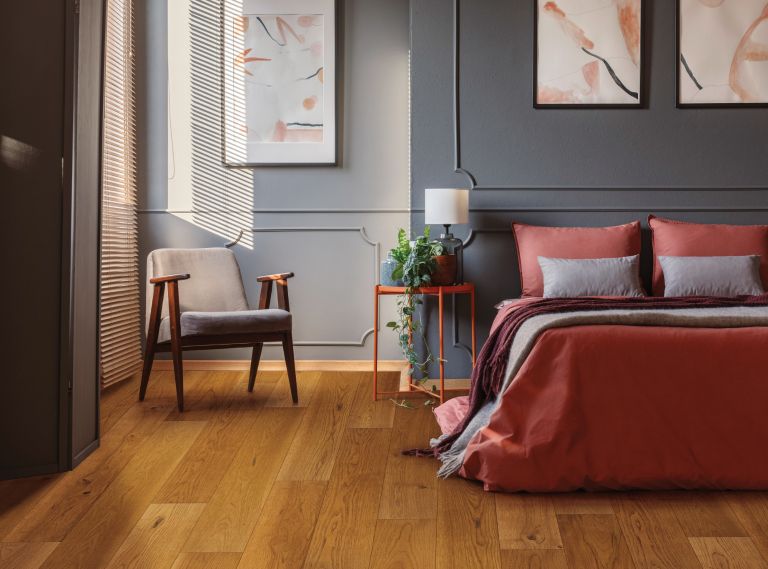 Archer Hickory
READY TO EXPLORE COREtec Wood FLOORING FOR YOUR HOME?
When you're ready to explore different styles of COREtec Wood flooring for your home, we invite you to visit one of our two showroom locations in Middletown or Orange.
Or, you can let me know of any questions in the comments or contact us.
We look forward to helping you.
Thanks for reading,
Michael