If you've not yet visited the Orange, Connecticut Floor Decor Design Center showroom, here's your opportunity to experience it virtually.
Our goal is to give you a feel for what makes us unique and ideally suited to help you with your flooring and design needs.
Welcome to the Floor Decor Design Center Virtual Tour!
Floor Decor Design Center is a specialty flooring store located at 555 Boston Post Road in Orange, Connecticut. We are across from Trader Joe's, and not too far north of Whole Foods (on the same side of the street). You'll find plenty of parking and a warm welcome.
We pride ourselves on being a design resource where friends send friends.
>> Read reviews about shopping at Floor Decor Design Center
Part of the Floors To Go Buying Group
You'll notice that our logo includes in the left corner the words "Floors To Go." That stands for the Floors To Go buying group which includes over 300 privately owned and operated retail showrooms that offer a wide selection of carpet, hardwood, laminate, tile, area rugs, vinyl and window fashions.

As a result, you'll find incredible pricing when you shop Floor Decor, along with fantastic guarantees, lifetime installation warranties and lifetime product warranties.
Virtual Tour Overview
When you first enter the showroom, you'll notice wood and related products (i.e., hardwood, engineered wood, laminate, luxury vinyl products, and vinyl) on the left and soft surfaces on the right-hand side.
If you proceed into our welcome station, you'll notice a pathway to the right that takes you to mosaics and tile, countertops, and to the kitchen and bath cabinetry area where you'll find our partner, J&J Complete Home.

Exploring Wood-Related Flooring Products
Over in the hardwood department, you'll find products ranging from hardwood, engineered wood, laminate, luxury vinyl products, vinyl, cork, and more.
This is an area we are constantly updating and rearranging. This has to do with new exciting product introductions and displays that help to explain the benefits associated with each product.
Most recently, we've added waterproof hardwood from Floorte and luxury vinyl flooring from Karndean.
>>See Discover Waterproof Hardwood from Floorte
>> See Three Luxury Vinyl Designer Collections from Kardean
Don't forget to look down. When you do, you'll notice that you're walking on the products displayed. You'll be able to compare one category to another and determine which look you prefer.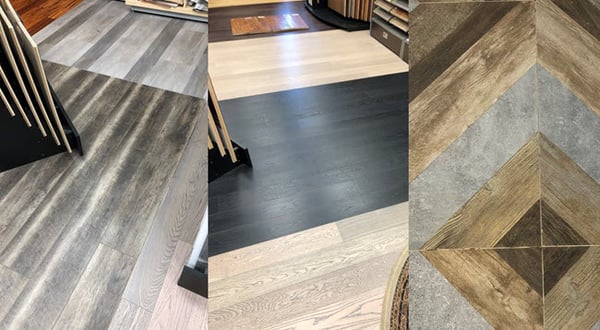 Mind you, we consider the Floor Decor website to be an important companion to this virtual tour we are taking you on. In addition to links to our product catalog, we've included links to helpful articles from Michael's Floor Talk Blog.
For example, when it comes to wood flooring:
>> See How to Choose the Right Hardwood Floor for Your Home
>> See For the Highest Quality, Select Mirage Hardwood Floors
>> See Hardwood Flooring That's Scratch-Resistant From Armstrong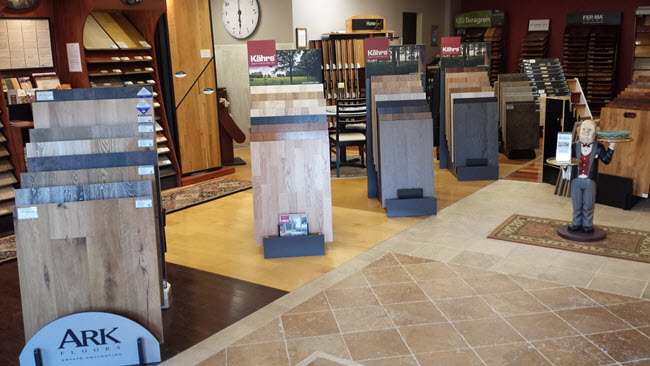 And, about Luxury Vinyl Flooring, you'll find these articles worth reading:
>> See Have You Considered COREtec Waterproof Flooring for our Connecticut Home?
>> See The Farmhouse Manor Rigid Core Luxury Vinyl Flooring Collection
>> See What's the Difference? Vinyl Flooring vs. Luxury Vinyl Tile or Plank
Room to Contemplate Design Possibilities
Part of being welcoming is offering room to think so you can contemplate the various design choices available. Shopping for flooring can be overwhelming. That's why you'll find spaces such as this one to take a break or get more comfortable diving deeper into product possibilities.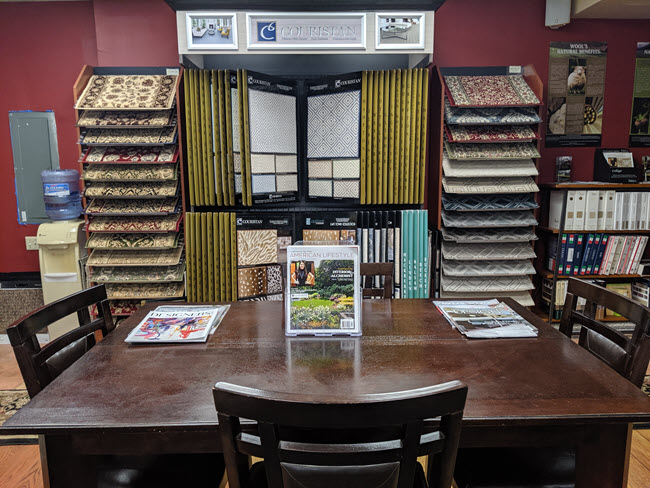 From Hard-Surface Flooring to Carpet and Tile
As you shift over to the right-hand side of the showroom, you'll find other flooring options. Namely, carpet and then tile and stone.
You'll truly find a wealth of options - from stunning hard surface visuals to intense carpet textures and styles to unforgettable patterns to use in runners, area rugs as well as wall-to-wall carpet.

Luxurious Carpet Selections
As much as we love hard surfaces, there's a special place in our hearts for luxurious and soft surfaces. Some rooms demand comfort and softness underfoot in the form of outdoor rugs and indoor custom area rugs and runners or wall-to-wall carpet installations. You'll find all of that and more at Floor Décor.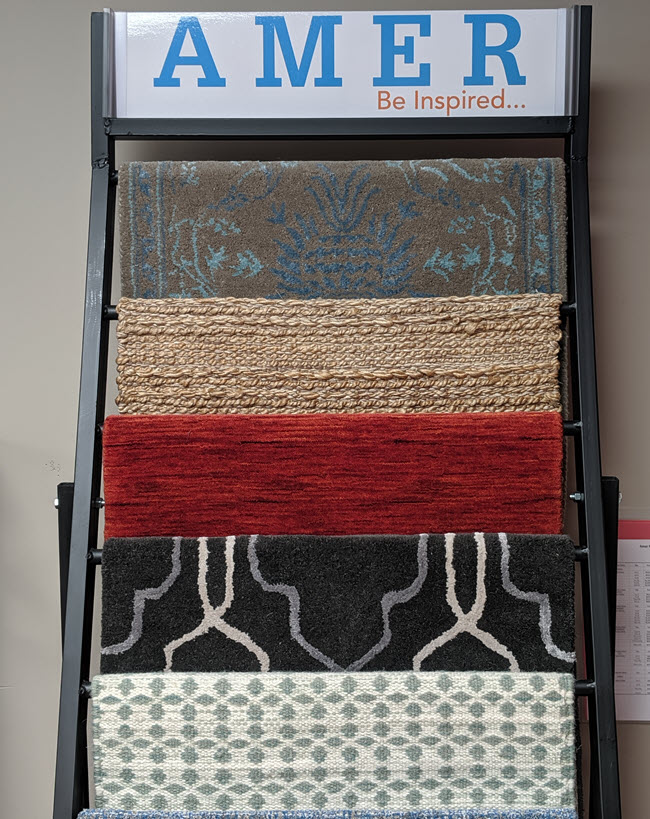 From Wool Rugs and Carpet to Nylon and More
You'll find stunning designer styles from brands such as Nourison, Couristan Rugs and Carpets, Stanton Carpet, Shaw Bellera and Stainmaster PetProtect.
>> See Check Out Nourison Wool Rugs and Carpet for Designer Chic
>> See Try Couristan Rugs and Carpets for the Ultimate in Style and Luxury
>> See Flatweave Wood Carpet for that Nubby, Natural Sweater Look
>> See Create Your Own Rug Using Stanton Carpet's Custom Rug Visualizer
>> See Bellera and Stainmaster PetProtect: Carpets that Perform

Super Soft Carpet
If you love super soft carpet, you'll find those at Floor Decor!
>> See New Super Soft Carpet Styles From Shaw, Stanton Carpet and Mohawk
The tile and stone selection at Floor Decor includes strong decorative patterns, linen, wood and stone looks as well as a broad range of mosaics - glass, round, hexagon, penny rounds and more. This is a case where it's best to see what's available firsthand. You can't top mosaics for fabulous design eye-candy!
>> See Three Tile Backsplash Trends for Your Connecticut Home
Space to Keep Your Youngest Customers Occupied
We're parents and grandparents and know that it's often impossible to go shopping without your children. That's okay. We welcome you and your children and have space where they can keep busy while you focus on your design decisions.
They might even enjoy our dog Cody who likes to personally welcome customers into the showroom.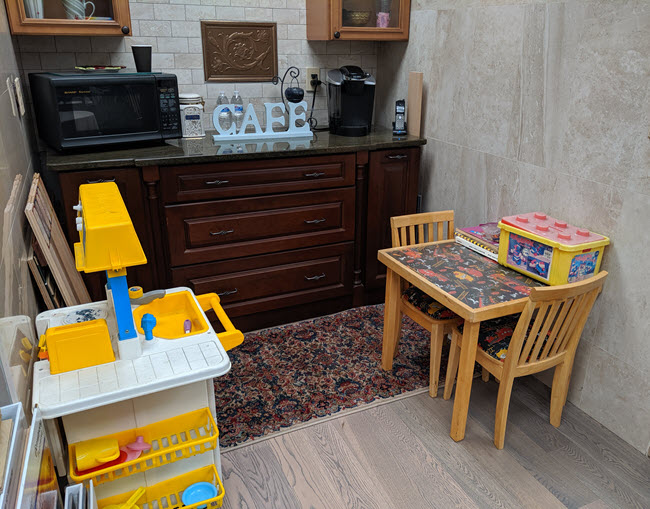 You'll Find Kitchen and Bath Remodeling Services
In addition to flooring, tile, and countertops, you will find kitchen and bath remodeling services. We are very proud to partner with J&J Complete Home for custom design and remodeling.
In the image below, you see John Manzione concentrating on his next project.
>> Meet the J&J Complete Home Team: John and Jennifer Manzione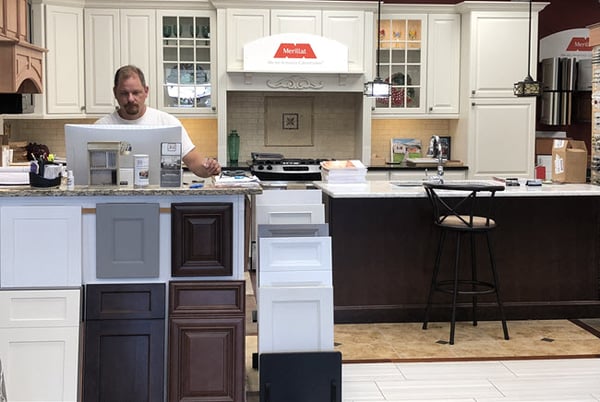 By the way, if you're looking for backsplash inspiration, you'll find a gorgeous example in this section of the showroom.
All the Tile You Can Imagine
You'll love the tile selections available from decorative stone pebble tile, to marble-look porcelain tile, to wood planks and more.
>> See Cosmopolitan Tile Designs from Shaw Tile and Stone
>> See Discover Decorative Stone Pebble Tile for Your Home
>> See Designing with Wood Plank Tile
>> See Feast Your Eyes on Marble Look Porcelain Tile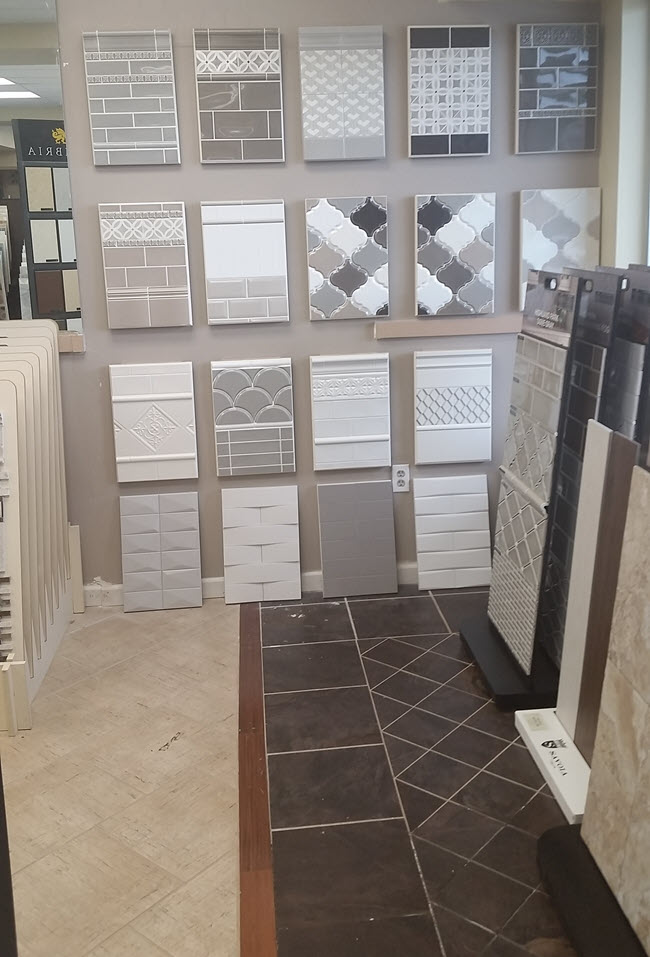 You Can Update Your Countertops, Too!
In addition to kitchen and bath cabinets, you'll be able to select new countertops when you shop Floor Decor Design Center.
We've created an area between cabinets and tile where you can explore possibilities, visualize different options and comfortably evaluate your choices.
>> See The Ultimate Guide to Quartz Countertops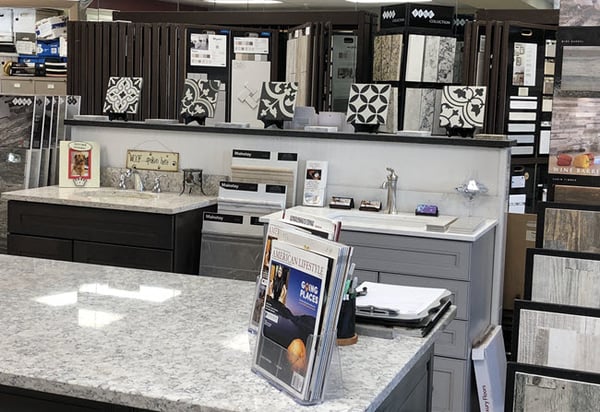 We Hope to See You Soon at Floor Decor in Orange, CT
That's the end of our virtual tour. We hope to see you soon at one of our two showroom locations in Middletown or Orange.
Or, make use of our Shop at Home Interior Design Services.
Don't hesitate to contact us with your questions. We look forward to helping you and making this process truly satisfying for you.
Thanks for reading,
Michael
Note: We originally published this article on August 22, 2018 and have just updated it.