What's the Difference? Vinyl Flooring vs. Luxury Vinyl Tile or Plank

A question our customers frequently ask is what is the difference between traditional vinyl and luxury vinyl flooring?
The purpose of this article is to explain the differences to help you understand which would be the better option for your flooring needs.
Traditional Vinyl Flooring vs Luxury Vinyl Flooring
Let's start with vinyl flooring.
Vinyl Flooring
Vinyl flooring -- also known as resilient flooring -- is often used as an alternative to ceramic tile, natural stone, or hardwood. The affordability and design realism have made these products extremely popular with today's consumers.
Whereas once upon a time vinyl looked boring and acted as a black scuff mark-magnet, now you'll find a multitude of aesthetically inspired styles that include a UV-cured urethane coating that keeps maintenance to a pleasant minimum.
Also Known as Sheet Vinyl
When we talk of traditional vinyl, we generally are referring to sheet vinyl that comes in widths of 6', 12', or 13'6" depending on the manufacturer.
Sheet vinyl is soft and comfortable underfoot compared to ceramic tile or hardwood. It is also water-resistant and is easy to maintain.
The Layers of Sheet Vinyl Flooring
Sheet vinyl is made up of several layers as seen below.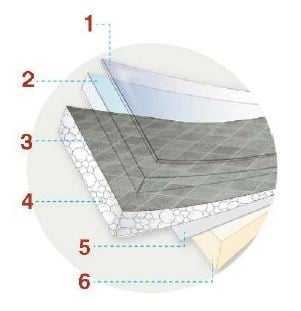 1. The Top Coat
The top vinyl coat adds sheen as it protects the wear layer.
2. The Wear Layer
Next is the wear layer that safeguards the pattern layer.
3. The Pattern Layer
The pattern layer is what supplies the sheet's color and looks.
4. The Cushion Layer
As its name suggests, the cushion layer adds bounce and texture.
5. Fiberglass
Fiberglass is what keeps the sheet vinyl flat.
6. The Base Layer
Finally, the base layer is what supports all of the other layers.
For a Seamless Floor, Choose Sheet Vinyl Flooring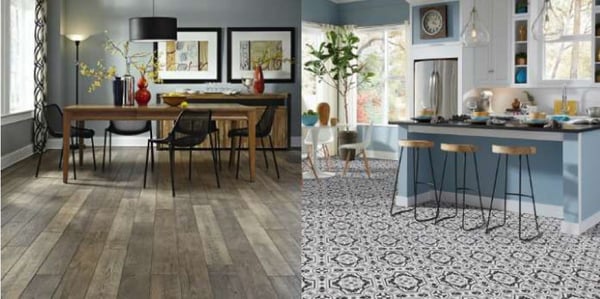 If you want a seamless floor, you will definitely want to choose Sheet Vinyl.
Sheet vinyl flooring is available in patterns ranging from hardwood to traditional Victorian style patterned tile looks that are popular today in ceramic tile.
Above are two examples from Mannington.
Sheet Vinyl Installation
Install Sheet Vinyl Flooring Professionally
Sheet vinyl flooring is best installed by a professional installer since one mis-cut in the installation and the entire piece is ruined unlike with a luxury vinyl plank or tile which if mis-cut can be used elsewhere.
The Sub Floor Must Be Extremely Flat
Sheet vinyl needs to be installed over an extremely flat smooth subfloor. Generally, we recommend a new ¼' subfloor for best results.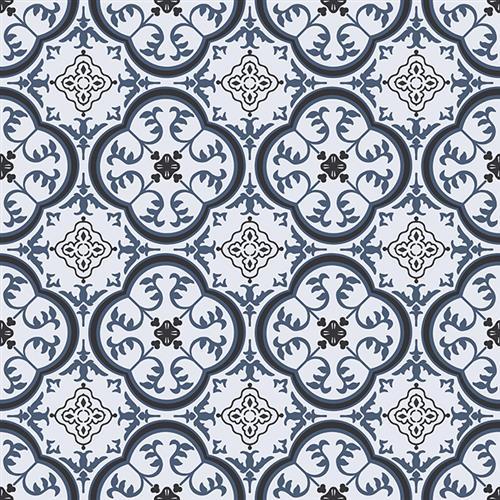 Two Popular Vinyl Brands
Mannington products are available in both 12' and 6' widths. The 6' width feature is ideal for galley kitchens and bathrooms.
Another popular brand of sheet vinyl is IVCus which features extra wide-width sheets to further eliminate seams in most rooms.
The IVCus brand of sheet vinyl is called Flexitec. It's known for its fiberglass backing which unlike the old felt-backed sheet vinyls will not shrink or curl.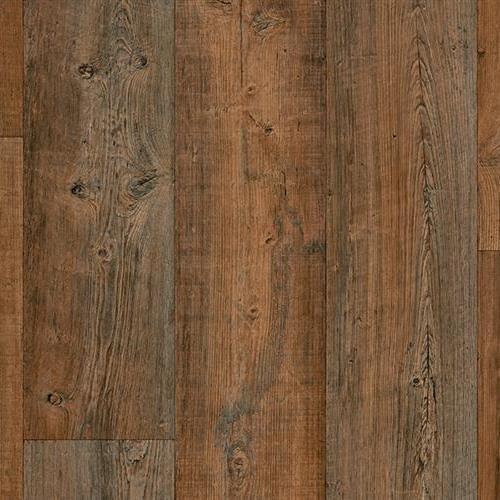 The Cost of Sheet Vinyl
Sheet vinyl is a cost-effective choice for consumers on a budget or who just want to update a room to put on the market.
>> See Can you improve the value of your home with new floors?
Sheet vinyl ranges from $2.79 s/f to $3.99 s/f and installs for $2.50 s/f, not including floor prep such as a new subfloor or skim coating to go over an existing floor.
Warranties for wear and stain range from 10 to 20 years.
With proper maintenance and care, a sheet vinyl floor can look good and last for up to 20 years. The more expensive the vinyl floor, the easier it is to maintain and keep its like-new appearance.
>> See LINOLEUM AND SHEET VINYL PRICING GUIDE
Vinyl Flooring Maintenance Watchouts!
You need to be careful when moving appliances over sheet vinyl as it can tear if the appliances aren't moved properly.
Homeowners with large dogs will want to keep their pets' nails trimmed as they would with a hardwood floor.
Gouges are possible from falling objects such as a can or knife.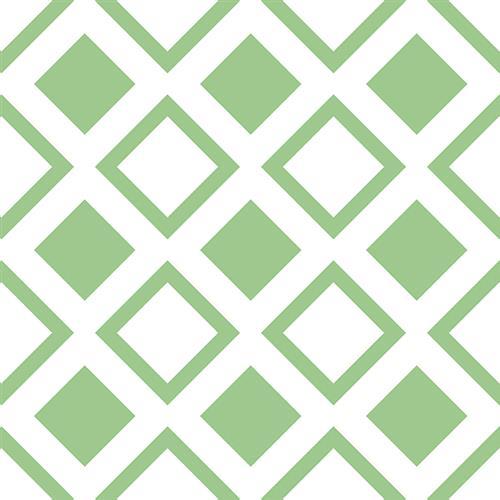 Luxury Vinyl Floors - Tile or Planks
Luxury Vinyl Floors are an excellent choice for homeowners who desire a more durable floor that will be easy to maintain and last for many years. It, too, is made up of layers. However, what makes this product different from vinyl flooring is that one of the layers is a rigid core.
>> The Lowdown on MultiLayer Flooring: LVT, WPC, SPC, and More
Luxury vinyl is usually referred to as individual planks ranging from 4" x 48" up to 9" x 72" with many sizes in between that have a hardwood look.
Also popular in the luxury vinyl format are tile looks ranging in sizes from 16" x 16" to 18" x 36" again with many sizes in between.
Pictured above is Coretec Plus Enhanced Planks in the color Axial Oak which the company describes as follows:
"To achieve the most realistic wood looks, this collection employs a 4-sided painted bevel for added depth in yet another innovative evolution in WPC. The stunning appearance is backed by the patented COREtec® technology featuring our innovative COREtec core structure, which is an extruded core made from recycled wood and bamboo dust, limestone, and virgin PVC.
Since COREtec is 100% waterproof, COREtec Plus Enhanced floors can be installed in wet areas and will never swell when exposed to water. COREtec is inert and dimensionally stable, meaning it will not expand or contract under normal conditions. Further, COREtec never needs expansion strips in large rooms. Each COREtec Plus Enhanced plank or tile has an attached cork underlayment for a quieter, warmer vinyl floor that is naturally resistant to odor-causing mold and mildew."
>> See HAVE YOU CONSIDERED CORETEC WATERPROOF FLOORING FOR YOUR CONNECTICUT HOME?
Amazing Luxury Vinyl Visuals
Luxury Vinyl Plank (LVP) or Luxury Vinyl Tile (LVT) has incredible hardwood floor, ceramic tile, or natural stone visuals. These products are much thicker (5mm up to 12mm) than traditional sheet vinyl floors (2mm) and can usually be installed over existing floors where sheet vinyl would most likely need a new subfloor.
The thicker LVT and LVP product eliminates telegraphing of the floor beneath it, generally an issue with sheet vinyl which is not installed correctly over a new subfloor.
Ideal for Moisture-Prone Areas
Like traditional sheet vinyl, luxury vinyl flooring is a great choice in areas where moisture can be an issue such as bathrooms, laundry rooms, and kitchen areas generally not recommended for hardwood or laminate flooring.
Luxury Vinyl Installation
LVT is generally installed with a locking method that is called a floating installation.
Floating installations require an expansion joint around the perimeter and at all fixed objects such as kitchen islands. The expansion joint is then covered with either a coordinating quarter-round molding or painted white quarter-round molding to match the base moldings.
Unlike laminate floors, LVT does not have that hollow sound when walked on. It is very hard to distinguish whether an LVT wood-look floor is LVT or real hardwood.
The ease of installation, affordability, durability and realistic look of LVT flooring have made the category explode throughout the flooring industry. There are new features being introduced in LVT on regular basis. We will speak more about that in upcoming articles.
>> See INTRODUCING V-EVO LUXURY VINYL FLOORING BY DURATO
>> See THE FARMHOUSE MANOR RIGID CORE LUXURY VINYL FLOORING COLLECTION
>> See THREE LUXURY VINYL DESIGNER COLLECTIONS FROM KARNDEAN
Vinyl Flooring Vs. Luxury Vinyl Tile or Planks: Which is Right For You?
Depending on your needs, either product will be ideal for your floors. We invite you to visit one of our two showroom locations in Middletown or Orange, where you can explore both categories firsthand.
Let us know of any questions in the comments or contact us.
We look forward to helping you.
Thanks for reading,
Janine & Michael