If you're in the market for a custom vinyl flooring solution that combines performance with designer features, look no further than Karndean Design Flooring.
Here's why: you can customize it with borders, design strips, feature strips, and even grout strips! In other words, a perfect easy-maintenance flooring solution for kitchens, baths, basements, and commercial installations.
Discover Karndean Design flooring's Three Luxury Vinyl Designer Collections
If you're not familiar with Karndean, here's some background information.

A Leading Luxury Vinyl Flooring Manufacturer
As you might expect, Karndean Designflooring is a leading manufacturer of luxury vinyl flooring.
Its vinyl flooring products are made primarily from calcium carbonate (limestone), polyvinyl chloride, and pigments that are structured with five layers - two PVC backing layers, one high definition photographic layer, one clear PVC embossed wear layer, and a top polyurethane (PU) protective coating.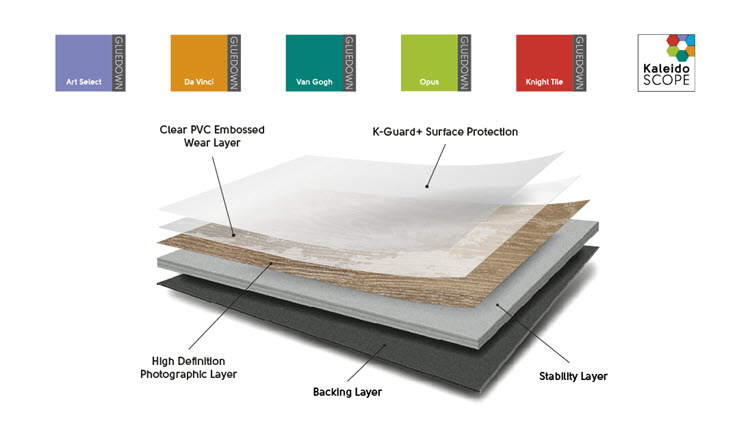 Distinct Luxury Vinyl Flooring Ranges
Karndean refers to its collections as Ranges, explaining that:
"Besides having different design inspirations, sizes, and formats which make each range unique, each of our product ranges also have a different wear layer. The thicker the wear layer the more durable the floor, but also the more our product designers can do with the finish - adding unique embosses for more texture and beveled edges."
Of their six ranges, this article will focus on three: Art Select Stone and Wood, Van Gogh, and Knight Tile.
>> Another range is Da Vinci. Click here to explore the Da Vinci classic premium range which contains slim and smooth wood planks with a beveled edge and a broad range of traditional ceramic and stone tiles.
>> You'll also find the Korlok Select collection which consists of 56" x 9" planks and 6" x 24" for herringbone patterns in a range of colors and styles.
Personalize Your Floors with Borders and Design Strips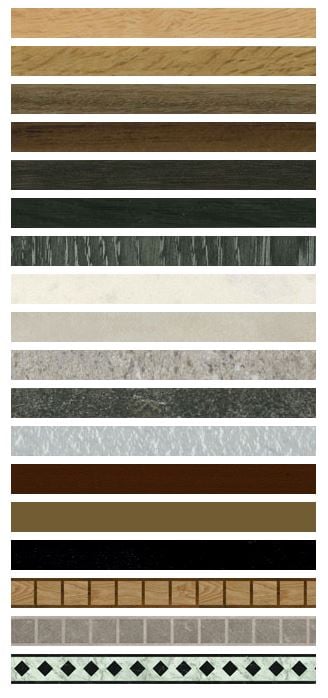 In addition to offering distinct product ranges, Karndean Designflooring offers you the means to create a truly unique space with decorative borders, features, or design strips. Each range has a wide choice of complementary effects to choose from.
In other words, for homeowners as well as commercial project specifiers and designers, Karndean provides an amazingly flexible range of design options. You can truly allow your imagination to run free for a one-of-a-kind floor.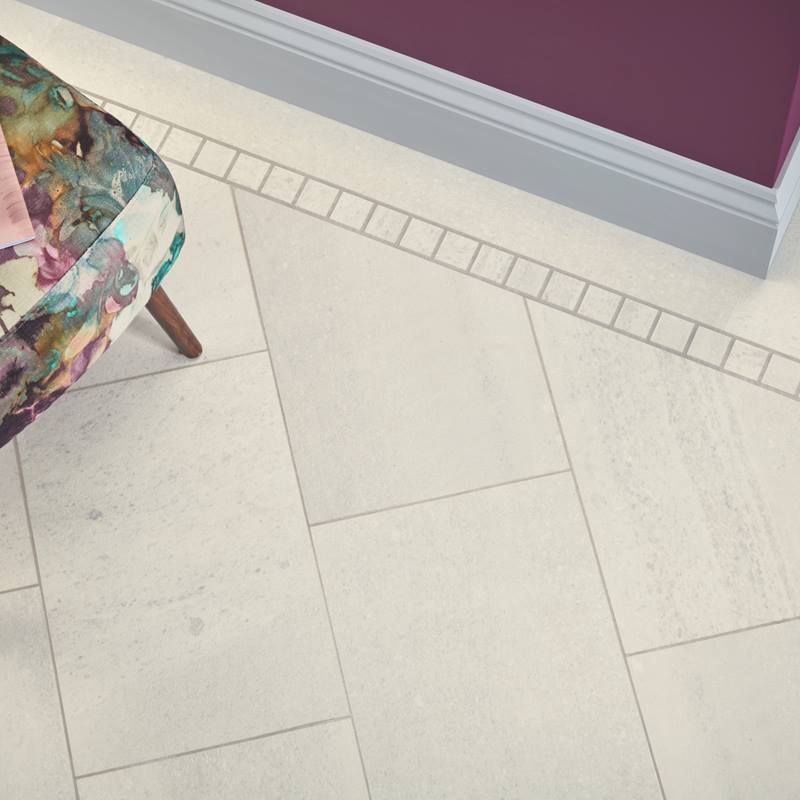 Add design, feature, or grout strips between tiles or as borders
You can place design strips between tiles to create a natural grouting effect or enhance a design.
Or, you can use them as borders around the edge of rooms, around key features such as reception desks and store payment zones, or to edge walkways and corridors.
Design strips come in 3mm and 5mm widths and many also in 10mm width.

They are

strips cut from another tile or wood plank.

Feature strips come in six colors at 5mm wide.

Grout strips come in a range of six colors at 3mm wide. Use them with Art Select and Knight Tile floors.
Consider decorative, tramline, or keyline borders
In addition to (or instead of) design strips, you might consider borders. Karndean offers three options:
Decorative borders are patterned borders designed to complement tile and wood plank floors.
Tramline borders are a simple and affordable way of creating decorative edging. They can be used in combination with feature strips, metallic strips, and design strips for a range of effects.
Keyline borders are single strips that can be added to the edge of your floor. They are available in 3mm, 5mm, 10mm, 30mm and 76mm and can be used with metallic and design strips
Let's Explore These 3 Designer-Worthy Collections
As we mentioned earlier in this article, we'll focus on three Karndean ranges: Art Select Stone, Van Gogh, and Knight Tile.
Remember that these are not DIY products. Rather, these commercial vinyl glue-down products need to be professionally installed to ensure performance and the one-of-a-kind custom floor being specified.
1. Art Select Stone & Wood Collection from Karndean
The premium Art Select range includes highly realistic wood and stone looks with authentic finishes. We'll focus on the stone looks.
Travertine Looks
In this collection, you'll find 18"x24" Travertine looks in colors Washburn, Caldera, and Gallatin with 6" wide FreeLengths in the same tones.
Limestone Looks
Limestone looks come in 36"x36" random panels that are made up of a pre-assembled panel of nine assorted tiles with design strips and offsetting tiles to create a random look.
The colors include Jersey, Guernsey, Alderney, and Herm.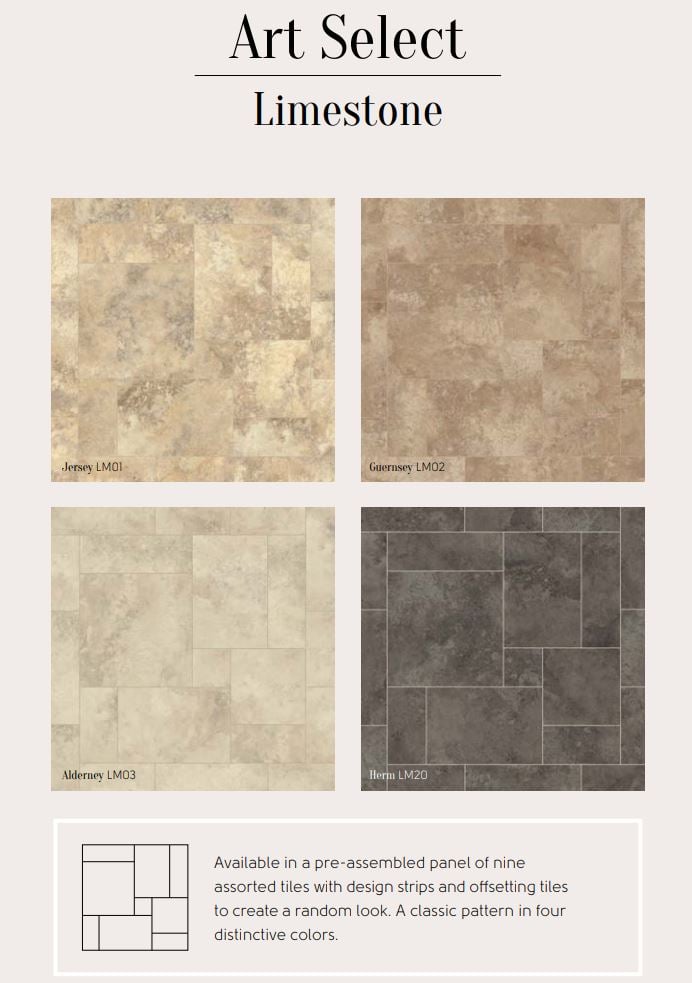 Slate Looks
Slate looks come in 18"x24" in colors Melbourne, Canberra, Oakeley, and Corris.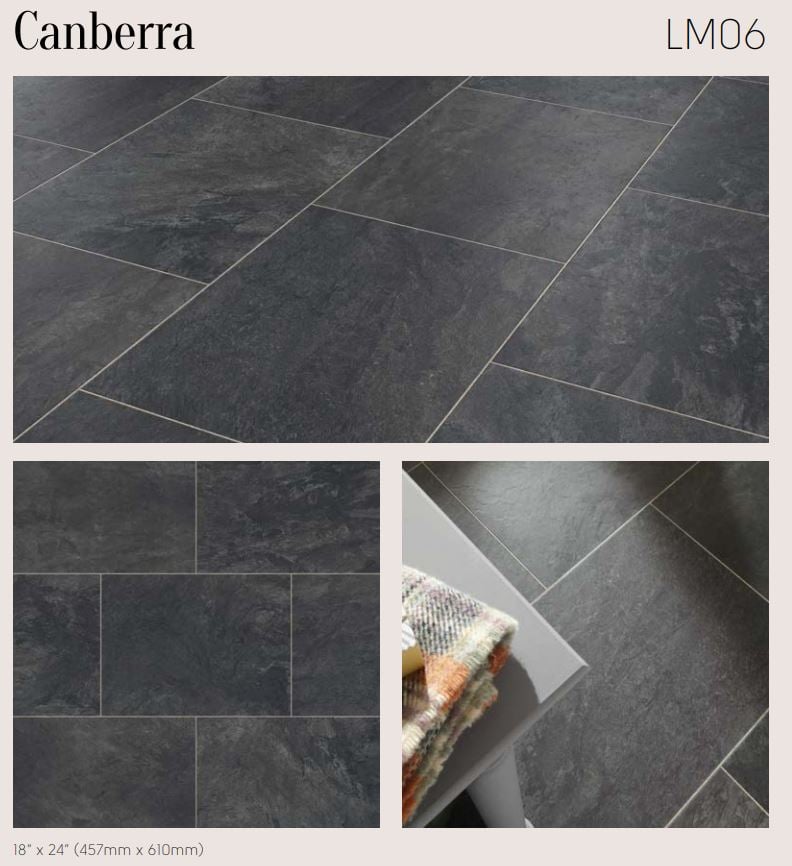 Marble Looks
Marble looks come in 16"x16" in colors Otono and Fiore, along with a coordinating diamond border that works with both colors.
>> Explore the stone looks in this brochure
Art Select Wood Ranges
From an Art Select Wood perspective, you'll discover five styles that are inspired, and full of charm and character: Oak Royale, Cherry Royale, Parquet, Maple, and Oak Premier. They come in 56" x 9".
You'll notice how this collection brings the natural beauty of real timber to life in your home with the most intricate designs, realistic embossed, and beveled edges. Karndean does this through meticulous attention to detail and careful selection of some of the most beautiful and inspiring natural timbers.
>> Explore the Art Select Product Brochure from Karndean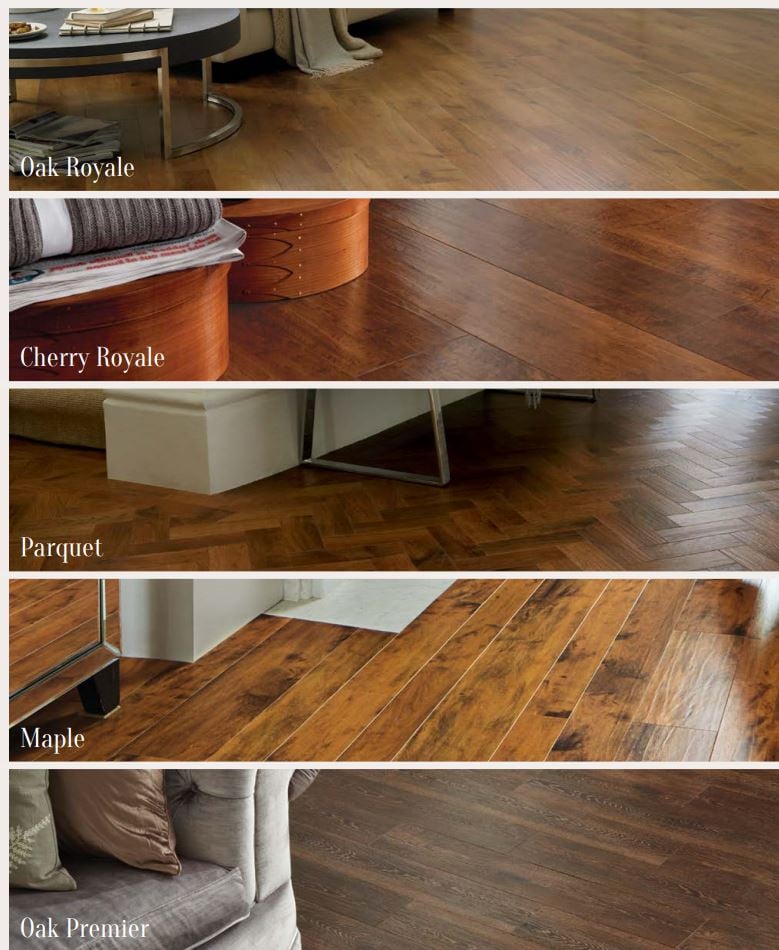 New styles in this collection include Reclaimed Hickory, American Chestnut, and European Oaks.
2. The Van Gogh Collection
Van Gogh consists of large wood planks that recreate the character of real timber. You'll find 46 different wood styles.
These woods showcase enduring American style and performance while capturing nature in its rawest form. Each product has an authentic texture and distinctive grain detail true to the wood that inspired it, with none of the maintenance hassles of hardwood flooring.
Below you see Burgundy Oak.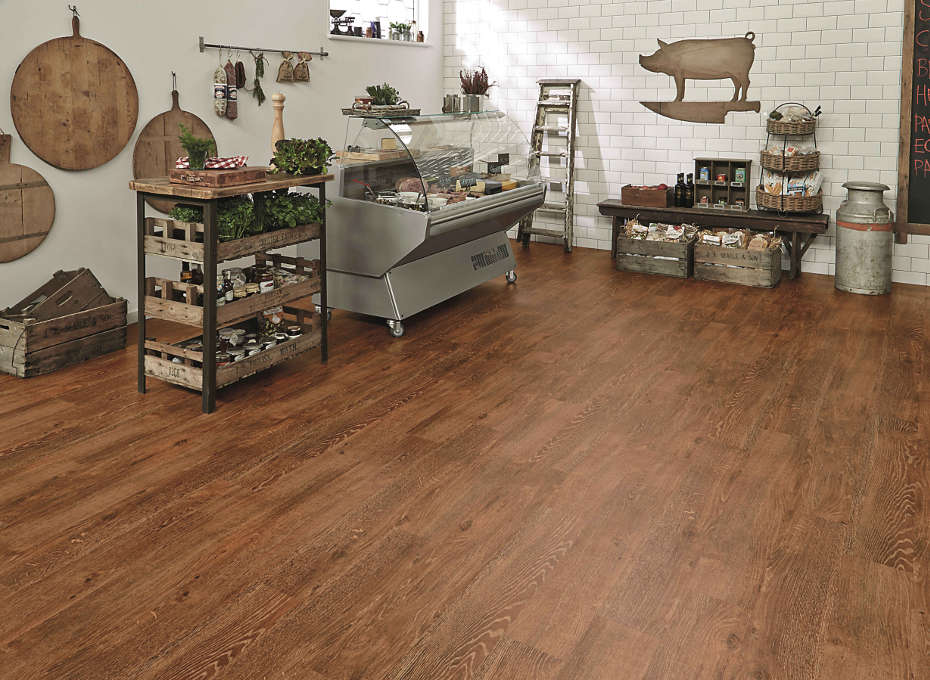 Most of the Van Gogh designs require a glue-down installation. However, 14 colors are available in an additional rigid core format.
3. The Knight Tile Collection
The Knight Tile collection consists of 32 products in rich, warm wood and stone-look patterns.
Below you see Copper from the Knight Tile slate-effect collection. It has a unique mix of colors, from burnished copper to dusky green in a mix of contour details that give real impact and interest to your space.
Finished in a realistic riven texture, you can have all of the beauty of real slate with none of the practical drawbacks.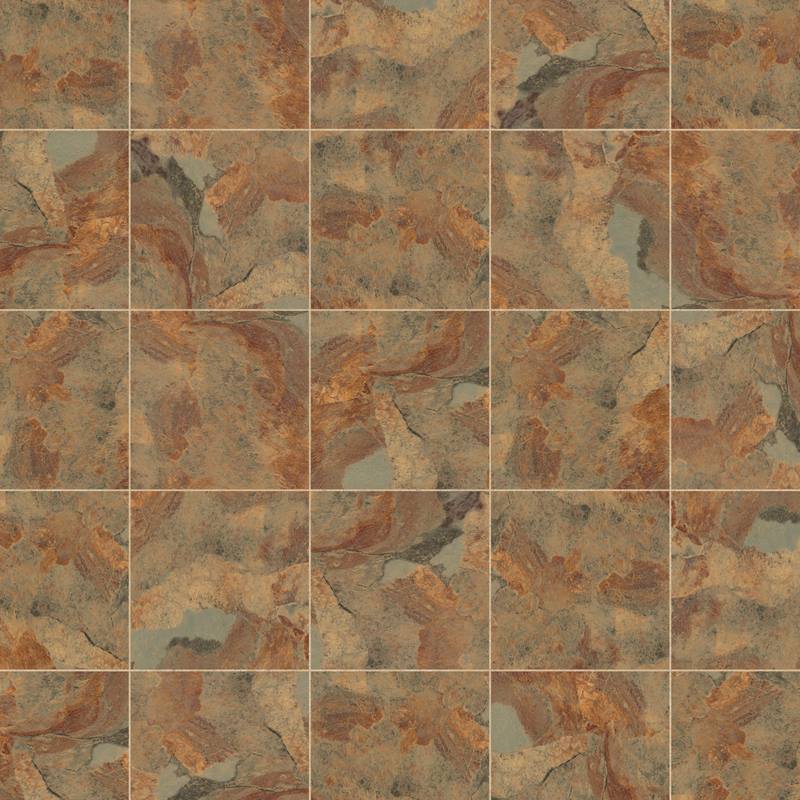 You'll love the versatile collection of strips and borders that you can add to most of the wood or stone effect designs.
Notice the border in the image below.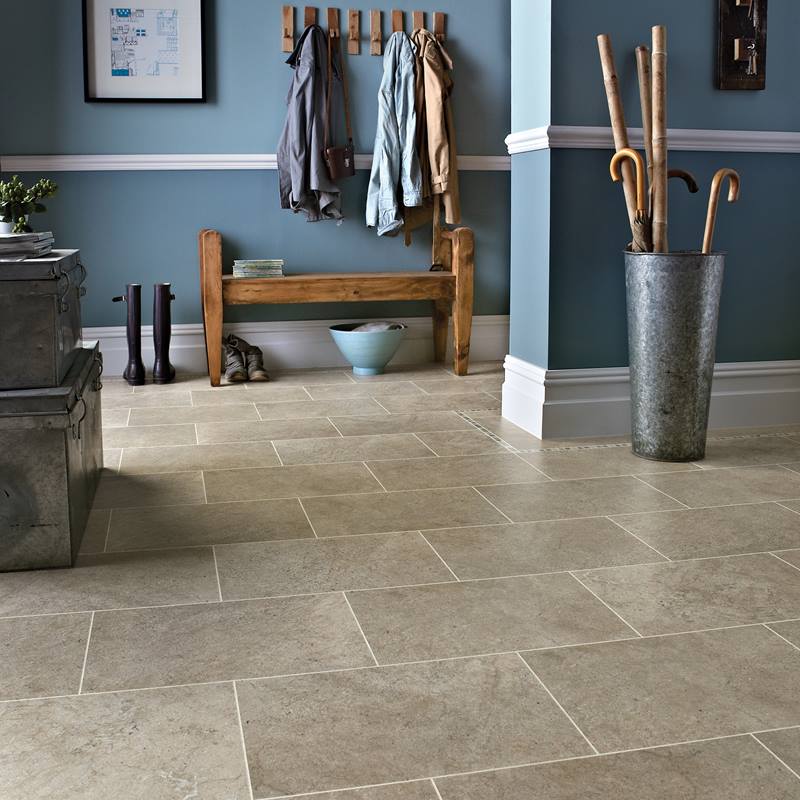 >> Explore the Knight Tile options from Karndean
EXPERIENCE These 3
LUXURY VINYL DESIGNER COLLECTIONS FROM KARNDEAN

FOR YOURSELF!

These luxury vinyl floor products from Karndean are a homeowner's or designer's dream given how easily they can be customized.

We invite you to learn more at Floor and Decor Design Center! We have two showroom locations in Middletown and Orange, Connecticut, and look forward to helping you.

Let us know of any questions in the comments or contact us.

Thanks for reading,
Janine & Michael
Note: We originally published this article on 07/10/2019, and have updated it.