DOMA: Where Fashion Meets Flooring

Look no further than Floor Décor Design Center in Orange, Connecticut for a wealth of boldly fashionable flooring options, including the DOMA flooring collection of carpet, hardwood, and luxury vinyl planks.
Read on to learn more!
Discover Where Fashion Meets Flooring With DOMA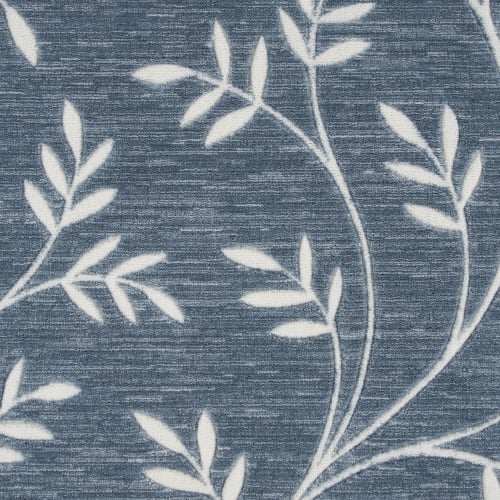 The DOMA collection of flooring products offers you stunningly beautiful selections inspired by the beauty of the natural world. Take the carpet pictured above - Liana in color Denim - with its curvy leaf motif. The contrast of the white leaves against the denim background is bold and intensely stylish.
The premise behind DOMA is that you deserve a floor that's as stylish as you are. You'll find it not just in carpet but also in hardwood and luxury vinyl planks.
The Story Behind DOMA Flooring
Let's start with the name 'doma' of this fashionable flooring collection. Doma is a Japanese term meaning earthen floor that refers to the inside entryway of a Japanese-style house.
Think of the impression your visitors have when they enter your home. That transition from the outside to inside combined with a sense of welcome is what DOMA wants to allow you to create throughout your home in a way that reflects your very own sense of style.
As the Doma site explains,
"Boldly Beautiful Floors: Surround yourself with the beauty of nature. Inspired by the wonders of the natural world, Doma floors balance striking designs with delicate details to deliver a flooring experience like no other.
Traditional Meets Modern: In Japanese tradition, doma refers to a home's extended entryway—a place where the indoors and outdoors meld into one. Our floors take that concept and apply it to the rest of your home, with modern styles that draw inspiration from the world around us.
Always in Style: Trends come and go, but your floors shouldn't have to. That's why Doma flooring meshes the latest trends with classic design principles—so your home never goes out of style.
Floor Critics adds perspective in its Review of Doma. Calling attention to the traditional selection of flooring products where you see a sea of sameness, it states that,
"Doma is on a mission to change this. Their product line of luxury vinyl plank, hardwood, and carpet is centered around bold colors and trendy prints...
Doma is targeting customers that want the latest designs and materials without breaking the bank. While providing innovative flooring styles is their focus, they also aim to provide flooring products that won't break the bank..."
The end result is a rich collection of well-crafted flooring products in bold designs in modern styles that remain classic.
Let's explore the three DOMA flooring categories.
DOMA Vinyl Plank Flooring
When you explore vinyl plank offerings in DOMA, you'll find the following:
Cascade in 6 colors
Stonewalk in 4 colors
Timberland in 5 colors
Woodland in 24 colors
Lagunawood in 5 colors
Lagunawood Plus in 10 colors
Seatown Vibes in 10 colors
The beauty of vinyl plank flooring is that it is waterproof and ideal for areas that aren't hardwood friendly (such as bathrooms and basements).
In the case of DOMA vinyl plank floors, you'll find a stunning range of high-end looks and plank widths, with 12 mils to 22 mils wear layers (i.e., durable!).
Examples of DOMA Vinyl Plank Flooring
Here you see Stonewalk Statuario, a 12x24 product available with a 12 mil wear layer.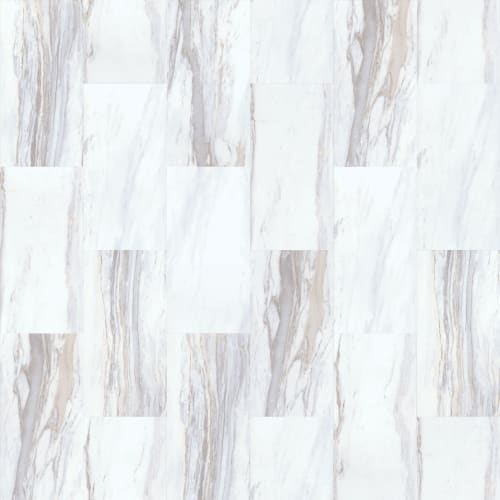 Woodland Heart Pine comes in planks of 7.25"x48" and features a 20 mil wear layer.
Lagunawood Wooded Inlet also comes in a 20 mil wear layer in 5.9"x48" planks.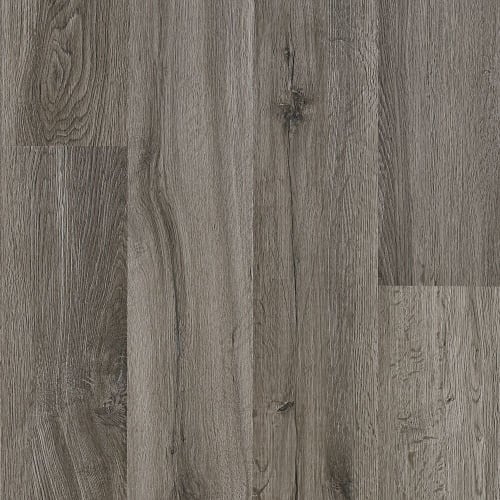 DOMA Hardwood Flooring
Next, DOMA hardwood flooring in the following 100% waterproof collections:
Baltic Square in two colors
Homestead Roots in 4 colors
Local Venture Premium in 13 colors
Sophisticated Timers in 19 colors
Welcoming Highlands in 9 colors
Woodland Premium in 11 colors
DOMA's hardwood options include solid hardwood as well as engineered hardwood in a range of plank widths and finishes (from hand-scraped and distressed to smooth and brushed finishes).
>> See SOLID VS. ENGINEERED HARDWOOD: WHICH IS BETTER?
Examples of DOMA Hardwood Floors
Let's start with Local Venture Premium in color Cozy Night. This is an engineered 7.5" wide white oak hardwood with a micro bevel profile in a brushed surface.
>> See WHY DOES PRE-FINISHED HARDWOOD FLOORING HAVE BEVELED EDGES?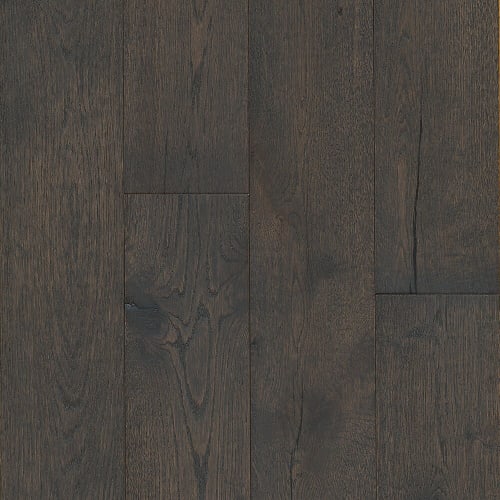 Sophisticated Timbers in color Country Natural is another hardwood selection. This is a 5" wide plank in solid hickory with a smooth surface and a micro bevel.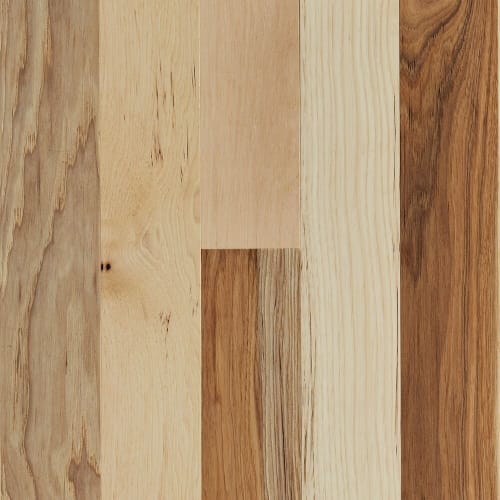 Welcoming Highlands in color Hazy Day is also 5" in width. This is an engineered white oak with a micro bevel in a smooth surface.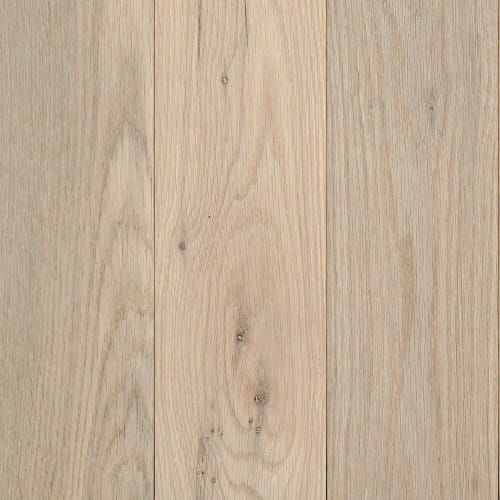 DOMA Carpet Selections
You'll love the range of fashionable patterns available for DOMA carpet! You'll find abstract patterns, textural combinations, subtle patterns, and more. Not a single one is dull or drab. Quite the opposite!
Note that DOMA wool carpet is CRI Green Label Plus certified as low-VOC carpet.
Here are the DOMA carpet styles:
Bismarck in 6 colors
Cannery in 5 colors
Cannery Row in 5 colors
Flourish in 7 colors
Sichuan in 7 colors
Snowmass in 10 colors
Berber Ridge in 7 colors
Bryce in 12 colors
Casablanca in 6 colors
Casual Chevron in 5 colors
Casual Texture in 5 colors
Cheetah in 7 colors
Crete in 7 colors
Liana in 7 colors
Mystical in 5 colors
Natural Texture in 7 colors
Network in 16 colors
Parallel Point in 12 colors
Phoenix in 10 colors
Redmond in 10 colors
Redwood in 6 colors
Renton in 10 colors
Rochford in 7 colors
Rosamond in 5 colors
Smooth Linen in 16 colors
Sunrise in 7 colors
Surf Stripe in 11 colors
Surf Tweed in 9 colors
Taipei in 8 colors
Tangential Loop in 7 colors
Trellis Loop in 14 colors
Versailles in 7 colors
Wimbledon in 12 colors
Examples of DOMA Carpet Styles
Here are three DOMA carpet styles to give you a feel for the range of designs.
First is Snowmass Square in color Blanc. This is a patterned loop in 51% wool/49% olefin.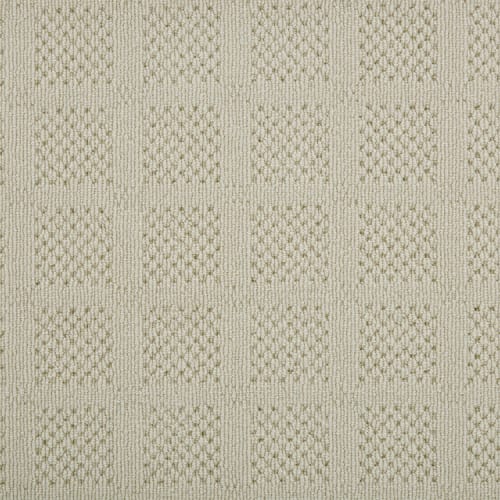 Next is Surf Stripe in color Ash. This stunning herringbone stripe in 50/50 wool/polypropelene would look amazing next to hardwood or wood-look vinyl planks.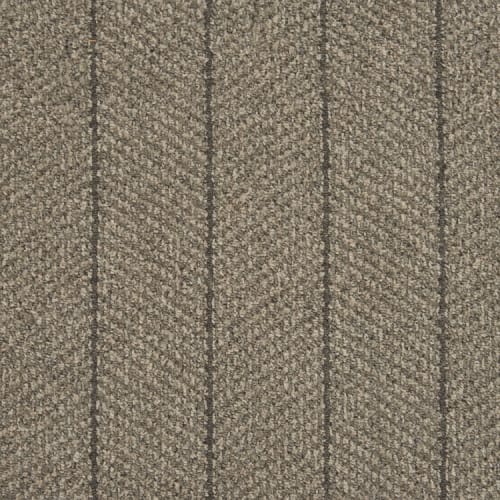 This last example Wimbledon in color Bayswater is a patterned loop in 100% wool.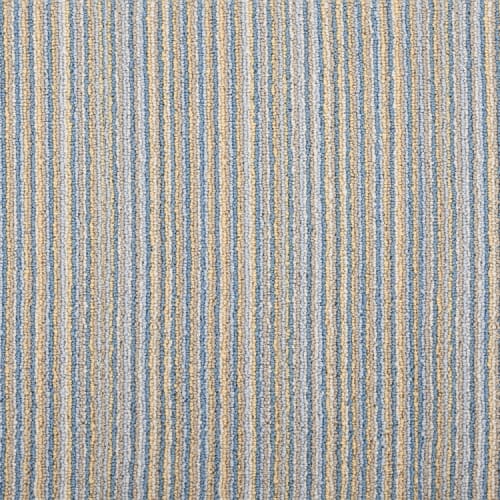 DOMA Flooring Warranty
All DOMA flooring products come with a limited lifetime warranty. If you're purchasing flooring for a business, you'll find several commercial warranties ranging from 7 to 10 years.
DOMA carpet comes with a standard lifelong stain, pet, and soil protection guarantee.
DOMA Flooring is Environmentally Friendly-Certified
Every Doma vinyl flooring product is certified by FloorScore, GreenGuard Plus, or both as low-VOC vinyl flooring.
Would You Like to EXPERIENCe DOMA FLOORING FIRST-HAND?
If you are, we invite you to visit Floor Decor Design Center in Orange, Connecticut. There, you can experience the entire DOMA collection.