If you're considering hardwood floors and wondering whether solid hardwood or engineered hardwood flooring is better for you, you've come to the right place.
In this article, we'll explore both categories of products and learn when one hardwood is better than the other.
What's Similar About Solid and Engineering Wood Flooring?
The best place to start is by understanding what is similar between the two categories. Mainly, that both solid and engineered wood floors are made of real hardwood.
Both look beautiful installed, come in a range of different styles, and will last a lifetime if made of quality hardwood and cared for with love. Both are equally easy to maintain and will wear well.
>> See Hardwood Flooring that's Scratch-Resistant From Armstrong
A good quality engineered will cost the same if not a little more than solid hardwood.
Both solid hardwood and engineered hardwood are available unfinished so you can truly customize your floors.
So, what's different between the two? Let's start with solid hardwood.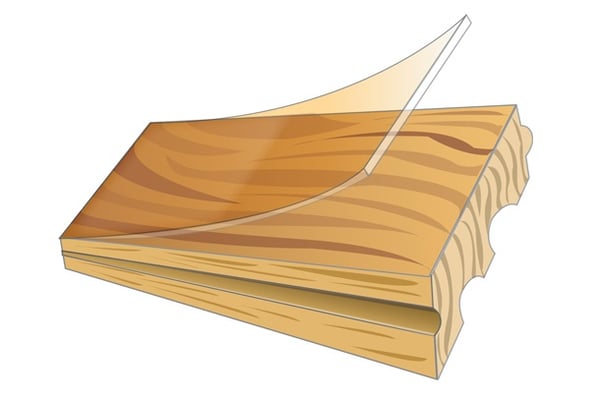 Illustration showing a single piece of Solid hardwood with a top wear layer.
What Is Solid Hardwood Flooring?
As the name suggests, solid hardwood flooring is made of planks of solid wood.
Solid hardwood is typically 3/4-inch thick and varies in width from 2 1/2-inches to 5 inches. Beyond that width, you'll want an engineered hardwood (more on that below).
Whereas solid hardwood flooring used to be primarily site-finished where the wood is delivered unfinished to the site, then installed, sanded, and finished at the site, it is now increasingly pre-finished at the manufacturing facility, making for an easier and less messy installation in the home. Note that you have more options with a site-finished floor (e.g., sheen, stain, number of coats...).
You'll never find solid hardwood installed as a floating floor. Rather, the planks are nailed or stapled down. Any solid hardwood 5" or more will need to be glued and nailed, which increases labor costs.
Water is the enemy of solid hardwood. For that reason, you'll never find it installed below ground in basements or anywhere where you can expect moisture. Rather, you'll find it in rooms and hallways above ground, in living spaces and bedrooms.
What differentiates solid hardwood most from engineered hardwood floors is that solid hardwood can be sanded and refinished multiple times throughout its lifetime.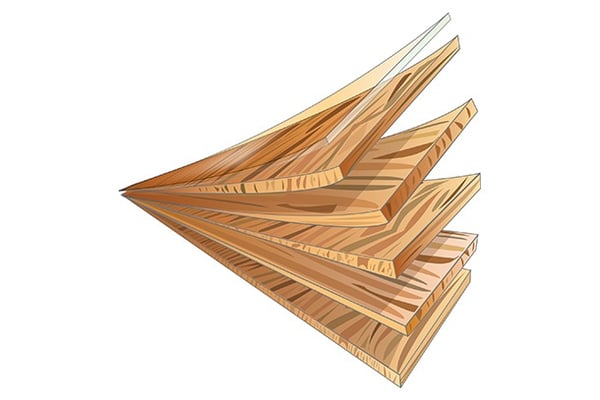 Illustration showing multiple layers of Engineered hardwood
What is Engineered Hardwood Flooring?
Engineered flooring combines several layers of hardwood into one plank.
In quality engineered flooring, the top layer consists of sliced or sawn hardwood veneer that looks like solid hardwood; in lesser quality products, the top layer consists of rotary cut veneer which has more of a plywood look.
>> Learn more How Sawing Methods Create 3 Different Looks in Wood Floor Planks
Beneath the top layer are several layers of wood/plywood glued and laminated together in a perpendicular pattern. The end result is dimensionally stable and better able to deal with moisture, temperature changes, and humidity, making it perfect for below-grade spaces such as basements with a protective moisture barrier installed, concrete slab installations, and radiant heating systems.
Thickness in engineered hardwood ranges from 3/8-inch to 1/2-inch. Standard widths are 3 1/4-inch, to 5 inches and more. Note that you won't find solid hardwood planks over 5" wide whereas you will in engineered wood where that dimensional stability makes a big difference in performance.
Most engineered hardwood will be factory-finished where it receives multiple coats of highly durable finish (matte, high-gloss, and semi-gloss). You may even opt for surface effects such as hand-scraped, distressed, or wire-brushed.
When it comes to installation, you have more options available than with solid hardwood. Engineered wood of any width can be stapled and nailed down, as well as glued or even floated.
Important Factors for Engineered Hardwood
The biggest difference between solid and engineered hardwood has to do with sanding and finishing; engineered wood can be sanded but only once or twice lightly before the top veneer layer wears away. Depending on the quality of the engineered hardwood you select, the top layer may be thicker or thinner, determining how much it can be refinished.
For that reason, you'll want to consider the following factors when selecting an engineered floor:
The thickness of the top hardwood layer

The number of layers in between the top and the bottom layers
Whether the top layer is sliced cut or rotary cut veneer
The quality of the base layers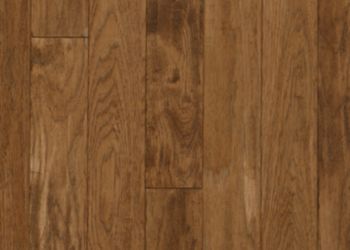 Solid vs. Engineered Hardwood Floors: Which is Better For You?
Let's recap what you need to consider if you're deciding between solid hardwood floors and engineering hardwood flooring.
Sanding and Refinishing your Hardwood Floors
If you're looking for a floor that you can have sanded and refinished many times (and last 50 to 100 years), you'll want to select a solid hardwood floor or an engineered floor with a thick wear layer rather than a thinner one that you can only sand down and refinish one to two times before needing to replace it.
For perspective see All About Wear Layers on Engineered Flooring.
Also, see our Hardwood Floor Refinishing Guide.
Hardwood Floors and Humidity, Dryness, and Basements
Engineered hardwood is better suited to be installed in basements (below grade), areas that are subject to a lot of humidity or dryness (e.g., areas with wood-burning stoves), or on top of concrete. Solid hardwood can be installed over concrete but not without substantial work to the sub-floor.
Hardwood Flooring Dimensional Stability
When it comes to dimensional stability, your better choice is engineered hardwood since the cross-grain layered construction means that the floor can better resist expansion and contraction from temperature and moisture variation.
Better for basements and areas with moisture concerns
Better for wide planks (i.e., 5"+)
Hardwood Flooring Repairs
I've already mentioned how solid hardwood can be re-sanded and finished. Beyond that, if ever you needed to replace a board, it's relatively easy to replace it and then refinish it to match the rest of the floor.
For an engineered hardwood floor, that's a bit more challenging as it may be difficult to match the exact look of the existing floor color and wood grain.
For larger repairs, solid hardwood and engineered will be similar in difficulty because the sheen will always be different. The exception is for an oil finish floor, which can be sanded and blended seamlessly.
Environmentally-Friendly Hardwood.
From an environmental perspective, wood flooring manufacturers pride themselves on being responsible stewards. For that reason, they create flooring in both solid and engineered formats.
>> See For the Highest Quality, Select Mirage Hardwood Floors
This slide captures some of those dynamics. A piece of high-grade lumber can become one piece of solid hardwood or the wear layer of several pieces of engineered flooring.
And although you have a more sandable surface in solid hardwood, yielding a longer product life, engineered hardwood makes use of other wood byproducts underneath the high-grade top wood layer.
From SlideShare: Wood Flooring for Building Green
DON'T UNDERESTIMATE THE IMPORTANCE OF SUBFLOOR PREPARATION
Although not directly related to the evaluation of solid hardwood vs. engineered hardwood, I do want to bring up subfloors and the importance of properly preparing them before installing either type of hardwood.
Subfloors are the surfaces beneath your final flooring. It can be concrete, plywood, or another flooring surface.
Regardless, it's critical to ensure the subfloor is smooth and level and has no moisture issues so no flaws or other unexpected surprises affect your hardwood floors. This is something we will discuss with you.
>> See WHY FLOOR PREP BEFORE INSTALLING NEW FLOORS IS IMPORTANT!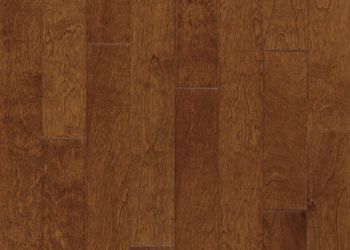 Which Hardwood Do You Think is Best for Your Home?
Let us know what your reaction is to this article. Does it answer all of your questions? If not, let me know in the comments or contact us.
When you visit one of our two showroom locations in Middletown or Orange, you'll be able to explore samples of both solid and engineered hardwood products. And, we can dive more deeply into what you're trying to achieve.
We look forward to helping you.
Thanks for reading,
Janine & Michael
Note: We originally published this article on 09/05/2018, and have updated it.