Did you know you have options when it comes to selecting a binding for your custom rug?
Depending on the look you are going for, you'll find a range of finishing options to explore before committing to one for your stair runner, area rug, or hallway runner. In this article, we'll discuss what's most stain-resistant, durable, and the styles each option reflects.
What Are Your Custom Rug Binding Options?
Carpet Binding
Carpet binding is available in two different options: polyester and cotton.
Polyester Binding
Let's start with polyester carpet binding.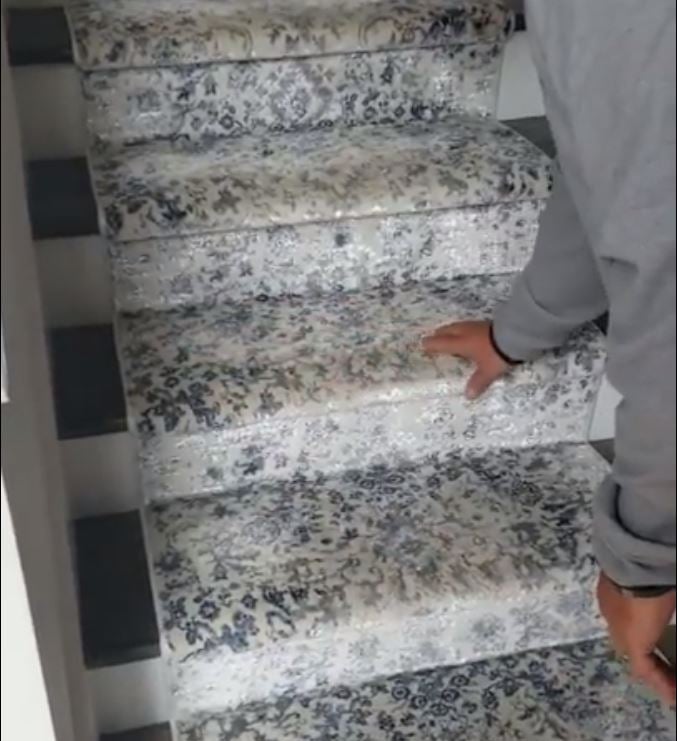 Polyester is a very stain-resistant option that finishes the carpet with a crisp, clean look. It is sewn on the outer edge to keep it from unraveling and to stay in place.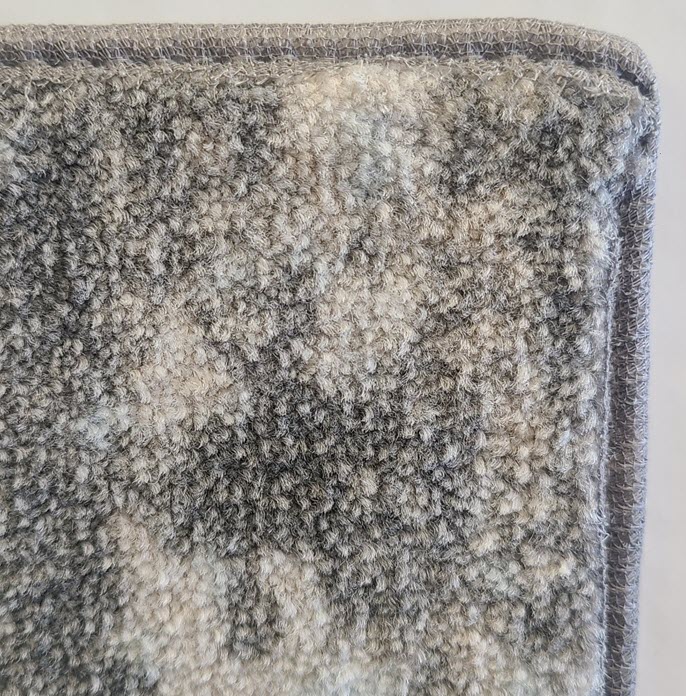 Cotton Binding
The second binding option is a narrow cotton binding. This option is more visually appealing which makes this option more expensive.
The image below shows you a coordinating cotton binding.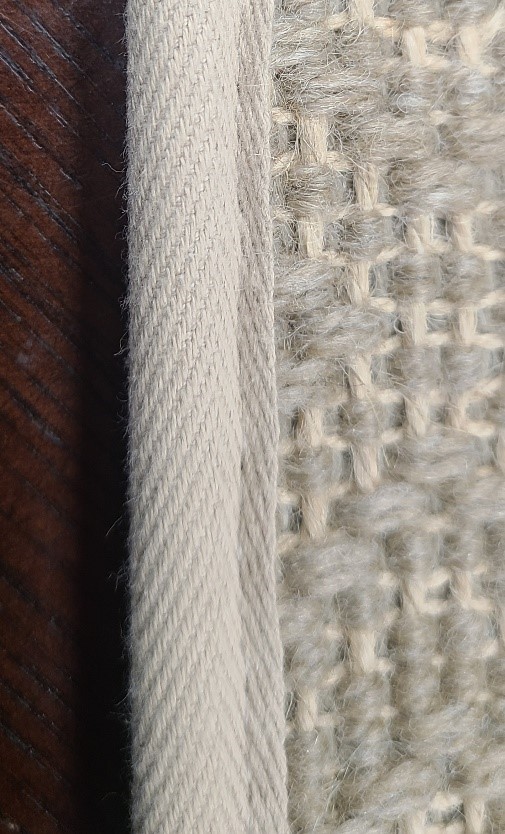 Carpet Binding Color Choices
Coordinating Carpet Binding
The color of the binding is usually coordinated with the base color in the rug so it blends into each other as you can see in the images above.
Contrasting Carpet Binding
Sometimes a contrasting binding can make a statement as shown in the below image. This subtly accents the carpet but can also make for a more dramatic effect when contrasting off of your existing floor that you place the rug or runner on.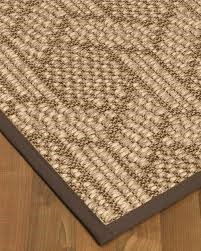 Both options add a tailored classic look that results in a subtle finish that holds up to heavy traffic and vacuuming.
Cotton, Jute, Linen, or Leather Binding
For another look, consider cotton, jute, linen, or leather binding for your area rug, runner, or stairs.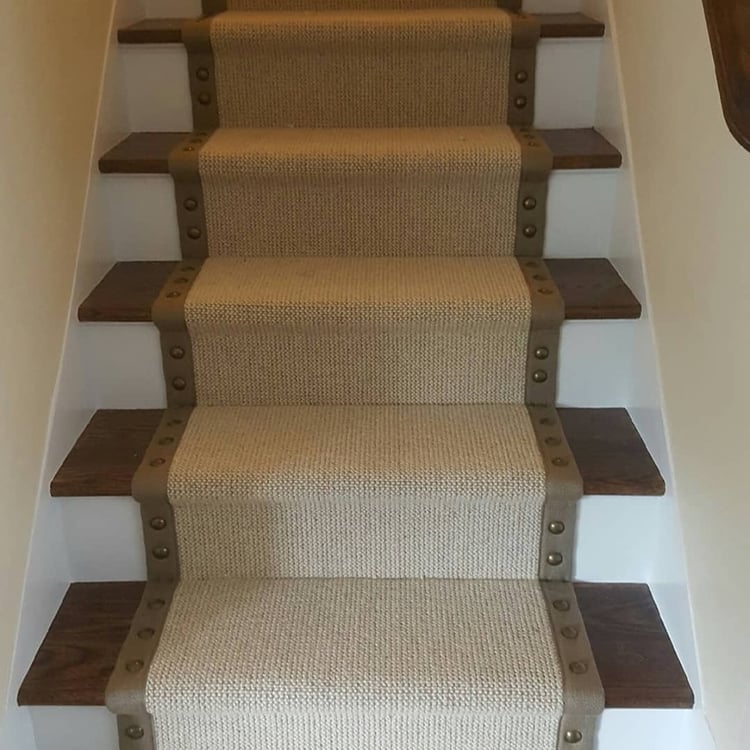 You can similarly opt for coordinating or contrasting looks. In addition, you'll have two size options when it comes to this type of binding: wide and narrow.
Wide Binding – 5"
Wide Cotton Binding
Wide cotton binding is a great way to add a wider border to your carpet for a more dramatic effect. It offers a distinct look and adds an elegant feel to your staircase or area rug.
The wide cotton binding below is also finished with a blind-mitered stitch finishing edge.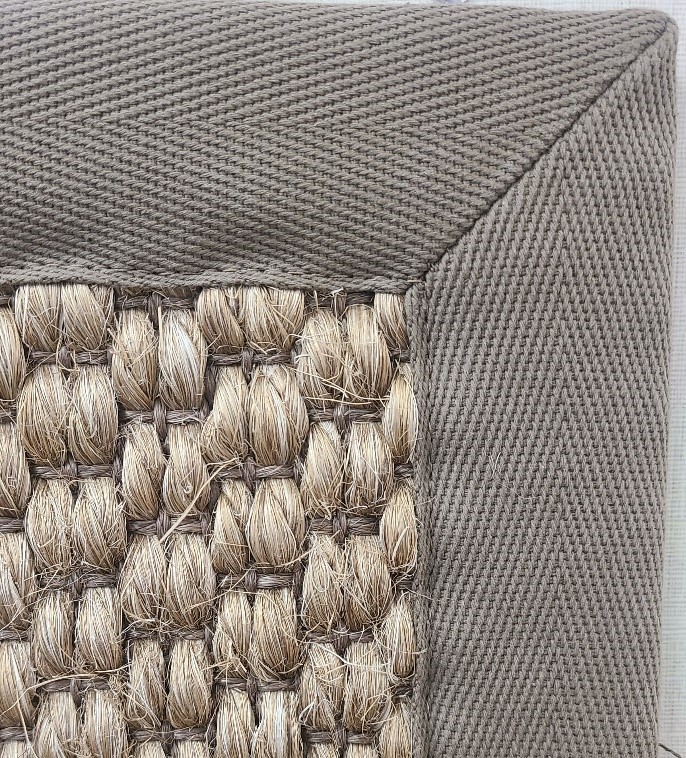 Other Wide Binding Options
In addition to cotton, you can select from Jute, Linen, or Leather binding options that each offers a range of colors.
Wide binding with a mitered edge is the preferred option as it is more visually pleasing than the folded option we will discuss below.
Another nice way to add a little more of a pop with the wide or narrow binding is to finish it off with decorative nail heads as you see in the second installation photo above.
Narrow Cotton Binding – 1"
Narrow cotton binding is usually available between 1"- 1-½" wide on the face of the carpet. (On the face means what is visible to the eye.)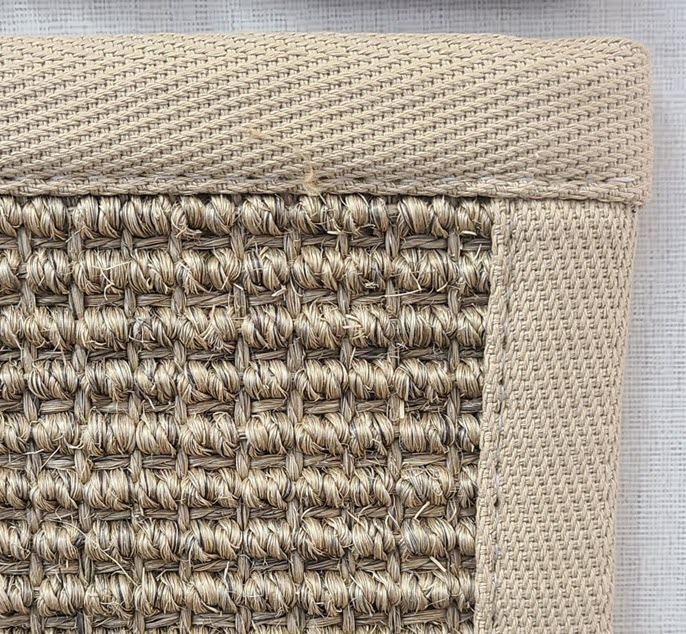 This option is the narrowest option possible if you'd like a fabric border.
In the above picture, you will see a folded corner as opposed to the mitered edge we saw with the wide binding. At Floor Decor Design Center, we are able to provide mitered or folded corners for the narrow binding – it's whatever style looks and feels right for your home.
Other Custom Rug Resources
Stanton Carpet offers a helpful visualizer that includes different binding options:
>> CREATE YOUR OWN RUG USING STANTON CARPET'S CUSTOM RUG VISUALIZER
If you're looking for additional resources related to area rugs and runners for your hallways or stairs, you'll want to check through these:
>> WATERFALL VS. HOLLYWOOD STAIR RUNNERS
>> LOOKING FOR THE PERFECT SIZED CUSTOM RUG FOR YOUR HOME? WE HAVE IT!
>> A STAIR RUNNER PRICING GUIDE
>> WHAT IS THE BEST CARPET FOR STAIRS?
READY TO CUSTOMIZE Custom Rug with Binding options?
If you're ready to customize your rug and runners with binding options, we hope you'll visit Floor Décor Design Center in Orange, Connecticut, or contact us with your questions.
You can also explore the Custom Area Rug Guide.
We look forward to helping you.
Thanks for reading.
Janine & Michael