When you explore hardwood floors at Floor Decor Design Center, you'll find a range of options to fit every budget. The highest-quality options are from Mirage Hardwood Floors. That has to do with the company's intense commitment to quality and sustainability, its manufacturing processes and warranty, not to mention its dazzling new product introductions.
Ready to learn more? In this article, we'll explain what makes Mirage stand out and show you a few of Mirage's beautiful products.
Meet Mirage Hardwood Floors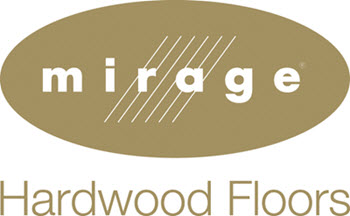 Our customers are big fans of Mirage Hardwood Floors. Mirage takes seriously its commitment to creating the world's best hardwood floors that you will forever cherish and appreciate because of the value it adds to your home.
In 1983, company owner Pierre Thabet purchased Boa-Franc and implemented continuous improvement practices that make Mirage products the ultimate North American hardwood product to have in your home.
That level of product quality ensures a consistently uniform, stable, durable, and long-lasting hardwood product.
In recognition, Mirage has received numerous awards for excellence based on surveys and feedback from flooring dealers across North America, not to mention the Canada Awards for Excellence (CAE), which is the highest level of recognition an organization can receive in Canada.
All Mirage floors are produced in North America using only the finest quality hardwood from certified, responsibly managed forests. Mirage actively supports sustainability.
Mirage Floors Hardwood Products
Mirage added two new textures, Brushed and Engraved, to its Admiration Collection. These two new textures are available with the Admiration Collection's highly popular Charcoal, Rio, Savanna, and Isla colors.
Combined with Mirage's DuraMatt finish, these new textured colors add richness to any room and help create an evocative, original space.
And as always, Mirage's DuraMatt finish recreates the look of an oiled floor without the hassles of maintenance and regular oil application. The silky matte finish lets the wood's natural beauty shine through, in addition to being incredibly long-lasting and resistant.
According to Brad Williams, VP of Sales and Marketing at Boa-Franc, makers of the Mirage brand:
"The new textures in the Admiration Collection are a real breath of fresh air. Consumers looking for modern flooring that suits their lifestyle will love them—and so will architects and designers. We've combined the new textures and DuraMatt finish with some of our most popular colors from the Admiration Collection to create bolder, more inspiring, vibrant floors."
Let's explore these new textures in more detail.
Brushed Finished Red Oaks
The new textured Oak surface is brushed so it conceals everyday scuffs and marks, making it the perfect choice for today's busy families. Here you see it featured with three Admiration Collection products.
1. Red Oak Rio Brushed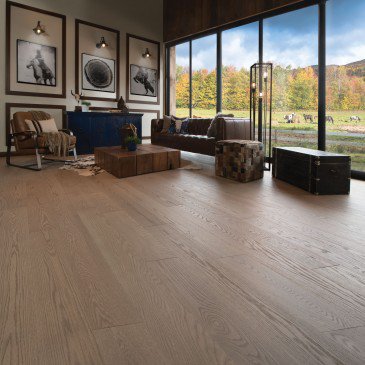 2. Red Oak Charcoal Brushed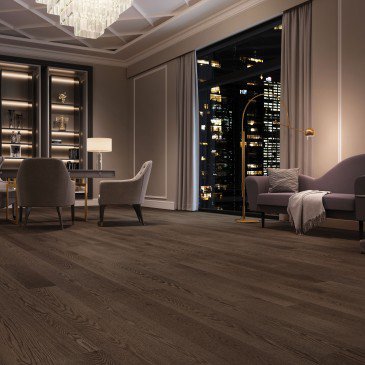 3. Red Oak Savannah Brushed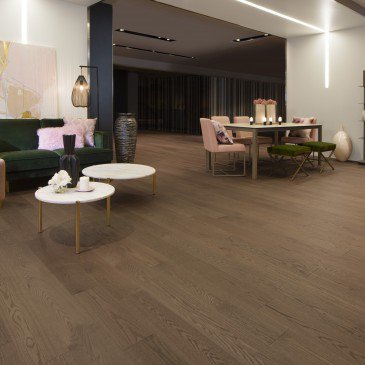 New Engraved Finish Maple Wood Floors
The slightly bolder Engraved Maple surface features color and texture variations which add a distinctive look to the floor. Here are two products featuring the Engraved finish.
1. Maple Rio Engraved

2. Maple Charcoal Engraved

Other Mirage Wood Flooring Introductions
Mirage is known for stunning wood flooring collections. Other products for you to consider include the Sweet Memories and Flair collections to which Mirage added colors.
Introduction to the Flair Collection
The Flair Collection features the natural grace and character of wood. You'll notice subtle earth tones in harmony with the matte surface.
White Oak Character Lunar Eclipse
With its shades of brown, black highlights, and warm touches of beige, the versatile Lunar Eclipse will stand the test of time for decades without losing its original charm. This floor has strong color variations that let the natural beauty of the wood shine through.
This product has a brushed finish.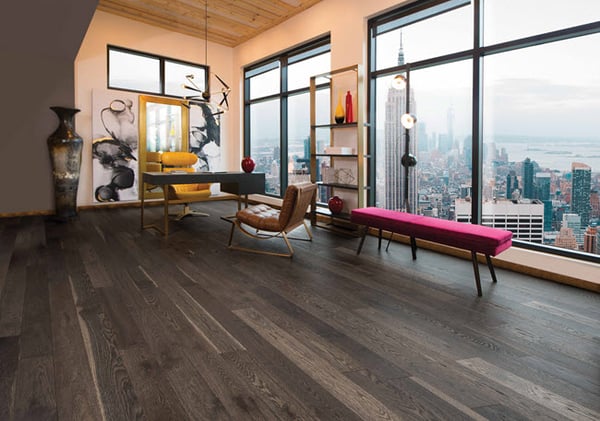 Introductions to the Sweet Memories Collection
With the Sweet Memories Collection, Mirage has created floors with the charm of yesteryear. That includes subtle variations, knots, cracks, and other natural characteristics that provide authentic character.
The Sweet Memories products include four colors:
White Oak Character Bubble Bath
Bubble Bath features pearly tones. It exudes a feeling of peace and tranquility perfect for minimalist decors.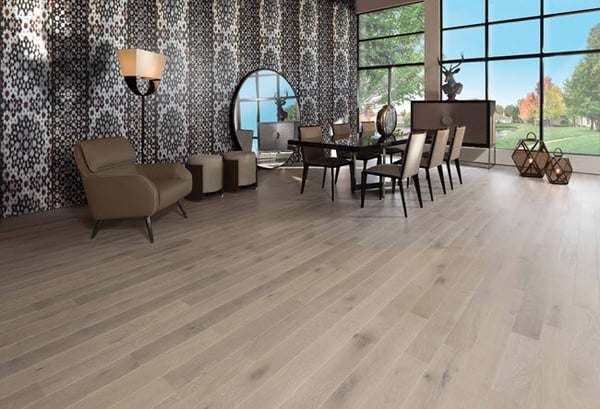 White Oak Character Hula Hoop
Hula Hoop is a rich and natural beige and recalls the charm of old floors while adding a modern touch.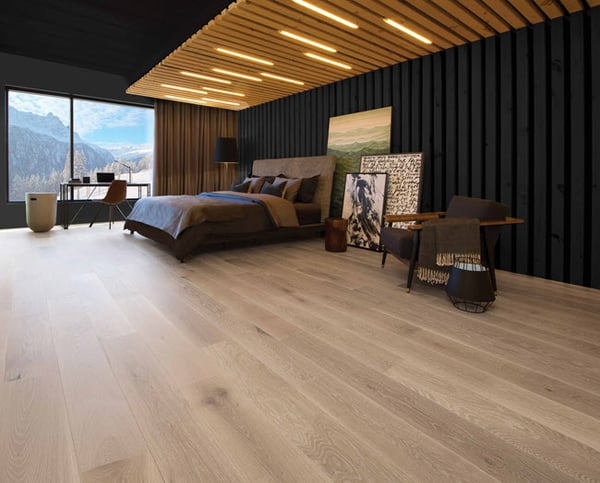 White Oak Character Sand Castle
Sandy Castle is a sandy brown that looks like it was scooped straight from a desert sand dune.
White Oak Character Roller Coaster
In Roller Coaster, you'll notice flecks of woody brown highlights in this gray shade.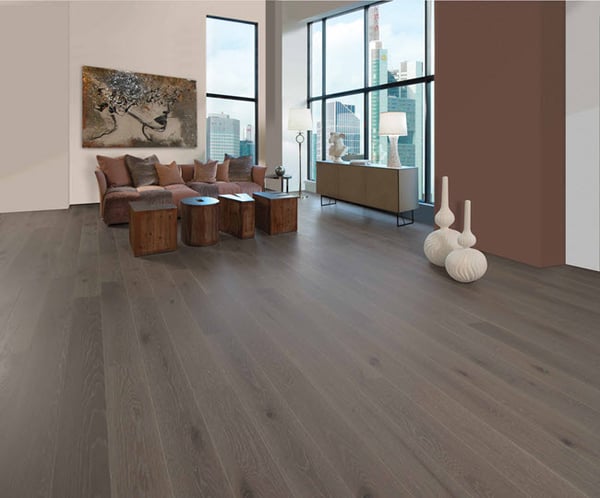 THE MIRAGE HARDWOOD FLOORS WARRANTY
Mirage offers a lifetime limited structural warranty on all its floors. That means your floor will stay beautiful for generations to come.
It also offers a 35-year warranty against wear of finish for residential applications and a 3-year warranty against wear of finish for light commercial applications.
>> Learn more about the Mirage Wood Flooring warranty.
Mirage Floors Hardwood Versatility
Mirage Hardwood Floors also offers versatility.
Three different hardwood installation options.
Mirage is one of few wood flooring manufacturers to offer three different installation technologies.
That means you can enjoy genuine wood floors in your entire home - solid hardwood for above and on-grade installations, engineered hardwood for above, on, and below-grade with radiant heat, or a locking wood floating floor installation for above, on, and below-grade installations with radiant heat.
Dry sawn hardwood wear layer
Mirage only uses the dry sawn method for the hardwood wear layer of an engineered or lock floor. That's what produces a perfect appearance and superior look.
Extensive product selection
Mirage offers an extensive selection of wood floor colors, widths, and species. We've shown you the new introductions for 2019 We carry solid and engineered selections in 3" and 5" widths in beautiful wood species grain textures and colors.
Floor finishes
You can choose between matte and satin floor finishes.
Pre-finished floors
Mirage floors are pre-finished. That means you won't have to suffer through smelly fumes during installation. That said, Mirage uses hypoallergenic wood finishes that are free of volatile organic compounds (VOCs) and formaldehyde to ensure your surroundings remain healthy for you and your family for as long as you enjoy Mirage floors.
the Mirage Hardwood Floors Manufacturing Process
Sometimes it helps to see how products are made to understand the role that quality plays. This 11:32 video shows you the Mirage wood flooring manufacturing process. It offers a firsthand perspective on the steps Mirage takes to ensure consistent high quality.

Note from the video that:
Only perfectly milled boards are produced.
Nanotechnology-based finishes make Mirage floors the most wear-resistant in the industry.
Research and development teams test products twice every hour; they run adherence, flexibility, abrasion, and scrub tests on every production shift
Ready to shop Mirage Hardwood floors?
The first step is to browse through the Mirage Floors products showcased on the Floor Decor website.

Then, explore How to Choose the Right Hardwood Floor For Your Home.

When you are ready, we invite you to visit Floor Decor Design Center in Orange or in Middletown, Connecticut at the Galleria Design Center to see what's available.

Or, contact us with your questions.

We look forward to helping you.

Thanks for reading.

Janine & Michael

Note: We originally published this article on April 18, 2018, and have updated it.