Are you familiar with Nourison Wool carpet and rug collections?
Known for luxurious wool styling, Nourison and its Nourtex brand of broadloom carpet and runners offer discerning homeowners distinctive designer styling and luxurious construction enhancements at remarkably affordable price points.
You can now find Nourison wool carpets at Floor Decor Design Center in Orange and Middletown, Connecticut. You'll love the range of pure wool and special wool blend carpet styles that can easily be ordered as custom area rugs, too.
Some Background on Nourison
Nourison started out in 1980 in New York City. Brothers Paul, Alex, and Stephen Peykar founded the company based on their firsthand experience in the retail flooring business. Given the challenges they encountered, they decided to create a wholesale rug and carpet distribution process that offered an exceptional level of service across the entire supply chain, all the way to the stocking dealer. They embraced a simple philosophy:
"We created new merchandising possibilities with reliably programmed collections. We addressed the retailer's greatest concerns: selection and timely delivery."
As a result, they've developed a strong reputation for high quality, excellent service and delivery, and consistently innovative and highly differentiated carpet collections - as you'll soon discover in this article.
Focusing on FIVE Nourison Collections
As you just learned, Nourison has a strong design-focused reputation that is built around collections. We'll focus on five of those broadloom collections and highlight several products so you get a feel for the elegant designer-chic styling you can expect as you explore these carpet and rug products.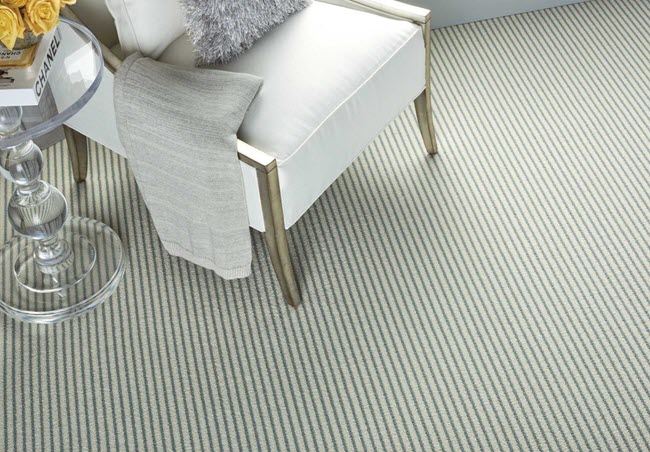 1. Paradiso Carpet
With the introduction of the Paradiso luxury flooring collection in the Orange, Connecticut Floor Decor Design Center showroom, you'll find a stunning selection of Nourison carpet included. You'll love the range of patterns and colors available.
For example, below is Cracked Ice in the color Ripple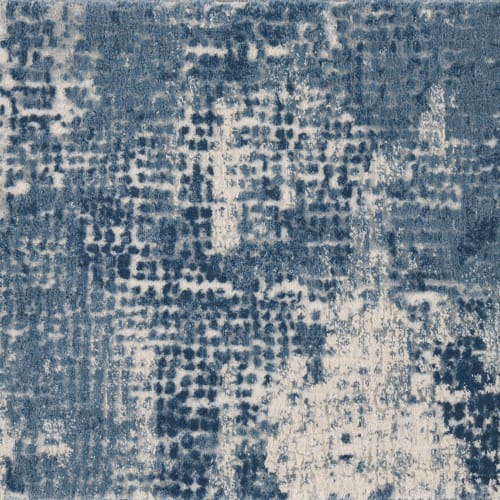 >> See PARADISO LUXURY STONE, TILE, HARDWOOD & CARPET
2. Nourtex Brighton Collection
Brighton Stripe Broadloom
Let's start with stripes. More specifically, here is Brighton Stripe from the Brighton Collection.
This elegant broadloom carpet is 82% wool and 18% Nourlon nylon, making for durability and softness underfoot.
Color options include Clipper, Albatross, Cabana, Osprey, Seabreeze, Dune, Gull, Marina, Seafoam, and Boardwalk.
The room scene above features Seabreeze. Below you see Seafoam, Dune, Seabreeze, Clipper, and Gull.

3. The Pointview Collection from Nourtex
From the Pointview Collection, here are two distinct broadloom carpet styles: Wavepoint and Jewelpoint. These are 20% wool and 80% nylon blends.
Wavepoint Broadloom
No surprise, Wavepoint features a wavy pattern that, depending on the color combination, is more or less vibrant in its movement.
Colorways include Blue Nile, Brush, Denim, Metal, Onyx, Sandstone, and Thatch.
Below, you see Wavepoint in color Brush.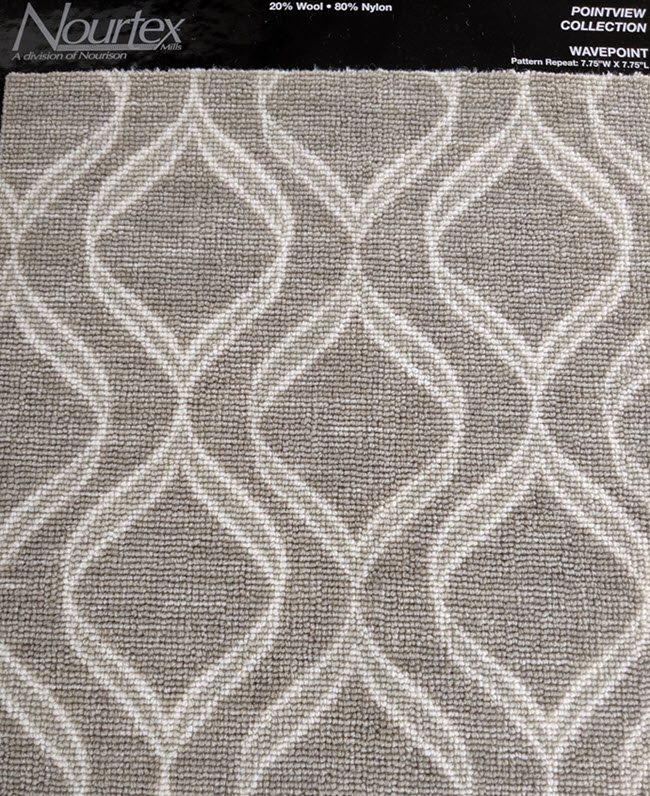 Jewelpoint Broadloom
Next in this collection is Jewelpoint which features a diamond pattern.
Colors include Bluenile, Brush, Denim, Metal, Onyx, Quartzite, and Sandstone. Featured below is Quartzite.

4. The Nourtex Point Pleasant Collection
Nourison describes the Point Pleasant collection as follows:
Featuring highly versatile, understated designs with subtle striations, the Nourtex Point Pleasant Collection of broadloom carpets will slip seamlessly and superbly into any contemporary aesthetic. Heavy boucle construction combined with an innovative dye system creates the luxuriously textured look and feel of a high-end woven carpet with the practicality and affordability of broadloom.
The Point Pleasant Collection consists of the following three styles all constructed of 10% wool and 90% nylon:
Here are two of those.
Point Pleasant Legacy Broadloom
Depending on how you look at Legacy, you see a decorative floral pattern or a geometric pattern resulting from overlapping circles.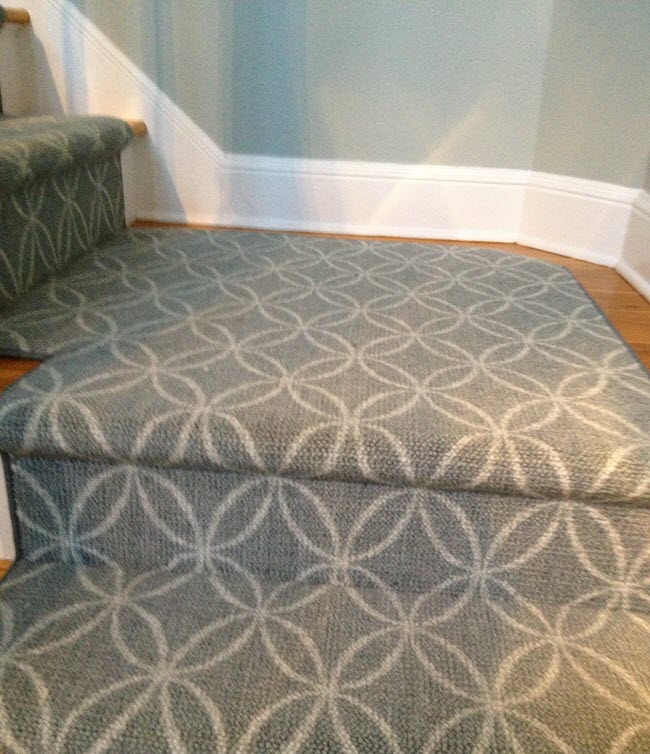 The colors in this style include Ash, Buttercup, Canvas, Denis, Dove, Glacier, and Papyrus.
Above you see the color Dove and below, the color Buttercup.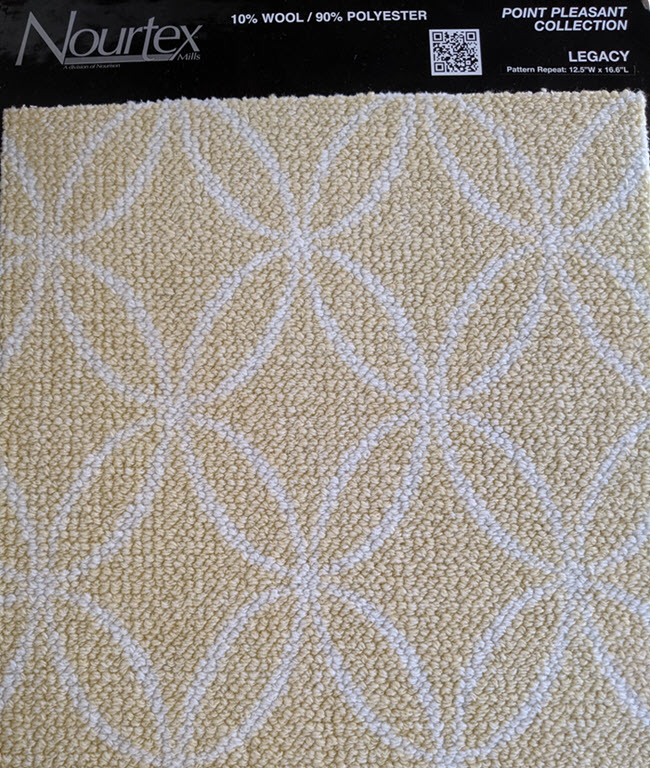 Point Pleasant Lattice Broadloom
Lattice playfully juxtaposes two sizes of a medallion. The colorways include Camel, Dove, Glacier, Ivory/Denim, Ivory/Dove, Lagoon, Marine, Papyrus, Parchment, Pink, Soft Blue, Spring, Spruce, and Storm.
Below you see the color Dove.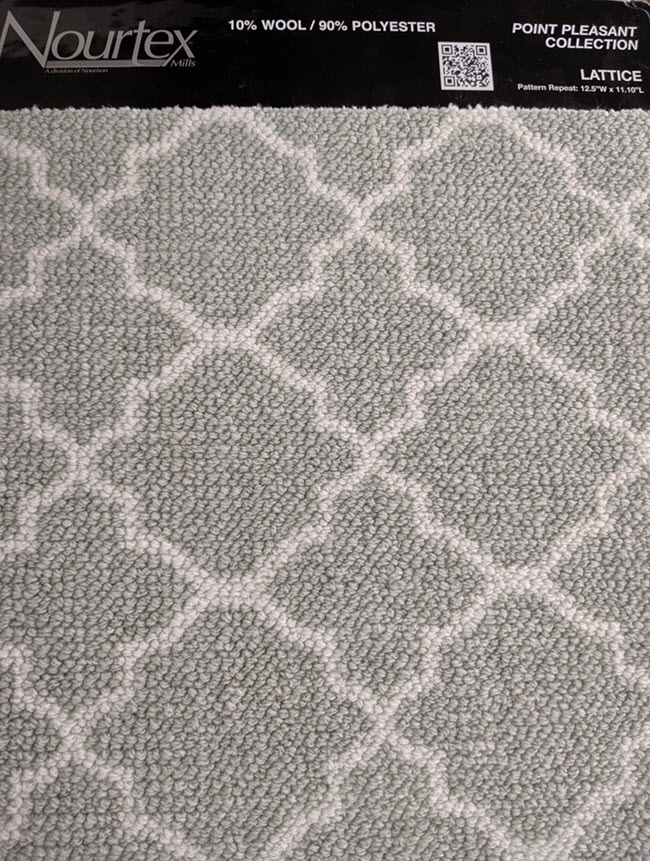 5. The Nourison NatureWeave Collection
This next collection consists of flatweave construction products that can easily be ordered as area rugs. Consisting of 60% New Zealand Wool and 40% Sisal, these products come in rolls that are 13'2" wide and include the following styles:
Naturekey
Natureweave
Rawdom
As Nourison describes the collection,
"Natural beauty and comfort are yours with the elegant simplicity of the Natureweave Collection. This handsome assortment of broadlooms features a classic chevron design in a fashionable palette of warm neutrals. The wool/sisal blend combines two of nature's best fibers."
NatureWeave Naturekey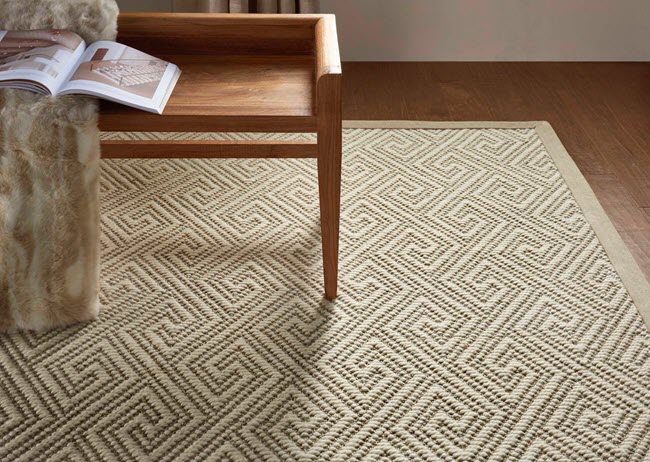 Naturekey consists of a modified Roman key pattern and comes in Ivory/Dove, Ivory/Marble, Ivory/Natural, and Ivory/Sahara, pictured above.
As you can see from the closeup below in the color Ivory/Dove, this pattern lets the wool texture shine. Notice the fabric binding in case you prefer to order this as an area rug.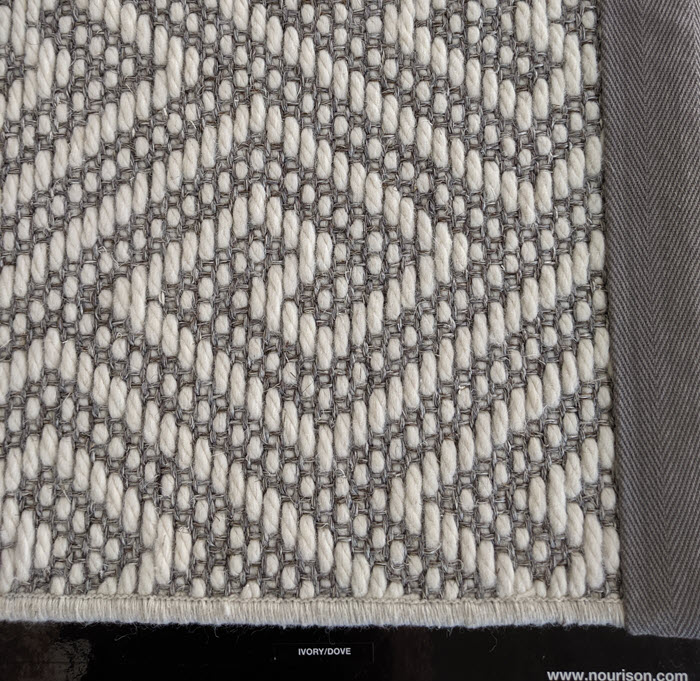 NatureWeave Natweave
As you can see in the image below, Natweave features a zigzag pattern.
It comes in colors Ivory/Dove, Ivory/Marble, Ivory/Natural, and Ivory Sahara. Below you see Ivory/Natural.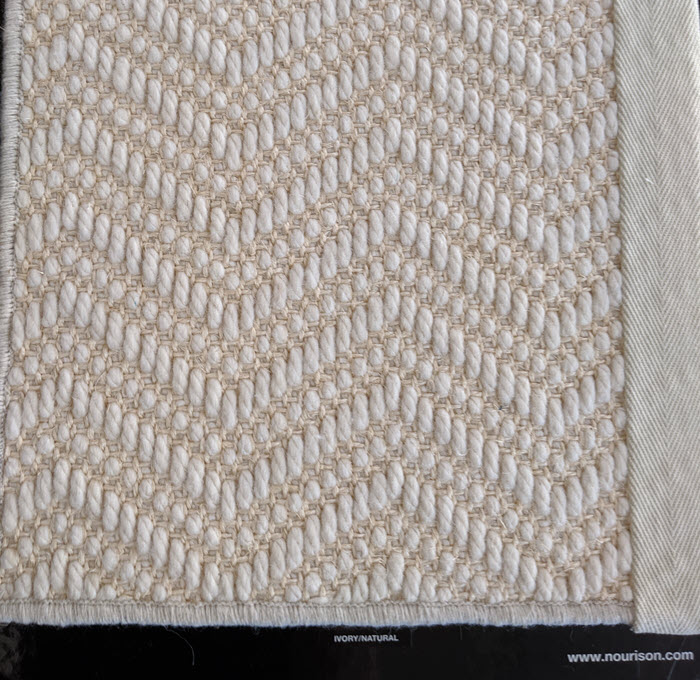 NatureWeave Rawdom
This next pattern features a diamond pattern that comes in Ivory/Dove, Ivory/Marble, Ivory/Natural, and Ivory/Sahara. Below you see the color Ivory/Natural.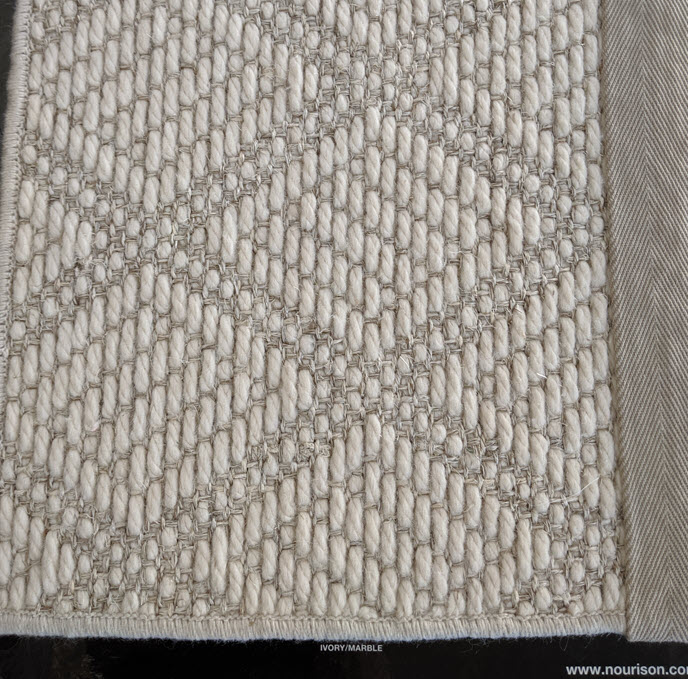 EXPERIENCE Nourison WOOL Rugs and Carpets FOR YOURSELF!
When you visit one of our two showroom locations in Middletown or Orange, you'll be able to experience for yourself these beautiful wool Nourison carpets as well as many other carpet styles.
Let us know of any questions in the comments or contact us.
We look forward to helping you.
Thanks for reading,
Janine & Michael
Note: We originally published this article on 07/31/2019, and have updated it.