Try Couristan Rugs and Carpets For the Ultimate in Style and Luxury

What comes to mind when you think of style and luxury in rugs and carpets? Stunning patterns? Luxurious feel underfoot? Classic and exotic colors? Available for custom area rugs as well as wall-to-wall installations?
You'll find all that and more with the Couristan carpet collection now available at Floor Decor Design Center.
Are you familiar with Couristan Rugs & Carpets?
Couristan started out in 1926 as a direct importing business specializing in fine handmade rugs from Persia. The Couri brothers evolved the family business to include not just imports from other countries, but also its own high-quality manufactured products.
According to Couristan's company profile page,
"Styles range from classic Oriental and Persian designs, casual-contemporary, indoor/outdoor, transitional, and eco-friendly choices that offer distinctive textures. Construction capabilities include but are not limited to Axminster, Wiltons, Hand-Loomed, Tufted and Structured Flatweaves with most available in multiple surface appearances and textures."
The combination of global style awareness and the ability to construct such a range of carpet styles means that Couristan has embraced color, design, and pattern to deliver trendsetting flooring looks that consumers like you desire. As Chairman George Couri explains,
"Consumers are no longer looking at carpet as a functional floor covering, but as a way to enhance the beauty of their home and to help communicate a unique sense of personality and style. The unparalleled breadth of designs, colors, and textures offered in our residential carpet assortment is a reflection of the importance we place on color forecasting, design, and construction analysis, as well as our ability to globally source the best products at the best prices for the consumer."
Couristan at Floor Decor Design Center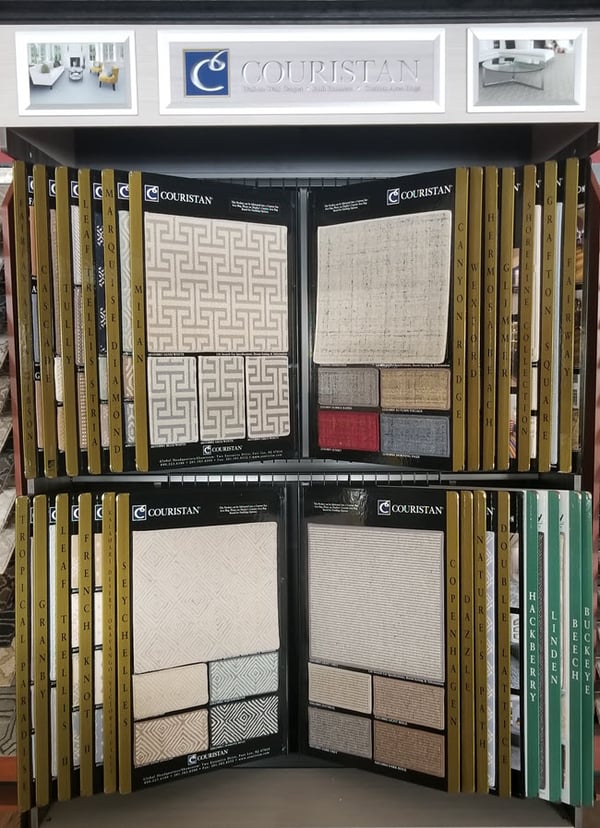 When you next visit Floor Decor Design Center in Orange, Connecticut, you'll have the opportunity to experience firsthand the beautiful selection of 28 luxuriously stylish Couristan products now available in wool and wool blends.
And every single style can be made into a custom area rug.
The Benefits of Wool Rugs and Carpet
Our customers love wool because wool is inherently flame-resistant, stain-resistant, and resilient. It's also a non-allergenic fiber that doesn't promote the growth of bacteria or dust mites or give off chemical emissions. No wonder it has been used for centuries as a floor covering!
Here are more details on the properties of wool:
Naturally Flame Retardant
Wool fibers will not support combustion, are difficult to ignite, and are self-extinguishable. That's because the fiber has a high moisture content and protein constituents that provide excellent natural flame resistance.
Naturally Stain Resistant
Have you ever wondered why, when you see sheep out in the rain, they aren't drowned in water?
A thin protective membrane covers the surface of wool fiber and allows wool the ability to shed water. It also prevents water from readily penetrating the individual fibers.
Naturally Resilient
Each wool fiber can stretch up to 30% more than its original length and bound back. That's because the fiber has a three-dimensional spiraling crimp - the equivalent of a miniature spring - that gives wool natural elasticity.
A Detailed Look at Five Couristan Styles
So, let's look at five of these Couristan carpet styles in more detail.
Grafton Square Carpet from Couristan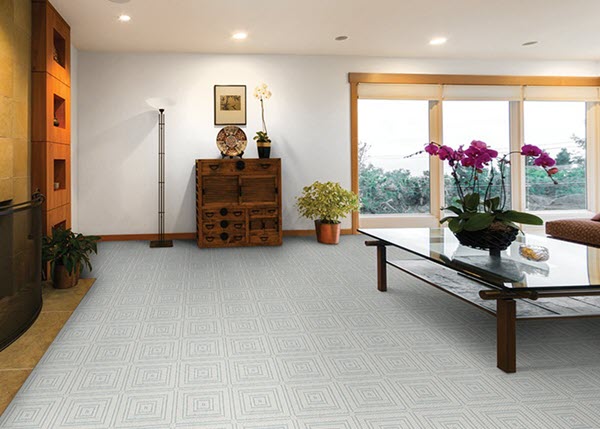 Grafton Square is a 65% Wool, 35% Tencel blend in a Woven Wilton Loop Pile carpet. As the name suggests, the pattern features a square.
This style is 13'2" or 4-meters wide and repeats every 9.25" W x 10" L in a Straight Match.
Colors include White Sand, Antique Beige, Warm Taupe, Dusk Blue, and Pearl Grey.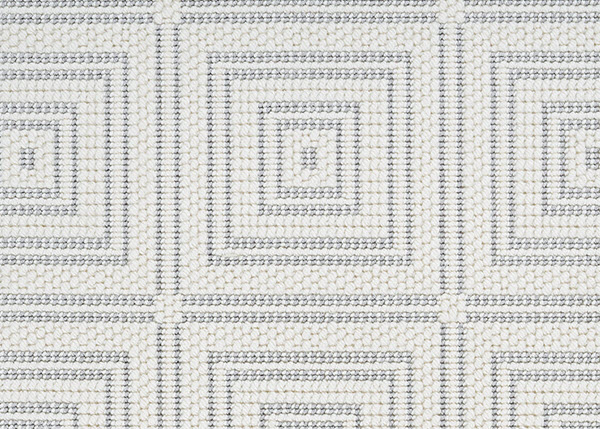 Here is how Couristan describes this carpet style:
Designed to brighten the appearance of any interior with its clean and uncluttered appearance and inviting palette of soft, yet strong, neutral pastel color combinations, Grafton Square will serve as the perfect decorating solution for the floors of those living spaces in the home that are dressed in today's most popular casual home furnishings.
Woven of a unique blend of 65% wool for superior comfort and durability and 35% Tencel to enhance the appearance of Grafton Square's warm and inviting pastel color combinations, the simplistic nature and classic charm that is captured within this quality Wilton loop pile carpet's structured block pattern has been cleverly balanced to add dimension and spaciousness to your interior.
Available in a 13'2" width for complete decorating flexibility, the distinctive, yet subtle textured appearance of Grafton Square's soft, luxurious pile offers an appeal that is universal, allowing this quality residential carpet to perform in a variety of interiors, including summer homes, casual dens and those special living spaces that provide a strong sense of comfort and hospitality.
Couristan's Classic Milan

Milan is 100% pure wool in a woven Wilton Loop Pile. Available in Blue-White, Sage-White, Sand-White, and Grey White, Milan comes in a width of 13' in a 5.20" W x 5.90" L Straight Match repeat.
As you can see from the close-up below, the look is classic with its Greek Key geometric pattern, yet also contemporary with the color contrasts.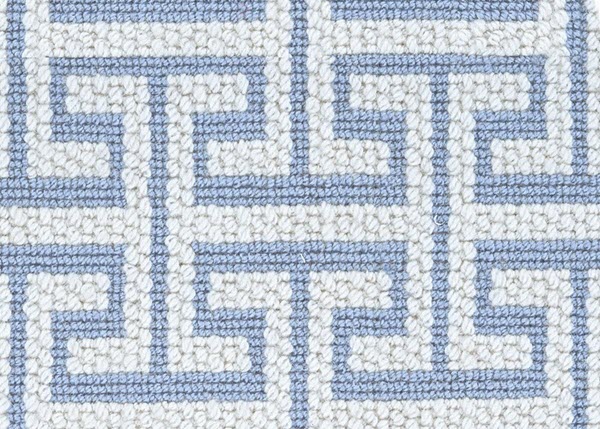 Couristan romances Milan as follows,
Styled to provide balance, added dimension, and personality to any setting, Milan is a quality residential carpet designed to make any space feel like home.
Featuring a Greek Key geometric pattern, this sophisticated wall-to-wall floor covering can add incredible flair to an interior. Available in a selection of four soft colorways, Blue-White, Sage-White, Sand-White, and Grey-White, Milan provides a versatile foundation that works well with almost any decor, including both modern and classic.
Milan's high-quality woven Wilton construction and 100% pure wool loop pile create an enduring, long-wearing surface that can accommodate the needs of an active household. Easy to clean and naturally resistant to stains, wool is a practical fiber choice for carpeting used in living rooms, dining rooms, or master bedrooms.
Stocked generously 13' wide, Milan's soft textured underfoot surface and soothing palette will provide a delightful sense of luxury. Elegantly designed and practical, this timelessly chic foundation is as durable as it is decorative, making this carpet a must-have for your favorite luxe spaces.
Seychelles Carpet from Couristan Rugs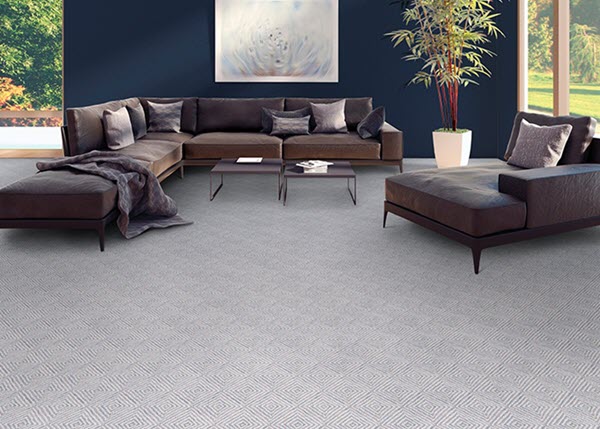 Seychelles is a gorgeous Hand-Tufted Loop Pile in 100% Pure Wool. It comes in a width of 15' and a 5.9" W x 5.9" L Straight Match repeat.
The Seychelles colors include Marine Blue, Aquamarine, Sand Dollar, Oyster Shell, and Starfish.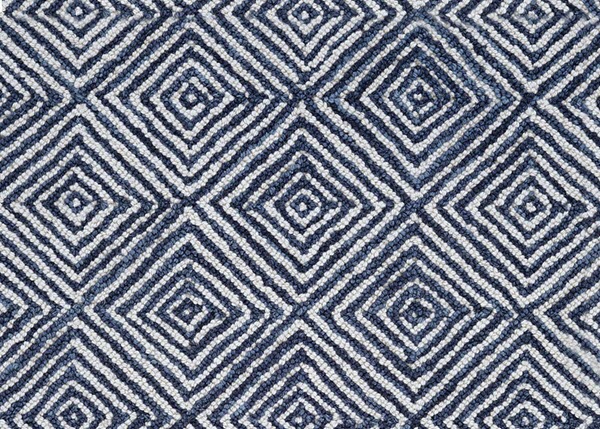 Couristan explains Seychelles as follows,
Revive your interiors with the refreshing look of Seychelles, a quality residential floor covering created to elevate the look of your home and give it a serene feel.
Crafted in a repeating two-toned contrasting diamond design and hand-tufted in a structured loop pile for added texture, Seychelles brings energy and effortless creativity to any room. Ideal for high-traffic areas, this patterned and timeless beauty can offer dramatic effects on stairs, as well as make a wonderful addition to family rooms, living rooms, and entrances that you want to enhance.
Its peaceful colorways of Marine Blue, Aquamarine, Sand Dollar, Oyster Shell, and Starfish, are also colors that usually work well in bedrooms and studies, where peace and tranquility are much-needed.
Seychelles is available in a 15' width for complete decorating flexibility and woven of 100% pure durable and resilient wool. Wool carpets are naturally stain-resistant and easy to care for while providing for a soft, opulent pile. Make every day feel like a private island getaway with the laid-back luxury of Seychelles.
Canyon Ridge Carpet from Couristan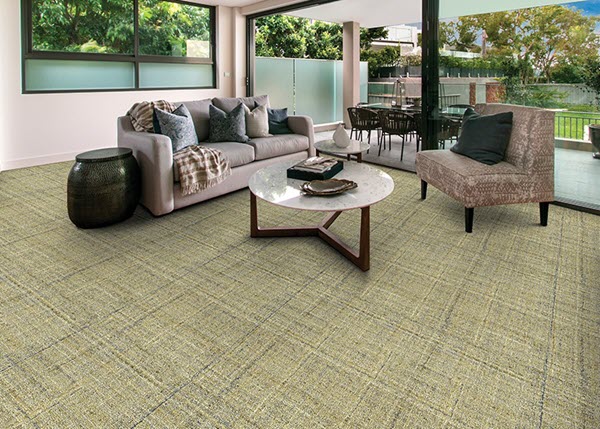 Canyon Ridge, a 100% pure wool carpet hand-tufted loop pile, comes in a 15' width. The pattern repeat is random in both the width and the length.
The colors include Sunset, Morning Haze, Sandstone, Autumn Foliage, and Marble Rapids.
Above you see Autumn Foliage and below Marble Rapids and Sunset.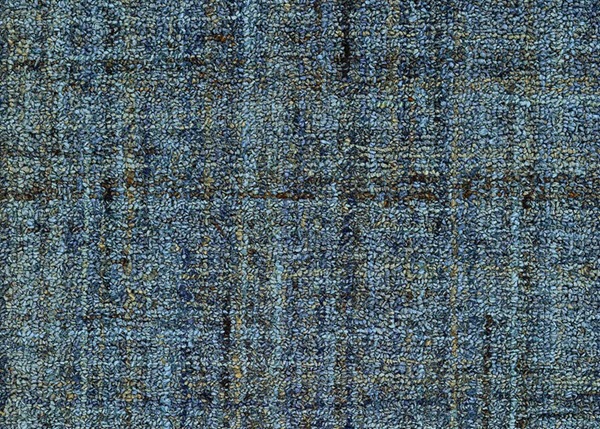 As Couristan explains,
Create a lively yet casual feel in your home with Canyon Ridge, a quality residential carpet created using pleasing color combinations with a subtle pattern that will energize your space.
Allowing you to step outside your comfort zone and go beyond neutral, with colorways like Sunset, Morning Haze, and Marble Rapids, this wall-to-wall floor covering makes it much easier to introduce color into large spaces like living rooms, family rooms, and bedrooms. But for decorators who want something more toned down, Canyon Ridge is also available in softer colorways like Sandstone and Autumn Foliage, a palette for every taste.
Featuring a sumptuous hand-tufted loop pile that is constructed of 100% pure wool, Canyon Ridge gives home decorators peace of mind that their investment will last for years to come.
Durable and resilient, wool carpets are naturally stain-resistant and easy to care for. An added bonus, wool is hypo-allergenic and helps to purify indoor air emissions. With all of these inherent benefits, the hardest choice will be deciding which color to select. Stocked 15' wide for a seamless installation, Canyon Ridge is guaranteed to tie your desired space together in the most fashionable way.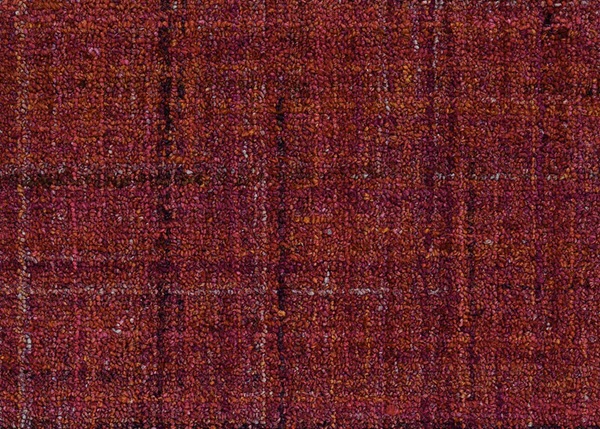 Morgan from Couristan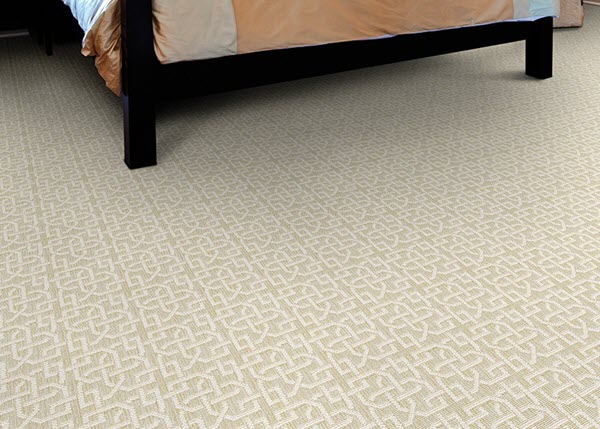 Morgan is a 100% Pure Wool Woven Wilton Loop Pile carpet in a width of 13'2" (4 Meters). The repeat is 5.09" W x 6.14" L in a Straight Match.
Colors include Khaki, Spruce, Natural (shown in the images), Silver, and Charcoal.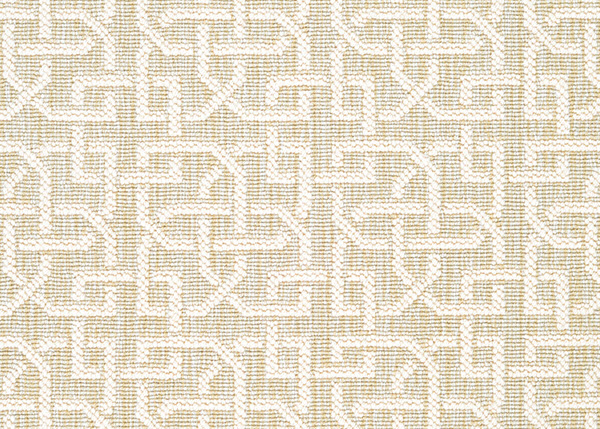 According to Couristan,
Offering a handsome look within its carefully-scaled, interlocking geometric pattern, Morgan by Couristan has been designed to provide a strong, yet soft foundation for those settings in the home designed for their sophisticated and uncluttered appearances.
This dynamic, transitional woven Wilton loop pile carpet is a pure delight for bare feet and offers a sense of fashion with its creative use of contrasting colors and modern geometric design elements.
Available in a choice of five soft, modern colors including Charcoal, Khaki, Natural, Silver, and Spruce this style statement for the floor is versatile enough to work in a variety of home interiors. Adding even more detail to Morgan's carefully manicured look, contrasting colors and textures bring together a completely tailored aesthetic.
Woven of 100% pure wool, this luxury floor covering offers absolute softness and long-lasting wear. Morgan is generously stocked 13'2" wide to accommodate spaces of virtually any size and ensure an upscale installation with minimal seams.
The Couristan Rug Program
As a reminder, all of the Couristan carpet styles can be fabricated into Custom Sized Area Rugs with the following finishing options available:
Bindings in Chenille, Cotton Basketweave, Cotton Fabric, Linen, Genuine Leather and Courtron Polypropylene (For Outdoor/Indoor Usage)

Programmed Borders

Wool and Synthetic Serging

2″ Length Wool Fringe
Luxurious, no?
EXPERIENCE Luxurious Couristan Rugs and CArpet FOR YOURSELF!
These are but five of the styles you'll find in the Couristan display. For that reason, we invite you to visit one of our two showroom locations in Middletown or Orange, so you can experience for yourself the Couristan carpet collection, as well as many other carpet styles.
Let us know of any questions in the comments or contact us.
We look forward to helping you.
Thanks for reading,
Janine & Michael
Note: We originally published this article on 02/27/2019, and have updated it.