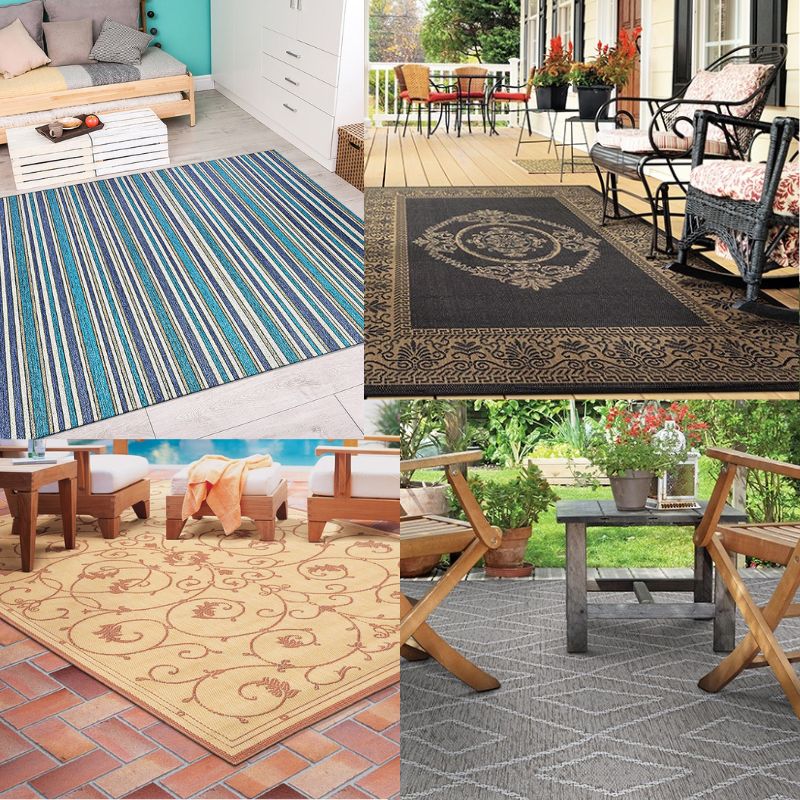 Perhaps you don't think of carpets and rugs for outdoor use. We're here to tell you that you should and you can with indoor/outdoor rugs from Couristan now available at Floor Decor Design Center. Not only will they withstand the elements, but they'll definitely dress up your outdoor living spaces.
Check Out Couristan Indoor/Outdoor Rugs
In Try Couristan Rugs and Carpets for the Ultimate in Style and Luxury, we introduced you to Couristan and its beautiful flooring products.
This collection of indoor/outdoor carpets and rugs is no exception! You'll find a wealth of designs - from classic to traditional, casual, and contemporary - in an array of rug sizes, including round ones.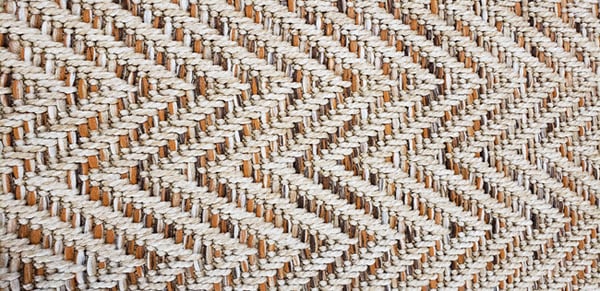 Made with
Courtron™ Polypropylene
In developing its collection of indoor/outdoor rugs, Couristan wanted to blend outdoor performance with indoor style and comfort. The result is a collection woven with the finest 100% Courtron™ polypropylene. Even the backing consists of Courtron rather than jute to ensure that the entire rug is completely water-resistant.
In addition to resisting water, Courtron polypropylene is:
Resistant to fading and deterioration from chemicals
Mold and mildew resistant
Stain resistant
Wear resistant
Furthermore, it can be easily cleaned and generates low levels of static electricity.
You can now add area rugs to your front door, back porch, outdoor lanai area, or pool area to easily add warmth underfoot, style, and design to any space outdoors.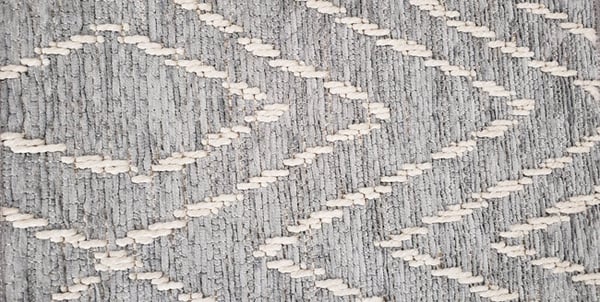 Indoor/Outdoor Rugs that Are Easy to Care For
Vacuum Frequently
Preferably use a vacuum cleaner with rotating brushes and vacuum those spaces with higher use frequently. Although more expensive, rotating brushes are more efficient at removing dust and dirt.
Quickly Remove Stains
Always remove stains as quickly as possible. You'll find detailed instructions for dealing with specific types of rug stains from Couristan.com.
Professionally Clean Your Rugs on a Regular Basis
Regular professional cleaning will preserve the quality and performance of your indoor/outdoor rug. You have three options:
Extraction Cleaning
Powder Cleaning
Shampooing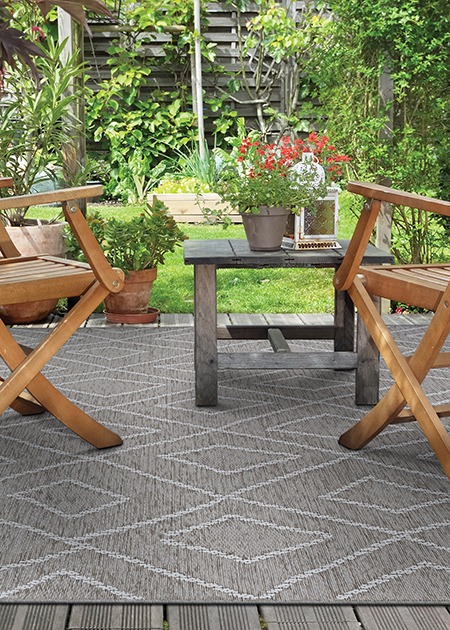 How to Choose Your Outdoor Area Rug SIZE OR SHAPE?
Selecting an area rug for an outdoor space is no different from doing so for a room inside your home.
Measure the outdoor space
Be aware of doors, pillars, fireplaces, and cooking areas
Couristan offers this advice:
Always consider special shapes such as rounds, squares, and octagons when it comes to surrounding your outdoor furniture. As an example, a round patio or decking table may look appropriate with a round-shaped area rug below it.
As with indoor area rugs, generally, your area rug should be at least 2 feet wider than the table on all sides.
When considering using an outdoor hand-hooked area rug with a thicker surface pile, leave enough space so that the area rug extends beyond the back legs of a chair when your guests are seated. This is critical as your chairs may wobble on an uneven surface.
Couristan's Indoor/OutDoor rugs at Floor Decor Design Center
Couristan's stunning indoor/outdoor display features a Structured Flatwoven Construction made of 100% Fiber-Enhanced Courtron Polypropylene for enhanced performance outdoors. Power-loomed in Belgium, these rugs have a soft textured surface that has been UV Stabilized for strong color retention. They are water and mold/mildew resistant.
Stocked in a 13'2" width for ease of installation, these indoor/outdoor carpets can be fabricated into a custom-size area rug using our selection of 100% Courtron™ polypropylene, UV stabilized binding tapes, or synthetic serging.
A Detailed Look at Four Indoor/Outdoor Rugs
So, let's look at four of these Indoor/Outdoor Couristan carpet styles in more detail.
Cascade Serenity Blue from Couristan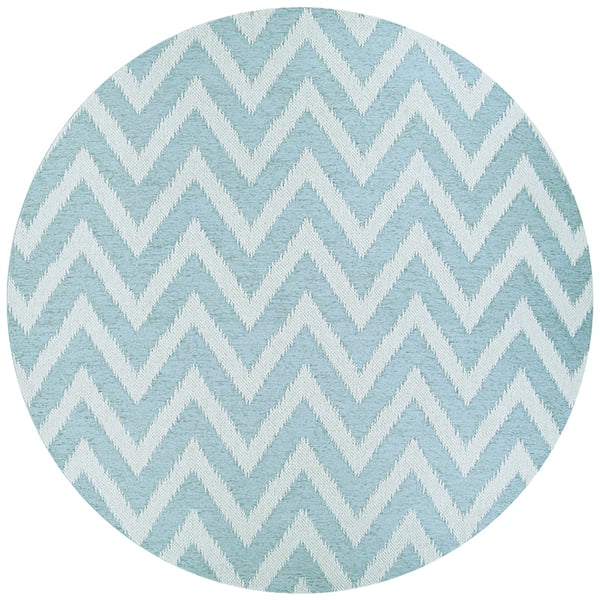 This rug style is available in the following sizes (note that these are approximate with fringe):
2'2" x 4'3"
3'9" x 5'6"
5'1" x 7'6"
6'4" x 9'6"
7'7"x 10'9"
2'6" x 7'6" Runner
Round - 7'10"
Colors include Ash, Herb Green, and Serenity Blue (shown above).
Cascade is part of the Timber Collection which Couristan describes as follows:
"Inspired by the beauty of nature, Couristan presents the chic multi-purpose Timber Collection.
Timber comes in an array of fresh natural tones such as Ash, Wheat, Serenity Blue, and Herb Green, these soothing colors evoke a sense of sanctuary amid our busy, always-on lives. This earthy palette complements most of today's popular home furnishings, whether it be indoor or outdoor settings.
Power-loomed in Belgium of 66% Courtron polypropylene, 22% polyester, and 12% polyester-cotton, this fashion-forward face-to-face Wilton woven collection features over-tufted yarns creating the truly unique patterns and textured appearance found in each of these transitional designs. Timber is specifically designed to withstand outdoor elements making the entire collection mold and mildew-resistant and UV-stabilized to ensure each color retains its vibrancy after exposure to the sun and other weather conditions. Durable enough for today's most active spaces, Timber area rugs are the perfect accessory to decorate both inside or outside of your home and bring a natural aesthetic that inspires comfort and relaxation."
Brockton Cobalt-Teal Indoor/Outdoor Rug

Brockton features stunning colors! You'll find it available in Purple-Multi, Light Brown-Ivory as well as Cobalt-Teal, pictured above.
It comes in the following sizes:
2' x 3'7"
3'11" x 5'6"
5'3" x 7'6"
6'6" x 9'6"
7'10" x 10'9"
2'3" x 7'10" Runner
2'3" x 11'9" Runner
Brockton belongs to the Cape Collection which Couristan describes as follows:
"Offering a simple decorating solution for open-air living spaces, the Cape Collection features a subtle, yet sophisticated range of colors that were selected to enhance the appearance of its three, refined linear horizontal patterns. Crafted of the finest 100% fiber-enhanced Courtron™ polypropylene, this weather-resistant, outdoor/indoor performance area rug collection features a high-low structured flat weave construction for added dimension and durability.
Perfect for stylish sunrooms, lively patios and those outdoor living spaces that are designed for entertaining, Cape's full range of transitional design choices has the ability to complement the latest fashions in outdoor and casual indoor furniture.
Hosting a wide range of decorating possibilities, these outdoor/indoor area rugs are not only mildew and mold resistant. They're UV stabilized so they will show no signs of fading or deterioration, even after months of exposure to the outdoors. Offering the perfect outdoor floor covering solution for your home, the Cape Collection takes outdoor/indoor area rugs to a new level of sophistication that will blend effortlessly with any style of home, patio, or decking furniture pieces."
Veranda in Natural-Terra-Cotta from Couristan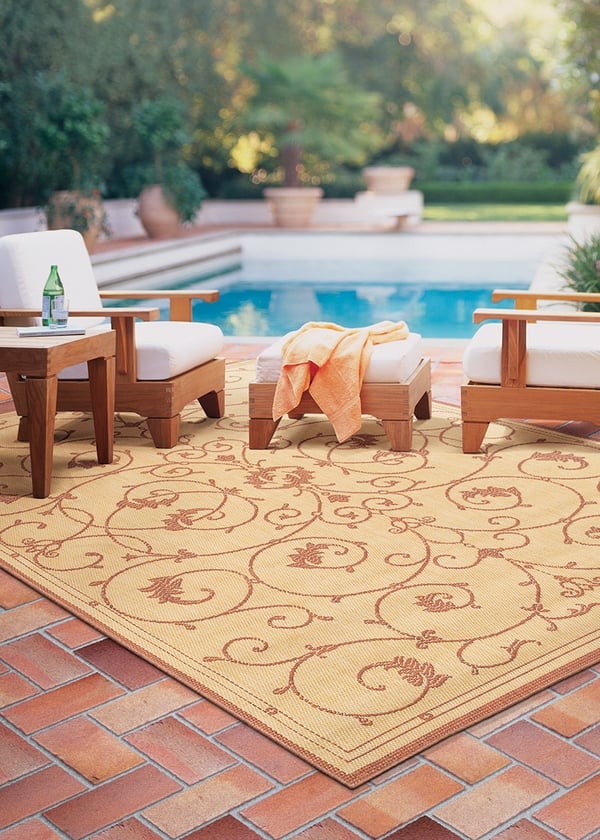 Veranda features a more classic design. In addition to Natural-Terra-Cotta pictured above, you have Champagne-Blue and Champagne-Taupe to choose from in the following sizes:
2' x 3'7"
3'9" x 5'5"
5'3" x 7'6"
5'10" x 9'2"
7'6" x 10'9"
8'6" x 13'
2'3" x 7'10" Runner
2'3" x 11'9" Runner
Furthermore, you have coordinates in 7'6" round and square and in 8'6" square.
This style belongs to the Recife Collection:
"Distinctively designed to complement the simple yet classic styling of outdoor furniture, uniquely colored to make stone entryways and patio decks warmer and more inviting, Couristan is proud to expand its popular outdoor/indoor area rug collection, Recife.
Power-loomed of 100% fiber-enhanced Courtron polypropylene, this all-weather, pet-friendly, mold and mildew-resistant area rug collection features a durable structured, flatwoven construction, which allows it to be suitable for indoor and outdoor use.
The naturally inspired color palette offered in this versatile collection features a series of unique combinations of natural hues that have been selected to complement today's hottest outdoor home furnishings. Hosting a wide range of sizes including runners and special shapes in the form of rounds and squares, the Recife Collection has been designed to offer the perfect outdoor floor covering solution for the home."
Antique Medallion in Black-Cocoa
This next style is also part of the Recife Collection: Antique Medallion in Black-Cocoa.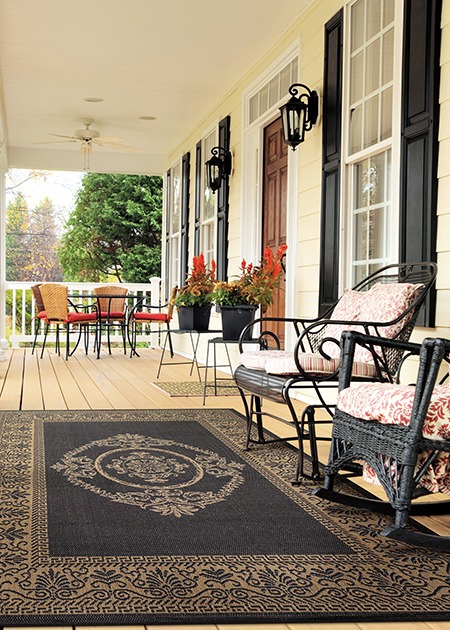 Other colors include Champagne-Blue and Grey-White. Sizes include:
2' x 3'7"
3'9" x 5'5"
5'3" x 7'6"
5'10" x 9'2"
7'6" x 10'9"
8'6" x 13'
2'3" x 7'10" Runner
2'3" x 11'9" Runner
And coordinates: 7'6" round and square and 8'6" square.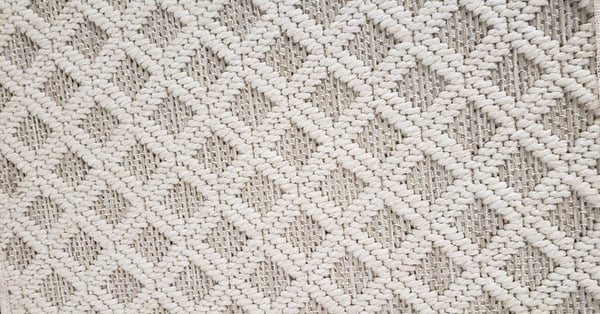 The Couristan Indoor/Outdoor Rug Program
As a reminder, these indoor/outdoor styles can all be fabricated into Custom Sized Area Rugs using Couristan's selection of 100% Courtron™ polypropylene, UV-stabilized binding tapes, or synthetic serging.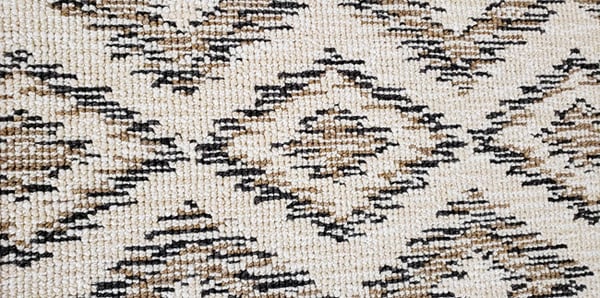 EXPERIENCE Indoor/Outdoor Couristan Rugs FOR YOURSELF!
These are but four of the styles you'll find in the Couristan Indoor/Outdoor display. For that reason, we invite you to visit one of our two showroom locations in Middletown or Orange, so you can experience for yourself the entire collection, as well as many other carpet styles.
Let us know of any questions in the comments or contact us.
We look forward to helping you.
Thanks for reading,
Janine & Michael
Note: We originally published this article on April 3, 2019, and have updated it.