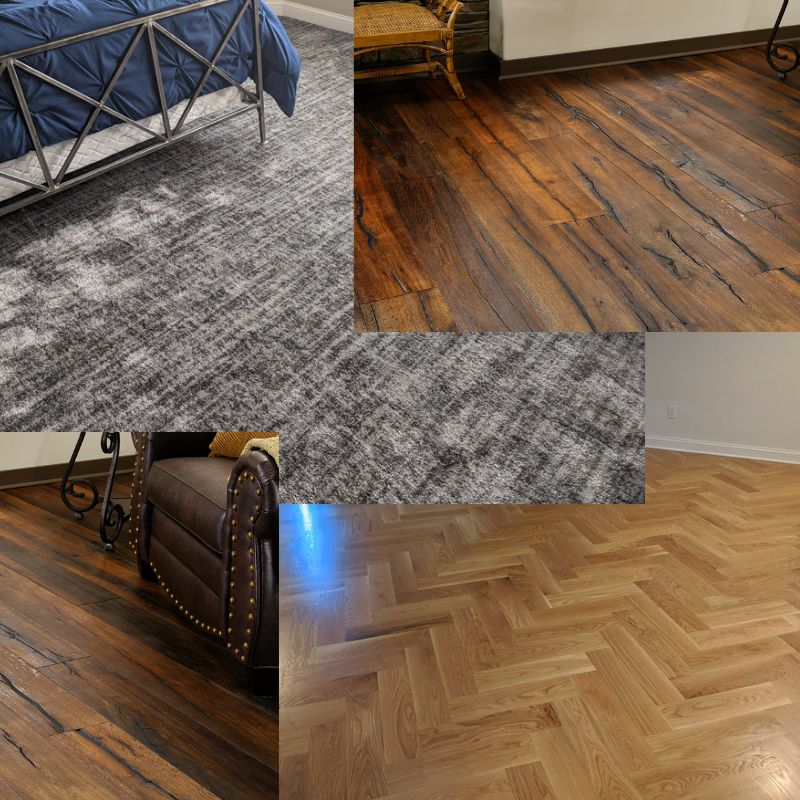 Have you considered making a statement with your flooring design selections? After all, your floors can be a powerful design focal point.
When choosing flooring, you can make your floor something to walk on as well as a statement about your personality and style. So much of your home is flooring and it says a lot about you. Why not make sure the flooring you select not only makes you happy but also matches your personality?
Here are nine examples to inspire you.
9 Flooring Examples That Make a Strong Design Statement
The examples below capture installations we completed in Connecticut. These Floor Decor Design Center customers wanted to make a statement with their flooring selections, and were delighted with the results.
No surprise, they represent several of our favorite flooring installations as they really add personality to the home.
Three Custom Herringbone Hardwood Examples
1. Maple Grey-Toned 5"-Wide Plank Herringbone

Maple Greystone 5" Herringbone
This Connecticut shoreline home with beautiful views of the Long Island Sound opted for the coastal look of grey-tone neutrals in both their floor and paint color.
Our client selected the clean look of maple and wanted a timeless contemporary feel. The solution was a floor installed in a herringbone pattern using Maple Greystone from Mirage in a 5-inch wide plank.
This floor is a winner, along with the floor-to-ceiling windows and the stunning herringbone installation.
>> See FOR THE HIGHEST QUALITY, SELECT MIRAGE HARDWOOD FLOORS
2. Red Oak Site Finished Herringbone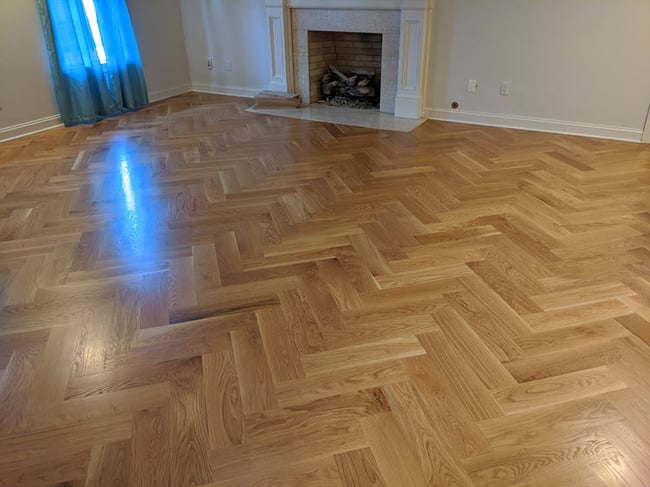 Red Oak Site Finished
This homeowner wanted to make a statement in their master bedroom suite.
Here we installed red oak in a 5" x 24" herringbone pattern, sanded and finished on-site to match the color of the traditional red oak throughout the rest of their home.
A statement maker for sure!
>> PRE-FINISHED VS. SITE-FINISHED HARDWOOD: WHICH IS BETTER?
3. Mirage White Oak Herringbone Pattern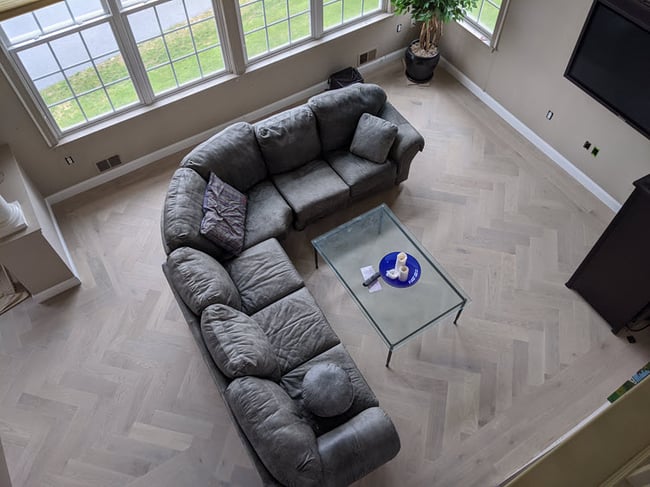 Mirage Flair Collection Color Bubble Bath
This gorgeous Mirage White Oak Herringbone pattern inset with around custom border around the perimeter adds a dramatic effect to this home overlooking the TPC River Highlands home to the PGA Tour in Cromwell CT.
One word describes the floor... breathtaking!
>> PARQUET FLOORING, BORDER INLAYS, FLOOR MEDALLIONS, AND WOOD WALL PANELS FROM OSHKOSH DESIGNS
Two Approaches For Creating Stunning Additional Spaces
1. Abstract Carpet Pattern for a Personalized Theater Statement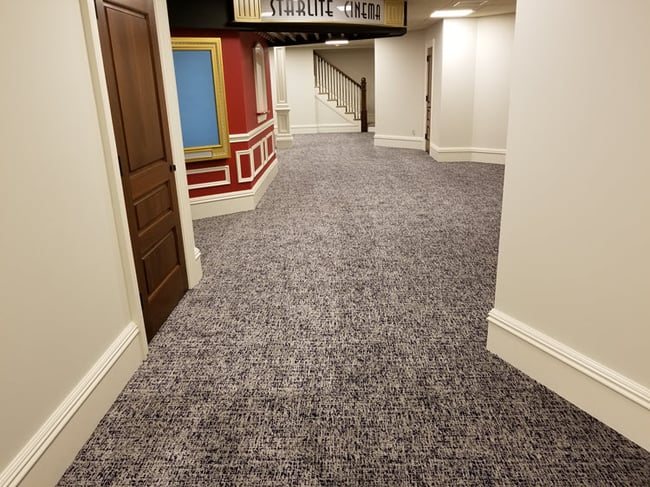 Stanton Carpet Integration Color Marine
Our homeowner wanted to get rid of that "basement-y" feel and created a custom theater room in their basement. Take notice of the "Starlite Cinema" marquee at the top of the photo.
They even created a candy counter and movie theater popcorn maker!
For optimum acoustics, we suggested a beautiful abstract pattern in color Marine from Stanton Carpet. Soft and beautiful this carpet added the finishing touch to a great space.
2. Red Oak Luxury Vinyl Tile Design Makes a Statement in Family Fun Room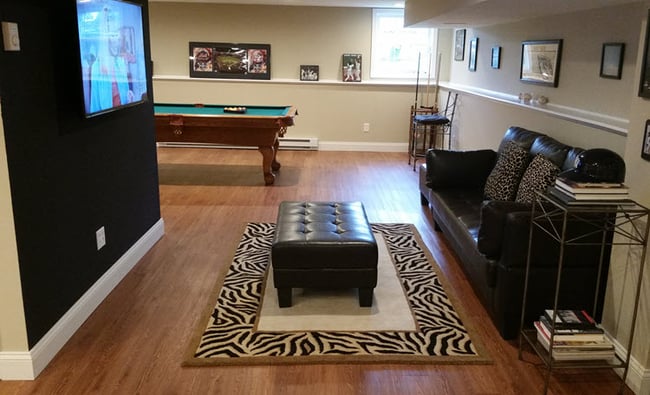 Metroflor Engage Luxury Vinyl Plank
This additional space was created for family fun. It features a pool table on one side, ping pong on the other side, and a large screen TV in the middle to keep everyone busy and happy with everyone spending more time at home.
Here, we opted for waterproof luxury vinyl plank from Metroflor Engage in red oak to coordinate with the red oak hardwood throughout the rest of the home.
What a getaway!
Two Examples of Hardwood Flooring with an Old World Flair
1. Random Width Planks for a Custom Blend and Historic Charm Statement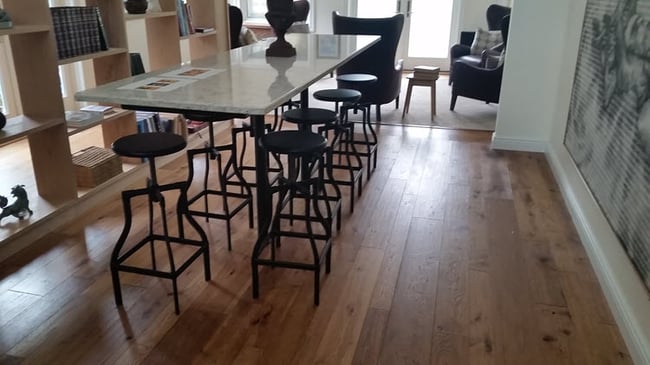 Hallmark Hardwood Monterey Ranchero Hickory
This home located in a quaint sleepy Connecticut town was designed with a historical, European influence making it simply savvy. For the floor, the homeowner opted for Hallmark Hardwood Monterey Ranchero Hickory.
The floor is perfect for today's active families and performs well with kids and pets with its low matte finish.
This collection captures the beauty of nature to create a custom blend with random-width planks.
2. The Look of Reclaimed Hardwood for a Modern-Day Family Room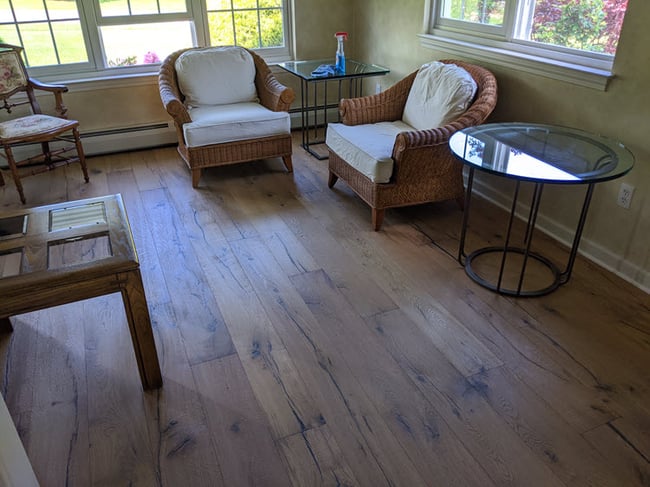 Castle Combe Hardwood Oil Finish Color Chippenham
This homeowner wanted a reclaimed hardwood floor and fell in love with our Castle Combe natural oil finished floor.
With individual boards over 7" wide and over 6' in length, this floor was the perfect choice for their family room. This handcrafted floor is charmingly unique and, with its natural oil finish, will be easy to maintain for years to come.
A real head-turner.
>> BEST OIL FOR WOOD FLOORS? RUBIO MONOCOAT NATURAL FINISH
Two Approaches to Taking Carpet to the Next Level
Patterns in a carpet can provide a rich layer of sophistication and design to any room, and oversized geometrics are one of the design trends that have become increasingly popular in the world of home design.
At Floor Decor, you'll find a wide range of options including geometric patterns, organic patterns, large, and small. If you're looking to create a design that will truly make a statement and make others take notice, you may find just what you're looking for with a patterned carpet.
Here are two examples.
1. Lattice Carpet Pattern for a Sophisticated Statement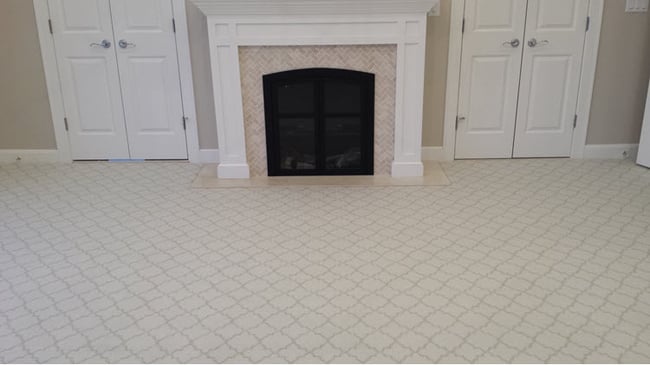 Nourtex Point Pleasant Collection Lattice Color Ivory Dove
This homeowner wanted to create a "5th" wall with this gorgeous Nourtex Point Pleasant Collection Lattice Color Ivory Dove carpet in their master suite.
Adding this kind of chic carpet with its classy pattern is a beautiful way to add color and pattern to the room.
This floor is no longer an afterthought. The subtle pattern adds a calming effect to this large room.
2. Abstract Carpet Pattern for a Modern Design Statement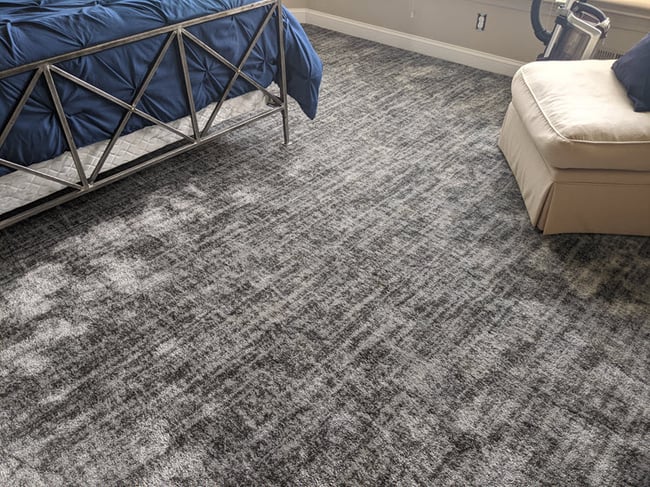 Stanton Dreamscape Color Graphite
This stunning carpet - Stanton Dreamscape Color Graphite - with its abstract pattern adds the perfect blend of comfort with fashion.
It's made with the Royaltron Poly Silk blend of yarns which gives you the best of both worlds... durability and unbelievable softness.
It's the perfect blend for any master suite.
READY TO Make Your Own Flooring Statement?
Have these nine examples inspired you to make your own statement with flooring design?
If yes, we invite you to visit one of our two showroom locations in Middletown or Orange to experience flooring design statement possibilities.
Let us know of any questions in the comments or contact us.
We look forward to helping you.
Thanks for reading,
Janine & Michael