Parquet Flooring, Border Inlays, Floor Medallions and Wood Wall Panels from Oshkosh Designs
Wondering how to make your wood floors - and even your walls - truly unique?
Consider wood parquet flooring, border inlays, floor medallions as well as wall panels. You'll find a wealth of options from Oshkosh Designs when you next visit Floor Decor Design Center in Connecticut. They represent an interesting category that has radically transformed itself to go beyond just wood medallions and border inlays.
In this article, we'll explore what's available and possible.
Discover Parquet Flooring
Parquet has a long and illustrious history. According to Wikipedia,
"Large diagonal squares known as parquet de Versailles were introduced in 1684 as parquet de menuiserie ("woodwork parquet") to replace the marble flooring that required constant washing, which tended to rot the joists beneath the floors. Such parquets en losange were noted by the Swedish architect Daniel Cronström at Versailles and at the Grand Trianon in 1693."
You would find parquet historically in elegant, opulent settings. And, in more modern times, it went hand-in-hand with the latest design trends.
With the resurgence of mid-century modern, hardwood parquet flooring has become newly popular, yet also freshly reinvented with new pattern possibilities in a variety of colors, styles and geometric complexity.
>> See Wood Parquet Flooring—Poised for a Resurgence
Take for example Monticello Wood Parquet Flooring from Oshkosh. This 20"x20" square is available unfinished and pre-finished and in any number of wood species.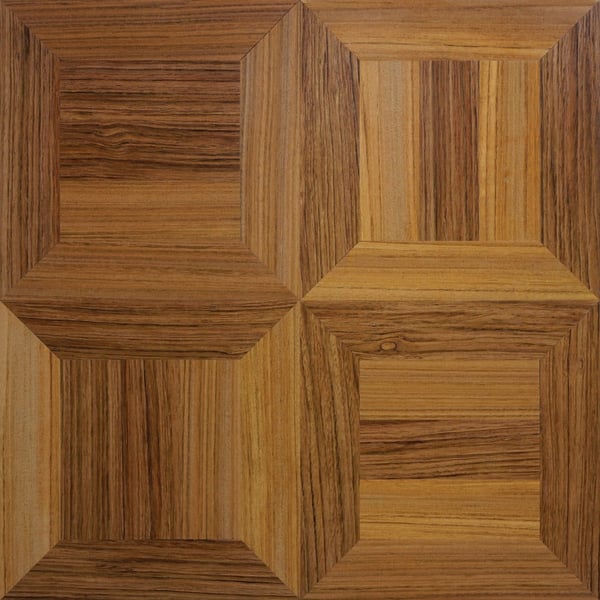 Here's how that pattern looks installed. It has dimension, plenty of visual interest and brings this room to life.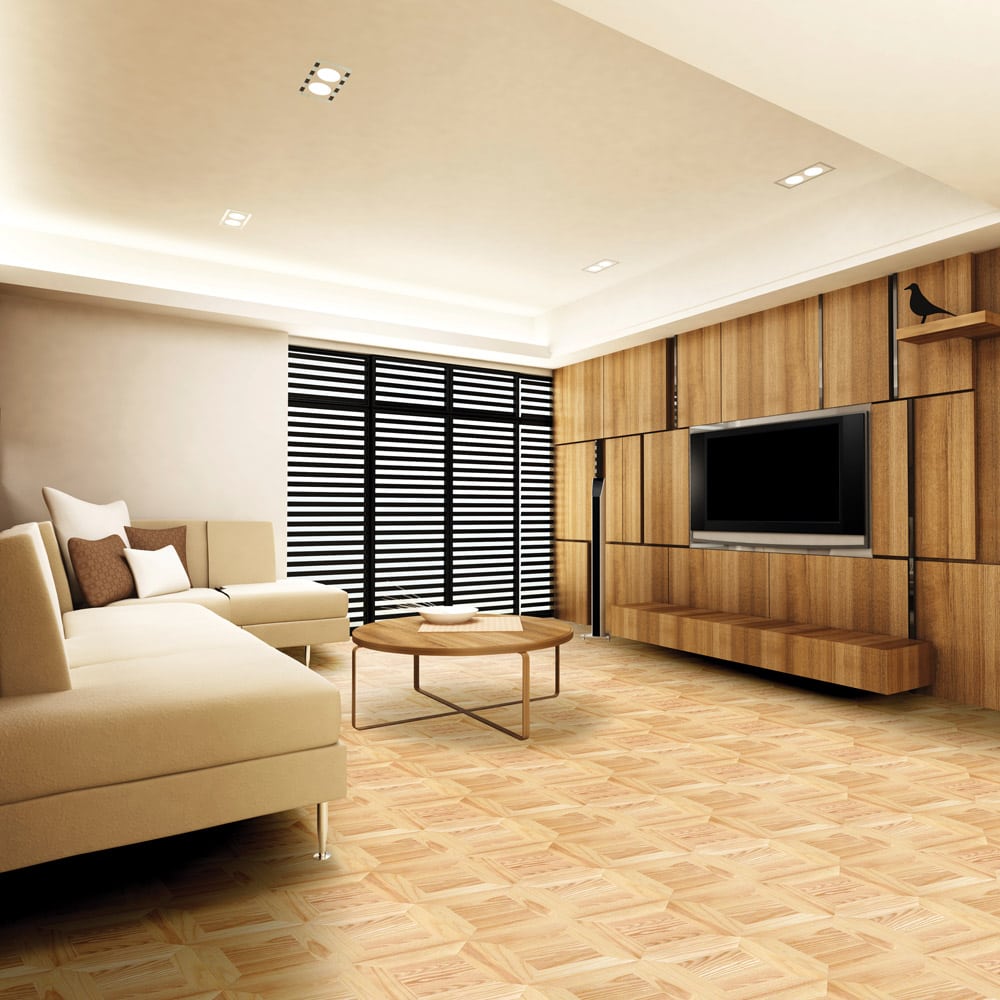 Parquet floors come in herringbone patterns, fingerblock patterns, and even Versailles-inspired patterns.
The pattern below is Bordeaux Wood Parquet Flooring in a 36"x36" square which has a 3-dimensional quality.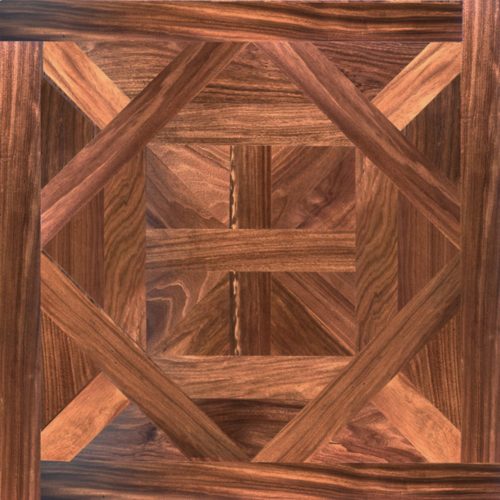 Classic Yet Modern Wood Border Inlays
Related to parquet are wood border inlays of different colors to help define a space. You might find them around a room, along a hallway and in an entry foyer. They are sometimes used to create a 'rug' in hardwood and may include other decorative elements.
The example below wraps around the entire room. Notice how it even wraps around the brick wall on the left, and that the pattern repeats around the adjacent space.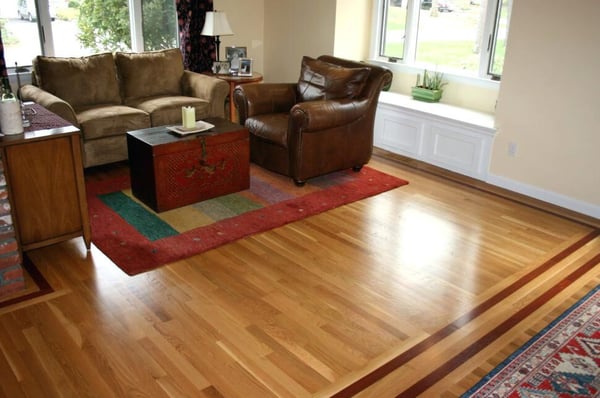 The border design can be simple as you see in North Star Wood Border that combines Brazilian Cherry, Maple and Wenge.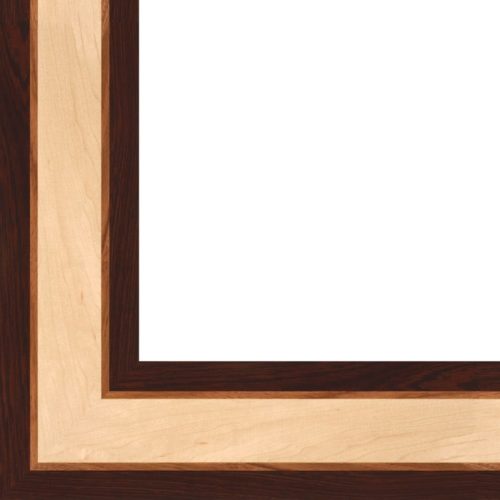 Check out Hardwood Flooring Inspiration Video From Floor Decor Design Center for more examples of border designs.
Border inlays can be elaborately decorative, too, as you see in the image below. Notice, by the way, how the inside of the border is set in a diagonal pattern.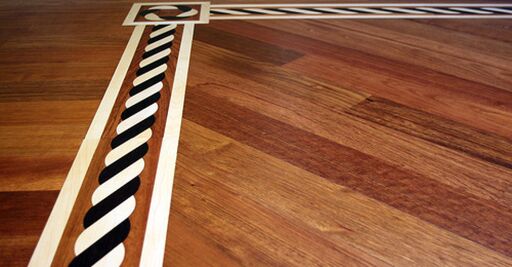 Don't Forget Wood Inlay Medallions
As beautiful - although perhaps not as popular - are wood inlay medallions. They look stunning in entry ways with a semi-circular staircase or in formal spaces in combination with patterned wood borders. Talk about a signature style statement!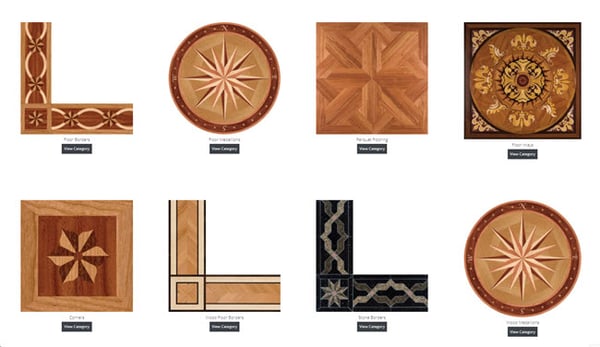 New Concepts for Walls and Floors: Decor with Wood
Possibly the most exciting concept to consider for your home is wood panels in patterns ranging from fishtail, hexagon, herringbone, subway tile and 3-dimensional looks.
And, if it's a coordinated look you are after, then consider expanding your wall panels to your floors.
Fishtail Wood Panels
Perhaps you've seen this fishtail or scale pattern in tile. Here it is available in wood from Oshkosh. Referred to as Continuum Wood Wall Panel, it's available in a variety of wood species.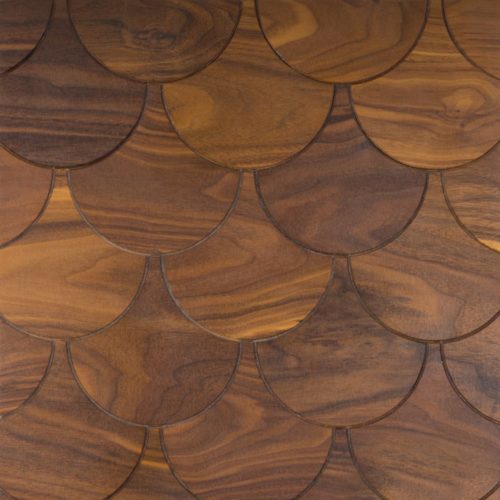 Here's how that pattern looks on the walls. Stunning, no?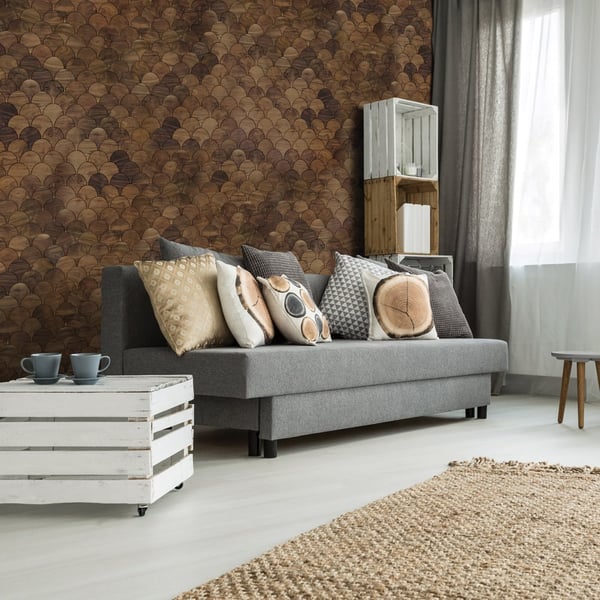 Go one step further and add it to your floors as you see below.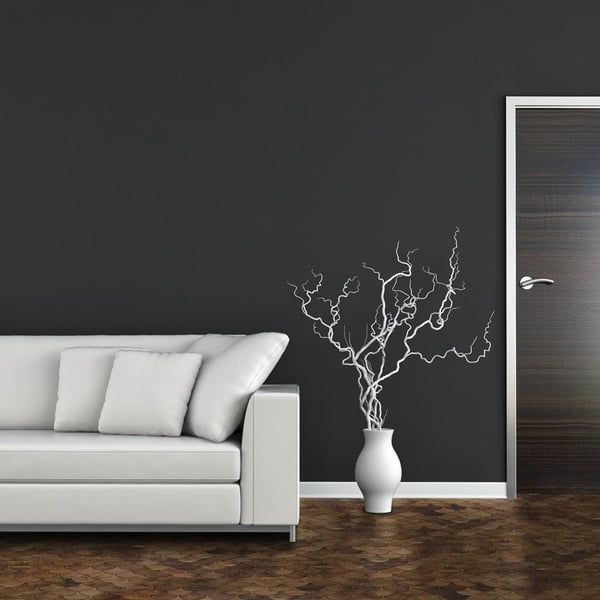 Classic Hexagons for Floors and Walls
Perhaps you're more of a hexagon kind of person, especially when it's wood. Well, look no further than the Quantum Wood Wall Panel available in a variety of wood species.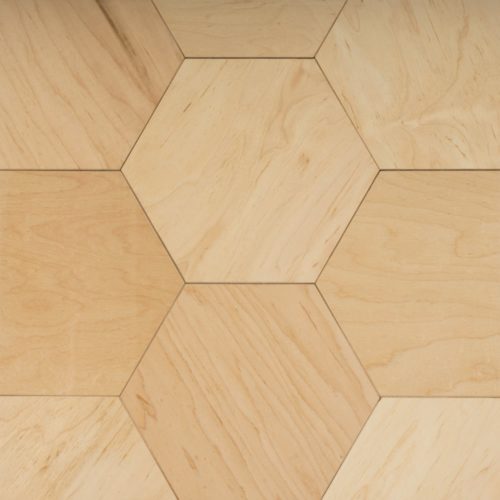 Look how elegantly it transforms a fireplace.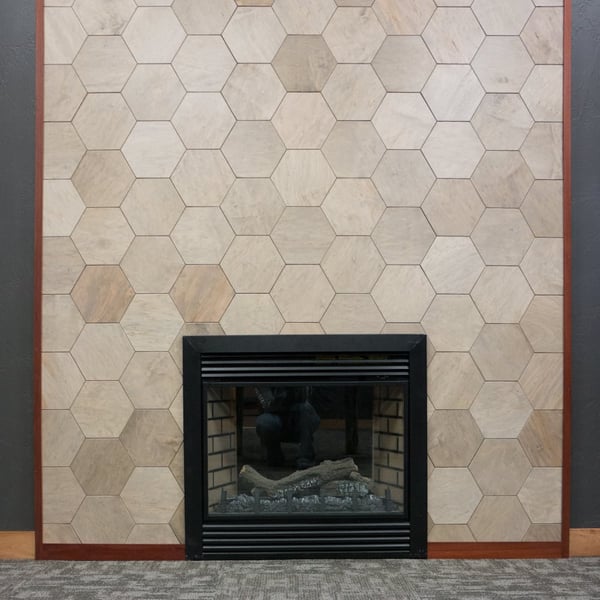 Or, consider it for your floors as you see below.

About Oshkosh Designs
Oshkosh Designs is based in Winneconne, Wisconsin, and specializes in premium home and commercial décor products made from high-quality hardwoods and other natural materials, all responsibly sourced and crafted in the most ecological manner.
It began in 1991 as Historic Floors of Oshkosh when, while restoring a historic home, the team couldn't locate a manufacturer to recreate the home's original exquisite parquet flooring and hardwood floor inlays. They decided to craft it themselves.
Interested in PARQUET FLOORs, BORDER INLAYS, FLOOR MEDALLIONS AND WOOD WALL PANELS FROM OSHKOSH DESIGNS?
Whether you plan to have engineered floors, pre-finished or site-finished hardwood floors, you can easily incorporate Oshkosh Designs parquet patterns, border inlays, and floor medallions for floors and walls. Although they can be for a whole room, they don't have to be. The possibilities are endless.
If you have any questions, just let me know in the comments or contact us.
When you visit one of our two showroom locations in Middletown or Orange, you'll be able to see these products firsthand.
We look forward to helping you.
Thanks for reading,
Michael