If you rely on a search engine to figure out how to care for your hardwood floors, you'll find the resulting information downright confusing, not to mention often wrong.
Why So Much Confusion on Hardwood Floor Care?
That's a great question!
Mostly it's because more people love wood floors and want that look in their homes, and more wood-inspired products are available than ever before.
Those products range from hardwood, engineered wood, laminate, luxury vinyl flooring, and other multilayer flooring products, cork, and even tile. As the floor product options become more numerous, so do the possibilities for keeping those products clean. And one product isn't necessarily ideal for every type of wood floor.
Add to that what you may hear on popular design shows, commercials, and on cleaning device websites.
As Vermillion Hardwood Flooring describes,
"As wood floors have grown in popularity, so have products and ideas about how to clean a wood floor. There are HGTV hosts telling viewers to use apple cider vinegar mixed with water for a "green" wood floor cleaner, commercials hawking mops that use hot steam to sanitize a floor, and even a popular author recommending that people use olive oil to clean their wood floors.
It's no wonder that consumers get confused about what they should do to clean their wood floors... and no wonder that wood flooring contractors come across some real messes when they visit the homes of complaining customers..."

Six Confusing Hardwood Floor Care Myths DEbunked
So what is someone who's not in the hardwood flooring business to do to banish the confusion and properly care for wood floors?
Let's debunk some of the most confusing ones.
Myth 1: Steam Cleaners
Stay away from steam cleaners; they aren't appropriate for wood floors.
Steam damages wood. When you use it over the long term, it can lead to peeling finish, delamination, cloudy finish, and other issues that will require professional refinishing to bring your hardwood floors back to new.
You'll find images of floors damaged by steam cleaners in these articles:
>> Hardwood Flooring Maintenance 101
>> RaeCor Enterprises on Facebook
Myth 2: Wet Mop Your Wood Floors
Water and hardwood don't play nice. Over time, your wood floors will swell and cup from exposure to water.
Protect your floors from water and make sure to quickly wipe up spills.
Myth 3: Wood Floors Love Vinegar & Water
Once upon a time, plain vinegar and water were recommended for certain types of wood floors. As finishes have evolved, that solution creates problems. See Myth 4.
So, stay away from vinegar and water on your hardwood floors! Better to use manufacturer-recommended cleaners created specifically for wood floor finishes.
Myth 4: Any Wood Polish/Conditioner Product Will Work on Your Wood Floors
Wrong, don't use any wood polish/conditioner product on your wood floors, even if those products include information on the label recommending it for wood floors!
You're better off avoiding them as well as products such as Murphy's Oil Soap, pine cleaners, Mop and Glo, Swiffer Wet Mop and furniture polishes, as well as vinegar. Here's why:
Over time, these products damage the finish.
Some will immediately leave a sticky filmy residue that's almost impossible to remove.
Others may pose big problems when you decide to refinish your hardwood floors later on.
Myth 5: Ignore the Advice of the Experts
The best sources of information for hardwood floor care include two expert sources:
The manufacturer of the wood floor and/or the wood floor finish
Your local wood flooring retail professional
Call one or both of these experts and ask for recommendations for addressing specific maintenance issues - including sanding and refinishing - and for routine cleaning advice.
At Floor Decor Design Center, we recommend using Shaw Floors Hardwood Flooring Cleaner for routine hardwood floor care.
Myth 6: Ignore Your Wood Flooring Manufacturer Warranty
Please don't ignore the warranty from your hardwood flooring manufacturing!
If you've purchased a new floor, you'll want to review your copy of the warranty to understand whether there are cleaning requirements and/or cleaning watch-outs that might void your warranty.
For example, some manufacturers have started including steam cleaners in their list of no-nos.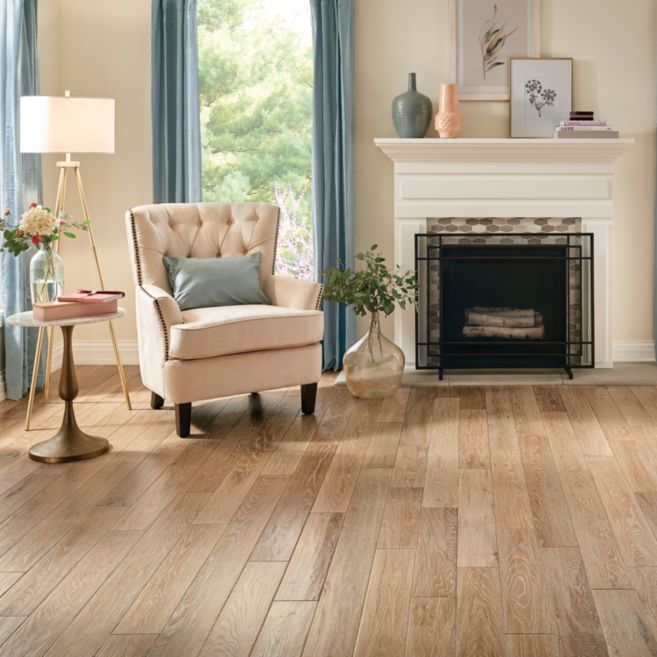 Advice for Caring for Hardwood Floors
Regular Maintenance Is Ideal
Regular dusting and vacuuming of your floors will go a long way in keeping your floors looking beautiful. If you're up for daily maintenance, go for it. A weekly rhythm is ideal.
Vacuuming in particular - without a beater bar - is particularly effective for sucking up dirt and other gritty particles that can scratch floors, especially with foot traffic.
Wipe Up Spills Immediately
Remember what you read above about water and wood? They don't play nice, so protect your wood floors and wipe up spills as quickly as possible.
Remember, too, to never wet mop your floors and avoid those steam cleaners.
Obtain a Harwood Flooring-Approved Cleaner
Don't mess around with cleaning products that will damage your floors. If you aren't sure, speak to a professional.
Add Welcome Mats
Welcome mats at any doorways with access to the outside world help trap dirt, sand, and grit from outside. They are your first line of defense for protecting all of your floors, including your wood floors.
>> See TOP FLOORING MAINTENANCE TIPS FOR CARPET AND HARDWOOD
Protect Your Wood Floors From Sharp Objects
Sharp objects cause gouges and other damage to floors. Consider the following:
Trim Your Dog's Nails

Avoid High Heels

Add felt protectors to furniture - chairs, tables, couches - especially pieces that get moved around.

Encourage toddlers to play on area rugs rather than directly on the floors
Wait Before Adding Area Rugs to New Hardwood Floors
Hardwood floors will change color over time, depending on light exposure, and the species of wood.
For that reason, you may want to wait approximately six months before adding area rugs so as not to have the equivalent of tan marks on your floors that will be visible if you move rugs around and/or change rug shapes.
Do You Feel Less Confused About Hardwood Floor Care?
We hope so. If you have additional questions or concerns about how best to care for your hardwood floors, don't hesitate to let us know in the comments.
When you are ready to select hardwood floors, be sure to visit Floor Decor Design Center in Orange or in Middletown, Connecticut at the Galleria Design Center to see the best hardwood selections available.
Thanks for reading.
Janine & Michael
Note: We originally published this article on 10/07/2020, and have updated it.