Today you have a vast array of choices from traditional 2-1/4" strips up to 8" plank floors. For years the 2-1/4 strip has been the popular choice for builders for new home construction. The reason being it is readily available and cost-effective.
Here is an example of a 2-1/4" strip hardwood by Somerset called Color Collection Gunstock.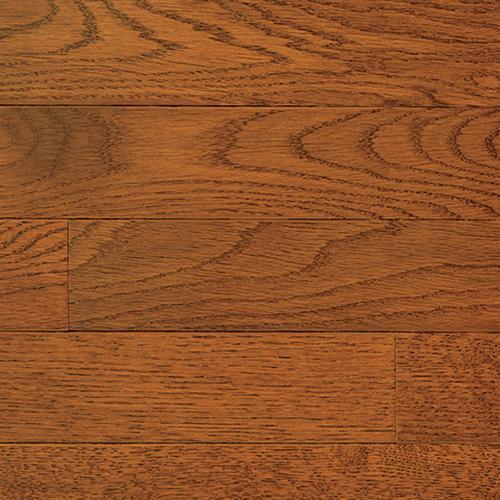 Compare that to a 9" wide engineered wood plank pictured below.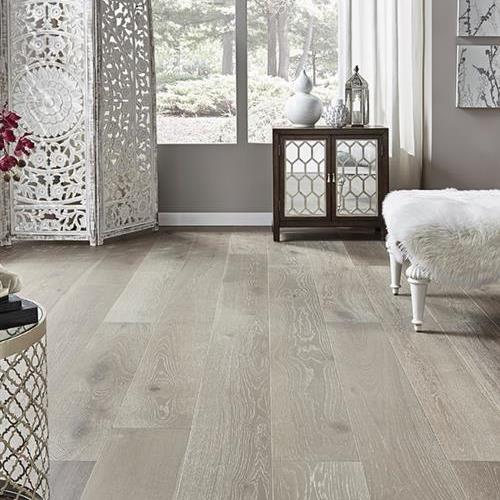 You'll find plenty of widths in between to choose from.
Check out:
>> Old World Wood Planks and Patterns from Anderson Tuftex
>> Parquet Flooring, Border Inlays, Floor Medallions, and Wood Wall Panels from Oshkosh Designs
Hardwood Hardness
This shouldn't come as a surprise, but wood comes in different levels of hardness. The hardest woods are Hickory, Pecan, Hard Maple, and White Oak.
Hardwoods include White Ash, Beech, Red Oak, Yellow Birch, Green Ash, and Black Walnut.
The least hard hardwood floors are Cherry, Mahogany, and Pine.
Depending on the level of traffic and activity in your home - including kids and pets - you may be more interested in how hard a floor you select.
Two Types of Wood Floors to Choose From
Although we're discussing hardwood flooring, thanks to ongoing product development you'll find that hardwood comes in two categories: solid and engineered hardwood.
Let's explore.
1. Solid Hardwood
Solid wood flooring is made from one continuous piece of wood and is available in strips, planks, and parquet squares. Wood strips are anywhere from 1-1/2" to about 2-1/4" wide.
Generally, a solid hardwood floor is a 3/4" thick plank. However, it can be manufactured in a variety of widths and thicknesses.
Solid hardwood floors are generally for nail-down installation.
The benefit of selecting solid hardwood floors is that you can customize them in terms of wood species, stain color as well as finishes. From a finish perspective, you can opt for unfinished or prefinished:
Unfinished flooring offers unlimited color stain options.
Prefinished wood flooring features a factory-applied finish.
Because solid wood is sensitive to moisture, you don't want to install it below ground level or directly over a concrete slab.
>> See Pre-Finished vs. Site Finished Hardwood: Which is Better?
>> See Solid vs. Engineered Hardwood: Which is Better?
2. Engineered Hardwood
Engineered wood flooring is made from layers of wood stacked and glued together under heat and pressure. Usually, there are three to seven layers (plies) stacked with grains running perpendicular to each other. The top finish layer can be cut from a variety of domestic or exotic hardwood species and is generally factory prefinished with polyurethane or an aluminum oxide finish for hardness.
Engineered floors range from 5/16" to 3/4" in thickness and from 2-1/4" to 7" in width. Installation can be glued, floated, nailed, or stapled.
All woods expand and contract with heat and humidity. However, engineered wood is more dimensionally stable than solid hardwood because the layers keep the movement in balance. As a result, it is less inclined to swell and shrink and can be installed in areas where solid wood can't such as over concrete, or in high moisture areas such as kitchens, powder rooms, and utility rooms.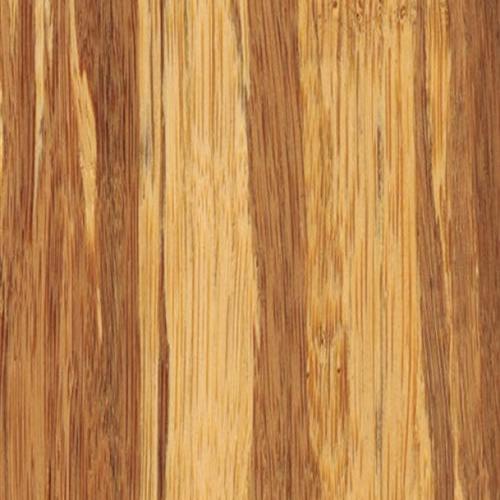 Exotic Hardwood
You may also hear the term 'exotic hardwood' used. This refers to hardwood species from around the world. Exotic hardwood species come from Australia, Africa, South America, and the Far East.
Exotic hardwoods offer unique wood graining and color variations. They are known for their hardness and unique patterns. Most exotic woods are available in engineered wood construction, although some are available in solid hardwood planks as well. Bamboo, Amendoim, and Jatoba are examples of exotic hardwood.
The image above is of Bamboo.
Check out:
>> How Much Do New Hardwood Floors Cost?
>> For the Highest Quality, Select Mirage Hardwood Floors
>> Understanding Wood Flooring Grades
Wood Stain and Finishing Techniques
Other factors that affect your hardwood floor look include stains and finishing techniques such as hand-scraping or brushing that adds a slight texture to the wood.
Hand-scraping or brushing
Hardwood that has either hand-scraping or brushing is an excellent choice for active families with children and pets. These types of floors are usually found in planks 3" and wider with the most popular being a 5" such as Armstrong American Scrape available in the most popular species such as oak, hickory, maple, walnut, and cherry.
Below you see a hand-scraped or antiqued engineered wood floor.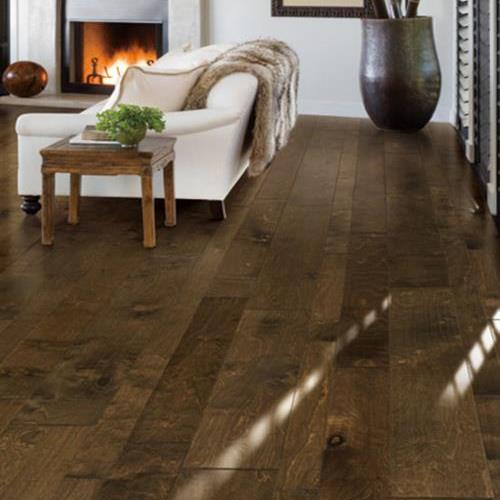 Wood stains
As for stains, browns and grays have been more popular in recent years with the grays being a favorite in the shoreline towns we have here in Connecticut.
You'll also find dark stains such as this Johnson Hardwood Alehouse Maibock.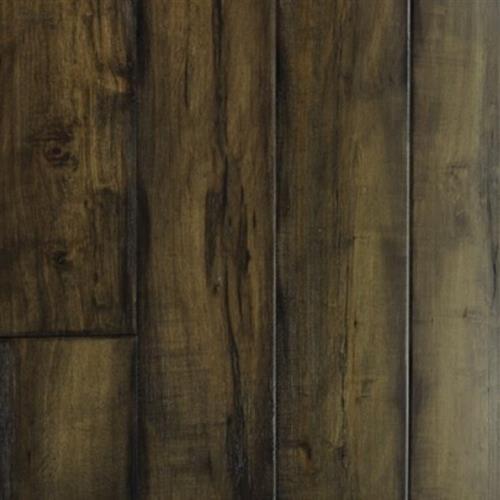 Or even blue tones such as the example below.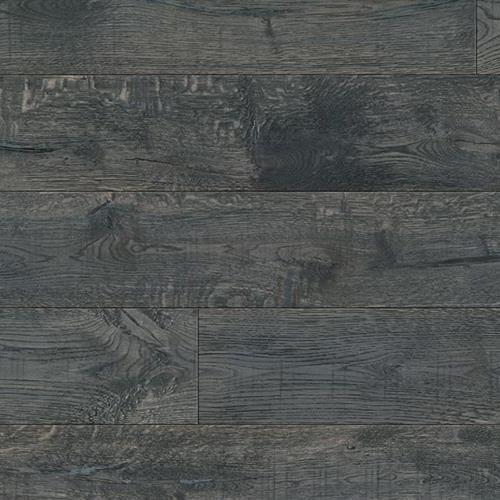 Natural oil vs. polyurethane finish
Many of our customers like European Oak floors which often have a natural oil finish instead of the traditional polyurethane finish.
While a polyurethane finish simply sits on top of your hardwood floor forming a film to protect the hardwood, a natural oil finish penetrates the wood and strengthens the wood fibers while enhancing the look of the floor since there is no film covering the wood. All wood floors will dent and scratch over time but with a natural oil finished floor there is no need for the mess and inconvenience of sanding and finishing as all that is needed is to reapply a new coat of oil in the affected areas.
Here's an example of an oil-finished floor that is ready for a new coat of oil finish.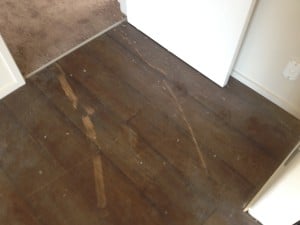 Oil Finished Floor Before
Here it is after reapplying a coat of oil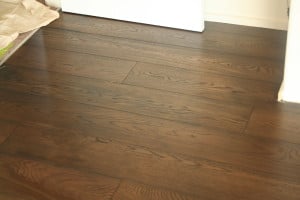 Oil Finished Floor After
Check out:
>> Which is a Better Hardwood Floor Finish: Oil-Based or Water-Based?
>> Best Oil for Wood Floors? Rubio Monocoat Natural Finish
>> Hardwood Flooring Inspiration Video from Floor Decor Design Center
Are You Ready Now to Choose the Right Hardwood Floor for Your Home?
Have we answered your questions about hardwood floors? If not, please let me know in the comments.
When you are ready, be sure to visit Floor Decor Design Center in Orange or in Middletown, Connecticut at the Galleria Design Center to see the best hardwood selections available. You'll find the industry's most prestigious manufacturers including Mirage, Bella Cera, Anderson, Doma, Hartco, Kahrs, Paradiso, Proximity Mills, Johnson Hardwood, and more.
Thanks for reading.
Janine & Michael
Note: We originally published this article on 04/04/2018, and have updated it.