Do you have your heart set on hardwood floors for your home and aren't sure how to budget for it? This article explores how much new wood floors cost.
Real hardwood floors will add natural beauty and timeless style to your home's decor. You're also investing in the value of your home. If and when you decide to sell your home, you can expect to get more out of your home than you would with other flooring types.
>> See Can You Improve the Value of Your Home with New Floors?
How Do You Define Real Hardwood Floors?
First, it helps to clarify what makes a hardwood floor. According to the National Wood Flooring Association (NWFA):
"Wood is the hard fibrous material that forms from the main substance of the trunk or branches and beneath the bark of a tree. A wood floor is any flooring product that contains real wood as the top-most wearable surface of the floor."
NWFA identifies three categories of wood flooring:
Solid wood flooring consists of a solid piece of wood from top to bottom
Engineered wood flooring is made from real wood from top to bottom, using multiple wood veneers or slats that are glued together in alternating directions for added stability
Composite engineered wood flooring contains real wood on the wearable surface only. The backing and core material may be made up of any type of composite material.
When it comes to selecting the perfect floor for your home, hardwood floors are usually the number one choice homeowners have on their wish lists. That's no surprise when you realize that hardwood floors are durable, easy to maintain, and provide a healthy choice since they don't harbor microorganisms, allergens, or pesticides that can be tracked in from outdoors. In addition hardwood floors minimize the accumulation of dust, mold, and animal dander which makes them a healthy option for your family.
Whether your style is traditional or contemporary, brand new or a hundred years old, real wood floors offer endless design possibilities and make it easy to fit your needs and personal style.
>> See 11 Top Hardwood Flooring Trends You Will Love!

What to Consider When Buying Hardwood Floors?
When you're deciding what kind of hardwood floors to select for your home, you'll want to consider the following factors:
Pre-finished or Site Finished Hardwood Floors
The Type of Wood
The Grade of Wood
Solid or Engineered Hardwood Floors
Installation Labor Costs
Let's explore each to better understand the implications on cost.
Prefinished or Site Finished Hardwood Flooring
One of the first factors to consider is whether you want a prefinished floor that comes factory-finished out of the box and ready to install without the need for sanding or an unfinished floor that is raw hardwood that will be sanded and finished on site.
Prefinished Wood Floors
Prefinished floors offer the advantage of a stronger factory finish with aluminum oxide and ease of installation in a home that you are living in. For example, when installing prefinished hardwood you can move furniture from room to room and back again since there is no drying time to wait for. Most homeowners living in the house prefer prefinished floors for that reason.
Another advantage of a prefinished floor is the new brushed or lightly scraped finishes that give the wood a subtle texture. Brushed floors are great for active families and pets as they tend to hide scratches and wear better.
The one negative to some people is that prefinished floors have a bevel which some feel is a dust collector. Realistically however a simple vacuuming and or dusting the floor with a microfiber mop picks up any dust or dirt in the bevel. Today many floors are made with a small micro bevel.
>> See Why Does Pre-Finished Hardwood Flooring Have Beveled Edges?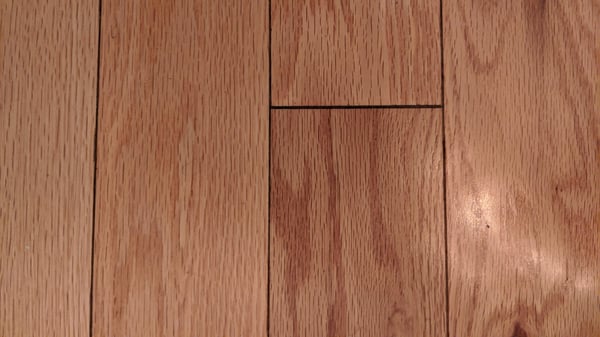 Unfinished Wood Floors
Unfinished floors on the other hand are finished on site and offer limitless color choices. You can also achieve a custom color by blending stains.
The reason builders generally use an unfinished floor is that it can be installed, all the trades can work on it and when everyone is done the floor can be sanded, stained, and finished ready for the homeowner.
>> See Best Oil for Wood Floors? Rubio Monocoat Natural Finish
Another reason to consider unfinished hardwood is if you are remodeling and want to continue your existing hardwood floors into other rooms. Once done all the floors can be sanded and finished for a seamless look.
>> See Pre-Finished vs. Site Finished Hardwood: Which is Better?
Cost Implications of Prefinished vs. Site Finished Hardwood Floors
Generally, prefinished floors will cost anywhere from $2 square foot up to $4 square foot more than unfinished floors.
Once you factor in the site finishing however the costs are similar.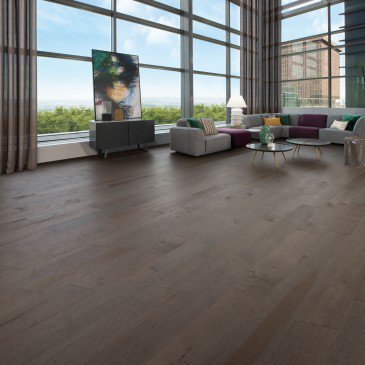 The Type of Wood
The most common species for generations has been red oak. American red oak has pinkish hues with some brown tones.
White oak has become popular in the past few years especially European white oak. European Oak is known and sought for its longer lengths and wider widths. Color tones are darker with a warm brown tone.
American white oak hues are more brown/grayish in color but can have some pinkish tones to it.
Other popular species include hickory, maple, birch, cherry, and walnut. With trends changing from red tones to brown tones in the past few years, we don't see as much exotic wood such as Brazilian Cherry as we did a decade ago.
The type of wood you select is more a matter of preference rather than cost.
The Grade of Wood
Among the many qualities that influence the appearance of any particular hardwood flooring is the grade of the wood.
Almost all boards sold for hardwood flooring in the U.S. are graded according to standards originally laid out by the National Oak Flooring Manufacturers Association (NOFMA) to help create consistency in the quality of Oak flooring in the U.S.
These standards are now used to grade virtually all hardwood flooring throughout the country and are promoted and upheld by the National Wood Flooring Association (NWFA).
>> See Understanding Wood Flooring Grades
The grade of wood you select will have cost implications.
Hardwood Flooring Customer Testimonial
"The professionals who came to measure and then install the floors were very efficient and skilled. The floors are beautiful and have really improved the overall impression of my house."
Mary B., Middletown, CT
Solid or Engineered Wood Floors
Whether you select a solid or engineered hardwood depends on your particular needs.
Solid Hardwood Floors
Solid hardwood is exactly that, a solid board usually 3/4" thick and most popular in 2-1/4, 3-1/4, and 5" widths. Solid hardwood has a tendency to cup or crown when boards are over 5" wide; it's for this reason an engineered hardwood makes more sense.
Cupping - when boards dip in the middle - and crowning - when boards become rounded from edge to edge - happen when hardwood encounters big changes in moisture levels in the air.
>> See Cupping and Crowning
Engineered Wood Floors
Engineered floors on the other hand have a top layer of hardwood over several layers of plywood or similar with a cross-grain construction that gives them more dimensional stability. For this reason, engineered floors would be your best choice when selecting boards over 5" wide.
Both solid and engineered floors can be refinished. You will want to check with the manufacturer on how many times the floor you select can be refinished since some floors have thinner wear surfaces that may only allow one sanding.
>> See Solid vs. Engineered Hardwood: Which is Better?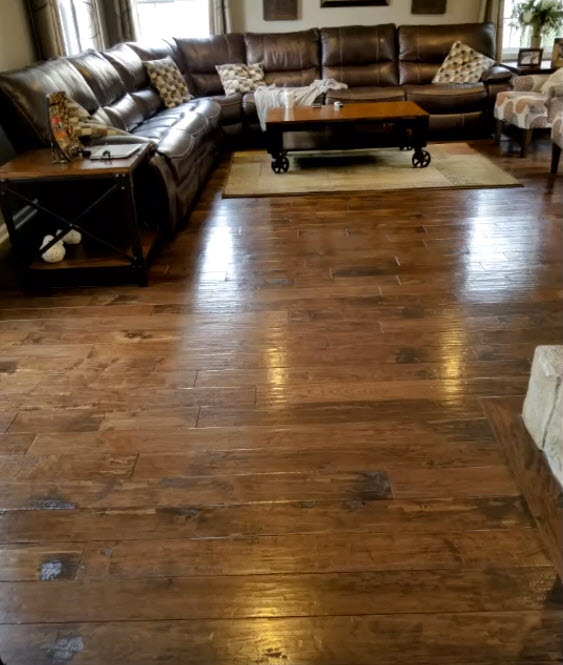 Cost Comparison by Most Popular Species (Prefinished):
To give you an idea of cost based on solid vs. engineered hardwood floors, here's a comparison based on different plank widths:
Red Oak or White Oak Solid
2-1/4" $5.99 - $7.99 s/f

3-1/4" $7.99 - $9.99 s/f

5" $8.99 -$12.99 s/f
Red Oak or White Oak Engineered
3" $5.99 - $7.99 s/f
5" $6.99 - $10.99 s/f
7" $11.99 - $14.99 s/f
European White Oak Engineered
5" $8.99 s/f - $11.99 s/f
7" $9.99 - $14.99 s/f
9" $13.99 - $17.99 s/f
Hickory Solid
Hickory Engineered

Installation
There are many factors to consider when budgeting for the installation cost of your new hardwood floors. For example,
The type of subfloor
Subfloor prep if needed
Removal of existing flooring
Moving furniture
Door transitions
Baseboard or shoe moldings
The complexity of the installation such as borders or herringbone patterns
The installation type: Nail or staple down, glue down, floating
Approximate Labor Costs:
Here are approximate labor cost ranges:
Installation Type
Staple or Nail Down $3.50 - $4.50 s/f including staples or nails
Glue Down $4.50 - $5.50 s/f including adhesive
Herringbone Pattern $4.50 - $6.00 s/f
Floating $3.50 - $4.00 s/f including glue
Furniture Moving and Removal of Existing Flooring
Furniture Moving $50 - $75 per room
Rip up Existing Carpeting and Disposal $.75 -$1.25 s/f
Transitions and Moldings
Door Transitions $50 - $100 each
Supply and Install Primed White Show Molding $3.00 -$4.00 l/f
Supply and Install Primed White 5-1/4 Neck Base Molding $4.00 - $6.00 l/f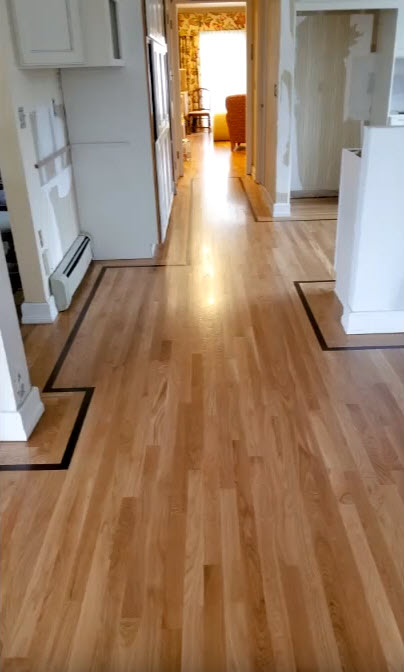 Figuring Out How Much New Hardwood Floors Cost by Room
Let's take the information above and translate it to cost by room, based on selecting a prefinished red or white oak 3/4 x 3-1/4 with moldings, furniture moving, and removal of existing carpeting:
One Average Bedroom 12 x 15 180 s/f: $2000 - $2400
One Larger Room (Master Bedroom or Living Room) 14 x 18 250 s/f: $2600 -$3000
Typical Home of 5 Rooms 1200 s/f: $12,000 - $15,000
Larger Home of 7 Rooms 2000 s/f: $20,000 - $24,000
How to Save Money on Your Hardwood
The cost for hardwood flooring installation may seem high, but rest easy. You are making an investment in your home that will increase its value. Plus, your home will look amazing once it's finished.
If you're hoping to save a few dollars off the final price, here are a few things you can do:
Move furniture yourself - Save $50 - $75 per room
Remove existing carpet yourself - Save $.75 -$1.25 s/f
Choose a less expensive wood: Instead of the $9.99 s/f product trade down to a similar $7.99 s/f flooring
Install hardwood floors where it counts: Use hardwood flooring in main areas such as living rooms, dining rooms, and family rooms. Opt for less expensive options such as carpet or vinyl planks in bedrooms.
Do it yourself: Installing your own hardwood floor isn't too difficult, but it's a large project for the average do-it-yourself-er. Make sure you pay careful attention to the evenness of your flooring and don't be scared to consult professionals if you're struggling.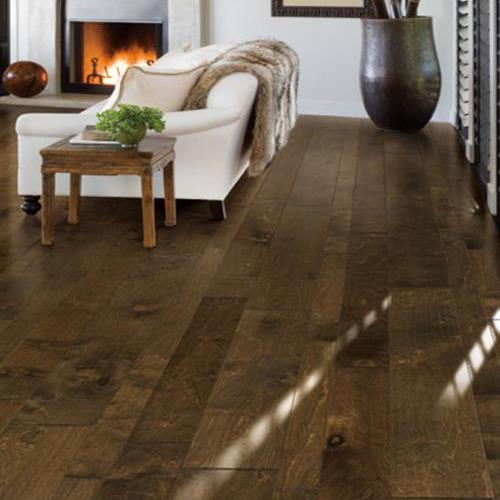 Do You Have More Questions About the Cost of New Wood Floors?
When you're ready to consider hardwood floors, we invite you to visit our showroom locations in Orange and Middletown, Connecticut. You'll find a vast assortment of products to experience for yourself.
Let us know of any questions in the comments or contact us.
We look forward to helping you.
Thanks for reading,
Janine & Michael
Note: We originally published this article on 10/23/2019, and have updated it.