If you're in the market for carpet for your home, you may want to know how much it will cost so you can set a budget for yourself.
A budget, by the way, is something we recommend setting before you start shopping at your local home improvement store or flooring retailer. That way to know what to expect and can better evaluate costs.
What Goes Into the Cost of New Carpet?
When it comes to a carpet project, you will want to include professional installation in the cost.
Carpet is one project we don't recommend as a do-it-yourself project. If you make a mistake cutting, you've probably ruined the entire carpet, unlike a tile or hardwood where if you cut one piece incorrectly, you can likely use it elsewhere on the job.
In addition to installation, there's the carpet itself and carpet padding.
Let's explore each category. Please note that the costs below are estimates. You may find variances in costs depending on the retailer you choose, the quality and brand of the carpet and materials you purchase, and pricing in your region.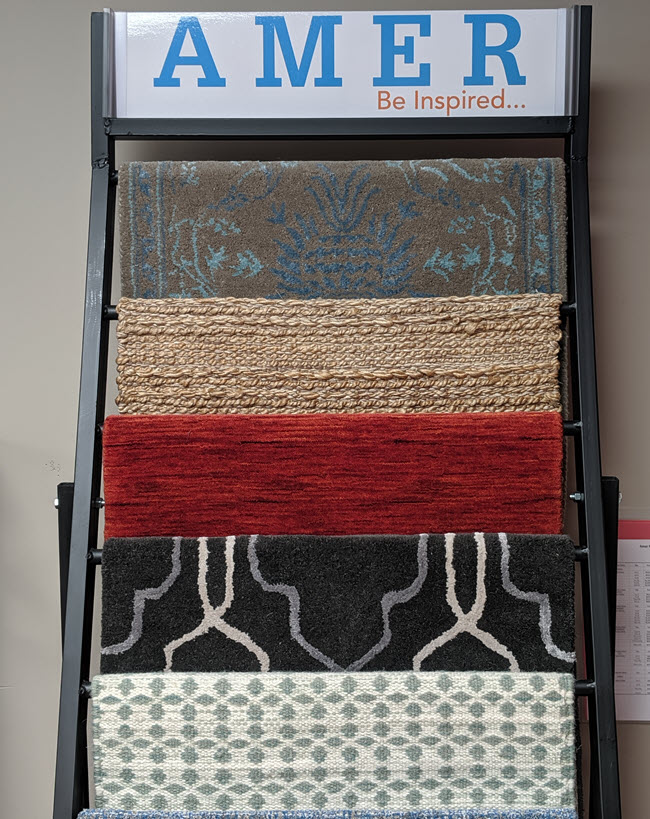 #1 - The Cost of Carpet
Whether you want to give your home a fresh new look or you want a durable flooring option for
your new home or office, carpet is an excellent choice. Carpet offers warmth and comfort that's truly unmatched by other flooring options. With so many styles and colors, it's easy to find the right flooring for any space with options available for nearly any budget.
Several factors affect the price of carpet including:
The carpet style
The quality of the carpet
The carpet fibers used
>> See Carpet Fibers 101: Nylon, Polypropylene, Wool, Polyester, Triexta
We'll break down these different components and associated costs.
When it comes to materials, there are several different types of carpet to consider.
Nylon Carpet
Nylon is a very strong carpet fiber. It stands up well to abrasion and has very good texture retention to maintain its original appearance.
Nylon is also a very absorbent fiber, so to prevent spills from sinking deep into the fibers and leaving stains, it must be protected with a stain treatment. Popular nylon brand name choices today include ANSO Caress. Both nylon fibers carry a lifetime stain warranty against food and beverage stains.
Solution-Dyed Nylon Carpet
The most stain-resistant type of nylon is solution-dyed nylon, which locks the color in by adding it during the production of the fiber. When the color is part of the fiber, it is permanent and fade-resistant, and spills are unable to attach themselves to the fiber's cells to create stains. An easy way to understand solution dyed is to think about a carrot and an apple. With the carrot, the orange color goes all the way through as compared to the apple where the red color is only topical.
You'll find solution-dyed nylon carpet that not only offers a lifetime stain warranty from food and beverages but also for pet accidents.
>> See Bellera and Other Carpets that Perform For Your Home
Nylon Carpet Pricing
Nylon carpet is available in a variety of price ranges based on the quality of the fibers. Nylon carpeting is priced anywhere from $3.99 to $9.99 and up per square foot.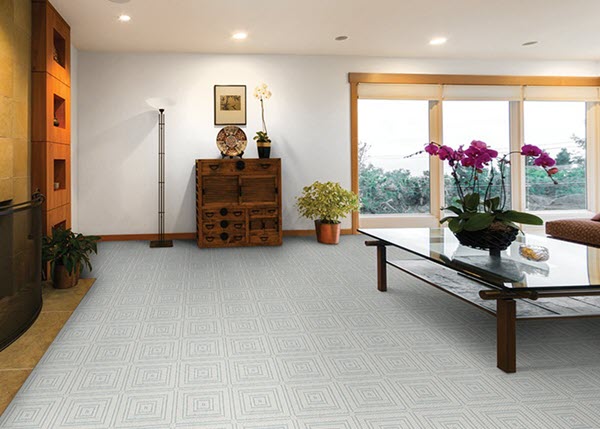 Polyester (PET) Carpet
Polyester (PET) is another material used to make carpets and is known for being resistant to
fading, mold, and mildew.
PET is an environmentally friendly fiber made from recycled clear plastic bottles. Although polyester is not as versatile as nylon, carpets made of polyester fiber perform very well at a more affordable cost than nylon. PET is a value fiber that allows families on a tight budget to get a stylish yet luxurious carpet at a more affordable cost. Recycling does not affect the quality of the fiber thus this product could be a future fiber that could be recycled over and over.
Polyester Carpet Pricing
Expect to pay around $2.99 to $7.99 and up per square foot for polyester carpeting.
Polypropylene or Olefin Carpet
Polypropylene is also known as olefin and was once popular in the construction of Berber carpets. It has lost much of its share to PET fiber.
Polypropylene is normally used in loop pile construction in which there is less need for resiliency because it is not as strong as other fibers.
Polypropylene Carpet Pricing
Expect to pay around $1.99 to $5.99 and up per square foot for polypropylene carpeting.
Carpet Customer Testimonial
"Floor Decor did a great job. Helped me pick out nice carpeting in my price range. The guys who installed the wall-to-wall carpet were very hard workers and the finished product is beautiful. This is my second time using them. I highly recommend."
Susan M., Orange, CT
Wool Carpet
Wool is a premium carpet material, so it is on the more expensive end. However, it is extremely durable and resistant to stains, so it can last for many years with proper care.
One of the main advantages of wool carpeting is its ability to hide soil. Wool will not show dirt as other fibers do because it is an opaque fiber. This is why wool carpets are better than synthetic fibers and also why wool carpet is a favorite among designers.
>> See Try Flatweave Wool Carpet for that Nubby, Natural Sweater Look
>> See Check Out Nourison Wool Rugs and Carpet for Designer Chic
Wool Carpet Pricing
Wool is by far the most expensive material, costing anywhere from $6.99 to $18.99 and up per square foot.
How to Save Money on Carpet?
Carpet can be categorized by a Good - Better - Best option.
Think of wools and wool blends, and branded nylon as the "Best in Class".
A more affordable option would be the 'better" collections which would consist of unbranded nylon and PET carpets.
In the "good" category you'll find budget carpets good for rental properties or house flips.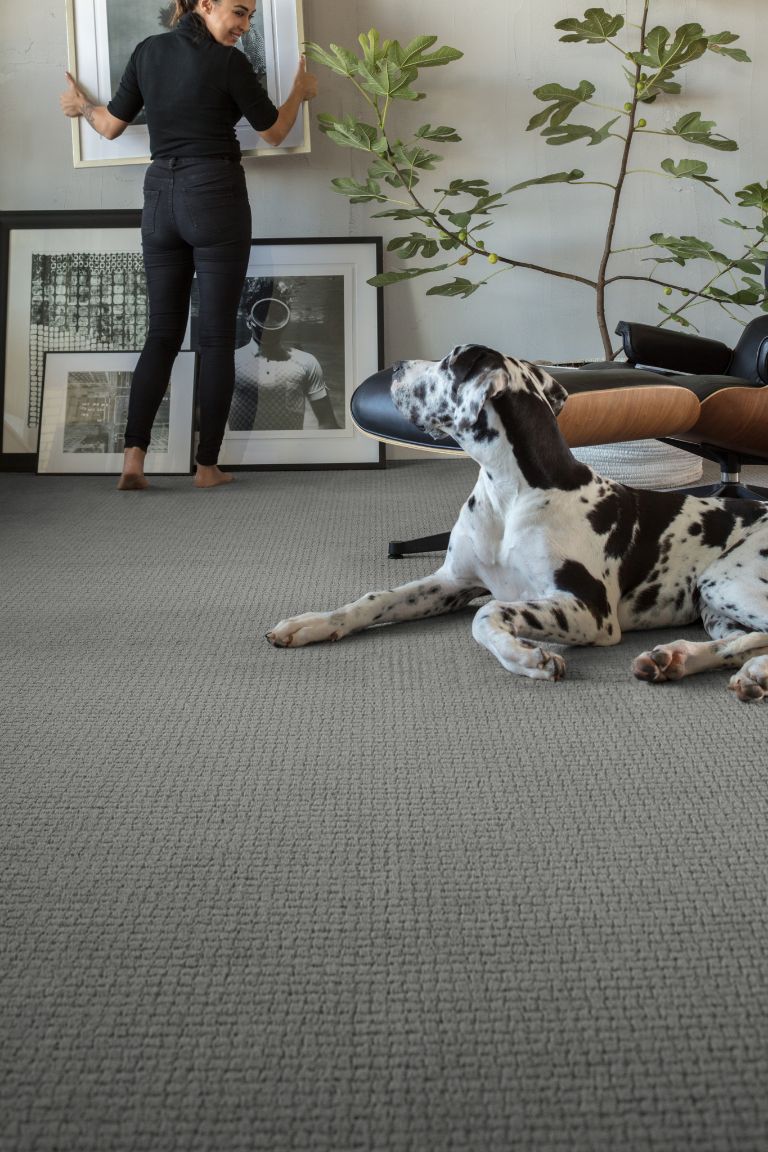 #2 - Carpet Cushion or Padding
The next cost component is cushion or padding for your carpet.
Once you've selected your carpeting, you won't just install it over your subfloor. Instead, you'll have to use carpet padding underneath. This carpet padding acts as a cushion that makes your carpet more comfortable and helps your flooring last longer (think of padding as shock absorbers for your carpet).
The price of carpet padding varies based on quality.
Cheaper carpet padding is more budget-friendly but may not be as comfortable as a more expensive carpet pad. You can lengthen the lifespan of your flooring with a high-quality product that requires a higher initial investment.
>> See How To Select The Best Pad for Your New Carpet
Carpet Cushion Pricing
On average, expect to spend around $.50 to $1.25 per square foot for your new carpet padding.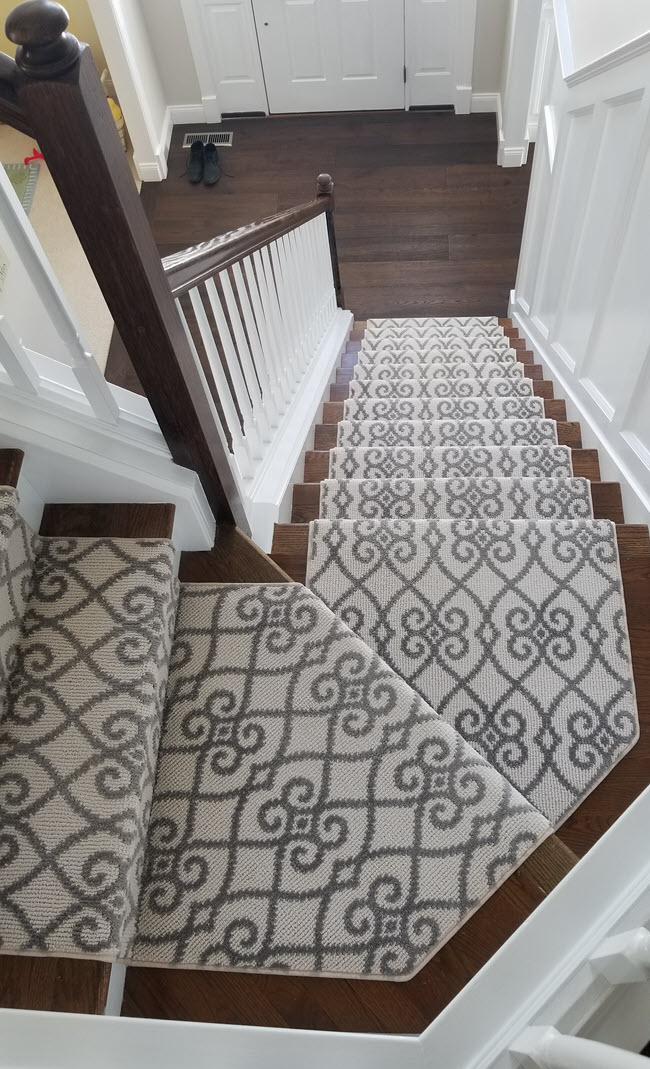 #3 - Cost of Professional Installation
Finally, there's the cost of professional installation.
No matter what quality carpet and cushion you purchase, it can all go bad with a poor installation. Nobody wants to invest in carpet only to have it wrinkle or have seams open up.
Don't be fooled by claims of free installation; no professional carpet installer works for free. These so-called claims are made up by inflating the amount of square footage you actually need and/or hiding the cost in the cost of materials.
Look for a Lifetime Warranty on carpet installation
You'll want to purchase carpet from a company that offers a lifetime warranty on their installations. Anyone not offering you this as part of their installation package is letting you know upfront that they are not confident enough to offer you peace of mind on your investment.
Installation Costs
The cost for installation depends on what level of service you require.
White glove service which includes all installation-related materials, installation, rip-up with disposal of existing carpet, furniture moving, vacuuming and removal of all waste will run you $1.95 to $2.50 s/f.
Expect to pay around $1.50 to $1.75 per square foot for basic carpet installation.
Custom installations such as Hollywood steps, pattern carpets, woven back specialty carpets, and binding will incur additional costs.
>> See Waterfall vs. Hollywood Stair Runners
Note that you can help reduce your installation cost by removing your existing carpet and clearing all areas of furniture.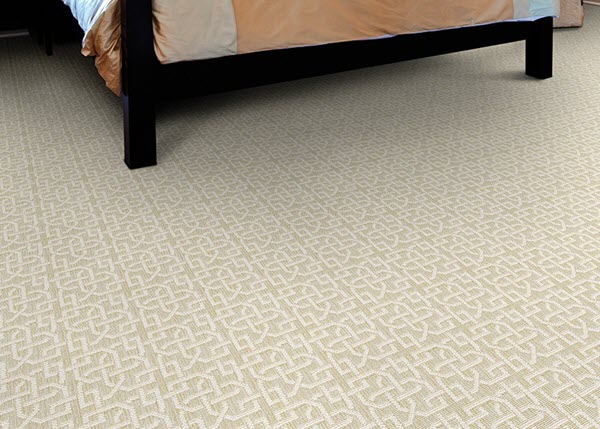 Let's Recap: How Much Does New Carpet Cost?
So, let's put all of this information into context so you can gauge how much new carpet costs and set a budget for yourself.
Based on a White Glove Installation Package with a premium carpet along with an 8 lb cushion with a spill barrier here is an idea of what it may cost:
One Average Bedroom 12 x 15: ~ $1500
One Larger Room (Master Bedroom or Living Room) 14 x 18: ~ $1800
A Typical Home of 5 Rooms 1200 s/f: ~ $7900
A Larger Home of 7 Rooms 2000 s/f: ~ $13,500
As such, these costs should be used as estimates only; your costs may be higher or lower based on the aforementioned factors.
READY TO Explore Carpet for Your Home?
When you're ready to explore different styles of carpet for your home, we invite you to visit one of our two showroom locations in Middletown or Orange, where you can ask more questions about carpet for your home.
Or, you can let me know of any questions in the comments or contact us.
We look forward to helping you.
Thanks for reading,
Janine & Michael
Note: We originally published this article on 09/18/2019, and have updated it.