How well do you understand wood flooring grades? We'll explain in this article.
Let's start with wood grades.
Grading Rules from the National Hardwood Lumber Association (NHLA)
Over 100 years ago, the National Hardwood Lumber Association (NHLA) established grading rules for the U.S. and Canadian hardwood industry. They did so so that hardwood buyers and sellers could use common terms to refer to product yield. Better grades reflected a hardwood board's greater defect-free clear yield. It doesn't refer to aesthetics.
Four Hardwood Lumber Grades
The NHLA lumber grades consist of the following four categories:
1. Firsts and Seconds (FAS)
Firsts and Seconds (FAS) are the top grade. These hardwood boards yield long, clear cuttings that are ideal for tabletops and moldings.
Interestingly, FAS boards are graded from the worst face.
2. FAS One Face (FAS1F or F1F) and Selects
A FAS1F board is graded from the best face. The result is long, clear cuttings that can be used for trim, cabinet doors, and face frames.
The Selects grade reduces the minimum acceptable board size to 4"×6'.
Note that hardwood dealers often combine FAS, FAS1F, and Selects into one category called Selects and Better (SAB).
Wood Flooring Customer Testimonial
"Our experience was excellent! They worked with us on the day we needed it done and the workmanship was excellent. Very happy with everything."
Christopher A., East Haven, Connecticut
3. No. 1 Common
No. 1 Common boards are graded from the poorer side of the board. The grade reduces the minimum board size to 3"×4' with minimum clear cuttings of 4"×2' or 3"×3', with clear-face yields of 66 2⁄3 percent, sizes suitable for a wide range of woodworking projects.
4. No. 2A Common (or No. 2 Common)
The No. 2 Common grade similarly requires a minimum 3"x4' board size while reducing the minimum cutting size to 3"×2' and the clear-face yield to 50 percent.
You'll find No. 2 Common boards often used in the hardwood flooring industry.
>> Check out the Illustrated Guide to American Hardwood Lumber Grades. This 24-page pdf includes photos of ten different types of graded American hardwood.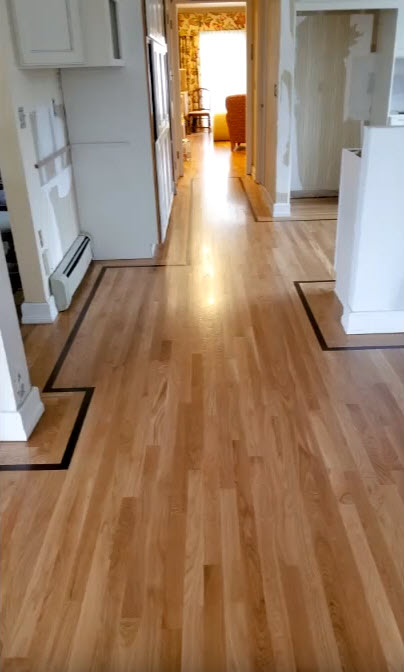 NWFA Wood Flooring Grades
Based on the NHLA Hardwood Lumber grades, you might think that the only grade of hardwood flooring available is No. 2 Common. It's not. Although related, you'll find several more options available all of which make for beautiful and strong wood floors.
Remember that wood flooring grades focus on the appearance of the wood and not the performance. Just as you might grade ceramic and porcelain tile according to shade variation with a grade (V1 - uniform through V4 - random), these grades measure the natural characteristics of the planks.
As Different Grades of Hardwood Flooring explains,
"The grading scale is a measure of what is known as "Character" markings or natural characteristics, e.g., variation in color from board to board, mineral streaks, presence of knots or wormholes; but they also reference average board length, milling imperfections, and other irregularities.
None of these 3 different grades are better or more durable than the others – the grading is primarily a way to qualify appearance. Some people prefer the uniformity of Select grade, while others prefer a more rustic look with more character in the floor. Fewer character markings cost more because there will be less of a tree that is usable. "
Four Hardwood Flooring Grades
The wood flooring grades you'll find detailed on the National Wood Flooring Association Site similarly break into four grades based on character and board length.
1. Clear Oak
Clear Oak planks display a minimum of character marks and color variation as you see in the image below of Clear Red Oak and Clear White Oak. According to NWFA, Clear Oak planks come from the heart of the tree.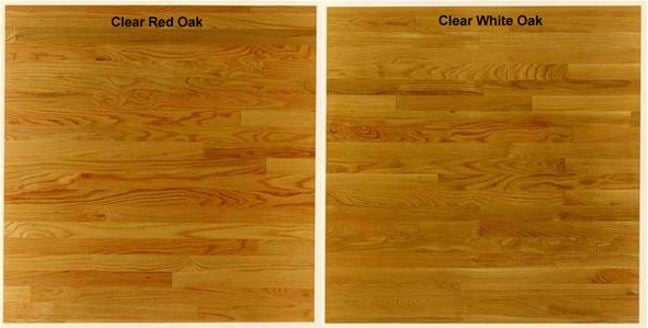 2. Select Oak
Select Oak features considerably more variations in color than Clear Oak. This results from combining heartwood and sapwood as well as small knots, wormholes, mineral streaks, and other minimal character marks.
Notice those variations in the image below featuring Select Better Quartered Red Oak, Select Red Oak, and Select White Oak.

In Select grade boards, you'll find small, tight knots only every three feet.
The image below shows you how Select Red Oak floors custom-stained on-site look. These are floors Floor Decor Design Center installed.

3. No. 1 Common Oak
When it comes to No. 1 Common Oak floors, you'll notice more light and dark color variation and more signs of character as you see in the image below comparing No. 1 Common Red Oak to No. 1 Common White Oak.
Character comes from knots, open checks, wormholes, along with machining and drying variations. These are limited in frequency but less so than Select grade boards. Board length varies, too.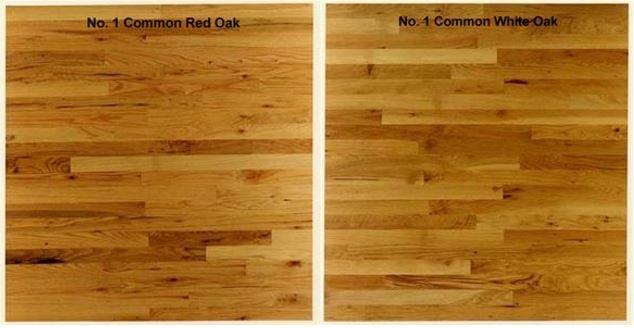 4. No. 2 Common Oak (Rustic or Builder's Grade)
Finally, there's No. 2 Common Oak which reflects the greatest character and variation as you see in the image below with No. 2 Common Red Oak and No. 2 Common White Oak.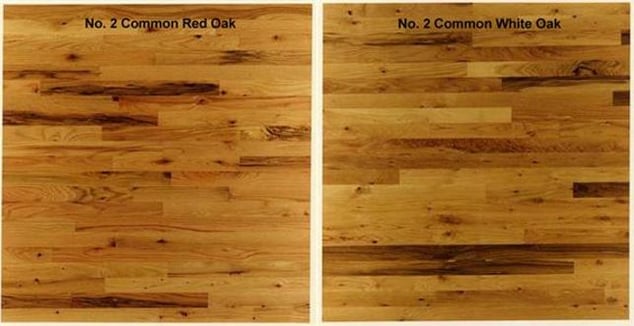 These planks include natural variations - knot holes, open wormholes, and other open characters along with prominent color variations - as well as those resulting from the manufacturing process - drying characters and machining irregularities. You'll find shorter board lengths.
The resulting look is rustic, casual, and rich in character.
BuildDIRECT refers to additional hardwood terms for pre-finishing No. 2 Common grade hardwood products:
Cabin Grade

– a rough-hewn look in hardwood flooring; allowed checking, unfilled knot holes and wormholes, no splits, no loose knotholes.
Shorts -

with

the most visible character from knots, pinholes, and color variations present.
And, for unfinished No. 2 Common grade hardwood products:
Country or Exclusive Grades - more color variation, shorter board length with greater length variation, and an increased chance of visible knots and pinholes.
Traditional, Antique, Character Grades - where boards show natural character, with darker and lighter boards, shorter board length, and an increase in visible knots and pinholes.
Tavern or Cabin Grade -

with

the most visible character from many knots, pinholes, and color variations.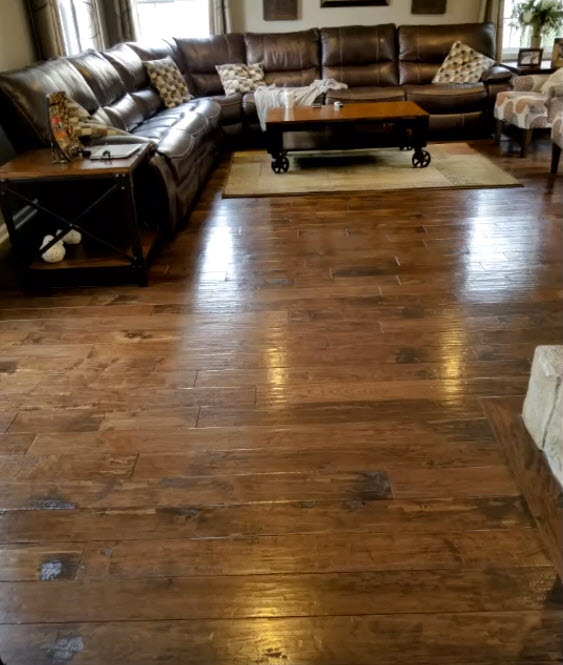 Which Hardwood Flooring Grade Do You Prefer?
Are you looking for clear or select wood floors? Or, rather, floors with intense character?
We invite you to visit one of our two showroom locations in Middletown or Orange, where you can ask more questions about hardwood flooring grades and see the difference firsthand.
>> How Much Do New Hardwood Floors Cost?
Let us know of questions in the comments or contact us.
We look forward to helping you.
Thanks for reading,
Janine & Michael
Note: We first published this article on 04/24/2019, and have updated it.