Why Does Pre-Finished Hardwood Flooring Have Beveled Edges?

Are you shopping for hardwood flooring and wondering about beveled edges vs. square edges? It's a question we are frequently asked, especially about pre-finished hardwood.
Let's explore the types of hardwood edges you can expect, starting with pre-finished wood.
Why Does Pre-finished Hardwood Have Bevels?
Sometimes called an eased edge or a micro bevel edge, a beveled edge is designed to compensate for minor tolerances during the milling process. Usually, it's a 45-degree cut down the sides of the floorboards.
The micro bevel is a forgiving edge, helpful in compensating minor milling tolerances with pre-finished hardwood flooring. The opposite is a square-edged board, which is a 90-degree cut.
Beveled Edges Help Your Hardwood Look Better Longer.
Beveled edges have unfairly been referred to as "the valley of dirt" when in reality those tiny grooves can actually help your hardwood look better longer since dust and debris naturally fall into the gaps. The dirt that collects in these spaces is not sitting on the plank surface waiting to scratch and dull the finish.

Let's talk about cleaning and examine the myth about keeping beveled edges clean and free from dirt and debris.
Cleaning Beveled Edge Hardwood Planks is Easy and Painless.
A vacuum works best to remove any build-up in the grooves, but make sure to use a hardwood flooring-safe vacuum to avoid damage. Those with a brush or buffer on the end work best.
We use a Shark Navigator and it works extremely well. It also has a lift-away feature that makes it a breeze for vacuuming steps.
Micro-fiber mops are popular for picking up dust and dirt with minimal effort.
As with any pre-finished hardwood flooring, using a hardwood floor spray cleaner works well for weekly cleaning.
>> See TOP FLOORING MAINTENANCE TIPS FOR CARPET AND HARDWOOD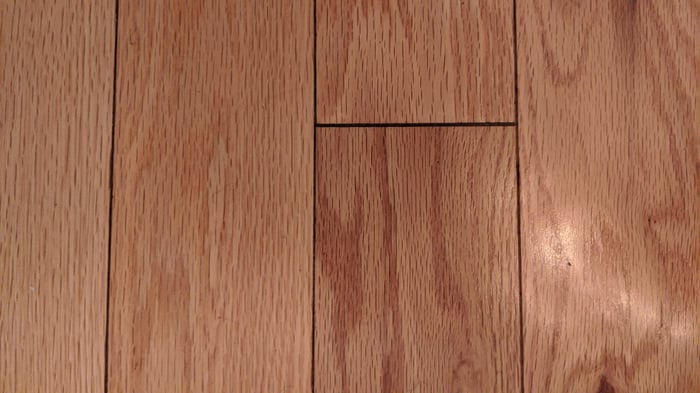 Prefinished Mercier Pro with Micro Bevel Edges and Ends
Can I Get a Pre-finished Flooring Without a Bevel?
There is no getting away from the fact that beveled or micro-beveled wood flooring is much more tolerant to sub-floor unevenness and less likely to get accidentally damaged than a square edge board.
This is why many pre-finished manufacturers avoid square edge wood flooring.
Various factors go into deciding the cost of hardwood flooring. The edging type is one of those factors. It will cost more for manufacturers to mill and cut boards perfectly even than to create a micro-beveled edge.
Consumer complaints about square edge boards not being perfectly flat as well as edge damage from moving a chair across the boards have led to many manufacturers moving away from producing square edge wood flooring.

>> See PRE-FINISHED VS. SITE FINISHED HARDWOOD: WHICH IS BETTER?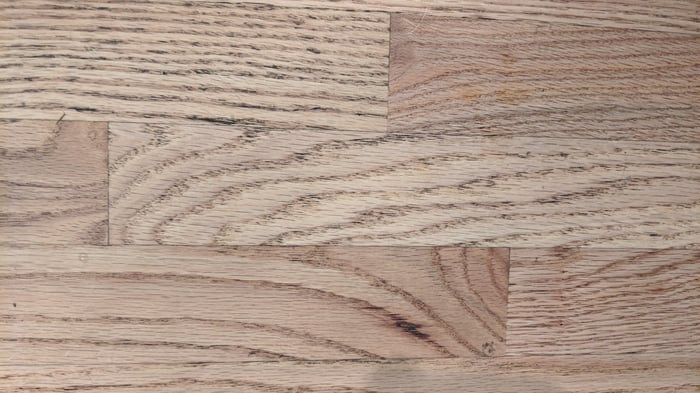 Square Edge Hardwood Sanded and Finished On Site
Getting a Square Edge Hardwood Flooring
If you want a square edge hardwood floor to create a seamless look, site-finished flooring is your best choice. Once your unfinished hardwood boards with square edges are installed, the boards are then sanded flat. A stain can be applied for custom color if you desire and then finished with 3 coats of polyurethane to protect the floor.
>> See WHICH IS A BETTER HARDWOOD FLOOR FINISH: OIL-BASED OR WATER-BASED?
Keep in mind that with seasonal weather changes all hardwood will expand and contract sometimes causing gaps between the boards. This usually occurs in the winter when dry weather shrinks the boards.
Once Spring and Summer arrive along with increased humidity, boards will expand and gaps will disappear. This can be controlled and minimized by maintaining your home's climate control year-round to 60 - 80 degrees with relative humidity levels at 35% to 50%.
How to Test Your Home's Humidity Level
One of the easiest ways to test your home's humidity level is to purchase a hygrometer or indoor humidity monitor. Then, place the small device in the room you want to test and follow the instructions.
The hygrometer will show your home's humidity level in a percentage. For most homes, the ideal humidity level is less than 55 percent during the summer, and 25-40 percent during the winter.
If the humidity level in your home is below 25 percent, it's a good idea to purchase a humidifier for your home. In addition to helping your hardwood floors, a humidifier adds moisture to the air to prevent dryness that can also cause irritation in many parts of the body. Humidifiers can be particularly effective for treating dryness of the skin, nose, throat, and lips. They can also ease some of the symptoms caused by the flu or common cold.
>> See HOW TO CHOOSE THE RIGHT HARDWOOD FLOOR FOR YOUR HOME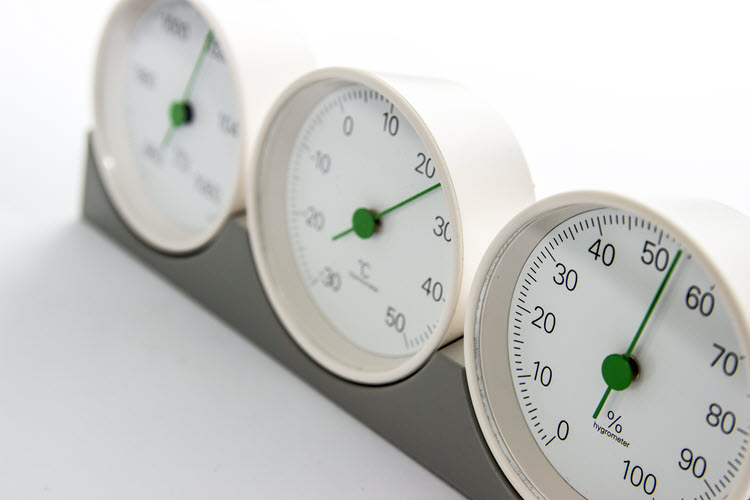 Do You Have Other Questions About Beveled Edges and Pre-Finished Floors?
Let us know.
And, when you're ready, we invite you to visit our showrooms. There, you can explore the many pre-finished or site-finished hardwood flooring options available.
We look forward to helping you.
Janine & Michael
Note: We originally published this article on 09/16/2020, and have updated it.