How to Prevent Flooring Problems Prior to Installation

If you're intent on preventing flooring problems, you'll want to address any issues prior to installing your new floors. Here are the top seven sources of problems that you will want your flooring professional to check into when you next replace your floors.
7 Subfloor Issues to Address Before Installing New Floors
1. The Sub Floor Must be Flat
A flat sub floor means that there are no humps or dips in the sub-floor or slab.
If you have a plywood sub-floor, and one of the plywood sheets is higher than the one next to it, you will need to sand the higher one down, so that they are even on top.
If you have low spots in a concrete slab, you will need to use a leveling compound to even out the level of the slab.
If you have a hump in the concrete slab, you will need to grind that down to the level of the rest of the slab.
The entire area does not need to be "Level". Most homes settle, and many slabs are not level. A gradual slope is normal. However, the area must be flat.
>> See A Flat Floor vs. a Level Floor: What's the Difference?
2. The Sub Floor Must be Clean and Dry
Having a clean and dry subfloor is extremely basic, but you would be surprised at how many people simply bring home a floor and lay it out for installation without even sweeping or vacuuming the surface where it will be installed.
The result can be a crunching sound, like walking on gravel.
So make sure that sub floor is completely clean and dry.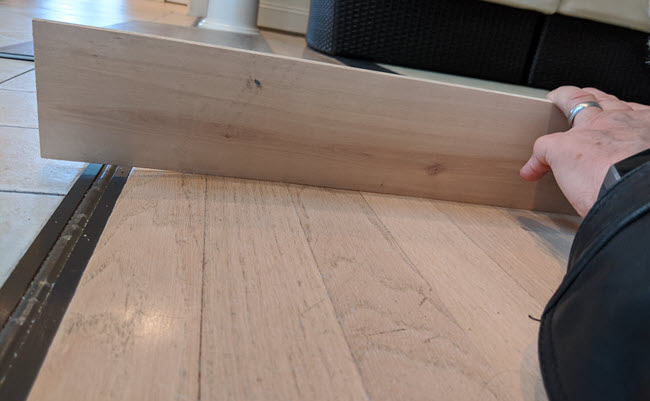 The Ridge in the Hardwood Floor Will Need to be Sanded Down Before Installing a Floating Floor on Top of it.
3. Be Sure to Use the Correct Sub Floor/Flooring Combination
Different flooring products have different sub floor requirements and it's best to check with the flooring manufacturer to confirm what is a suitable subfloor for your product.
For example, floating floors can be installed over a multitude of sub floors that are flat, dry, and structurally sound. (You can not install a floating floor over carpet).
Can Your Subfloor Accept Nails or Adhesive?
When installing flooring that needs to be secured to the sub floor you must be sure it is the correct subfloor to accept nails or adhesives.
Particle Board: Only Suitable for Carpet or Floating Floors
Particle board has the appearance of oatmeal that is actually made up of tiny wood and wood dust particles glued and pressed together. It is often found under carpet in homes that were built in the 1970s.
This type of product is not a structural sub-floor material and therefore can not be used with any flooring types that require fastening with either glue or nails. Particle board is only suitable as an underlayment for carpet or a floating floor.
>> See What is a Floating Floor?
4. Some Floors Need an Additional Underlayment
Some types of flooring require an additional layer of material or underlayment between the subfloor and the actual flooring.
Solid Wood Flooring
For solid wood flooring, you want to have rosin paper, such as a 15 lb. roofing paper. It is a vapor barrier that will keep humidity from rising up from a crawlspace or basement but doesn't trap moisture under the wood as a plastic would.
Floating Floors
For floating floors like engineered flooring, luxury vinyl, and laminate, you want to get an underlayment that absorbs impact and has sound-deadening qualities.
Laminates & Luxury Vinyl Flooring
Many laminates and luxury vinyl floors now come with the underlayment attached to the bottom of the flooring.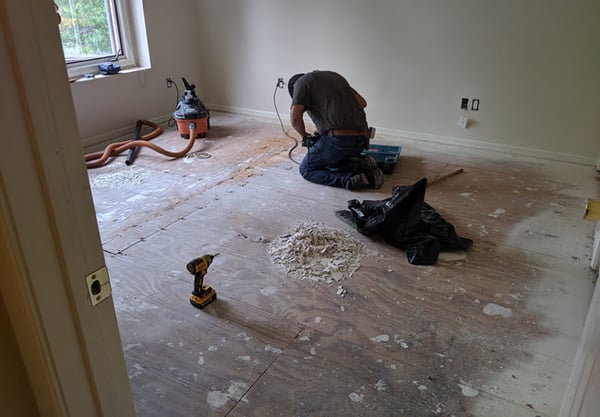 Screwing Down the Existing Sub Floor to Eliminate or Reduce the Squeaks
5. Sealers and Adhesives with Moisture Barriers
For engineered hardwood flooring that is being glued to a concrete slab, you will need to either roll on a sealer or install the flooring using an adhesive with a vapor barrier to prevent moisture from the slab from reaching the wood.
You will want to use only adhesives recommended by the flooring manufacturer.
6. Eliminate or Reduce Squeaks
Some sub-floors were installed by builders who just used nails to fasten the plywood to the joists.
When homes settle, the plywood and joists shift slightly. That's when you can hear creaking and squeaking when you walk on the floor. This is caused by the plywood moving up and down on the nails.
That's why at Floor Decor Design Center before we install flooring, we screw the sub-floor down to stabilize the sub-floor and reduce or eliminate the noise.
7. Beware Carpet the Great Cover Up
Carpeting can hide a multitude of sub-floor issues which is good and bad.
It's good when you are installing a new carpet because generally if you are replacing an old carpet, the new carpet should hide the same issues that may be under the old carpet.
The problems arise when you are replacing a carpet with a hard surface flooring material such as hardwood, laminate, vinyl planks, or sheets.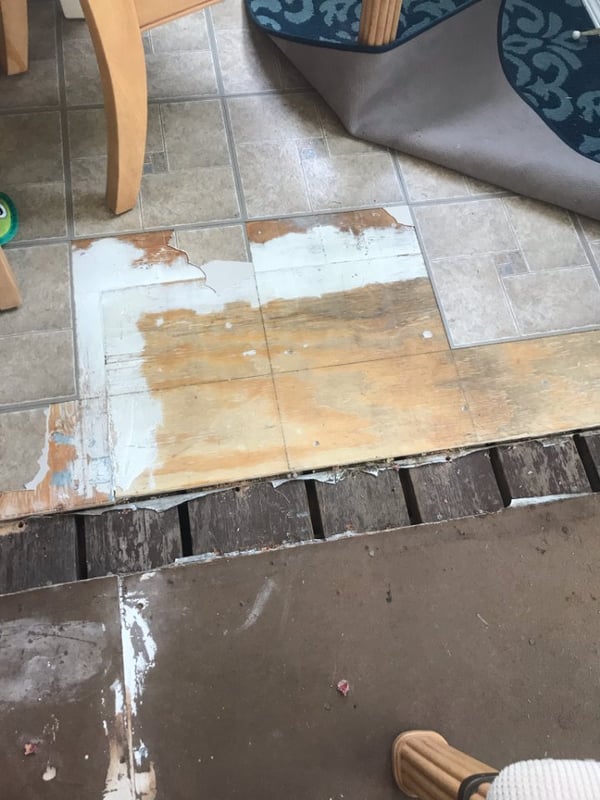 That's because hard surface products need a subfloor that requires much more rigid standards than a carpet.
The issues most often found under the carpet are ones that can't be seen until after the carpet has been removed. These include multiple types of sub-flooring as seen in the photo above, rotted floorboards or plywood, and high and low spots to name just a few.
Until the carpet has been removed expect to have additional floor prep performed before installing your new floor.
Remember that a new floor is only as good as the subfloor it will be installed over so don't be penny wise and pound foolish. Be sure to address the issues prior to the installation of your new floor. Start with these seven flooring problem sources.
Regardless of the kind of flooring you're interested in, we invite you to explore one of our two showroom locations in Middletown or Orange. We'll be happy to discuss the kind of floor prep your choices might require.
Let us know of any questions in the comments or contact us.
We look forward to helping you.
Thanks for reading,
Janine & Michael
Note: We originally published this post on 01/29/2020, and have updated it.