What comes to mind when you hear the term 'floating floor'? Possibly visions of magic flying carpets and floors on clouds? Here's the low-down on what it means and represents in terms of flooring options for your home.
What is a Floating Floor?
A floating floor is a type of flooring installation system where the flooring is not secured to the subfloor by means of glue, nails, or staples.
It actually lays on top of the subfloor and each panel or plank is secured to each other by a locking system or adhesive and simply "floats" on top of the subfloor.
The subfloor can be concrete, plywood, particleboard, or a previously installed floor that is secured to the subfloor.
How Does a Floating Floor Stay in Place?
You might wonder what keeps a floating floor from moving if it's not secured.
The individual planks or tiles are heavy and when they are locked together the weight is dispersed over a wide area and the floor acts as one big heavy flat object.
Floating floors require an expansion joint around all fixed objects such as walls and cabinets which are then covered with either a baseboard molding or shoe molding.
What is the Difference Between a Laminate Floor and a Floating Floor?
Laminate flooring was introduced back in the mid-90s and most people remember it by one of the well-known brand names "Pergo". When laminate flooring was introduced it was the only floor that was installed using the floating system so the names became synonymous.
However, a laminate floor is just one type of floor that is installed using the "floating floor" installation system. Today there are many flooring types that can be installed using the floating system.
Along with laminate, today you will find hardwood, cork, linoleum, and luxury vinyl flooring all with options for installation that include locking systems that allow the floor to be floated.
>> See What's the Difference? Vinyl Flooring vs. Luxury Vinyl Tile or Plank
>> See Consider Cork Flooring for your Home: WE Cork Serenity Collection
What is the Advantage of a Floating Floor?
One of the biggest advantages that floating floors have is that they can be installed over a multitude of subfloors with minimum subfloor preparation.
Minimal Sub Floor Preparation
Sub-floor irregularities are less likely to telegraph through a floating floor the way they do with a traditional glued-down floor.
Take the image below in which you can see irregularities distorting the flooring. That is what telegraphing does. It would have been a better idea to install a floating floor over this subfloor.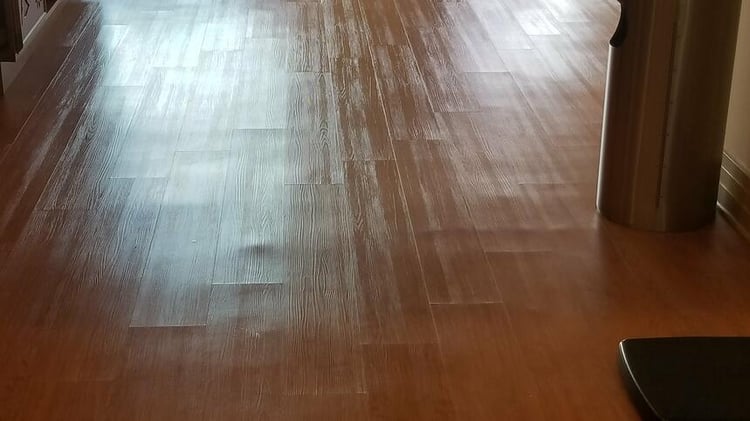 Sub Floor Telegraphing
Floating Floors Can Go Over Tile
Another advantage is that you can often install a floating floor over a ceramic tile floor, saving labor costs associated with the removal of the ceramic tile.
The image below captures that very situation.
First, you see the before-image of a sunroom with a ceramic tile floor.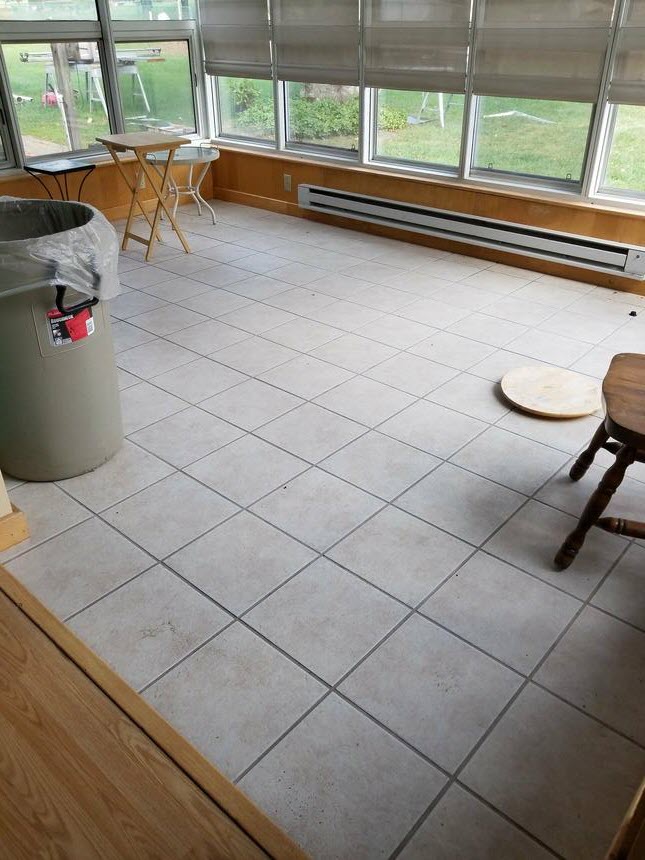 Existing Ceramic Tile Floor
This next image shows you what the very same room looks like with an attractive COREtec Luxury Vinyl Plank floating floor installed over the tile.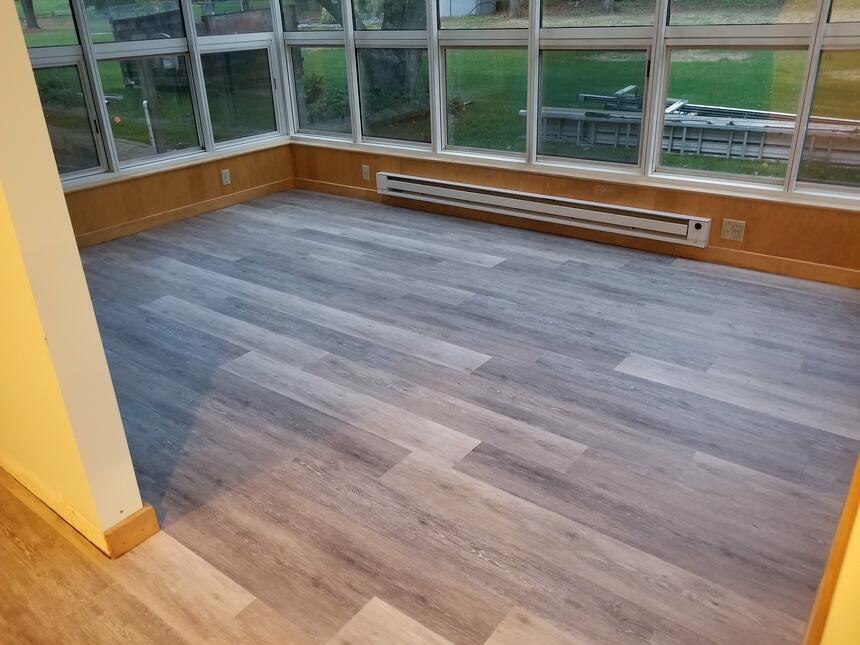 Coretec Plus Floating Floor Over Ceramic
Notice how that noticeable transition strip to bridge from the laminate flooring to the tile floor is gone. This installation replaced both original floor products.
Are You INTERESTED IN a Floating Floor FOR YOUR HOME?
Perhaps it makes sense given the existing flooring you have in place.
We invite you to visit one of our two showroom locations in Middletown or Orange to learn more.
Let us know of any questions, either in the comments or contact us.
We look forward to helping you.
Thanks for reading,
Janine & Michael
Note: Header image illustrating a floating floor courtesy of Aquatec Flooring.
We originally published this article on 09/04/2019, and have updated it.