If you're in the market for new flooring, you'll find that it's really valuable to plan for a successful installation. Why? Because once you've purchased new floors, you need to make sure that they are installed properly.
Here's a five-step overview of what to expect and how to plan for flooring installation success.
What's Involved in a Successful Flooring Installation?
Step 1: Selecting the Right Flooring
Purchasing new flooring starts with a vision of how your new floor will enhance your home's decor. You look at pictures for flooring ideas, you research options that best fit your needs, you bring home samples, and finally, you narrow down your choices until you make your final selection.
In most cases, you will have someone install your new flooring unless you are a seasoned do-it-yourselfer. Proper installation of your new floor is paramount to how your floor looks. No one wants to spend hard-earned money on new floors only to have them improperly installed.
Step 2: The Job Site Assessment
For that reason, once you've selected your new floor, you'll want to have a professional assess your job to be sure there will be no issues once the installer arrives to install your new floor. Many factors go into a quality installation.
Proper Floor Measurements
The first factor is proper measurements. This ensures you have enough material ordered to complete the installation and incur no delays related to having to order more.
Industry standards for hard surface products such as wood, tile, laminate, and luxury vinyl plank flooring are to add 10% to the net measure of the area to be covered to allow for cutting and waste.
Roll goods such as carpet and sheet vinyl may have up to 15% waste due to room sizes and seam placement.
We strongly recommend that you discuss seam placement at the time you place your order.

Sub Floors
Next is to determine what type of subfloor your new flooring will be installed over.
New carpet can be installed over virtually any type of subfloor. Carpet can be installed over hardwood, plywood, particleboard, cement, vinyl tile, sheet vinyl, ceramic tile, and in some instances over an existing glued-down carpet. Because carpet is generally installed over a cushion, a lot of subfloor irregularities can be hidden. If you are installing a carpet as a direct glue-down additional prep work will be needed to assure a quality installation
Hard surface floors such as hardwood and tile require much more in-depth preparation to achieve a quality installation. One of the biggest issues with hard surface floors not installed over a properly prepared floor is imperfections in the subfloor telegraphing through as seen in the photo below.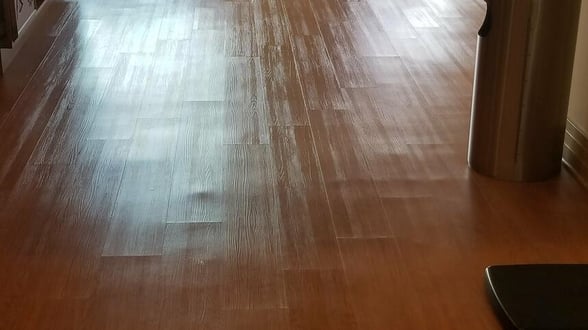 Step 3: Removal of Existing Floors & Addressing Sub Floor Issues
If you are replacing an old carpet and installing new carpet, unless there is a glaring issue there is usually little floor preparation that is needed.
On the other hand, if you are removing an old carpet and installing a new hard surface flooring you will want to do an in-depth analysis to be sure all potential issues are addressed. Carpet and pad can hide potential issues that can not be seen until after they are removed.
6 Types of Sub Floor Issues to Address
Here are some of the potential issues that may need to be addressed before installing your new floors:
1 - Concrete subfloors with moisture issues
If there's moisture, you'll need to have a moisture test done to determine what will be needed to remedy the problem.
Depending upon what type of new flooring you selected, a 6 mil moisture barrier can be used if it is a floating floor.
Otherwise, if it is a floor that will be glued down, a premium adhesive with a moisture barrier will be needed.
2 - Particle Board sub floors
Particleboard sub floors were used in new construction in the 1970s and 1980s under carpets as a less expensive subfloor option than plywood.
If you are replacing a carpet with a new carpet, no additional prep is needed.
However, if you are installing a hard surface flooring, your only option would be to use a floating type hardwood, laminate, or a luxury vinyl tile or plank. A glued or nail-down flooring choice would require either removing the particleboard and/or adding a suitable plywood subfloor.
3 - Uneven sub floor
Here again, carpet can hide a multitude of sub floor issues.
If your new floor is a hard surface flooring, you will need to grind high spots, patch low spots, and/or use a self-leveling patch.
Industry-standard for a flat floor is 3/16" over a 10' radius.
4 - Rotted floorboards or water damaged plywood
If you have rotted floorboards or water-damaged plywood, these will need to be replaced.
5 - Mold
Any signs of mold should be addressed by scrubbing the surface mold stains from walls subflooring and wood trim with a mixture of 1 qt. water and 1/2 cup bleach.
Use a soft brush and work until signs of the mold disappear.
6 - Asbestos flooring (usually found in 9" x 9" vinyl tiles or sheet vinyl installed prior to 1985)
Asbestos flooring material is not generally considered to be harmful unless it is releasing dust or fibers into the air where they can be inhaled or ingested.
Asbestos flooring can only be safely removed by a state-licensed asbestos abatement company.

Step 4 - Other Flooring Installation Considerations
Once your sub floor has been addressed, you'll also want to consider the following to accurately estimate your costs as well as minimize unwanted issues during the installation:
Transitions from Floor to Floor
How will the height of your new flooring affect the existing moldings including door jambs and transitions into other rooms?
Your contractor can review options on the best way to address these issues.
What About Appliances?
Will adding a sub floor or a new floor create issues for appliances fitting under countertops or cabinets? It's important to consider this question before installation.
What Type of Moldings Will be Used?
Generally, if shoe molding is used, it should match the color of the baseboard molding.
If moldings are needed around cabinets moldings should match the cabinets.
What About Cast Iron Radiators?
Cast iron radiators should be removed by a licensed heating contractor prior to the installers' arrival. They can then be re-installed after your new flooring has been completed.
Height adjustments may be needed depending on the height of your new floor.
What About Furniture Moving?
Furniture moving can be done by most flooring installers at additional cost.
Items that installers can not move include pool tables, grandfather clocks, antiques, electronics, water beds, and valuables.
Step 5 - Review Line by Line List of Materials & Labor Need for Floor Installation
Be sure to get a line-by-line list of items included both for materials and labor needed and review them with your installation professional.
Realize that, if your existing flooring needs to be removed the same day as your installation, there may be unexpected costs for floor prep associated with that situation, so be sure to discuss your specific situation. All in all, the better you prepare, the smoother your installation will go.
Ready to Plan Ahead for Your Successful Flooring Installation?
You'll find that working with a flooring contractor who specializes in flooring materials and installations is better equipped to help identify potential problems before the installation than a remodeler or handyman.
We invite you to visit one of our two showroom locations in Middletown or Orange, where you can ask more questions about installing new flooring successfully.
Or, you can let me know of any questions in the comments or contact us.
We look forward to helping you.
Thanks for reading,
Janine & Michael
Note: We originally published this article on 09/11/2019, and have updated it.