A Guide to Commercial Flooring Costs

When it comes to commercial flooring, you'll find dozens of options available at different costs. But before you start picking out color schemes, you need to consider your property's needs.
Commercial flooring must be able to withstand the heaviest level of foot traffic without the constant need for maintenance. So selecting the correct flooring type is critical. Materials need to be sturdy and durable and meet your budget requirements.
What Are the Most Common Commercial Flooring Solutions and at what cost?
Commercial Carpet and Carpet Tile
Carpet and Carpet Tile work well in many commercial settings. They are softer underfoot than hard surface flooring options as well as are quieter in busy spaces.
The initial investment for carpet tile is generally more than traditional wall-to-wall carpet. However, in the long term, the cost could equal out since carpet tile can be spot replaced whereas with wall-to-wall the entire carpet would need replacement.
>> See Add Style with Stanton Street Decorative Commercial Carpet
Commercial Carpet and Carpet Tile Cost Guide
Carpet Tiles installed will range from $5.49 s/f to $7.99 s/f.
Wall to Wall Carpet installed will range from $3.99 s/f to $6.99 s/f.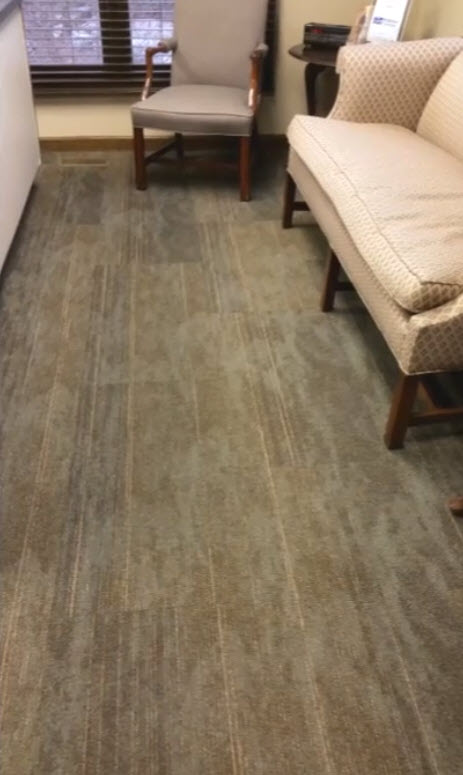 Vinyl Planks or Tile (LVT)
Vinyl Planks or Tile (LVT) is durable enough for high-traffic hospitals with rolling beds and fashionable enough for upscale restaurants or retail spaces.
LVT is easy to clean and is waterproof so it will not be damaged by spills or accidents. For areas with rolling traffic, a glued down installation is best. Areas without rolling traffic can be floated as well as installed over existing flooring, therefore, minimizing floor prep costs.
Commercial LVT Cost Guide
LVT installed will range from $5.99 s/f to $8.99 s/f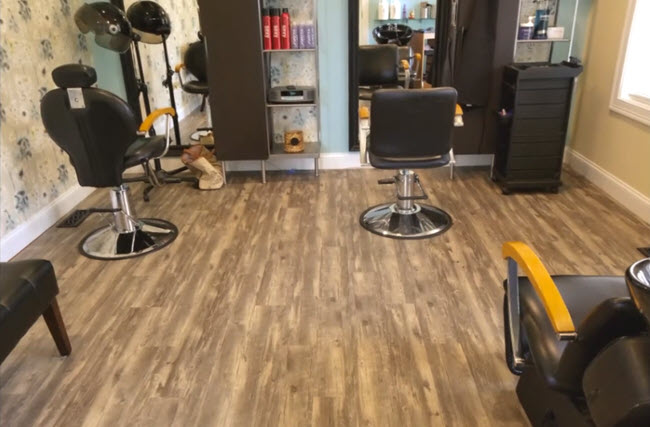 Commercial Installations with Hardwood Flooring
Hardwood Flooring is a popular choice for upscale retail stores and restaurants.
When selecting hardwood for a commercial space you'll want to be sure to choose a high-quality product. A good choice would be engineered planks with a low gloss finish and texture to hide eventual scratches that will occur. The type of hardwood you select will determine the price.
Commercial Hardwood Flooring Cost Guide
Low Gloss Polyurethane Hardwood installed will range from $10.99 s/f to $19.99 s/f.
Oil Finished Hardwood installed will range from $16.99 to $18.99 s/f.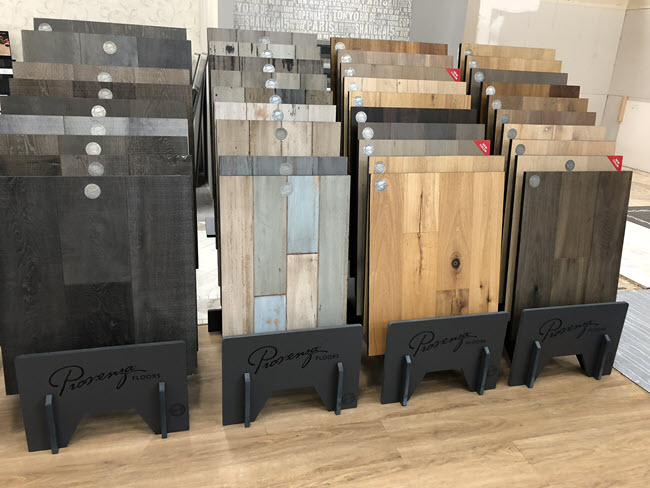 Porcelain Tile
Porcelain Tile is very durable and an excellent choice for commercial spaces.
Tile patterns will replicate stone, Travertine, and wood planks. Tile is very scratch resistant and waterproof
Porcelain Tile Cost Guide
Tile installed will range from $12.99 s/f to $17.99 s/f.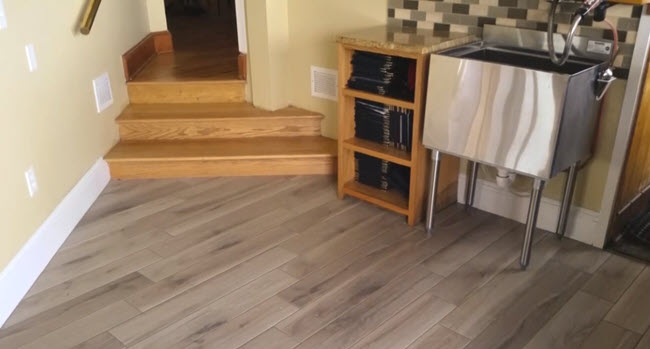 Rubber Flooring
Rubber Flooring is available in rolls 6'6" wide that are installed glued down as well as 24" x 24" interlocking tiles. Rubber flooring is great for fitness centers and home gyms as it is durable and slip resistant. It is also very sound-absorbent.
Rubber Flooring Cost Guide
Rubber Flooring installed will range from $10.99 s/f - $13.49 s/f
Vinyl Composition Tile (VCT)
Vinyl Composition Tile (VCT) has been used for decades in commercial spaces such as schools and hospitals.
Today VCT comes in various sizes in addition to the customary 12 x 12 tile and is more decorative. Some VCT needs to be stripped and polished, requiring more maintenance than most commercial floors.
Vinyl Composition Tile Cost Guide
VCT installed will range from $3.99 s/f to $5.99 s/f.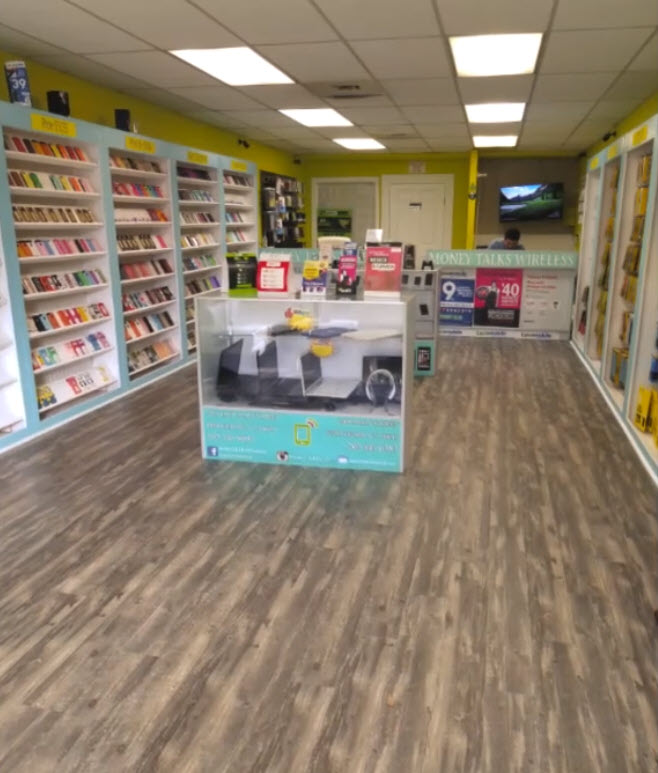 Commercial Flooring Cost Guide Recap
A few final thoughts to consider.
1. Address Floor Prep Issues
Your new floor will only be as good as the substrate or existing floor it is installed over. Floor prep such as leveling, moisture mitigation, and removal of existing floors all need to be added to your costs. Other factors you'll want to consider will be cove base, door transitions, adhesives, and furniture moving.
>> See How to Prevent Flooring Problems Prior to Installation
2. Consider All the Factors Affecting Your Commercial Installation
Commercial flooring is no small task.
You'll want to make sure you consider all factors, including the nature of your building use, the amount of traffic you'll be experiencing, available budget, maintenance resources, and aesthetic goals.
3. Hire the Right Installation & Maintenance Professional
And hiring the right professional for installation and maintenance is just as important as your material choice. With the right flooring and installation, you'll have years of use and a floor that maintains its look and style.
READY TO Evaluate Your Commercial flooring Options?
Floor Decor Design Center has many years of experience installing commercial flooring in Connecticut.
We invite you to visit one of our two showroom locations in Middletown or Orange to see what's available.
>> See Check Out the Commercial Flooring Options Available For Your Business (Video)
>> See Selecting the Best Flooring for Your Commercial Space
Let us know of any questions in the comments or contact us.
We look forward to helping you.
Thanks for reading,
Janine & Michael
Note: We originally published this article on 04/29/2020, and have updated it.