With so many different options available today, how do you select the best flooring for your commercial space?
These four considerations will help you understand your top priorities so you can identify the best commercial flooring product for your space.
What Are the Top Priorities for Your Commercial Space?
Here are the four top commercial flooring considerations:
What type of traffic do you expect in this space?
What is the look and feel you want to achieve?
How will you maintain the flooring?
What is your budget?
Let's explore each one and then look at product categories that are ideal for commercial settings.
1. How much foot traffic does your commercial setting receive?
Foot traffic is a major product consideration.
For example, heavy traffic areas require a much more durable product that should be easy to maintain compared to areas with light or moderate traffic, so you'll want to budget more for those areas.
Commercial spaces that normally require heavy traffic flooring products likely include:
Lobbies
Corridors
Medical offices
Retail stores
Banks
Restaurants
Note that not all commercial flooring projects require heavy-duty products. So, consider how much foot traffic you will receive and use that as a guideline to determine what product will work best for your space.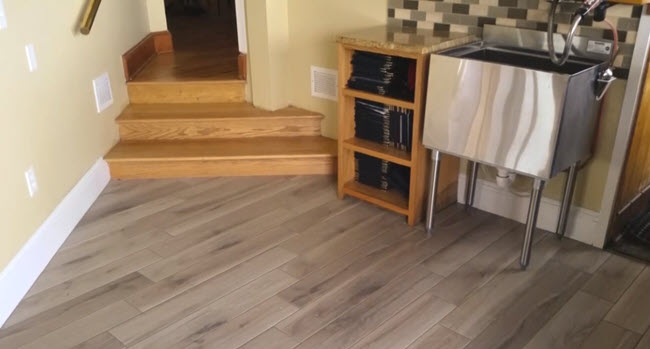 2. What look and feel do you want to achieve in your commercial space?
Next is determining what look and feel you envision for your business. If you don't, you could wind up with an installation that hinders the overall aesthetics.
For example, do you want the space to feel warm, help with sound insulation, and have an overall softness? Carpeting or carpet tile could be great choices for your space.
Are you looking for an upscale look? Materials like vinyl, cork, stone, or even concrete could provide exactly what you're looking for.
>> See What's the Difference? Vinyl Flooring vs. Luxury Vinyl Tile or Plank
>> See Consider Cork Flooring: WE Cork Serenity Collection
3. How will you maintain your floors?
Do you prefer an easy-to-replace option should damage occur? If so, carpet tiles are a great fit. Should damage occur to a section, all you need to do is replace that one section.
Is ease of maintenance something you desire? Resilient materials like vinyl and rubber could provide you with the install-and-forget-about-it option that you're seeking.
Carpet and carpet tile will need to be vacuumed regularly and professionally steam cleaned every year.
Hard surface flooring will need to be swept and or vacuumed regularly and may even need to be re-coated depending upon the product type.
4. What is your flooring budget?
And then there's budget. Your best option is to select the best quality flooring material you can afford to meet all your above needs.
If a high-end resilient hardwood look is what you would like but it's not in your budget, try selecting a product that will still give you the performance and ease of maintenance your business needs, such as a high-performing carpet that costs less.
Popular Flooring Options for Commercial Settings
Here are some of the most popular flooring options for commercial projects:
Commercial Carpet
Carpet is generally the most affordable flooring option. It is warmer and softer underfoot than a hard surface floor. Carpet also offers better noise absorption so it works well in an open space environment. Patterned carpets can also give your space a more upscale look.
Nylon is the preferred choice for commercial carpet because it is a stronger fiber with better bounce-back resiliency than its olefin counterpart. A solution dyed nylon in which the color is built into the fiber offers the most stain and fade resistance.
Selecting a carpet that has multi tones will help hide soil and stains. You'll need to vacuum your carpet regularly and have it professionally steam cleaned to keep it looking new.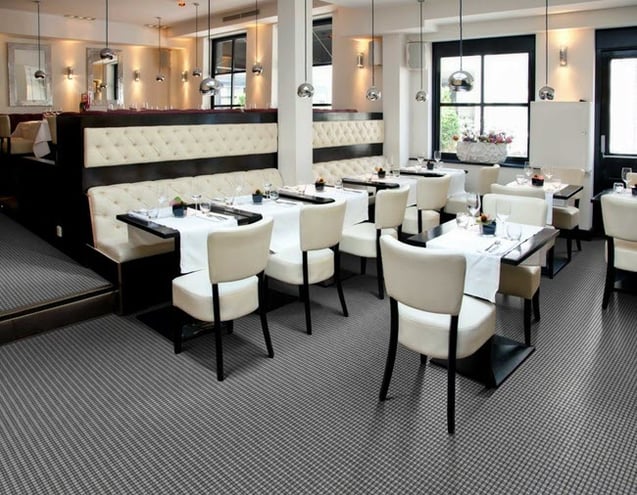 Stanton Street Fluidity Commercial Carpet
Carpet Tile
Carpet tiles are available in an extensive range of colors, patterns, sizes, and designs, and offer the ultimate in design options. You can change tile orientations to create subtle patterning, add accent tiles, or use a different design altogether for space definition.
>> See Add Style with Stanton Street Decorative Commercial Carpet
While the upfront cost of carpet tiles is more expensive than broadloom carpet, carpet tile systems are easier to replace. For high-traffic areas especially, it's much more cost-effective to replace a ruined carpet tile than it is to re-seam, re-stretch, and replace an entire roll of broadloom.
Carpet tiles offer the best acoustics of all flooring types, thanks to their multi-layered construction. Additionally, carpet tiles have a high-density cushion backing, meaning they're extremely comfortable underfoot - and have superior appearance retention compared to broadloom carpet types.
Like broadloom carpet, you'll need to vacuum your carpet regularly and have it professionally steam cleaned to keep it looking new.
Resilient Flooring
According to the Resilient Floor Covering Institute (RFCI), resilient flooring refers to flooring materials that have a relatively firm surface, yet characteristically have "give" and "bounce back" to their original surface profile from the weight of objects that compress its surface.
The most common types of resilient flooring are vinyl, linoleum, rubber, and cork flooring.
You will find resilient floors available in tiles and sheet goods. They are often chosen for commercial buildings because of their comfort underfoot, durability, long life, and easy cleaning requirements. "Resilient flooring has the advantage of comfort, but it also has durability and ease of maintenance," says Bill Freeman, technical consultant at RFCI.
Though all types of resilient flooring share some characteristics, what sets them apart is what you need to know to make the right commercial choice.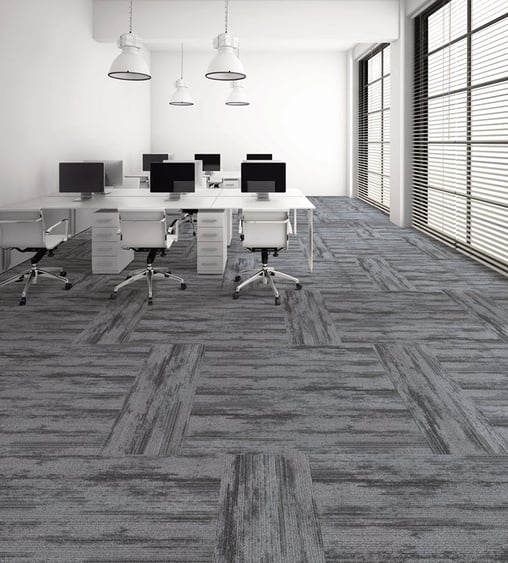 Stanton Street Prospect Plank Carpet Tile
Vinyl Composition Tile (VCT)
Until recently, VCT was the most popular form of vinyl, due mainly because of its low price.
VCT is manufactured with a factory finish coat of wax meant to protect it against minor abrasions and you'll most commonly find it in restrooms, kitchens, exam rooms, and hallways.
VCT floors require regular maintenance to keep up their appearance and prevent permanent damage.
Luxury Vinyl Plank or Tile (LVP or LVT)
Luxury vinyl plank and tile is a more modern upscale version of VCT. It is available in wood look and tile look visuals and works well in areas where VCT had been used previously. Like VCT, is is glued directly to the substrate.
Karndean Designer Flooring has many great styles at various price points that will work from entry-level to the most upscale spaces.
>> See Three Luxury Vinyl Designer Collections from Karndean
Multi-Layer Flooring
This category of vinyl flooring includes WPC (Wood Plastic Composite or Water Proof Composite) and a newer sub-category called SPC (Solid Polymer Core). These flooring types are generally installed by clicking the planks or tiles together to form a floating floor installation.
>> See What is a Floating Floor?
Where VCT and carpet were once the dominant flooring choices for commercial spaces, multi-layer flooring has quickly become one of the leading choices for commercial spaces.
These floors hide most subfloor irregularities, are easy to maintain, need no waxes or polishes, and look amazing.
>> See The Lowdown on Multilayer Flooring: LVT, WPC, SPC, and More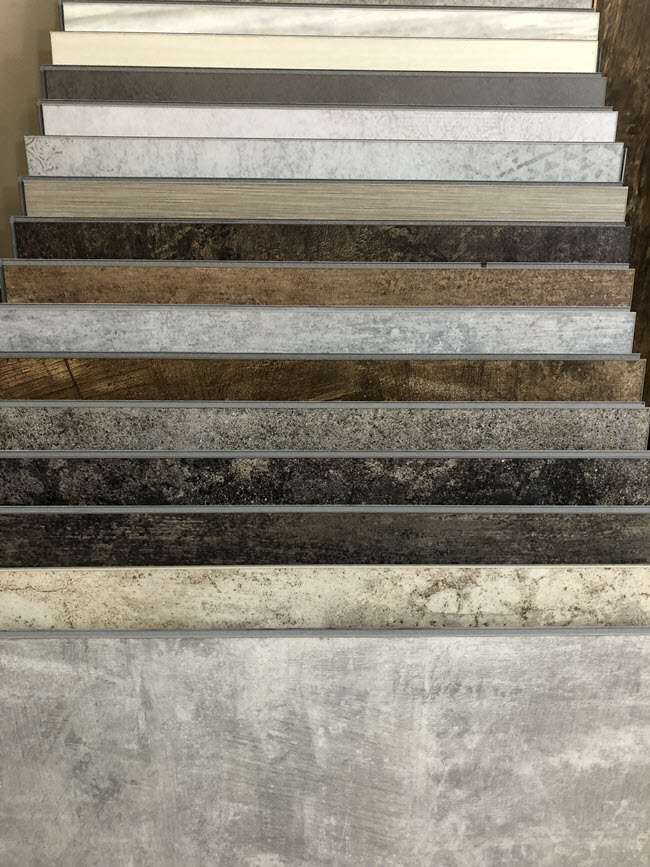 READY TO Select the Best Flooring for Your Commercial Space?
We invite you to visit one of our two showroom locations in Middletown or Orange to see what's available. We've installed flooring in many commercial settings in Connecticut.
>> See Check Out the Commercial Flooring Options Available For Your Business (Video)
Let us know of any questions in the comments or contact us.
We look forward to helping you.
Thanks for reading,
Janine & Michael
Note: We originally published this article on 10/09/2019, and have updated it.