Were you aware of how many commercial flooring options you have available at Floor Decor Design Center? In fact, I think you'll be surprised at the possibilities.
That's why we created a video showcasing commercial projects we've done for businesses like yours in the Connecticut area. These businesses include schools, stores, home salons, community centers, corporate headquarters, veterinary offices, and more. The flooring products they chose range from linoleum, porcelain tile, commercial carpet, carpet tile, luxury vinyl tile, and raised rubber tile.
Ready to learn more about the Commercial Installation Gallery video?
Floor Decor's Commercial Installation Gallery Flooring Options Video
Two Schools, Two Distinct Flooring Choices
One School Chooses Marmoleum
Are you familiar with Marmoleum? It's a linoleum manufactured by Forbo Flooring Systems, a global player in high-quality commercial and residential floor coverings. Forbo focuses on environmentally friendly, functional, and design-oriented floors such as linoleum.
Made from linseed oil combined with tree resins, recycled wood flour, cork dust, limestone, and mineral pigments, and then mounted on jute or canvas backing, linoleum is intrinsically eco-friendly. Essentially, Marmoleum is a flooring material made of 97% natural raw materials - 72% of which are renewable and will grow back within 10 years - and recycled content. The entire product is biodegradable, and USDA certified 100% bio-based.
Combine that with being extremely durable, long-lasting (up to 40 years or more if installed properly), and, because the color and pattern permeate the entire product, nicks and scratches aren't eyesores and can be repaired. No wonder a school chose Forbo Marmoleum tile for its floors.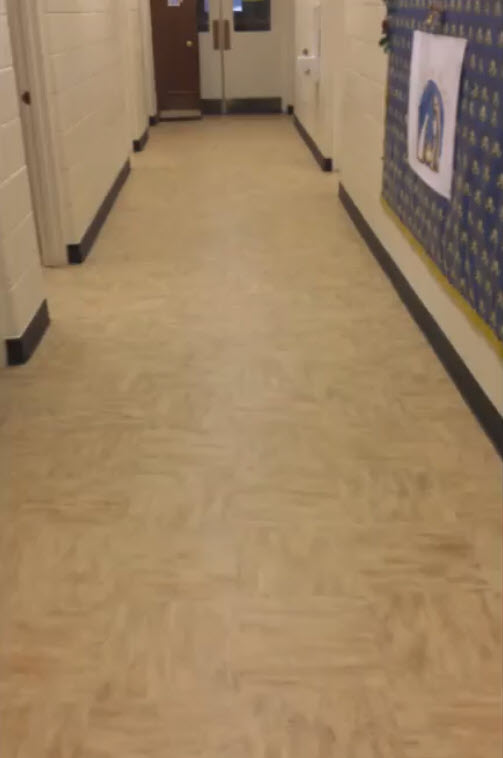 Another School Chooses Carpet Tile
The second school included in the Commercial Installation Gallery video chose carpet tile for its floors. More specifically, this private school opted for Mohawk Carpet Tile.
They really liked the visual effect of the carpet tile pattern and how easy it would be to replace tiles in high-traffic areas. They also appreciated how carpet helps control sound.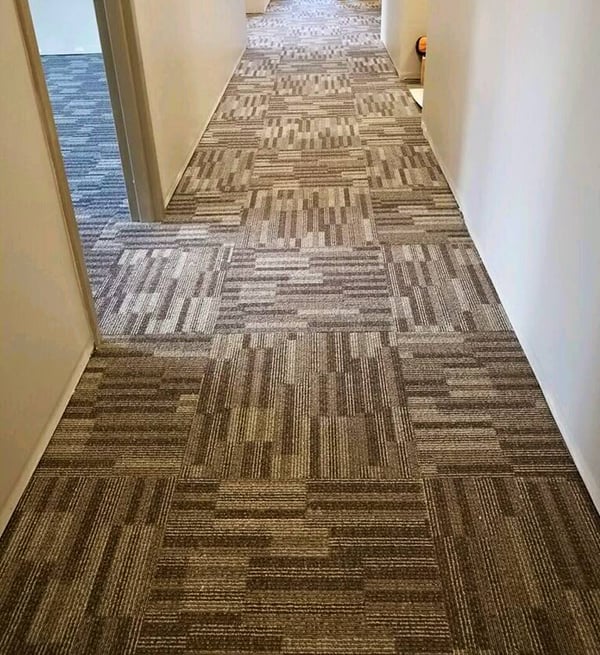 Another carpet tile to consider is Stanton Street from Stanton Carpet which offers planks as well as tile. You can learn more by visiting Add Style with Stanton Street Decorative Commercial Carpet.
Luxury Vinyl Tile (LVT) Floors for Salons, Retail Spaces, Offices, and Community Rooms
Two Salons Select Luxury Vinyl Tile (LVT) Floors
What makes these two hair salons stand out is that one is a traditional retail business and the other is a home salon. Both businesses, though, selected Luxury Vinyl Tile for their floors. Both were looking for easy maintenance and aesthetically pleasing floors.
In the photo below, you see the retail salon. Notice how warm and welcoming the floors make the space look and how well it works with the paint color and the furniture-vanity piece.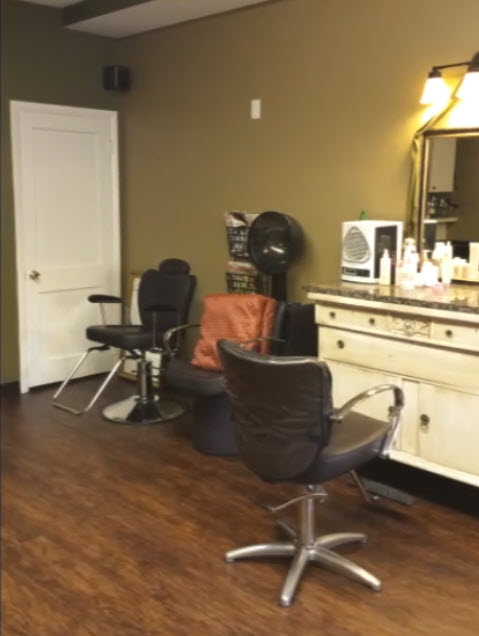 This next photo is of a home salon. Notice how beautifully the Shaw LVT pattern coordinates with the wallpaper and the wall paint color.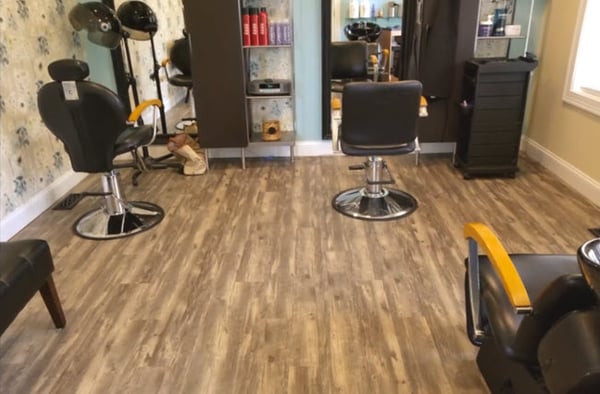 The Salvation Army Regional Office Picks LVT
Hair salons aren't the only kind of business to select LVT as you'll see from the next examples.
The next three images capture the Salvation Army Regional Office in Connecticut where Floor Decor replaced the flooring with Karndean LVT. The reason? Because this office receives a great deal of traffic and the Salvation Army wanted a floor that was durable and easy to care for.
Below, you see the Salvation Army lobby entrance.
As you explore further, you'll come across other spaces, including the meeting area below.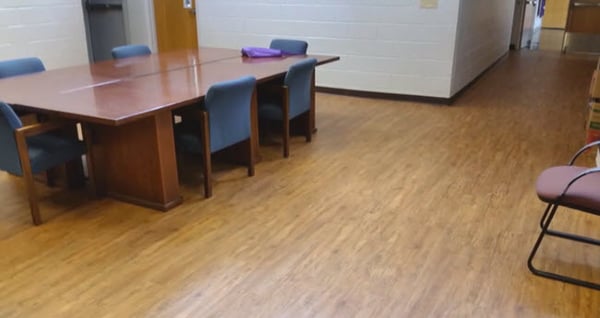 And the conference room in the next photo below. Notice how well the selection works with the existing furniture and wood cabinetry.
>> Explore Karndean LVT selections at Floor Decor Design Center
A Phone Store Picks LVT
This phone store picked Shaw LVT for the same reasons: ease of maintenance and durability.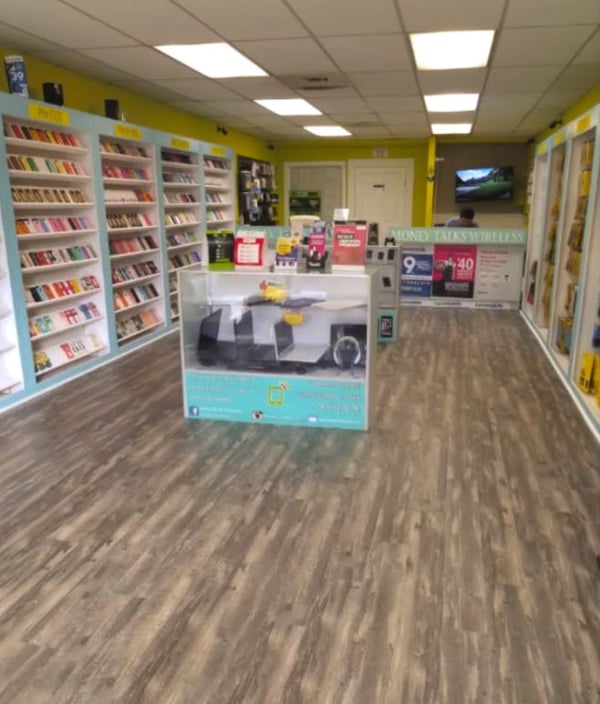 A Church Selects Floorte LVT for its Community Room
The next image captures a Church Community Room's beautiful floor made of Shaw Floorte LVT. Here, too, ease of maintenance and durability were top of mind.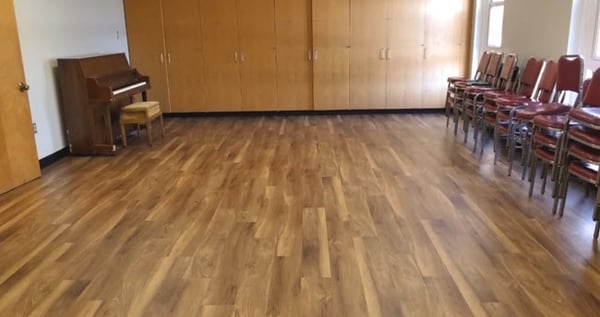 >> Explore Shaw Luxury Vinyl Tile Options at Floor Decor Design Center
Law Offices Opt for Carpet Tile
Carpet tile isn't just for schools. It's also a terrific option for law offices.
Here in the next three images, you see Shaw Carpet Tile. This law firm loved how the pattern combined stripes with a velvety visual. The color palette blends beautifully with the floor and door trim and the other wood furniture touches.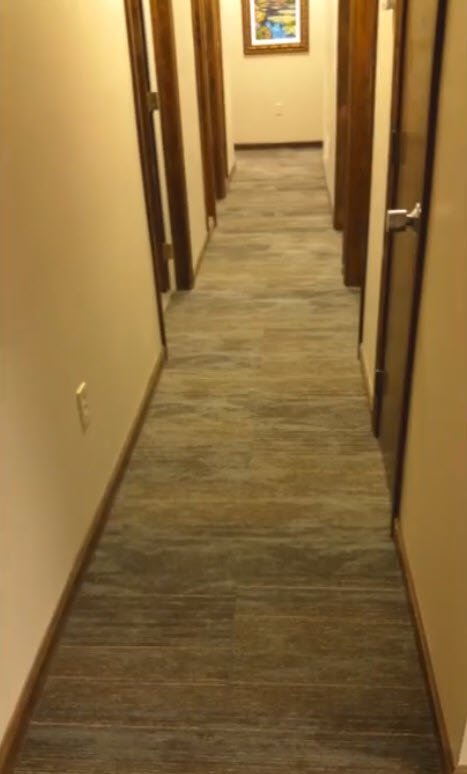 The carpet color also pulls tones from the filing cabinets and the wall paint.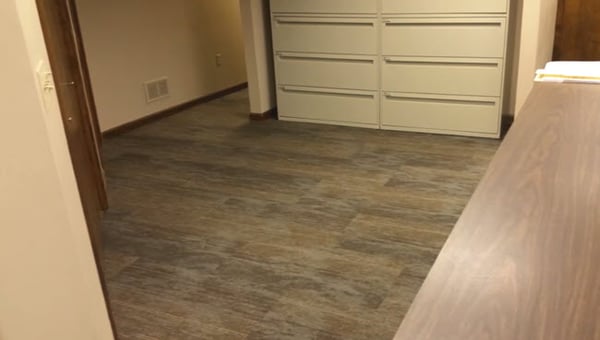 Here's a closeup of that striped pattern with velvety visuals.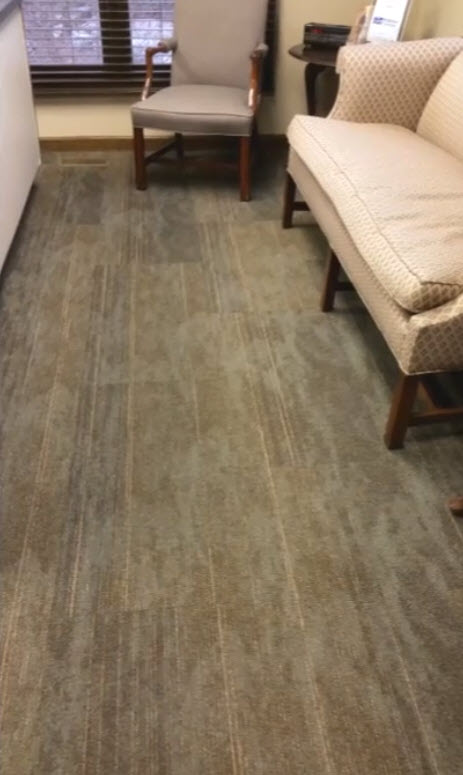 Another Commercial Flooring Option: COREtec LVT
A Community Center Selects COREtec LVT
COREtec Plus is made by US Floors, a manufacturer of unique and sustainable floors based in Dalton, Georgia. It is a luxury vinyl floating floor that doesn't need to be nailed or glued down to the subfloor. Instead, the tiles or planks lock into place. This flooring option also makes for a terrific commercial flooring solution that is easy to care for and moisture resistant.
Here you see the Glastonbury Community Center with COREtec Gold Coast Acacia LVT.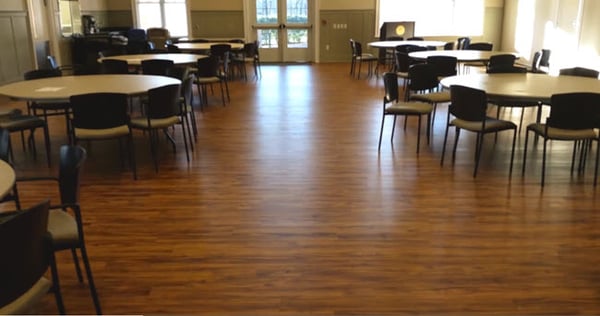 Here's another view of the Community Center.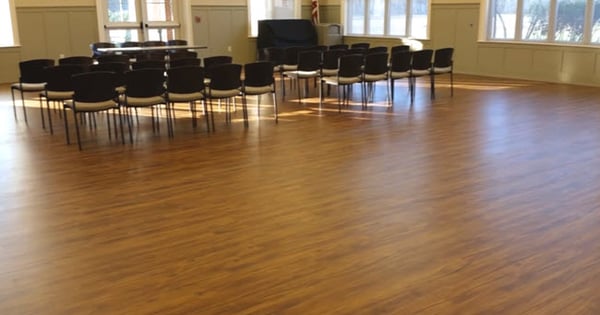 A Restaurant Decides on COREtec LVT
The Guilford Mooring Restaurant decided on COREtec XL LVT. They fell in love with the wood look visuals, wanted an easy-to-maintain floor and one that wouldn't fear water or spills.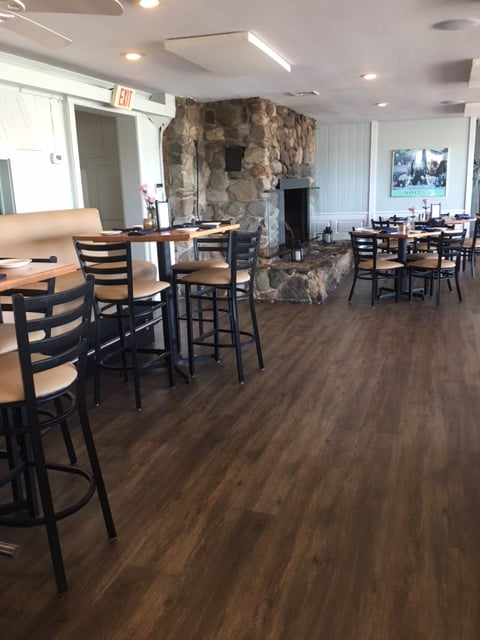 Notice how that floor extends throughout the space. You can imagine how much foot traffic that floor receives.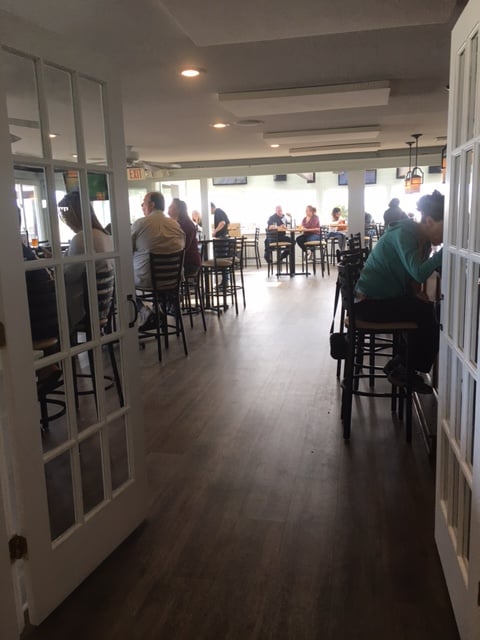 >> See Have You Considered COREtec Waterproof Flooring for Your Connecticut Home? (or business).
Wood Plank Tile: Ideal for Vet Offices and Yacht Clubs
A Veterinary Office Decides on Porcelain Wood Plank Tile
You can imagine the type of abuse that a veterinary office floor receives between unhappy accidents, claw marks, flying fur, and other activities associated with caring for animals.
The perfect solution consists of porcelain wood look tile planks. They are durable, easy to clean, waterproof, and beautiful as you can see from this next image.
A Yacht Club Also Picks Porcelain Wood Look Porcelain Tile
The Milford Yacht Club in Connecticut similarly wanted floors that were water-resistant and durable. They too selected Porcelain Wood Look Planks that look terrific.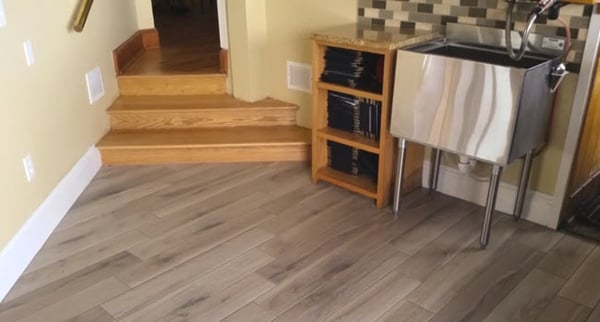 The Light Source Corporate Headquarters Opts for Commercial Nylon Carpet
Carpet tile isn't the only commercial carpet option. You can also opt for Shaw Commercial Nylon Carpet as the Light Source did for its corporate headquarters.
In addition to durability, the Light Source also wanted a comfortable solution.
In this first photo, you see the building entry lobby with a welcoming seating arrangement.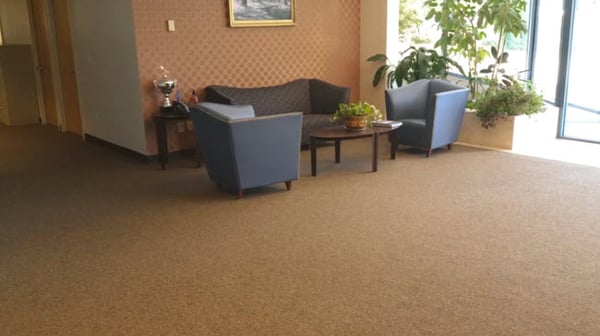 Next, you see a hallway.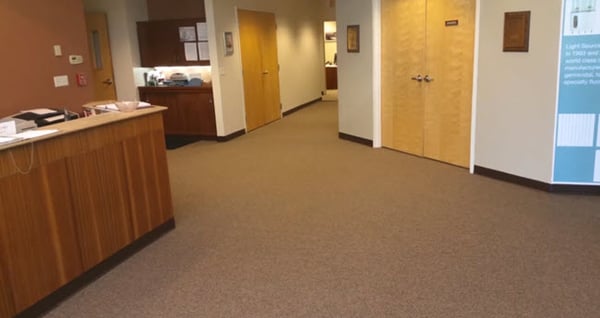 And here you see more of the hallway with workstations.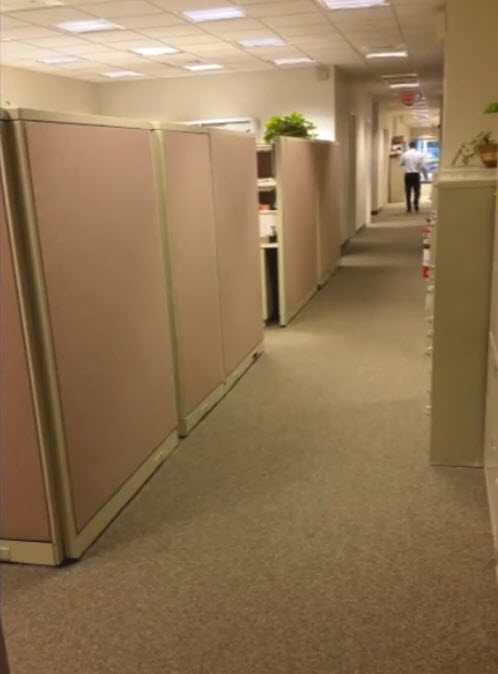 In this next image, you see an elegant touch. This is the Shaw commercial nylon carpet with a custom border.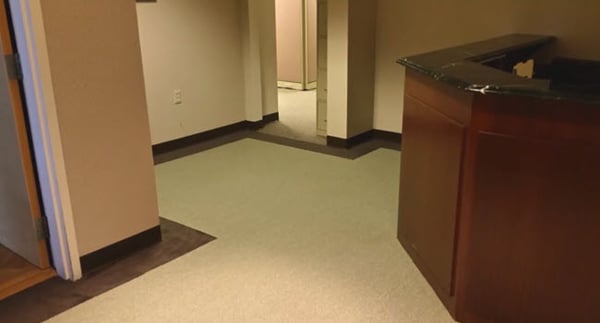 Even in a commercial environment, you can have carpet that provides style, comfort as well as durability.
An Indoor Trampoline Park Picks Astro Turf Carpet
If you run a business like Sky Zone Indoor Trampoline Park, you'll want to consider indoor-outdoor astroturf carpet as you see here. The colors are fantastic and provide the kind of surface that fully supports what an indoor trampoline park delivers to its customers.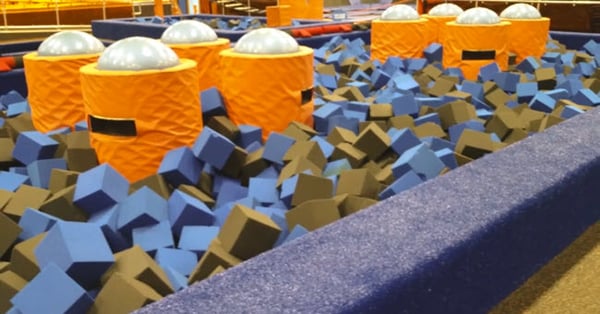 Above you see blue carpet and below grey.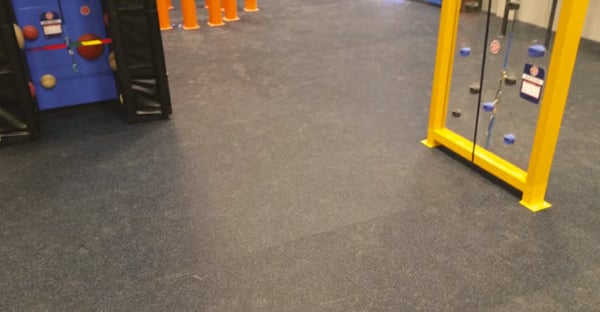 A Senior Center Selects Raised Rubber Radial Tile
The last commercial installation here is the one Floor Decor did for the Hamden Senior Center Kitchen area and halls. The choice was raised rubber radial tile flooring for resilience and slip resistance.
Watch the Commercial Flooring Video
Here's the video of the Floor Decor commercial installation gallery. It's 1:09 minutes long.
EXPlore COMMERCIAL Flooring Options at Floor Decor Design Center
What's your reaction to these different commercial flooring options?
When you visit one of our two showroom locations in Middletown or Orange, you'll be able to learn more about all of these choices and more.
Let me know of any questions in the comments or contact us.
We look forward to helping you.
Thanks for reading and watching,
Janine & Michael
Note: We originally published this article on 02/20/2019, and have updated it.