Have You Considered COREtec Waterproof Flooring For Your Connecticut Home?

Luxury vinyl tile (LVT) and luxury vinyl plank (LVP) for floors are all the rage. Not only are they beautiful, but they're also waterproof flooring. One brand in particular - COREtec - is a best seller at Floor Decor Design Center. Have you considered it for your Connecticut home?
What is COREtec Flooring?
COREtec Plus is made by US Floors, a manufacturer of unique and sustainable floors based in Dalton, Georgia. It is a luxury vinyl floating floor that doesn't need to be nailed or glued down to the subfloor. Instead, the tiles or planks lock into place (see the installation video at the end of this article).
It's considered a great alternative to glue down LVT, solid locking LVT, or laminate flooring.
>> See Laminate Flooring: Is It Still a Good Choice?
The most popular reason for installing COREtec in your home is that it is a 100% waterproof flooring solution. That means that you can install it in wet areas and will never swell when exposed to water. That means kitchens, bathrooms, mudrooms, entry areas as well as basements...
Not to mention that it comes in a wide range of beautiful styles.
For example, Coretec Plus Red River Hickory is a 5x48 luxury vinyl plank with warm tones and realistic wood graining.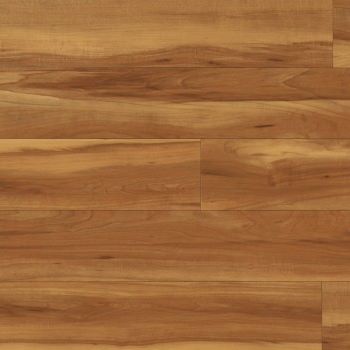 Compare that to Coretec Plus Weathered Concrete which is a 18x24 luxury vinyl tile.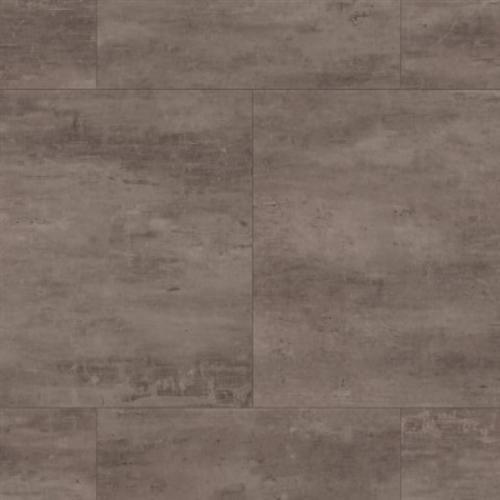 Or, take this recent installation of 7x72 Coretec HD Collection Odessa Grey luxury vinyl planks. We love how this came out!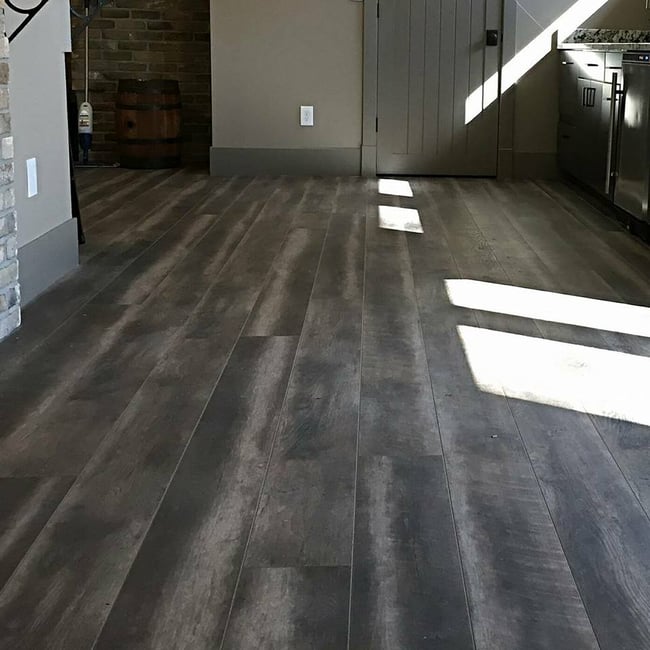 What Makes COREtec Flooring Unique?
COREtec flooring consists of a sandwich of multiple layers.
In the case of COREtec Plus, those materials include a top wear layer, a luxury vinyl decorative layer and a core consisting of extruded recycled wood and bamboo dust, limestone, and virgin PVC. The last layer is cork which provides warmth, sound absorption and comfort underfoot. It is also naturally resistant to odor-causing mold and mildew.
The cross-section below provides you with more detail on this rigid core category product.
As an added plus, because COREtec Plus is inert and dimensionally stable, it will neither expand nor contract under normal conditions and you won't need expansion strips in large rooms.
How does COREtec differ from other LVT or laminate floors?
US Floors offers the following chart to visualize how COREtec differs from other flooring surfaces, namely other LVT products and laminate flooring.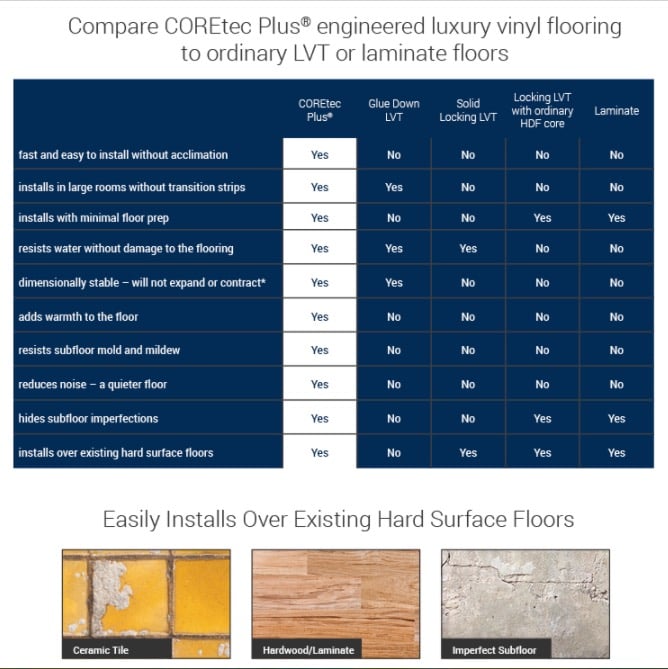 (Chart courtesy of US Floors)
COREtec Plus and LVT
As I mentioned earlier in this article, COREtec is an alternative to glue-down and floating luxury vinyl products because it can go over most subfloors without much preparation - whether ceramic tile, hardwood or laminate, and even imperfect subfloors.
Many LVT products transfer any unevenness in the floor given how flexible they are; you will feel and see subfloor imperfections. The rigid core of COREtec masks minor subfloor imperfections.
COREtec Plus and laminate
When compared to laminate flooring, COREtec shines. It requires no acclimation. And, because it's waterproof, you can install it where laminate isn't recommended (e.g., bathrooms, basements, and any other areas prone to excessive moisture).
Furthermore, laminate requires expansion gaps every 30 feet in large rooms to account for expansion and contraction. COREtec doesn't.
What types of COREtec are available at Floor Decor Design Center?
When you visit Floor Decor Design Center, you'll find COREtec styles available in the following products:
COREtec HD - 7" wide, 72" long planks
COREtec Plus – 5 to 7" wide, 48" long planks and 18×24 tile - and COREtec Plus XL -

9" wide, 72" long planks

COREtec One which does not include the cork backing – 6" wide, 48" long planks – a budget option
You'll love the range of wood grain inspired patterns as well as marble and weathered concrete in tile sized formats.
Also, it comes with a Lifetime Limited Residential Wear and Structure Warranty, and Comprehensive Warranty.
Two new COREtec introductions include:
COREtec Grande
COREtec Wood
You can learn more by reading these two articles:
>> COREtec Grande: The Ultimate Waterproof Flooring...
How to Install COREtec Plus Flooring
This 3:30-minute video titled Installing COREtec Plus using Angle/Tap Profile provides perspective on how to install these products.
Recent COREtec Plus Flooring Installations by Floor Decor Design Center
Finally, here are some images of actual installations that we've completed with COREtec products.
At the Guilford Mooring Restaurant
If you're familiar with the Guilford Mooring restaurant, located in the beautiful Connecticut shoreline town of Guilford, you'll know that they underwent a renovation during the summer of 2017. Their choice for flooring that Floor Decor installed was this awesome Coretec Plus XL flooring.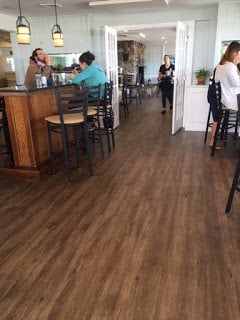 The luxury vinyl plank floor with its waterproof construction was the perfect floor for the restaurant. It features the beauty of a realistic wide plank hardwood floor with the durability to stand up to the restaurant's heavy traffic demands. The staff loves the ease of cleanability which is a simple sweeping and damp mopping.
We invite you to stop by Guilford Mooring on a Sunday to enjoy the delicious crab cakes while you check out their new floor.
Dark-Toned COREtec Flooring Installation
Coretec Plus is just as great for busy homes as you can see from these additional pictures of the installation with Odessa Gray 7x72 luxury vinyl planks. Don't you love how the darker toned floors play off of the light wall color?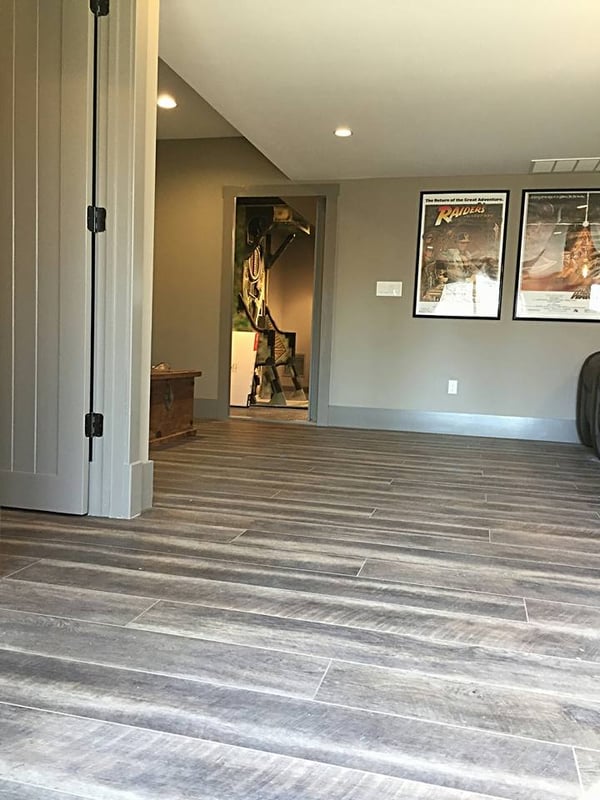 Here's another view of that floor.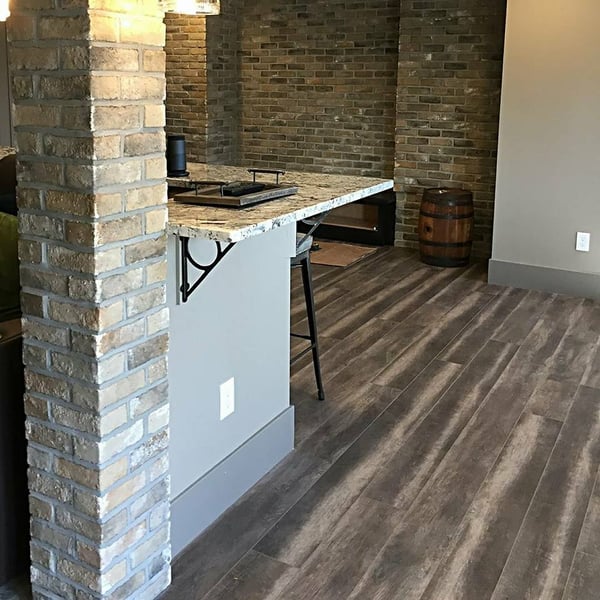 Come see for yourself what COREtec flooring options you have
If you're considering COREtec flooring for your Connecticut home, you'll enjoy visiting one of our two showroom locations in Middletown or Orange, Connecticut where you can explore the samples available.
Or, contact us with your questions.
We look forward to helping you.
Thanks for reading,
Michael
Note: We originally published this article on 05/16/2018, and have updated it.