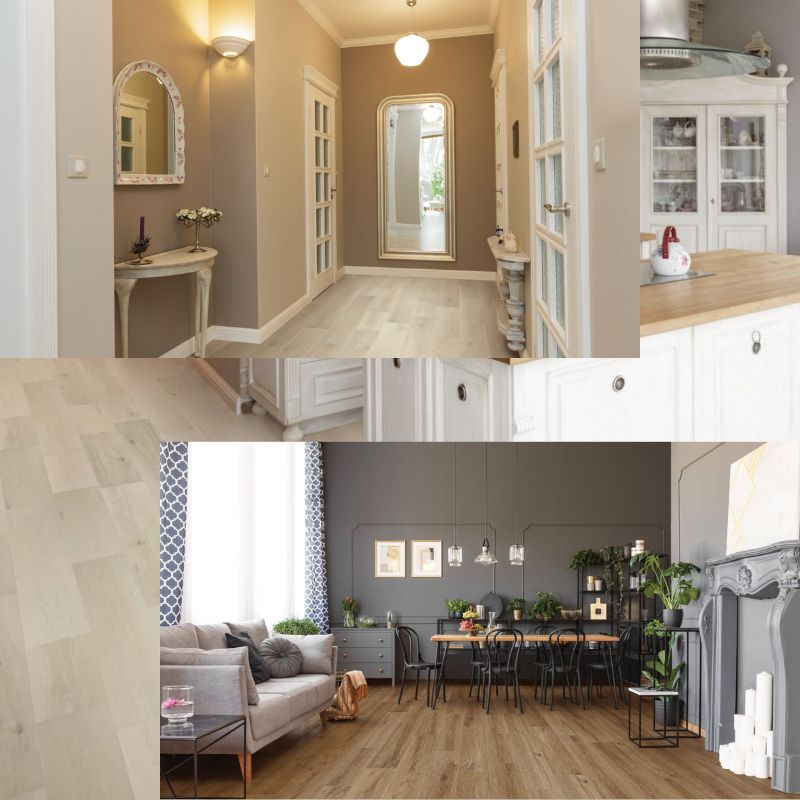 If you're looking to make a statement with the floors in your home, consider COREtec Grande. It's the ultimate waterproof flooring!
What Makes Coretec Grande Stand Out?
COREtec is considered the original waterproof flooring and combines performance with style with its portfolio of products.
>> See HAVE YOU CONSIDERED COREtec WATERPROOF FLOORING FOR YOUR CONNECTICUT HOME?
With COREtec Grande, though, US Floors, which manufactures COREtec brand products, has developed an even more remarkable product from two perspectives:
Stunning and desirable engineered hardwood visuals with a waterproof core
Extra wide and long flooring planks
As the company explains in COREtec's Triple Threat,
"COREtec The Original has gone to great lengths — 82 inches in fact — to create an awe-inspiring floor that will set you apart in grand fashion," said John Crews, director of product design for COREtec.
"Bold in beauty and design, this unique and innovative floor comes with all the benefits expected from The Original. Each massive Grande plank is 100 percent waterproof, kidproof, and petproof, and will stand up to life's real messes in style."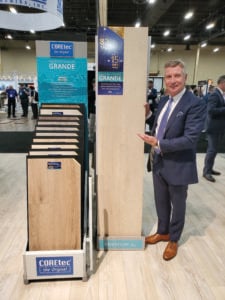 How Wide and Long Are COREtec Grande Planks?
To put into perspective the significant width and length of COREtec Grande, take a look at the image above. The man in the photo is USFloors Founder and CEO Piet Dossche next to a plank that looks to be taller and wider than he is.
That plank is 82 inches or almost 7 feet long - the longest you'll find available in the flooring industry - and nine inches wide.
To add to the dramatic look of the product when it's installed, consider that that width comes in three mixed plank lengths: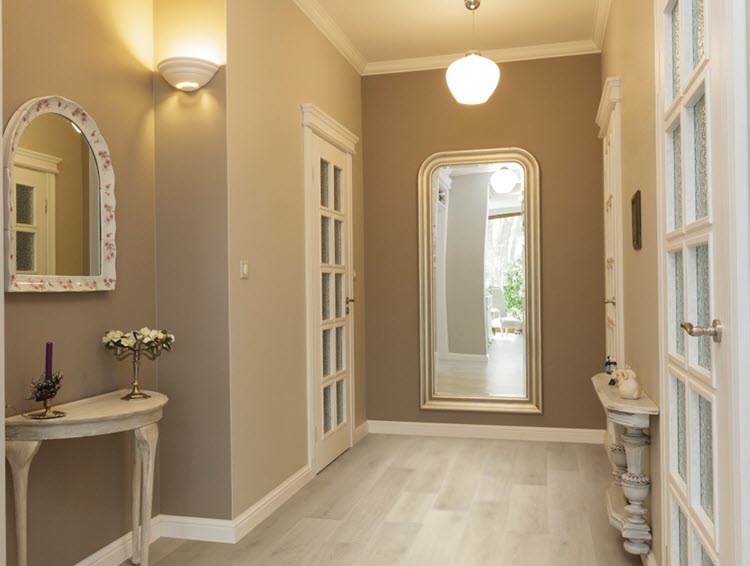 Grande Empire Oak
Why is COREtec Grande the Ultimate Waterproof Flooring?
COREtec Grande is an example of multilayer flooring. What makes it stand out compared to other similar products is that it is 15mm (or 5/8") thick and features an even thicker (9mm) foamed core. That means that the flooring is more comfortable, more stable, and absorbs sound better.
In addition, you'll find that the top 30 mil wear layer offers durability without compromising the realism of the product's design visuals.
As with all COREtec Plus products, Grande features an attached cork backing that makes for comfort underfoot and sound deadening.
>> See THE LOWDOWN ON MULTILAYER FLOORING: LVT, WPC, SPC, AND MORE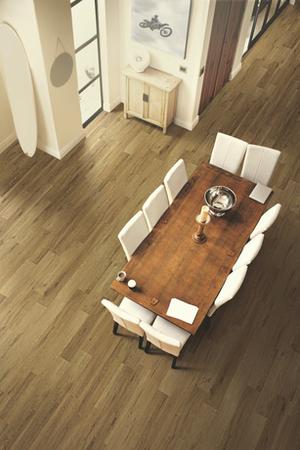 Grande Petronas Oak
Does COREtec Grande Look and Feel Like Real Hardwood?
Yes! These planks look and feel just like natural hardwood—simulating engineered wood flooring in all its attributes—through its thick waterproof construction.
To create these ultra-realistic visuals, COREtec amplifies the beauty of nature through enhanced painted bevels and embossed-in-register technology to create the feel of a real hardwood floor.
The real warmth is also found in Grande's styles and looks. From grays to browns to blonds, Grande adds nuance and depth of style through clear and crisp visuals.
These are the ten oak styles available:
Grande Aleta Oak

Grande Ellidy Oak

Grande Empire Oak

Grande Goldin Oak

Grande Lotte Oak

Grande Makkah Oak

Grande Marina Oak

Grande Petronas Oak

Grande Vista Oak

Grande Willis Oak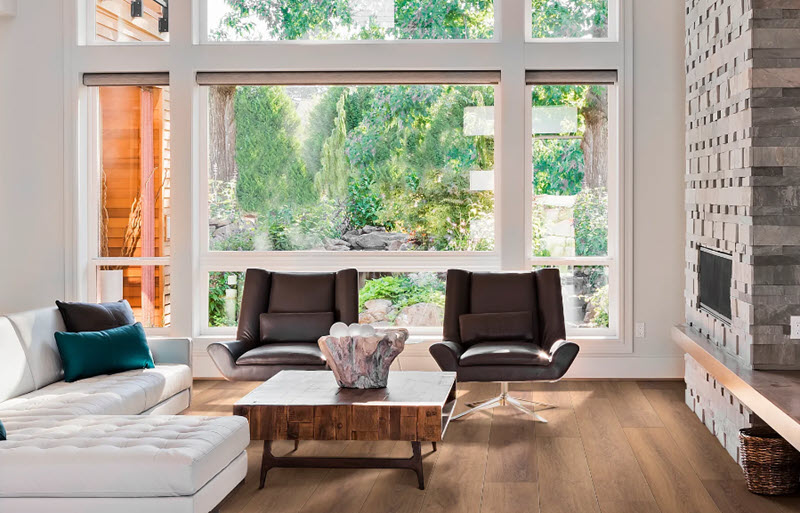 Grande Aleta Oak
Where Can COREtec Plus Grande be Installed?
This amazing luxury floor can be installed anywhere in your home such as basements, kitchens, bedrooms, and family rooms.
In fact, this floor can be installed throughout your home for a seamless open floor plan look.
Furthermore, it can be installed over most other hard surface floors such as ceramic tile, vinyl tile, and existing sheet vinyl helping to reduce the labor costs of removing existing flooring.
>> See WHEN CAN I INSTALL A NEW FLOOR OVER AN OLD FLOOR?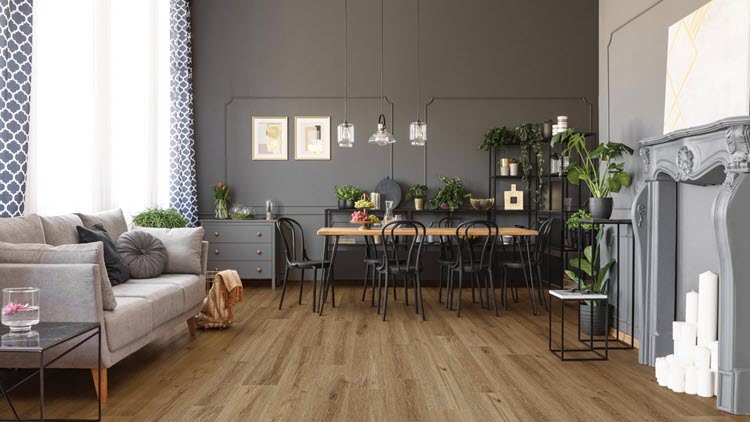 Grande Goldin Oak
What Other Benefits Does COREtec Grande Feature?
To recap a few of the benefits mentioned already, with its uncompromising 30 mil wear layer, each massive Grande plank is 100% waterproof, kidproof, petproof, and will stand up to life's real messes in style.
You'll find that it includes all of the acoustic qualities you could want combined with an excellent feeling underfoot. Furthermore, after installation, these products are warmer underfoot thanks to the cork underlayment that is also naturally resistant to odor-causing mold and mildew.
COREtec Grande features a Lifetime Residential Warranty as well as a 15-year Commercial Warranty!
This unique and innovative floor comes with all the benefits you've come to expect from the industry leader in waterproof flooring, plus stunning authentic aged hardwood visuals and large plank formats.
If you're looking for the premier top-of-the-line waterproof plank flooring, look no further than COREtec Grande featured at Floor Decor Design Center.
>> See HOW MUCH DOES WATERPROOF FLOORING COST?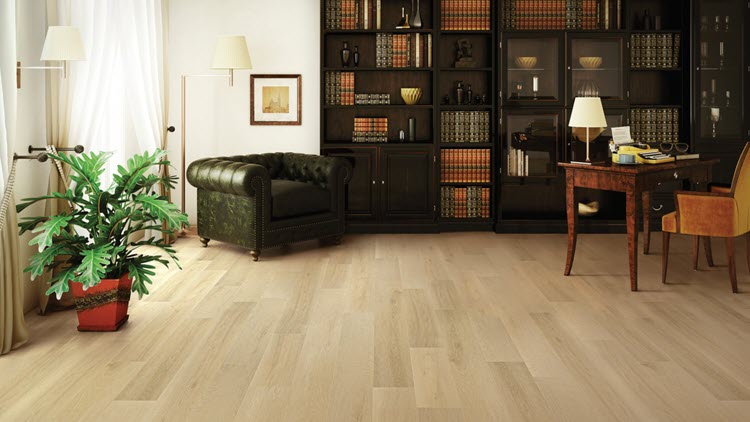 Grande Makkah Oak
Would You Like to Experience COREtec Grande?
Let us know. When you're ready, we invite you to visit our showrooms. There, you can experience COREtec Grande for yourself. We would love to show you the various styles available and answer your questions.
>> See OPEN FOR BUSINESS WHILE RESPECTING SOCIAL DISTANCING
We look forward to helping you.
Janine & Michael
Note: We originally published this article on 09/23/2020, and have updated it.